Le Bistro serves some of Honolulu's best French cuisine, out of a very unlikely location: Niu Valley Shopping Center, in an East Honolulu residential district. It's sandwiched between Gyotaku Japanese Restaurant and King's Cathedral Church (which when I was growing up, was Times Supermarket). Started in 2011 by local talent Alan Takasaki, the restaurant is known to local foodies, but easy to miss if you're visiting and staying in Waikiki, since it's far from the main tourist haunts.
We arrived on time for our reservation, but since we had added my brother to our party of 4, we waited a few minutes while they set up our table. Once ready, we were ushered inside (there's no place to wait inside the restaurant, but that's not a problem in warm Hawaii) and led to our table.
Soon our server appeared, handed us menus, and described a number of delicious sounding specials, including locally caught onaga, ama ebi (sweet shrimp) and more.
Lavash was the initial starter, although a bit later some fresh, crusty baguette was brought.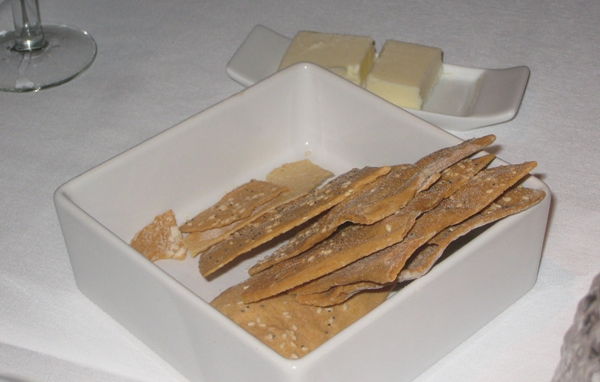 Most of us didn't get an appetizer, but my cousin ordered the Hudson Valley foie gras, which arrived in its own terrine with a richly reduced quince sauce: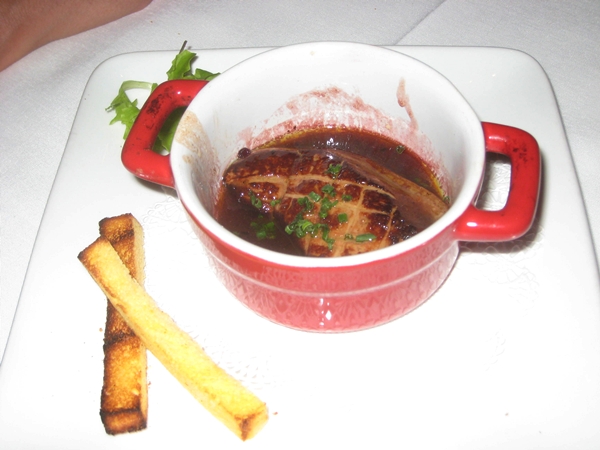 My husband initially ordered an unusual sounding caramelized mandarin salad with gorgonzola, but since he admitted he really just wanted the cheese, we asked for that instead. When it was brought, it was such a small portion that his face gave away some disappointment, although he didn't say anything. The server caught his look, and soon brought another little dish of cheese, which we both agreed was fantastic service–looking to see the customer's reaction, and not even waiting for an explicit request to assuage disappointment.
Our entrees arrived; my cousin and brother both ordered the Chilean Sea Bass, which was fresh, cooked perfectly (still slightly transluscent in the center) and devoured eagerly: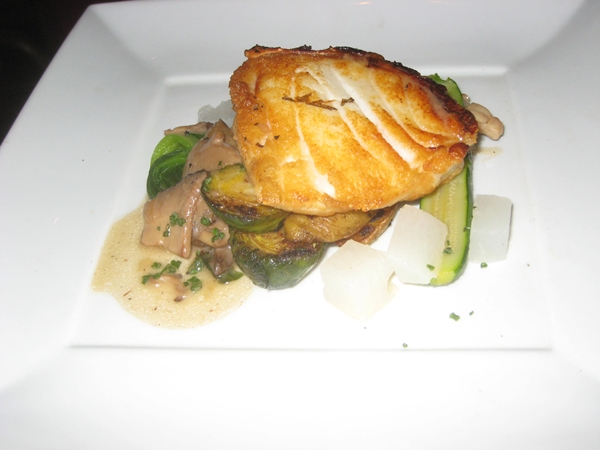 My husband ordered the braised shortribs, which had been slow cooked to tenderness and were served with a nicely contrasting horseradish sauce, that nicely cut through the richness.
I had the Kurobuta pork chop, which was enormous and seared nicely, simply adorned with pork jus and balsamic reduction. A little too simply, I would say, since there was nothing but a tomato on top, no other veggies or potatoes. I know steakhouses typically have all sides separate, but the sea bass came with some nice veggies, so why not the pork chop? It was also cooked just slightly more than I would prefer, although of course you do have to be careful with pork since it has to be thoroughly cooked to be safe.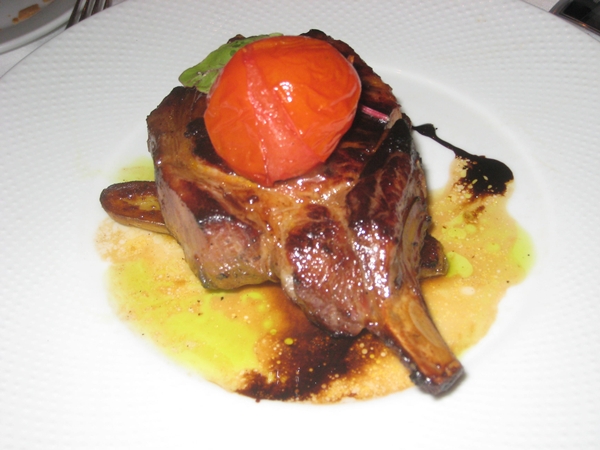 For dessert, my husband and I split the chocolate cake with vanilla ice cream: good, but I've had better elsewhere.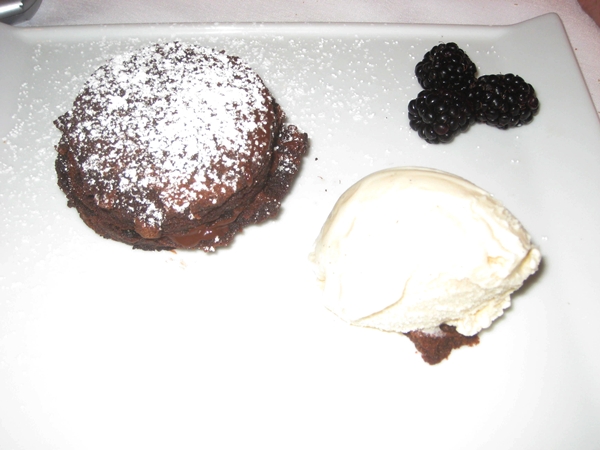 My cousin had the almond fruit tart, which was fantastic-buttery almond crumble with a tangle of tangy fruit underneath.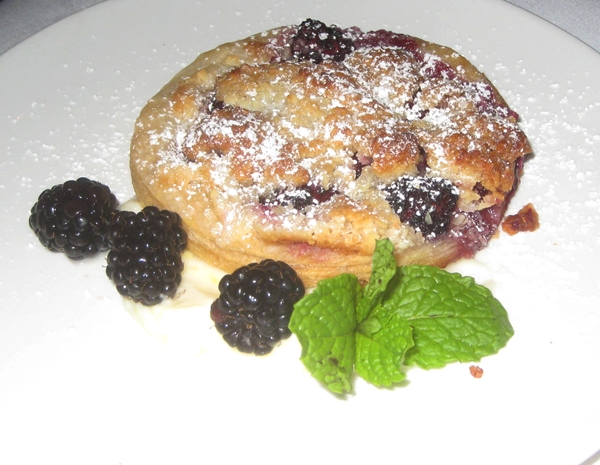 My brother had the creme brulee, which was exemplary. I don't particularly care for creme brulee, but if you do, this was an excellent version.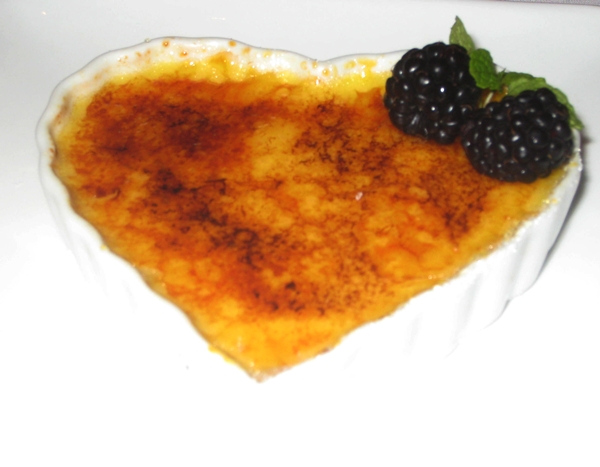 The verdict: While some dishes (foie gras, Sea Bass, Short ribs, almond fruit tart) were better than others (Pork chop, chocolate cake) Le Bistro is an excellent choice for fine dining at prices that are reasonable by Hawaii standards (ie food costs are higher due to so many ingredients being flown in). Highly recommended for a special occasion if you're visiting and have a car. Don't forget to pay with your Sapphire Preferred for 2X points, or your Prepaid AMEX with refills bought using the Ink Bold for 5X points.
Related Posts
Where to Eat in Honolulu, Hawaii: Hidden Gems
Morio's Sushi Bistro, Honolulu Restaurant Review
Luxury for Less: The Top 5-Star Honolulu Hotels
10 Things You Shouldn't Miss in Honolulu, Oahu
Tips for Booking Award Flights to Hawaii
Check out and apply for the Best Travel Credit Cards.
If you enjoyed this, please follow TravelSort on Twitter or  like us on Facebook to be alerted to new posts. 
Become a Member to find your perfect luxury or boutique hotel at up to 50% off: TravelSort Hotels