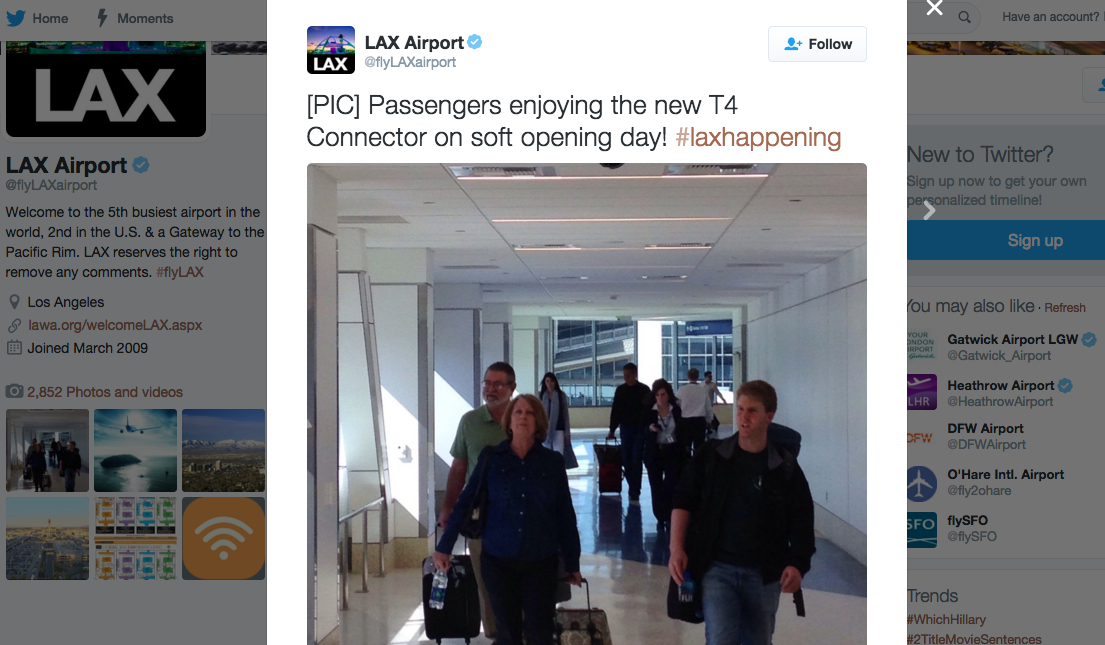 The LAX Airport T4 to TBIT Connector is Now Open, Making International Connections Easier. Above is the photo from the @flyLAXairport Twitter account showing passenger using the new connector from Terminal 4 to the Tom Bradley International Terminal.
Previously, passengers arriving at LAX on domestic flights and connecting to an international flight had to exit the terminal, transfer to TBIT, and reclear security for their international flight.
Now, with the airside connection between T4 and TBIT, passengers arriving on domestic flights will be able to remain airside and walk to TBIT without any need to reclear security.
FAQ
How Long Will It Take to Get From T4 to TBIT?
Walking distance is about 10-12 minutes. This, plus not having to reclear security at TBIT, will make it far more practical for passengers to use TBIT lounges (see below) if they have access given their frequent flyer status, even if their flight departs from Terminal 4 or 5 (with Terminal 6 and 7 also possible, just a longer walk).
Which LAX Terminals Are Connected Airside?
LAX Terminal 4, Terminal 5, Terminal 6 and Terminal 7 are already connected airside, so with the new Terminal 4 to TBIT connector, it is now possible to walk all the way from T7 to TBIT, via T6, T5 and T4, even though that will obviously take some time. Still, it does avoid having to clear security again.
Which LAX Lounges Are Best?
The best lounge in LAX is the Qantas First Class Lounge LAX in TBIT, if you have access to it (see the linked post for details on who has access).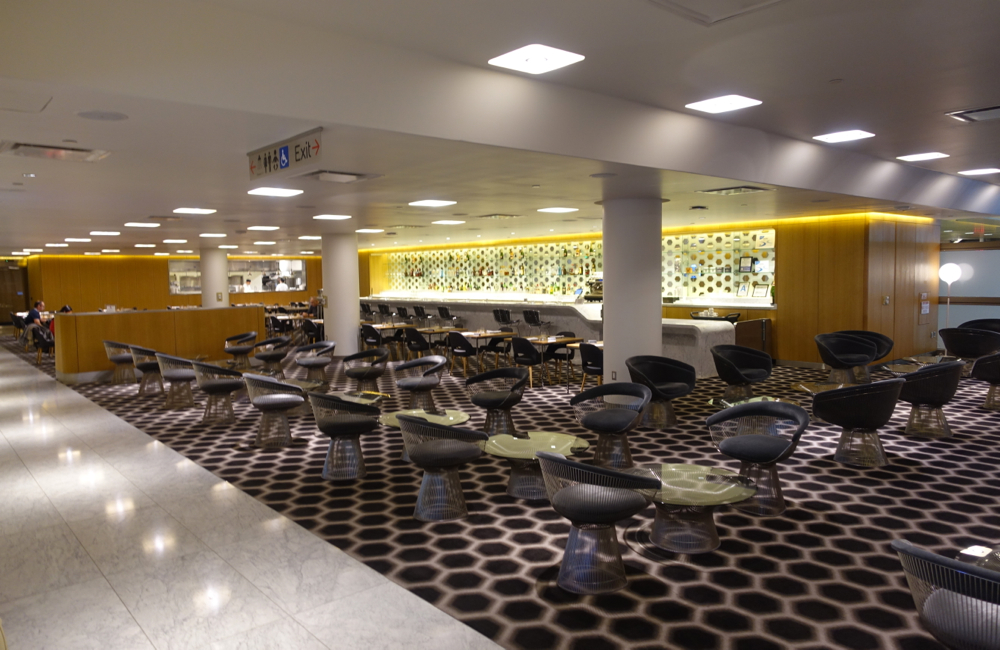 Other TBIT lounges include:
LAX Oneworld Business Class Lounge, Level 5 of TBIT, open daily 6:30am-1am, with 16 shower suites, Neil Perry designed dishes, cocktail bar and espresso bar.
LAX Star Alliance First Class Lounge
In Terminal 3 on the upper level, there's the
Virgin America Loft Lounge
, but keep in mind that so far, Terminal 3 is not connected to Terminal 4 or to TBIT. The lounge is complimentary if flying Virgin America First Class or if you're an Elevate Gold frequent flyer or if you have a Priority Pass or Lounge Club card.
AMEX is in talks with LAX to build a Centurion Lounge at LAX, but no hard details on timeline or dates.
Does the LAX T4 to TBIT Connector Help in Connecting From an International to Domestic Flight?
No, it doesn't, because you'll have to clear immigration and customs anyway after arriving at TBIT on an international flight.
Do you plan to use the T4 to TBIT Connector on your next connection in LAX?
Related Posts
Review: Qantas First Class Lounge Los Angeles LAX
Review: Qantas First Class A380 Sydney to Los Angeles
International Lounge Access at LAX TBIT for Arrivals
United BusinessFirst Review 757-200 EWR-LAX
Need Award Booking Help? Our fee is as low as $75 per ticket if you book your hotel or cruise with us.
If you enjoyed this, join 200,000+ readers: please follow TravelSort on Twitter or like us on Facebook to be alerted to new posts.
Become a TravelSort Client and Book luxury hotels with Virtuoso or Four Seasons Preferred Partner Amenities!