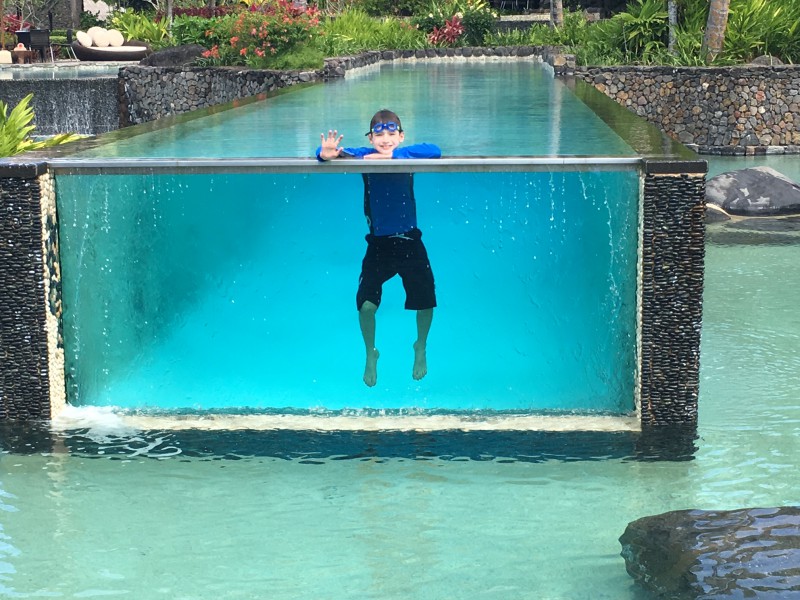 This Laucala Island Activities post covers top things to do at this private island in Fiji, owned by the founder of Red Bull, Dietrich Mateschitz. Curious about getting there, the villas, and dining? See my prior posts:
Review: Laucala Lounge, Nadi Airport, Fiji
Laucala Island Resort Review of Plantation Villa
Review: Laucala Island Dining and Restaurants
Certainly you'll enjoy Laucala more if it's sunny, with blue skies, and for this reason I recommend planning your visit for the drier months of May-September. That's not to say that you can't have clear days other times of year, or that you're guaranteed to avoid rain during the summer months (we had a day of pouring rain even during our August visit) but the odds are better.
1. Spot Dolphins
I've always wanted to see dolphins in the wild, and somehow, even though we've been quite a few places where there are dolphins (the Maldives several times, Akaroa in New Zealand, Bora Bora) fate had conspired against me…until Laucala. We were on a snorkeling trip, when the Captain and our snorkeling guide spotted them. It was magical to see an entire pod, of perhaps 15-20 or more dolphins:
2. Go Snorkeling or Scuba Diving
You can't go to Laucala and not go scuba diving or at least snorkeling. All water activities within the inner reef, including scuba diving within the inner reef, are complimentary. And we enjoyed seeing a number of coral types we'd never seen before. I will say that in terms of variety and abundance of marine life, I thought the Maldives were a bit better, but the coral unquestionably was in better shape in Fiji. And if you have more time than we did, be sure to book a trip to the White Wall and Rainbow Reef, even though this is at additional cost.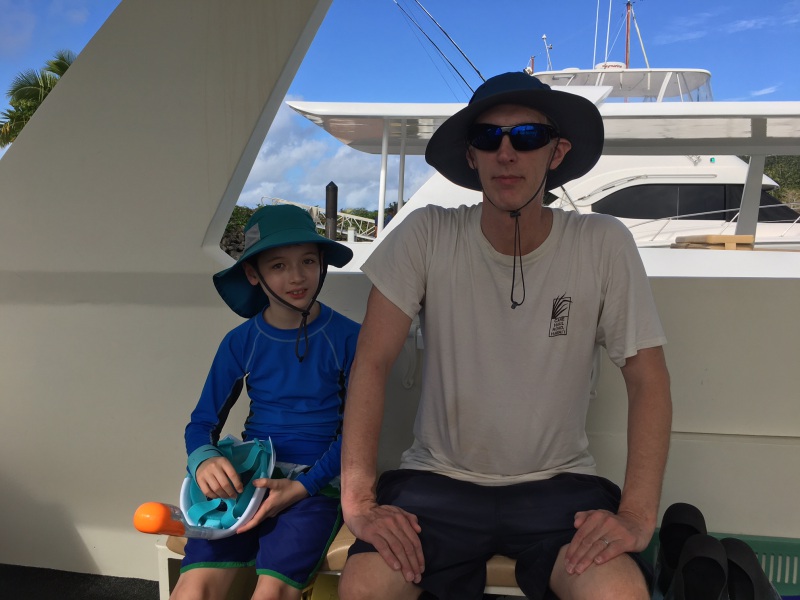 3. Try the Deepflight Submarine
Most billionaires might not be too keen to have you try out their cool technology toys, but Mr. Mateschitz is apparently the generous sort. As a guest of Laucala, you can take a ride in his Deepflight Submarine (adorned with Red Bull's logo of course)–the resort calls it "scuba diving without getting wet." Keep in mind this is a two person submarine, with just the pilot and you in different compartments, so it's a solo affair, and not for the too tall (my 6'5″ husband found it uncomfortable) or the claustrophobic. But it is very cool to experience.
Here's the photo I posted on TravelSort's Instagram account as the submarine begins to submerge: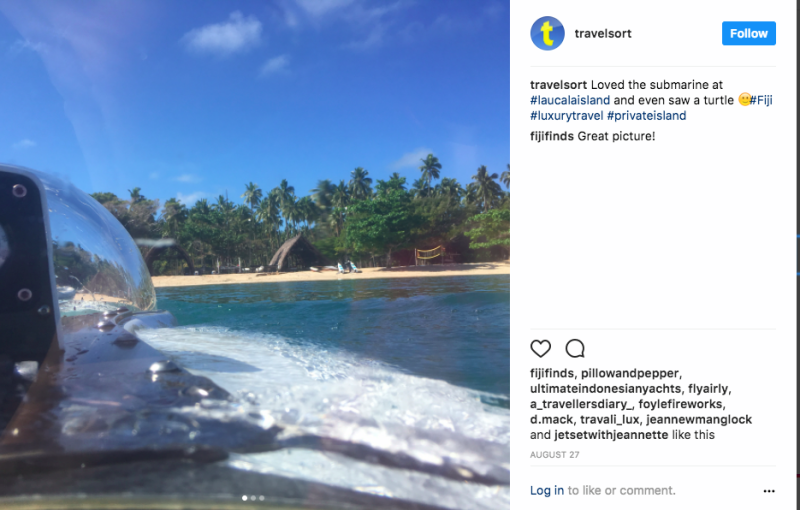 4. Relax with a Complimentary Welcome Massage
I'm not usually much of a spa person, but I certainly won't say no to a complimentary welcome massage. That said, there was so much else to do on the island that I ended up having mine on our last day, before departing. My therapist couldn't have been kinder, and she immediately noticed all of the knots in my upper back and neck, which she patiently worked on until I felt 10 times better. My husband similarly raved about his massage experience.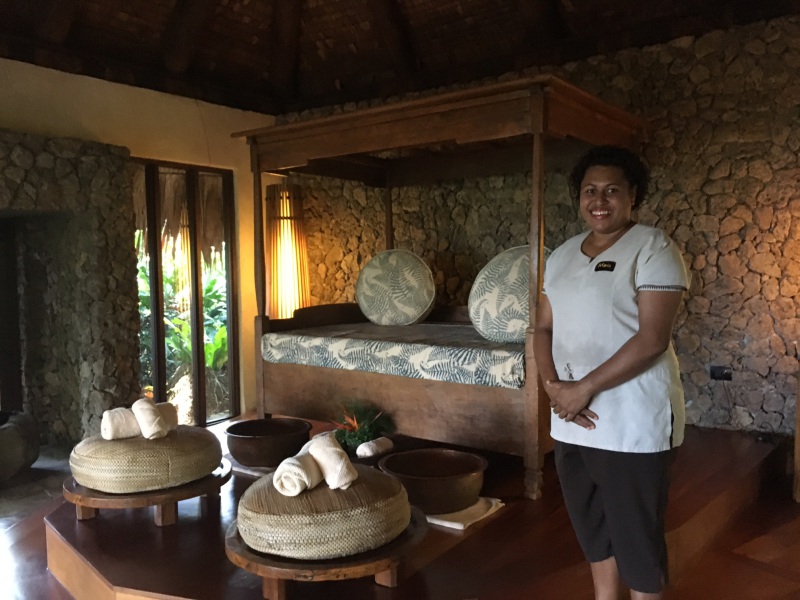 5. Try Horseback Riding
My son and I both tried horseback riding for the first time at Laucala, on our patient Fijian horses, who are a sturdy crossbreed of the Australian Thoroughbred and British Clydesdale. There are eight horses, so whether you're a complete novice, as I am, or an experienced rider, you'll be able to have an enjoyable ride and explore the island from a new perspective.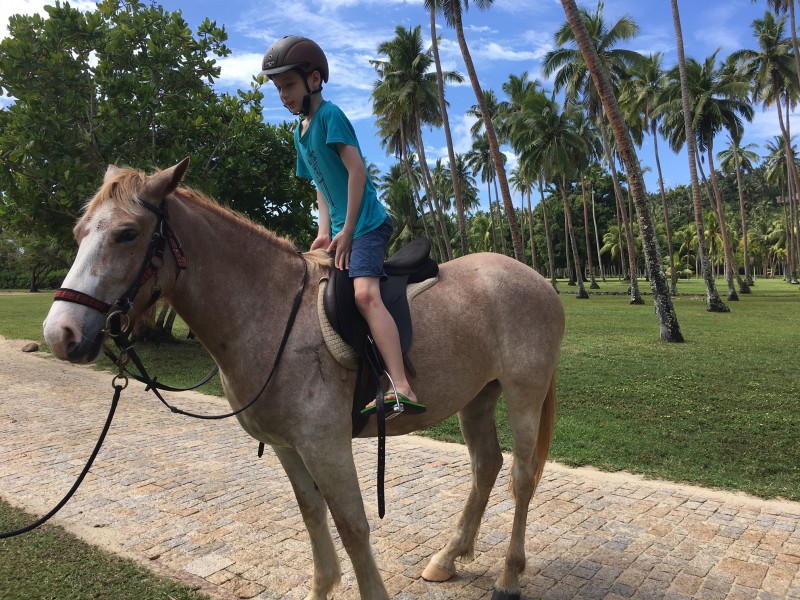 6. Savor a Fijian Dinner and Cultural Evening
While we were unlucky with weather our first full day, when it rained all day, that didn't stop Laucala from hosting a Fijian dinner and cultural evening. We were welcomed with beautifully harmonized singing, and treated to a Fijian kava ceremony, local dance performances, and sumptuous Fijian dinner afterwards.
7. Take a Cooking or Pastry Class
If you do happen to have a rainy day, don't fret–it's the perfect chance to enjoy a cooking or pastry class, which is a popular activity at Laucala. Learn how to make Fijian dishes such as Kokoda (Fijian ceviche), your favorite Thai curry, French classics, or your favorite pastry or dessert.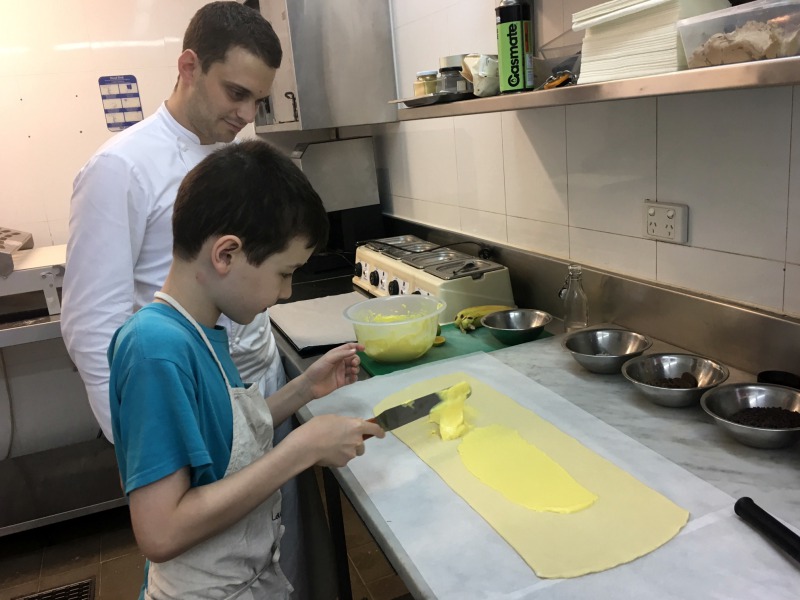 8. Have a Swim in the Largest Pool in the Southern Hemisphere
Laucala's iconic rectangular pool is a favorite for adults and kids alike, and from it you can jump into the free form pool, the largest in the Southern Hemisphere. Swim towards the beach for beautiful views, or wander over to the Beach Bar for the perfectly mixed cold drink.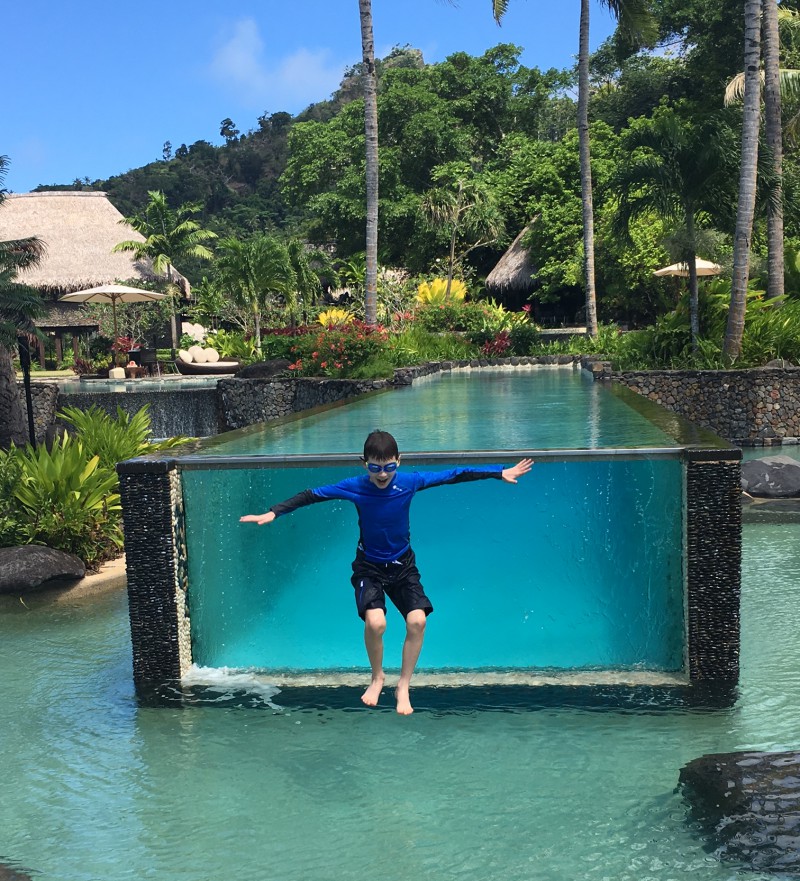 9. Go Golfing or Putting
Laucala offers an 18 hole, par-72 golf course designed by David McLay Kidd that takes full advantage of the island's lush greenery, original coconut plantation, and ocean views. Enjoy the guidance of a golf pro if you'd like assistance improving your swing.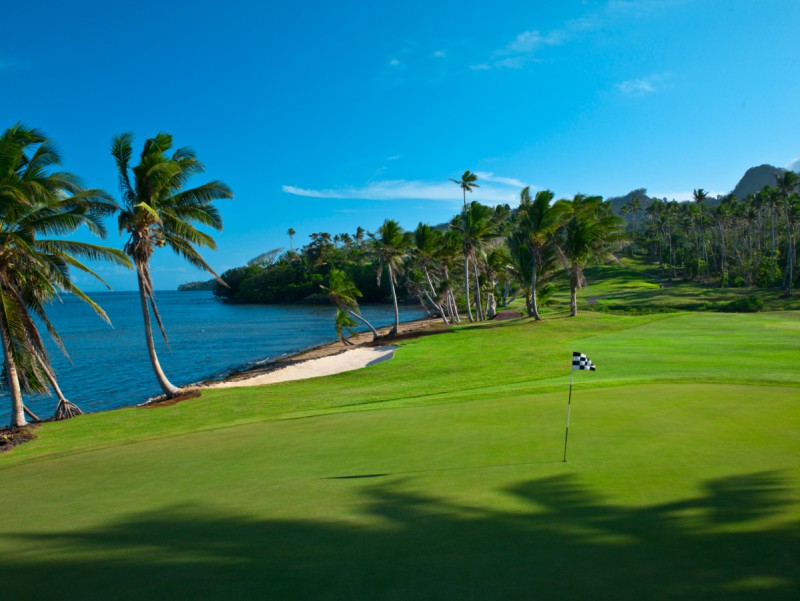 10. Enjoy a Beautiful Sunset and Star Gazing
Don't miss short but beautiful sunsets, followed by gazing at a clear night sky full of stars. It may look a bit different than you're used to, if you're not resident in the Southern Hemisphere.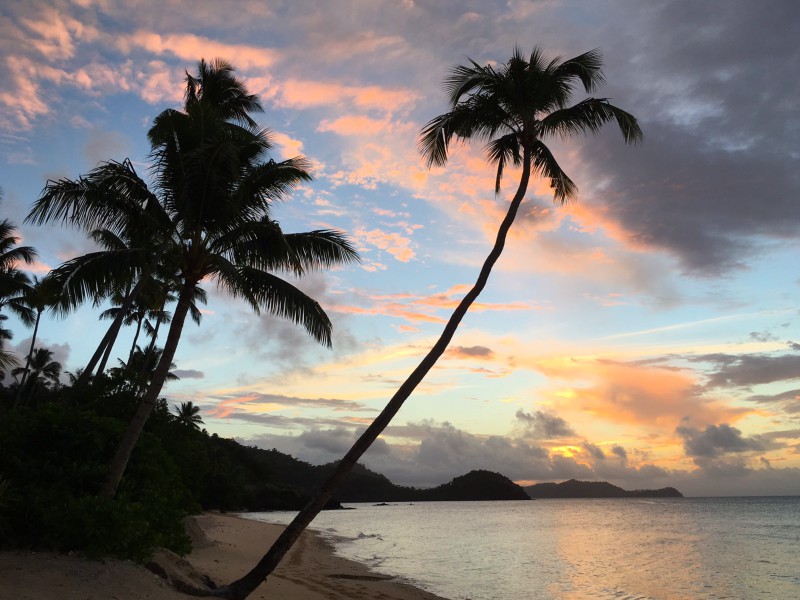 Which Laucala activities would be your favorite?
Recommended Posts
Laucala Island Resort Review of Plantation Villa
Review: Laucala Lounge, Nadi Airport, Fiji
Review: Fiji Airways Business Class A330
Best Luxury Private Island Resorts in the World
Where to Go in August: Best Luxury Travel Destinations and Where to Stay
Need Award Booking Help? Our fee is as low as $75 per ticket if you book your hotel through us.
If you enjoyed this, join 200,000+ readers: please follow TravelSort on Twitter or like us on Facebook to be alerted to new posts.
Become a TravelSort Client and Book Laucala with Virtuoso Benefits and TravelSort Perks!