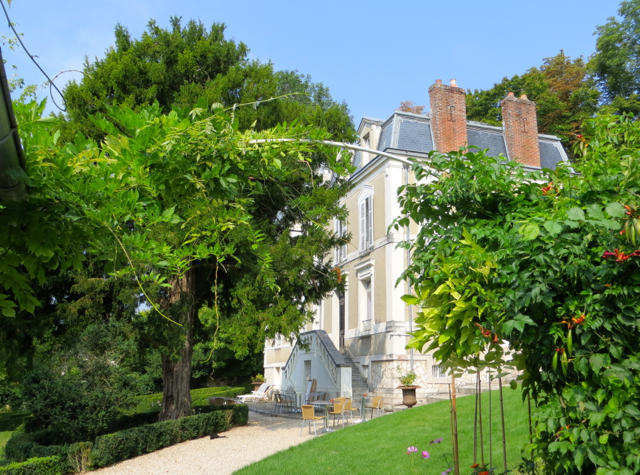 This La Maison Stella Cadente Review in Provins, France is part of a UK and France trip report including flights in British Airways in New First Class, Singapore Business Class and Singapore Suites, stays in a Scottish castle and 5-star hotels in London and Paris, and Michelin Star Dining in Paris. For the prior posts, please see:
British Airways Galleries Lounge in Newark and First Class Dining Review
British Airways New First Class 777 Review
British Airways Galleries Arrivals Lounge London and Concorde Room
Singapore Business Class Review NYC (JFK) to Frankfurt
Petrus London Restaurant Review
Dalhousie Castle Hotel Review, Scotland
Dalhousie Castle Falconry Review, Scotland
Epicure at Le Bristol Paris Restaurant Review
Four Seasons Paris Hotel Review
Paris Plages (Paris Beaches) Review
Le Cinq at Four Seasons Paris Restaurant Review
Park Hyatt Paris-Vendome Review
Park Hyatt Paris Breakfast Buffet Review
Prince de Galles Paris Hotel Review
La Grande Eperviere Barcelonnette Hotel Review
Things to Do in Barcelonnette, France with Kids
InterContinental Marseille Hotel Review
Vinoneo Bistro Marseille Restaurant Review
La Maison Stella Cadente was our base for visiting Provins, which we only discovered through the Concierge of the Four Seasons Paris, who recommended it as a family-friendly weekend getaway from Paris. I discovered that there would be a harvest festival on the date we planned to be there, and who doesn't enjoy a festival in an atmospheric medieval town, especially in France? La Maison Stella Cadente seemed the perfect place to stay, as chic and romantic as it was family-friendly, with its garden for the munchkin to run around in, uniquely designed rooms, and a friendly manager, so I made the reservation.
Even prior to arrival, Daniel, the manager, sent me helpful information on the train schedule to and from Paris (it took about 1.5 hours by train from Paris Est) and map of Provins.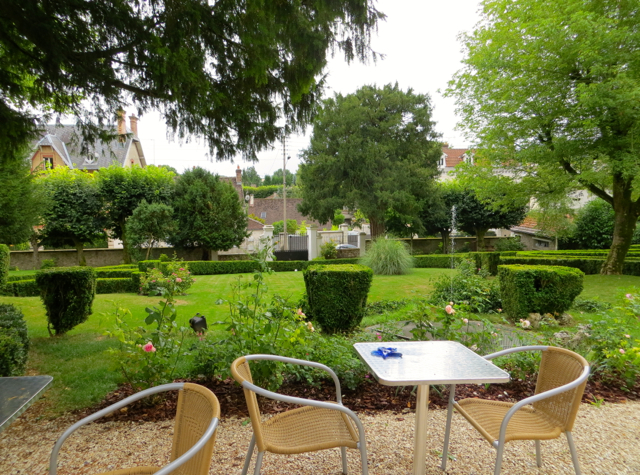 La Maison Stella Cadente Location and Check-In
La Maison Stella Cadente is located just down the hill from the medieval town of Provins, a UNESCO World Heritage Site, making it a perfect base for exploring the historic sights.
Once we arrived at the house, we were welcomed first by its friendly little white dog (whom the munchkin was initially shy of, since we don't have pets at home) then by its manager, Daniel, who checked us in at his desk in the Stella Cadente boutique. Stella Cadente, a Parisian fashion designer, undertook the interior design and renovation of this 19th century estate house, so some of her fashion accessories are on sale in the boutique.
Daniel then gave us a brief tour of the hotel's common areas, including the light flooded dining room where we would have our breakfast the next morning: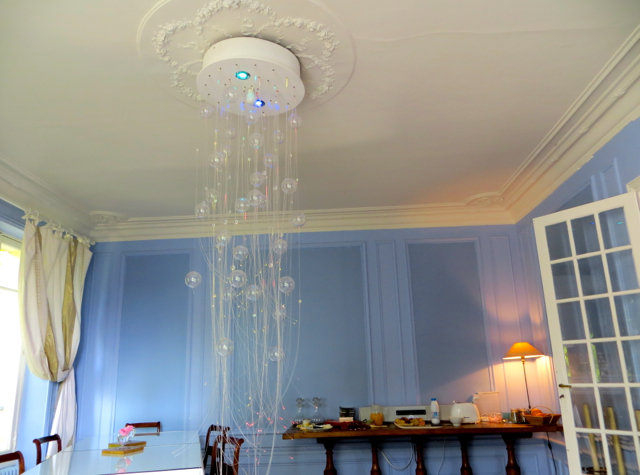 And also the dark and brooding "Non Smoking" Room, which when the house was originally built would in fact have been the Cigar Room that the men would have enjoyed in the evenings, after dinner. At night, the mounted animal heads can be a bit creepy, although the effect is less traditional than one would expect given the changing colors of the fiber optic light chandelier hanging from the ceiling.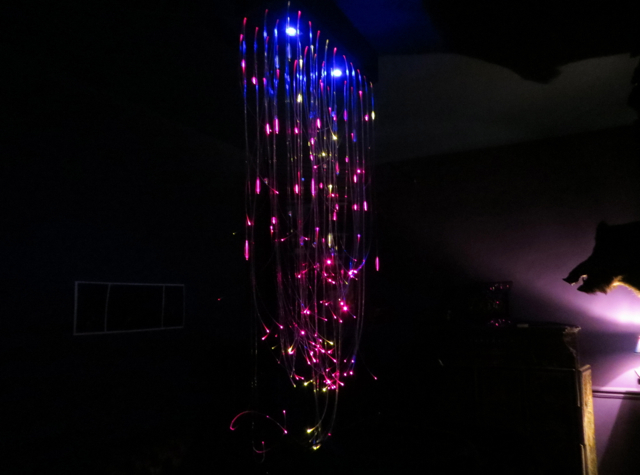 Queen of Snow Room
The Queen of Snow Room is small, at under 200 square feet, but perhaps because of how white it is, it doesn't seem cramped. There are apparently 4000 Swarovski crystals adorning the ceiling and walls, and the curtain is particularly striking, with its crystal fringe. I was almost afraid to book this room, due to having the munchkin with me, but fortunately his inquisitive fingers didn't break anything.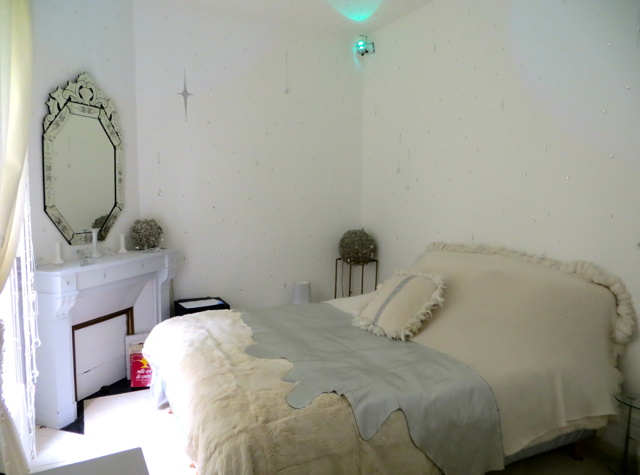 He especially loved the colored lights in each corner of the ceiling, and happily ensconced himself in the very comfortable bed (fortunately after I managed to snap a photo of the bed still intact with its silver leather blanket and mohair cushions).
The bathroom was simpler, with a sink and a tiny shower that unfortunately leaked slightly out of one side. From that perspective, it wasn't a great room to have a young kid in, since there was no bathtub.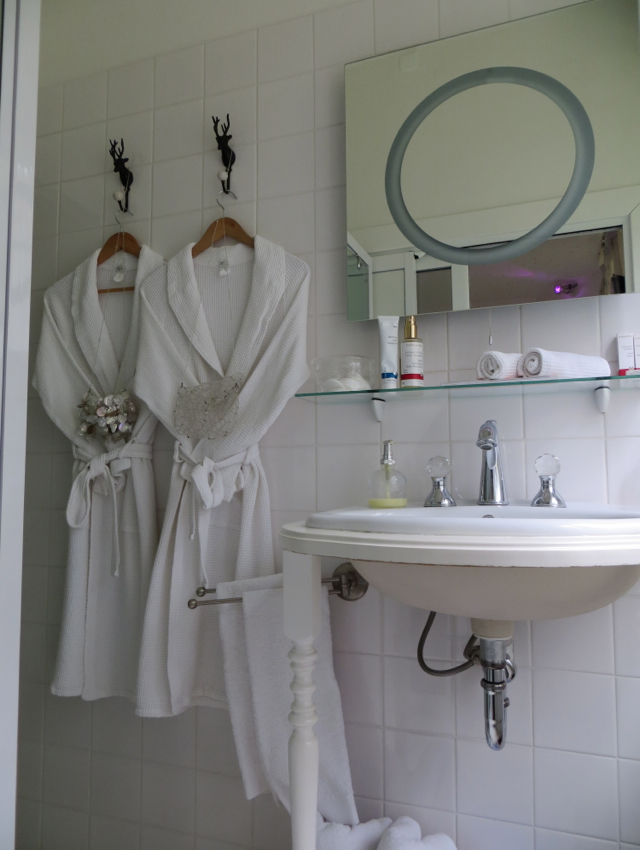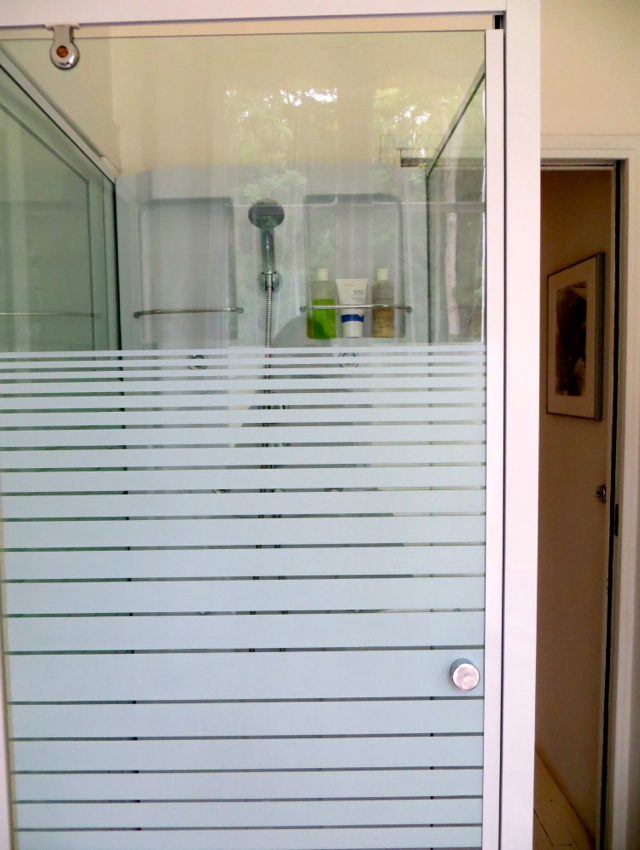 Stella Cadente has a partnership with Dr. Hauschka Skin Care, a German natural skincare line, so there were several Dr. Hauschka products to try.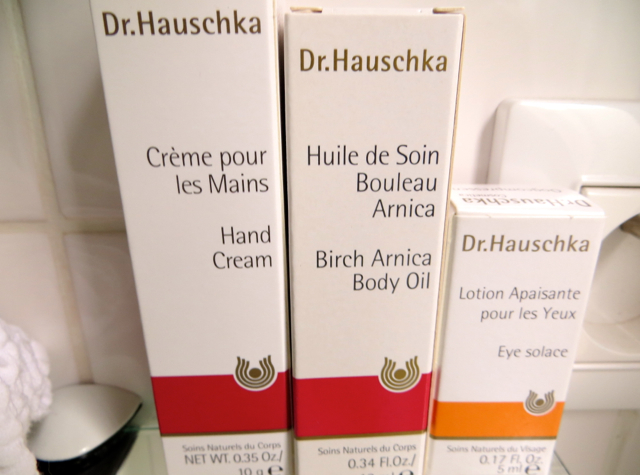 I was also happy to see complimentary bottled water and a kettle for making tea or coffee. I was leery of breaking the supplied glasses with boiling water, however, so I used one of the bowls from the downstairs dining room for the tea I made that evening.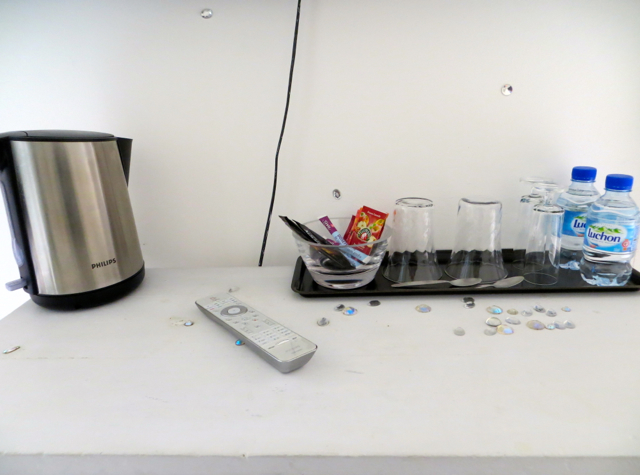 Our favorite touch? The adorable polar bear stuffed animals underneath the table. It was all I could do to convince the munchkin that they weren't ours to take home, and had to stay in the room!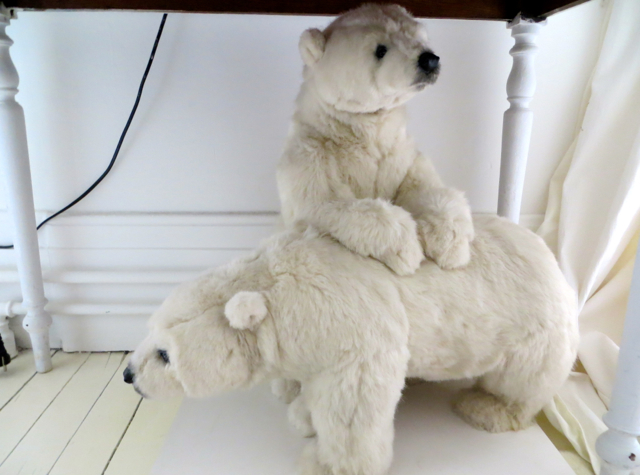 Other Unique Rooms: Moulin Rouge, Alice, Donkeyskin Suite
Daniel was kind enough to show us some of the other rooms in La Maison Stella Cadente, each uniquely decorated by the designer.
If you have a flamboyant style or simply love red, the Moulin Rouge is bold and striking: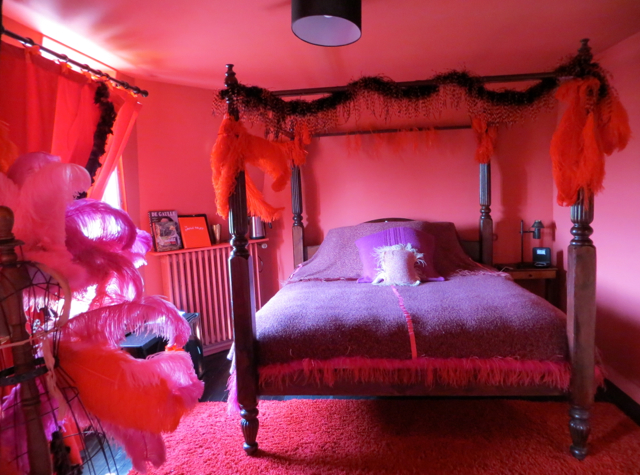 I quite liked the more understated yet still whimsical Alice in Wonderland Room: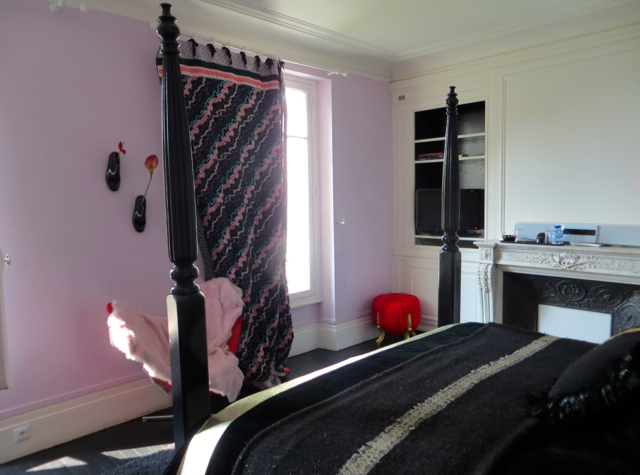 And if you're coming to Provins with your entire family, book the Donkeyskin Suite, with its two bedrooms and living room. It's not every day that a stuffed peacock graces your living room: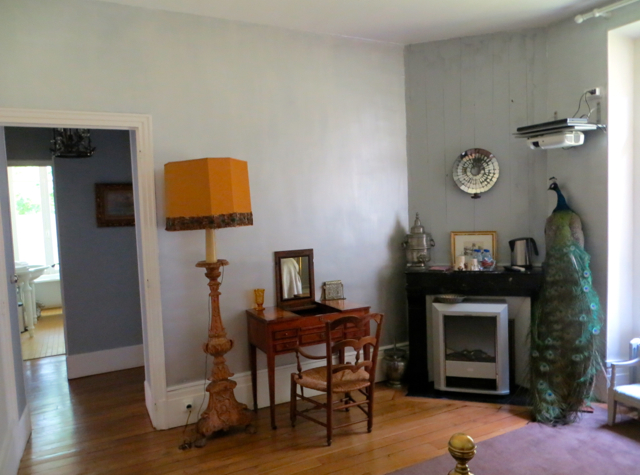 The master bedroom, for the parents, features a four poster bed and lavender, gold and white colors: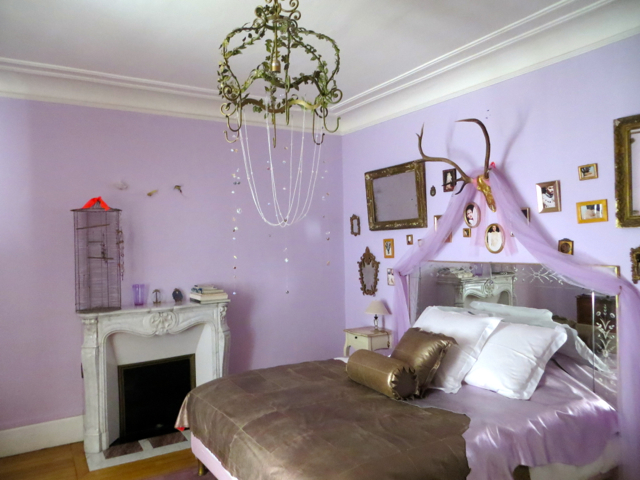 Breakfast
The included continental breakfast the next morning was delicious. We were the only guests that night in the house, so our breakfast table was set by the window, with a view of the lovely garden.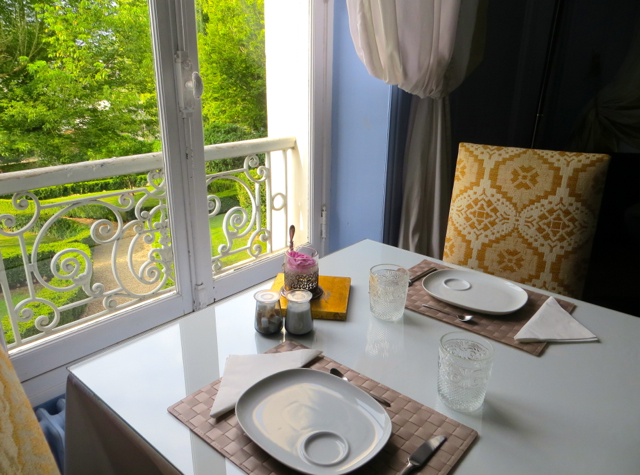 The buffet breakfast spread would have easily fed a family of 4-6:
For just the two of us, it was nice having a choice of three different cheeses, including an excellent Comte: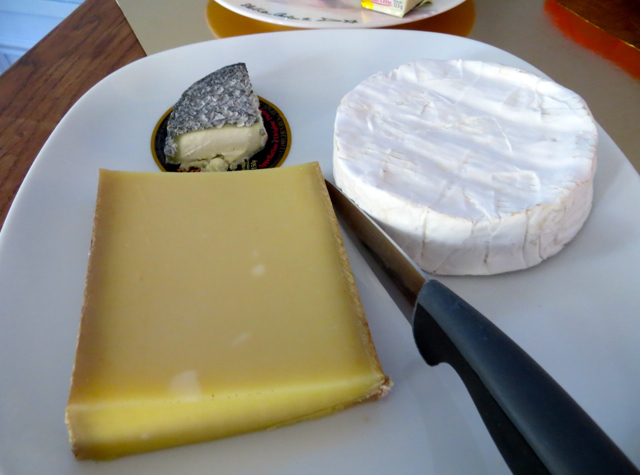 We also enjoyed the artisanal yogurts (wholemilk no doubt, they were so creamy and delicious), fresh baguette and rolls (even though not true croissants–I'd have to say the croissants at La Grande Eperviere in Barcelonnette were much better) and I especially loved the homemade rose jam made locally in Provins, along with the three other kinds of jam: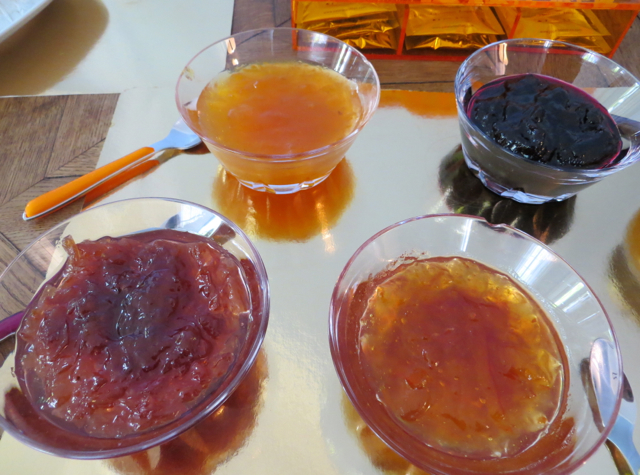 Daniel was also happy to make the munchkin a soft boiled egg and some hot chocolate, a very nice touch.
The Verdict
La Maison Stella Cadente was the perfect place for our overnight in Provins. Even though we booked one of the two least expensive rooms, the Queen of Snow, it was the perfect light yet cozy room for the two of us, with its enchanting white and crystal decor. The bed was very comfortable, and we slept well, which is the most important thing to me wherever we stay. Due to the room's size, there wasn't much room for luggage or for hanging garments, although this wasn't an issue for us with our carry on bags. The main concern for the Queen of Snow Room is that the shower leaked very slightly on one side, getting the floor wet, and there's no bathtub because it's a small room.
The included breakfast was delicious with excellent quality cheeses, yoghurts, jams and teas. The only room for improvement would be to have real croissants, instead of crescent shaped rolls, and to offer fresh squeezed juice.
Disclosure: We paid the regular rate of 175 Euros for our room at La Maison Stella Cadente.
Related Posts
Paris Travel Guide for Couples
Paris with Kids – Jardin du Luxembourg
Need Award Booking Help? Our fee is as low as $75 per ticket if you book your hotel through us.
If you enjoyed this, join 90,000+ readers: please follow TravelSort on Twitter or like us on Facebook to be alerted to new posts.
Become a TravelSort Client and Book 5-Star Hotels with Virtuoso or Four Seasons Preferred Partner Amenities!