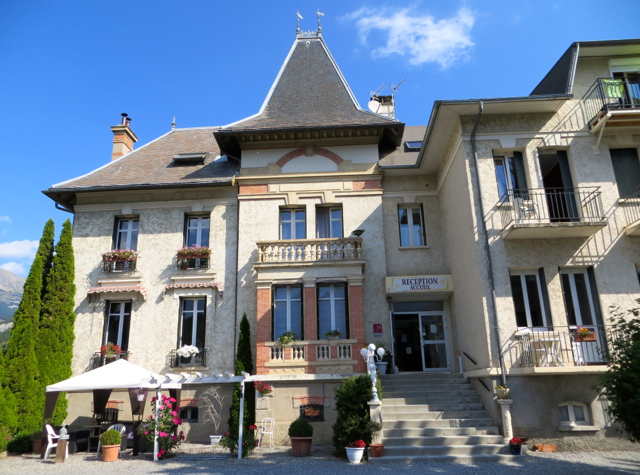 This La Grande Eperviere Barcelonnette Hotel Review is part of a UK and France trip report including flights in British Airways in New First Class, Singapore Business Class and Singapore Suites, stays in a Scottish castle and 5-star hotels in London and Paris, and Michelin Star Dining in Paris. For the prior posts, please see:
British Airways Galleries Lounge in Newark and First Class Dining Review
British Airways New First Class 777 Review
British Airways Galleries Arrivals Lounge London and Concorde Room
Singapore Business Class Review NYC (JFK) to Frankfurt
Petrus London Restaurant Review
Dalhousie Castle Hotel Review, Scotland
Dalhousie Castle Falconry Review, Scotland
Epicure at Le Bristol Paris Restaurant Review
Four Seasons Paris Hotel Review
Paris Plages (Paris Beaches) Review
Le Cinq at Four Seasons Paris Restaurant Review
Park Hyatt Paris-Vendome Review
Park Hyatt Paris Breakfast Buffet Review
Prince de Galles Paris Hotel Review
The genesis of our stay at La Grande Eperviere was, as two years ago, our Parisian friends, who often, after visiting relatives near Cannes, head up to the mountains to do some hiking in Mercantour, the sixth largest of the 10 national parks in France, covering 264 square miles. This time, instead of heading to Casterino, where we previously stayed at Hotel Chamois d'Or (see Hiking in Mercantour National Park, France with Kids) we were headed to Barcelonnette, in the Ubaye Valley. At fewer than 3000 inhabitants, it's hard to believe it's the largest town in the Ubaye Valley, but it is. It also has quite a history, with a Ligurian settlement there traced back to the first millenium BC.
You know that you're getting off the beaten track when the staff at the car rental (in our case, Marseilles) has never heard of the place you're going to. When we casually mentioned we were heading up to Barcelonnette, initially the associate assumed it was Barcelona. "No," we corrected her, we're going to Barcelonnette, not Barcelona." [Puzzled look]
Fortunately, once we got our printed map out and pointed to it, the other associate saw a more major city, Gap, and nodded, then told us the freeway signs we should be looking for.
La Grande Eperviere Location and Check-In
Due to a flight delay, we didn't arrive in Marseilles until close to 6pm, and the drive took close to 3 hours, so it was dark by the time we got to La Grande Eperviere. It was a good thing we'd reserved a few months in advance, since we noticed the French equivalent of a "no vacancy" sign.
Since a picture at night wouldn't have turned out well, I took one the next day. As you can see, La Grande Eperviere is a 3-star hotel, so even though it's pretty much the nicest lodging in Barcelonnette, it's very modest.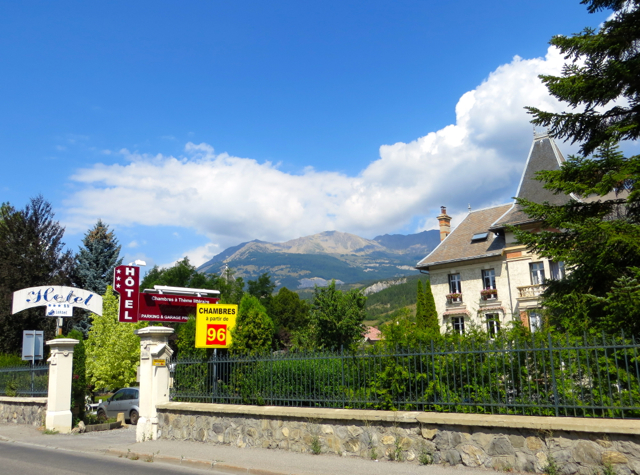 We must have been the very last ones to check in that night, as we were kindly welcomed by an elderly but energetic lady at reception who appeared to be waiting for us, given our key, and shown to our room.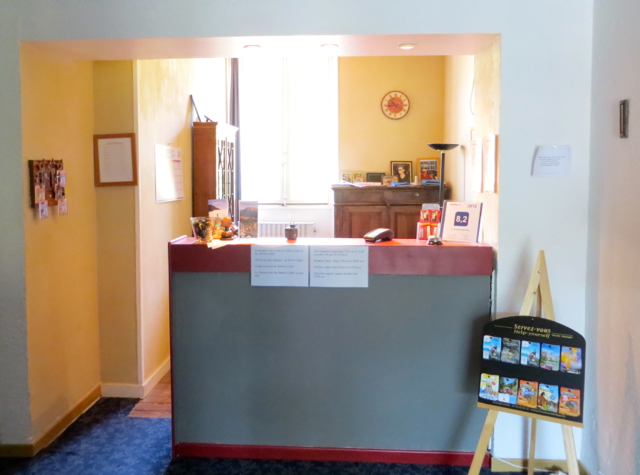 Triple Room at La Grande Eperviere
Our room was at the far end on the right, if you were outside looking at the hotel. It faced the garden, and what must have at one time been a fountain, although the fountain was dry and looked as though it hadn't been used in some time. Nevertheless, the trees and greenery were pretty both on that side, and on the other side of the house, where there were tables and chairs set up.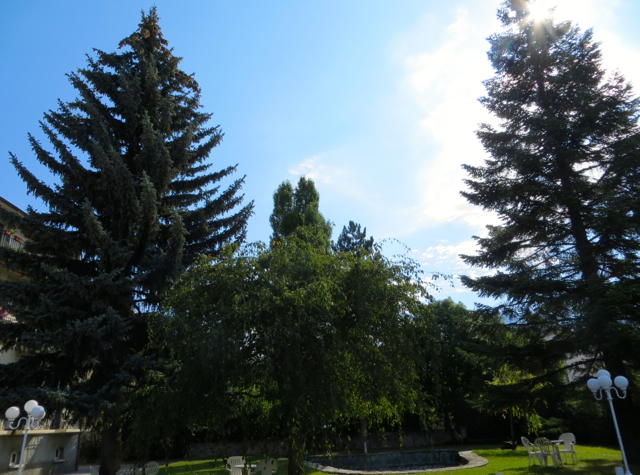 As you can see, it was bare bones, with a King size bed for us and a bunk bed for the munchkin. Unlike most entry level rooms in Paris, this room was actually meant to sleep 2 adults and 2 kids. And while the munchkin didn't have a sibling to fight over for the bunks, he pleaded with us to let him take the top bunk. Um, no. Believe it or not, a couple years ago he broke his right collarbone just falling the wrong way from a regular bed onto the floor during the night (yes, it's possible–we have the x-rays to prove it), so there was no way we were taking the chance with a top bunk, even with the railing.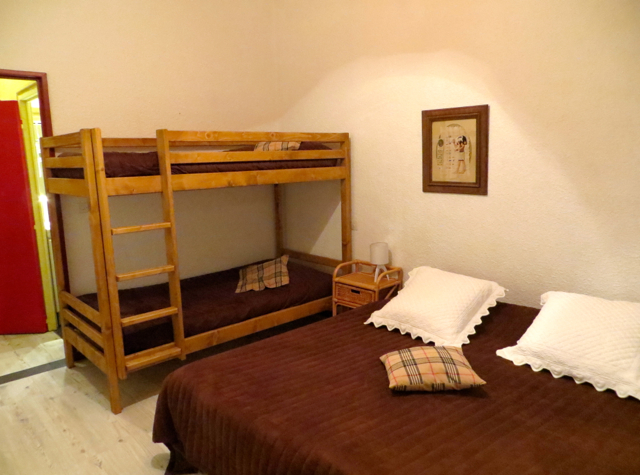 Although spartanly furnished, everything was clean and the bed was surprisingly comfortable (or we were simply too tired each night of our stay) and we slept very well.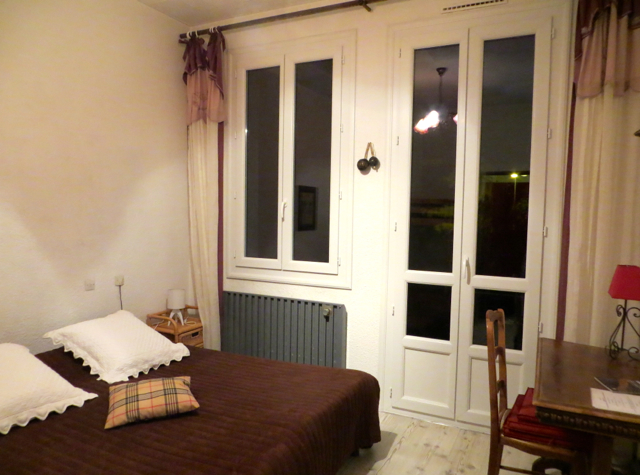 The bathroom was quite small and basic, but it did have a tub, which was perfect for us and is great for families with a young child.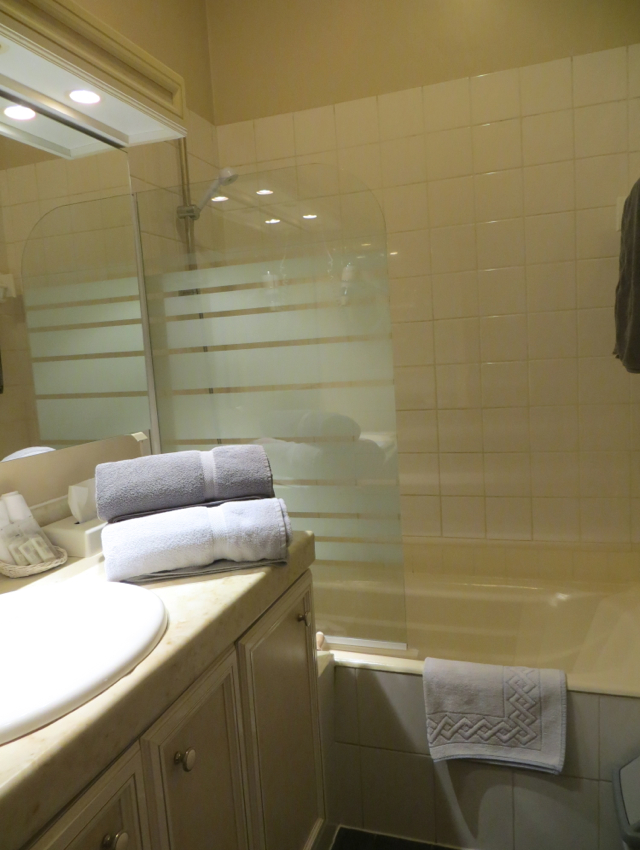 While soap and packets of shampoo were provided, I was happy to have kept the Bulgari shampoo and conditioner from the Four Seasons Paris and the Prince de Galles to use instead.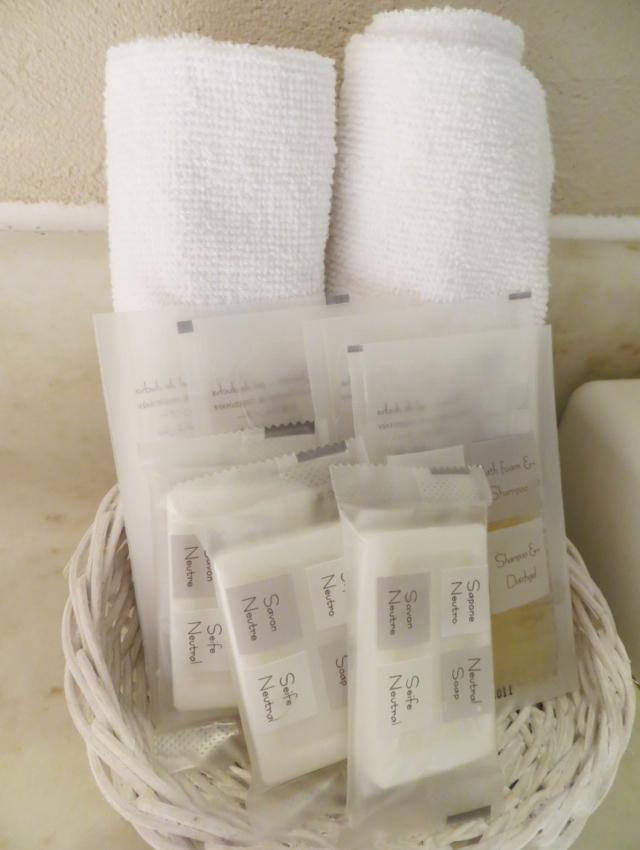 Continental Breakfast Buffet at La Grande Eperviere
Although the breakfast buffet is not included in the room rate, it's just 9 Euros per person. Kids are supposed to be half price, 4.50 Euros, but in fact our host didn't charge us for the munchkin (although if she'd paid closer attention to the amount he was eating, she might have charged him the adult rate!)
The breakfast room itself was lovely, much lovelier than our room, not that we spent much time in our room anyway, except to sleep.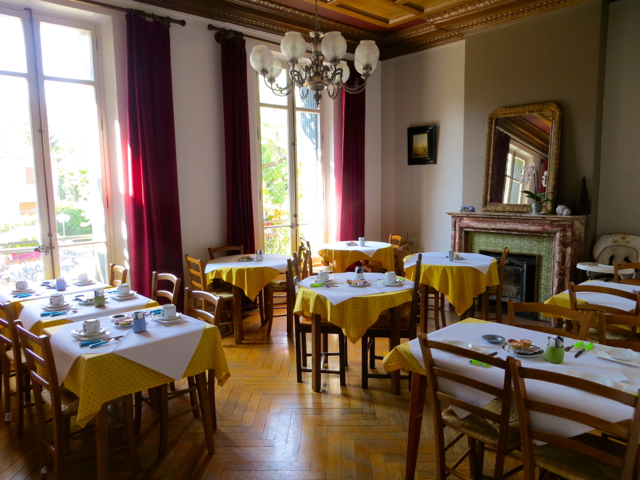 There was always a basket of fresh croissants and baguette slices waiting for us, along with various individually packaged jams. Even these jams, while not fancy, were much better quality than, say, Smuckers, or whatever you get these days at a 3-star U.S. hotel such as an Embassy Suites, etc.
Juice and coffee/espresso drinks were from machines, but at 9 Euros, we weren't complaining.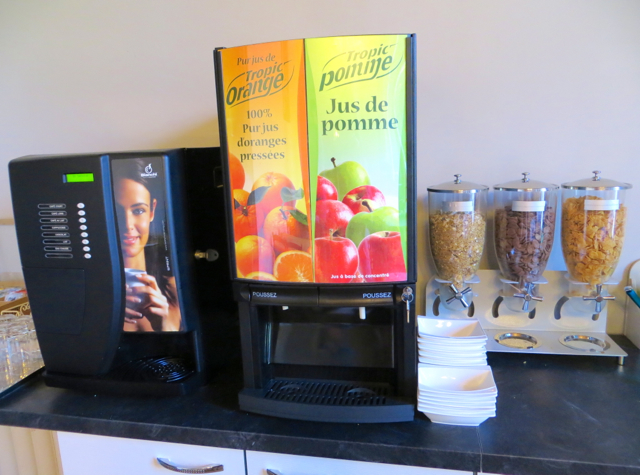 There was an array of whole fruits, including apples, bananas, grapes, and plums: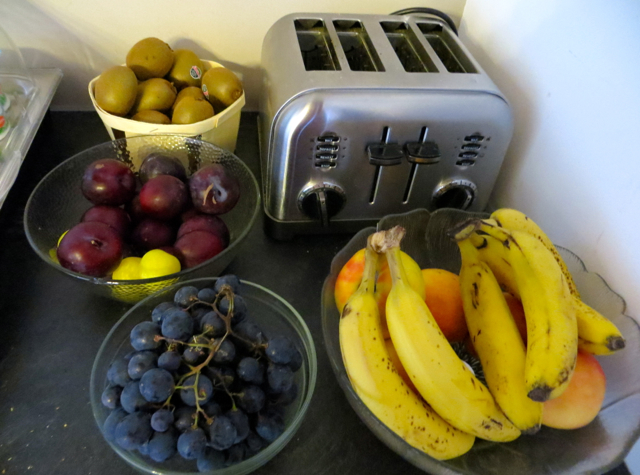 Cold cuts, although I never sampled these: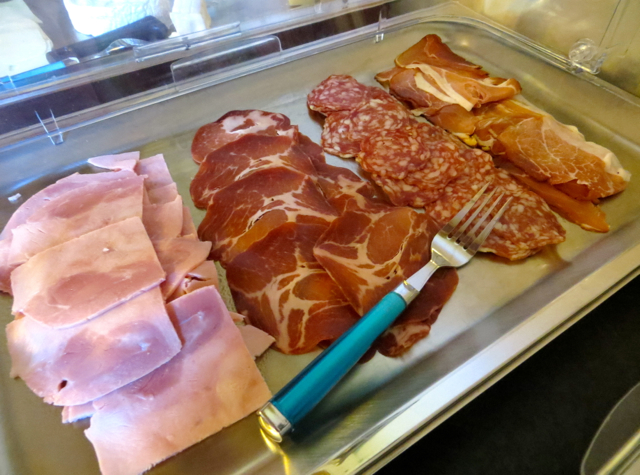 And a cheese selection, which I sampled heavily each day–much better, believe or not, than the assortment at the Park Hyatt Paris-Vendome Breakfast Buffet.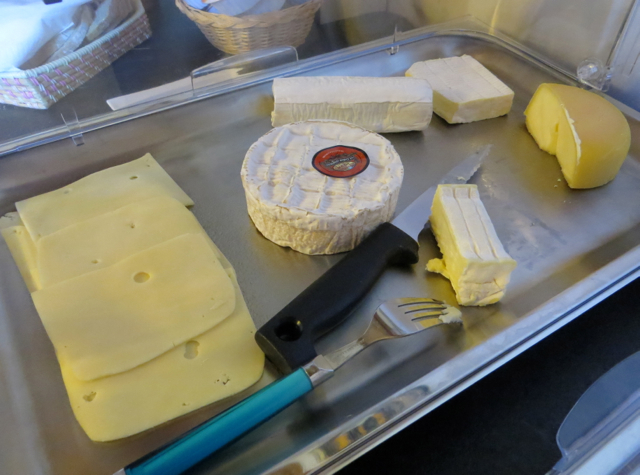 The Verdict: Even though we were there in high season (which in 2013 was June 15-September 15), and taking into account it's a modest 3-star hotel, we found the rate, 118 Euros (~$158) for a triple room very reasonable. Breakfast for 9 Euros was well priced as well, with everything fresh and delicious and a surprisingly good selection of cheeses–how I'd love to be able to pay $12 for such a breakfast at any 3-star hotel in the U.S., but dream on. The free WiFi wasn't the fastest, but consistently worked, so no real complaints there.
I must admit we'd never have come to Barcelonnette or stayed at La Grande Eperviere if our Parisian friends hadn't decided on it for part of their vacation, and we rarely stay in 3-star hotels any more. But as long as you're coming to Barcelonnette to be outdoors (as most everyone is) and not lingering in the room, it's a good choice, and proof positive that there are good value hotels in stunning areas of France…if you get off the beaten path.
Disclosure: I paid the regular rate at La Grande Eperviere Hotel in Barcelonnette.
Related Posts
Hiking in Mercantour National Park, France with Kids
Nice: The French Riviera on a Budget
What Are the Best Beaches in Nice, France?
Need Award Booking Help? Our fee is as low as $75 per ticket if you book your hotel through us.
If you enjoyed this, join 90,000+ readers: please follow TravelSort on Twitter or like us on Facebook to be alerted to new posts.
Become a TravelSort Client and Book 5-Star Hotels with Virtuoso or Four Seasons Preferred Partner Amenities!