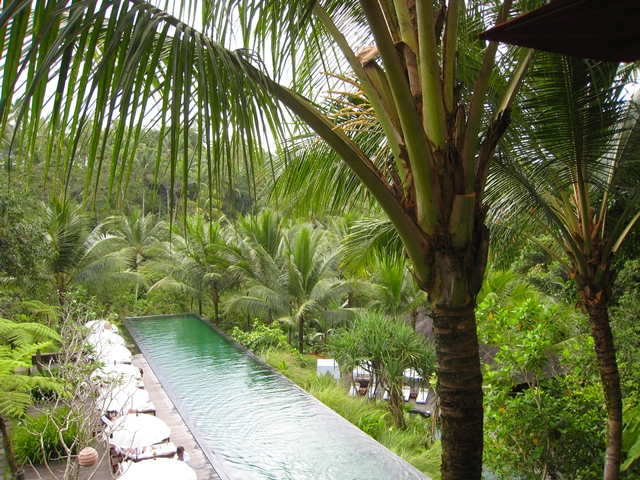 This Komaneka at Bisma hotel review is part of a trip report including Cathay Pacific Business Class and First Class to Hong Kong and Bali, plus reviews of luxury hotels and food in Hong Kong and Bali. Prior posts include:
Review of British Airways Galleries Lounge at JFK Airport
Cathay Pacific Business Class Review: 777-300ER NYC to Hong Kong
Cathay Pacific First Class NYC-Hong Kong
Tim Ho Wan Review: Hong Kong's Best Dim Sum and Cheapest Michelin Star?
Mandarin Oriental Hong Kong Review
Cathay Pacific Business Class Review 747-400: Hong Kong to Bali
Ayana Resort and Spa Review-Club Level
Four Seasons Bali at Jimbaran Bay Review
Hotel Review: The Kayana in Seminyak, Bali
Restaurant Review: Metis in Seminyak, Bali
Batu Karang Resort on Nusa Lembongan
Restaurant Review: Indiana Kenanga, Nusa Lembongan
Diving and Snorkeling at Nusa Penida and Nusa Lembongan Near Bali
We stayed 2 nights at Komaneka at Bisma in Ubud, Bali, after coming back from Batu Karang on Nusa Lembongan. I'd stayed in Ubud (although not at Komaneka, which wasn't around at the time) about 11 years ago, and it's become much, much busier and more touristy. I was very glad that we'd chosen to spend most of our time on Nusa Lembongan. That said, I was relieved when our driver turned up off of Ubud's main drag and headed along a rather bumpy road away from the touristy area–soon there were mostly rice fields, and he pulled into a driveway that led to Komaneka at Bisma.
The open air reception area was curiously quiet, we were the only ones there, but no worries–the friendly staff welcomed us with a drink garnished with a carrot star, and a refreshing towel, while we quickly completed our registration.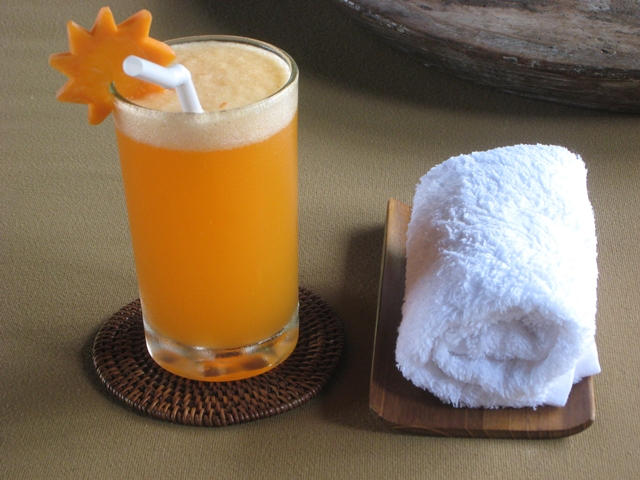 As it was lunch time, we were quite famished and made our way to the restaurant, where again, we were the only ones there. I'll cover the dishes we had in more detail later in the post.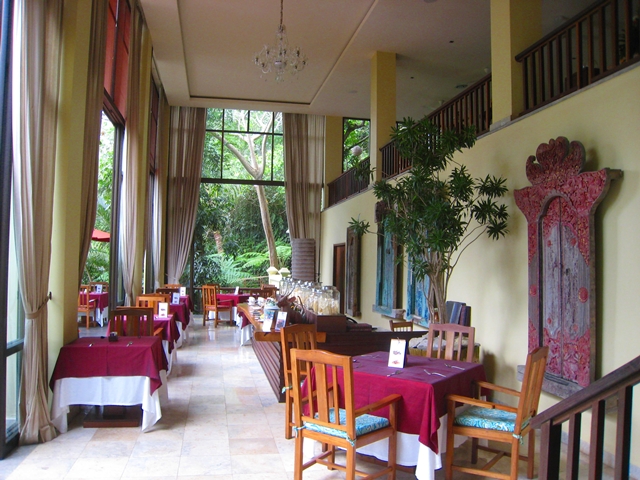 There was a beautiful view of the lush grounds and the hotel's main pool from the restaurant balcony, where we dined:
Bisma Suite
After a delicious lunch of the beef rendang, duck, and even wood-fired pizza for the munchkin, we made our way to our room. I'd booked the entry-level Bisma Suite, but it was still incredibly spacious. There were gauzy curtains that divided the room, although these weren't of course as convenient as an actual separate room from a family perspective–we needed to go to bed roughly the same time as the munchkin: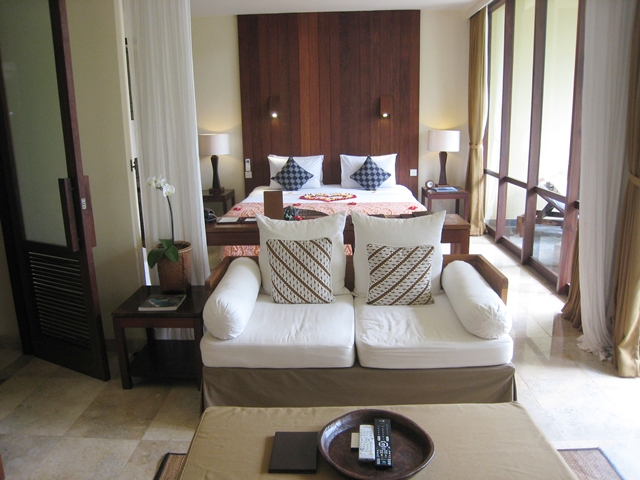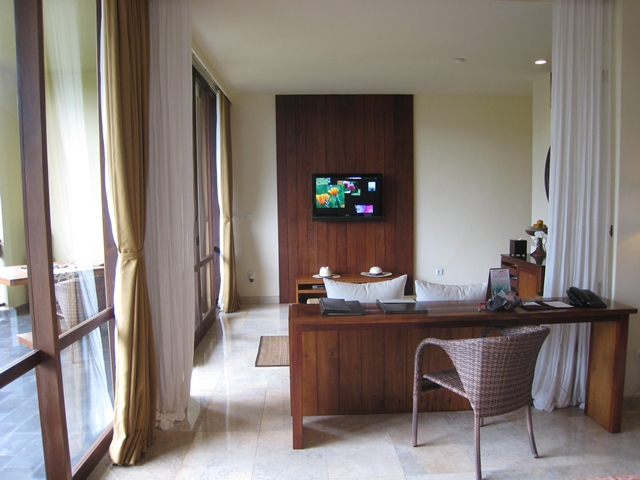 I loved the beautiful heart made of flower petals that adorned our king bed: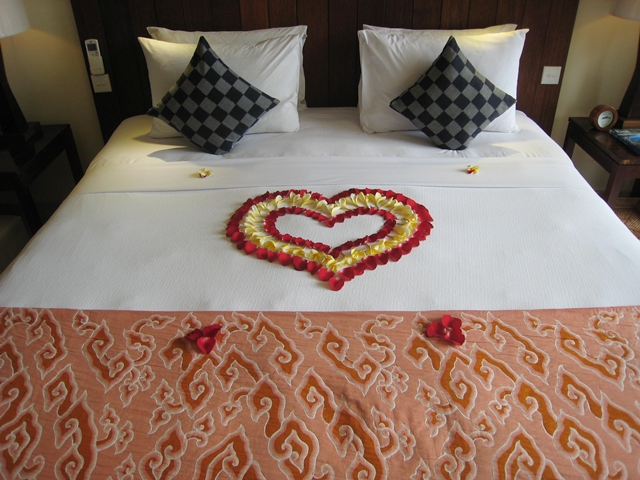 The bed was comfortable,but the fact that it was only made up with sheets and a decorative runner proved to be a problem later that night, when we weren't able to entirely turn the air conditioning off. Ironically for Bali, we were freezing, but didn't want to risk waking the munchkin up by calling for help or blankets, since we'd put his bed near the door. Note to self–ALWAYS make sure the temperature controls work before getting ready for bed!
There was also a fruit welcome amenity, and there would have been cookies, but we asked for them to be removed due to allergy reasons.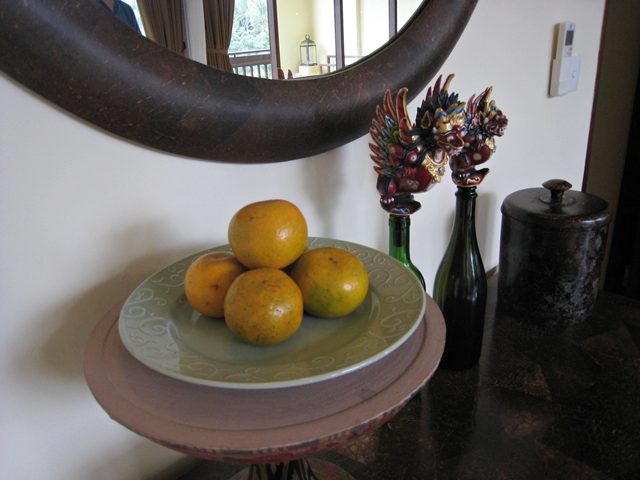 There were also a couple handmade cloth bags with some amenities from the Komaneka Spa, and a 10% discount that we unfortunately didn't have time to use.
The bathroom was also enormous–you could have held a small cocktail party for 10 in it. There were dual vanities and a stand alone soaking tub: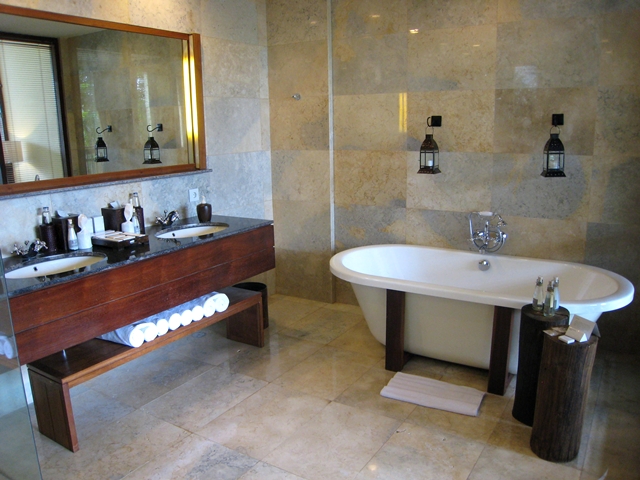 And a separate glass enclosed shower, with a tall showerhead that more than accommodated my 6'5″ husband: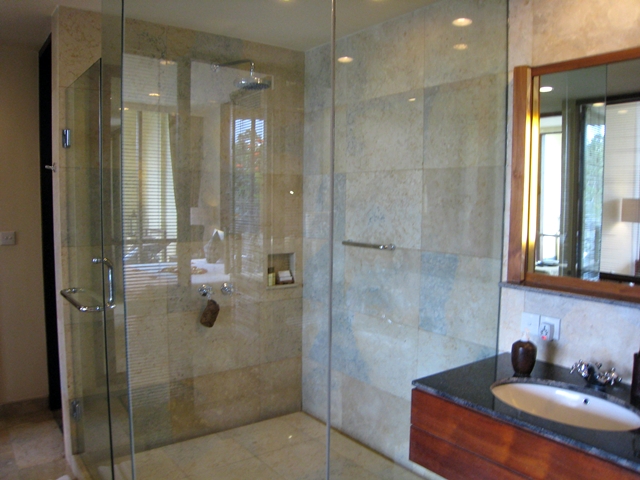 The balcony looked out on the lush green grounds of the resort, and had two lounge chairs and a small table: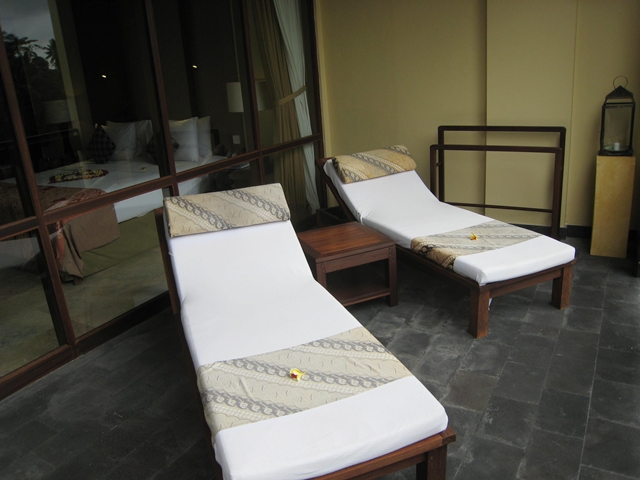 Now, as I noted above, that evening, after having already put the munchkin to bed, we weren't able to adjust the thermostat or even turn off the air conditioning entirely. Since we didn't want to wake the munchkin, we did our best to keep warm by putting on more layers. Unfortunately, we were also disturbed by the guests above us seemingly moving furniture around. As you can see from the photos, the floor is polished stone, so there's no carpet or padding to soften the sound of moving furniture. I've no idea why they wanted to rearrange furniture at midnight, 1 am and 7am, but between that and the thermostat, we didn't get a lot of sleep.
We mentioned this to the front desk in the morning, and asked if we could switch rooms so that we could be on the top floor with no one above us. They were very sympathetic, and actually switched us to a One Bedroom Pool Villa, which completely solved the noise issue–and was very generous on their part. Here we go with those photos:
One Bedroom Pool Villa
The one bedroom pool villa was just a short walk from the main building, and the same level as the main restaurant, although there are also golf carts you can call if you're feeling lazy or for your luggage. After entering, there were a few steps down to the outdoor living room and veranda:
There was an outdoor kitchenette with fridge, microwave, tea and coffee maker, blender, toaster, and full set of plates, cutlery, etc.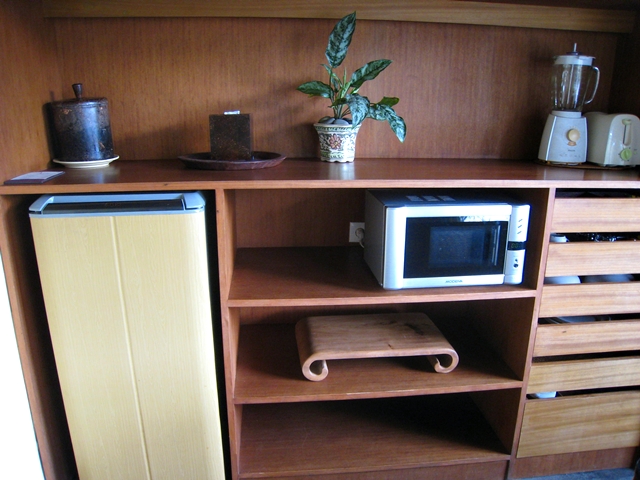 What of course riveted our attention, however, was the infinity pool, with lovely green landscaping making it feel completely private. We couldn't see any other villas, due to the design.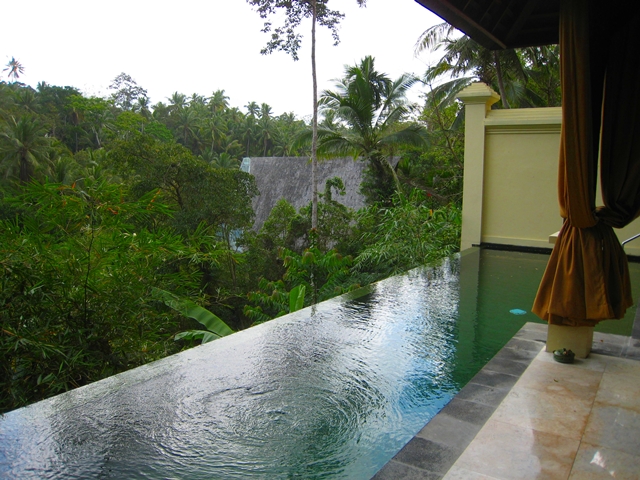 After a swim, you could relax on one of the two day beds: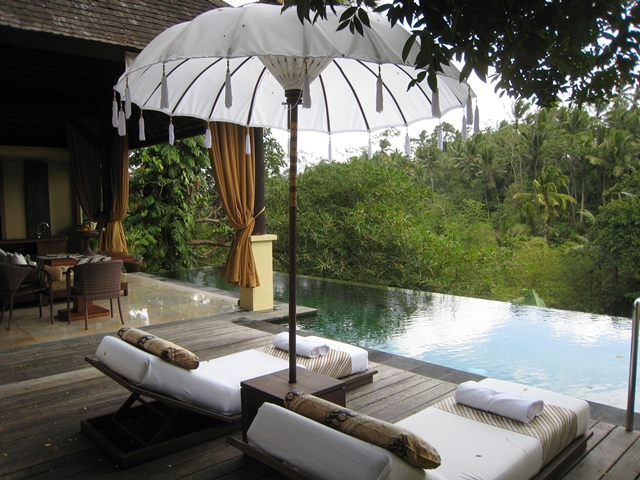 And as with the Bisma Suite, there was a welcome amenity of fruit on the table: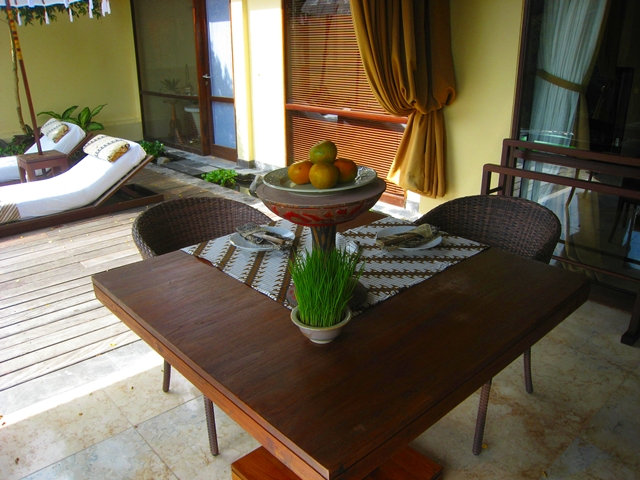 Inside was the bedroom with King Bed: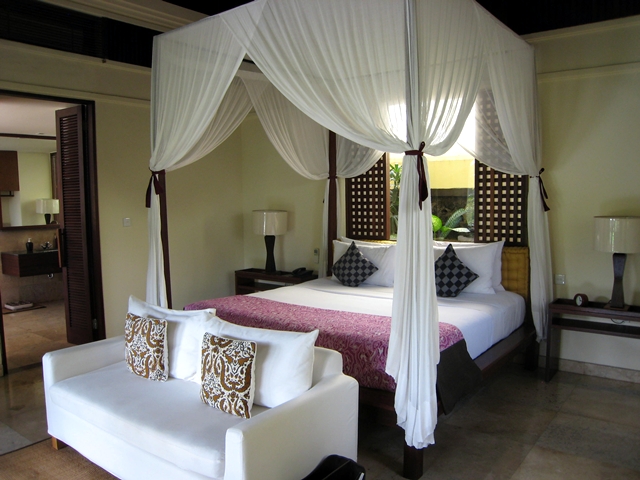 The dual vanities were separate: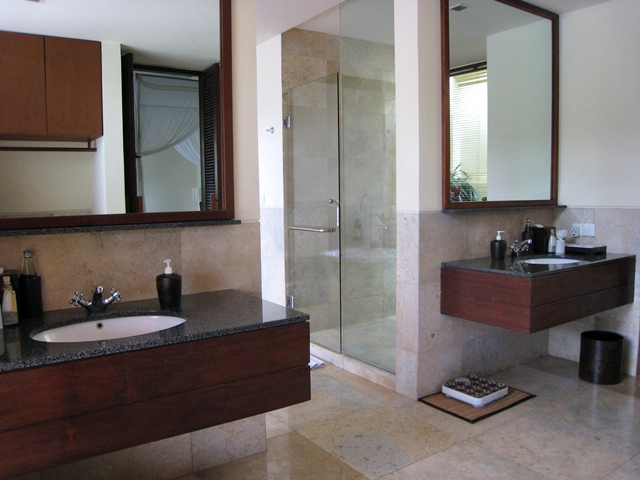 Across from each vanity was an open closet with bathrobe and plenty of space to hang clothes, plus place for luggage and storage cabinets: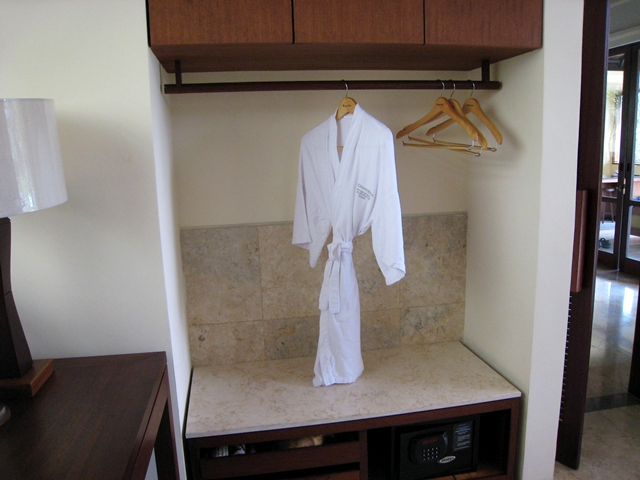 Beyond that was the bathroom, with stand alone tub: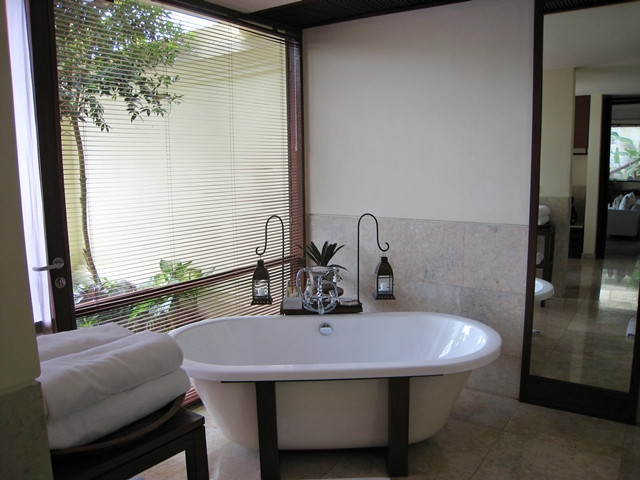 And similarly large glass enclosed shower, although this time there was also an outdoor shower that you could reach by going through the indoor shower: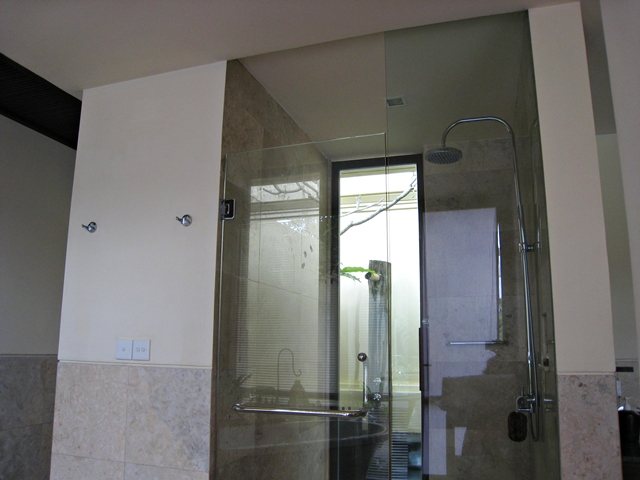 Needless to say, we were delighted with the One Bedroom Villa, and made good use of the outdoor infinity pool. While obviously more expensive than the Bisma Suite, I'd say it's worth it for at least a one night splurge, even if you can't afford to stay in one for the full duration of your stay. The only issue we encountered with our particular suite is that, due to heavy rain during the night, there was a slight leak. It wasn't over the bed or anything, and since it was late and we again didn't want to disturb the munchkin, we simply put a trash can with a towel in it under the leak to ensure no water went onto the floor, and of course told the hotel in the morning so that they could repair it.
I've read one or two reviews that complained about the food at Komaneka at Bisma, but with very few exceptions, I thought the food was great–and as regular readers know, I can be pretty critical of food if I don't think it's very good.
Breakfast at Komaneka at Bisma
Breakfast is included in your rate, and offers a good variety of Balinese, Indonesian and Western choices. In addition to a main course, you can also choose some yogurt with fruit, cereal or pastries, and you also get juice and coffee or tea. My first morning I had the banana pancake with maple syrup, which was good, if not that memorable.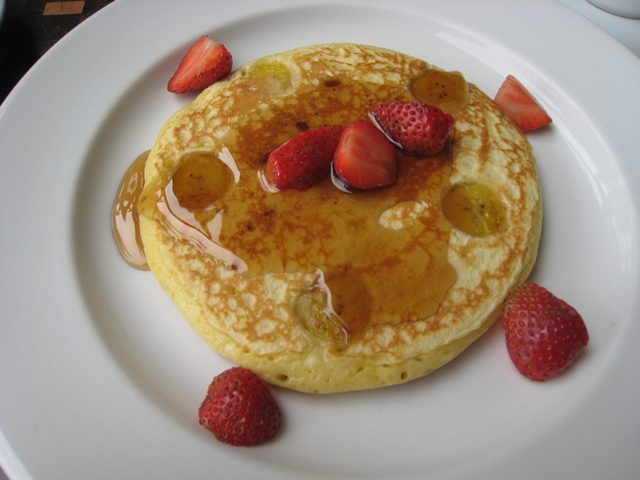 Our last morning, we requested breakfast very early, since we were scheduled to depart a bit after 7am. We received our wake-up call right on time, and breakfast was also served at exactly the time we had requested it, all brought to our villa and piping hot. I'd decided to try two Balinese breakfast items. Unfortunately I forget what the first one was called, but it was a kind of savory vegetable patty atop a traditional salad, and it was delicious. I'll have to figure out what it was called, so I can be more specific in my recommendation:
The glutinous rice dumpling stuffed with banana and drizzled with palm sugar syrup was great if you wanted something sweet and simple, as many of us do in the morning: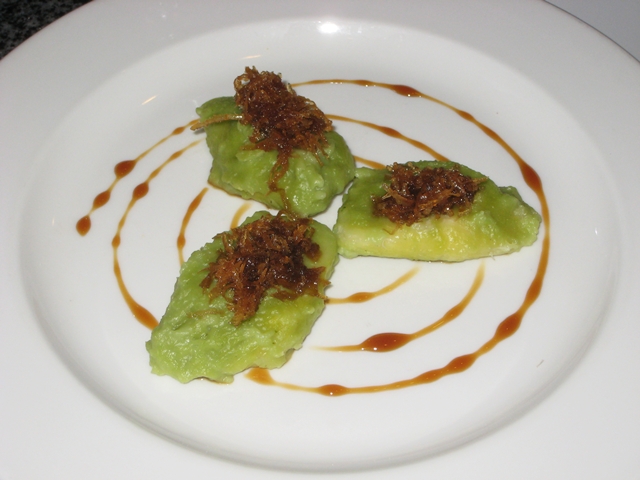 And the Western style smoked salmon eggs benedict was also executed well, with perfectly crispy bacon: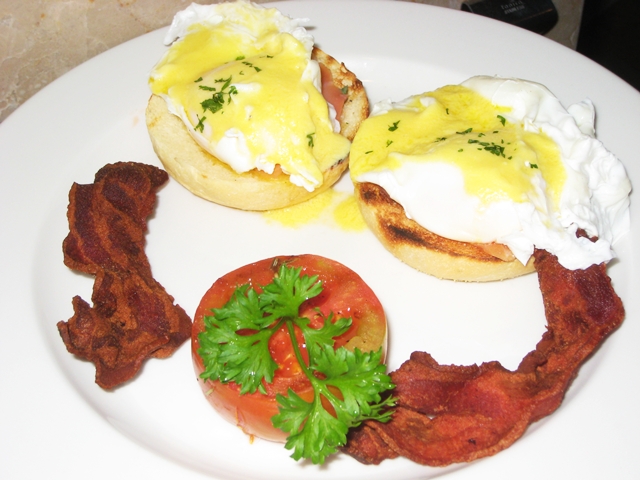 Complimentary Afternoon Tea at Komaneka at Bisma
Another nice aspect of Komaneka at Bisma is the complimentary afternoon tea, served 3-5pm daily. I was skeptical of this after the rather lackluster afternoon tea at The Kayana, but was happy to be proven wrong–both days there were a number of delicious savory and sweet snack served, accompanied by tea. Ok, so don't expect high end Mighty Leaf or Mariage Freres tea, but the real highlight were the traditional Balinese and Indonesian snacks. Here's what the buffet looked like: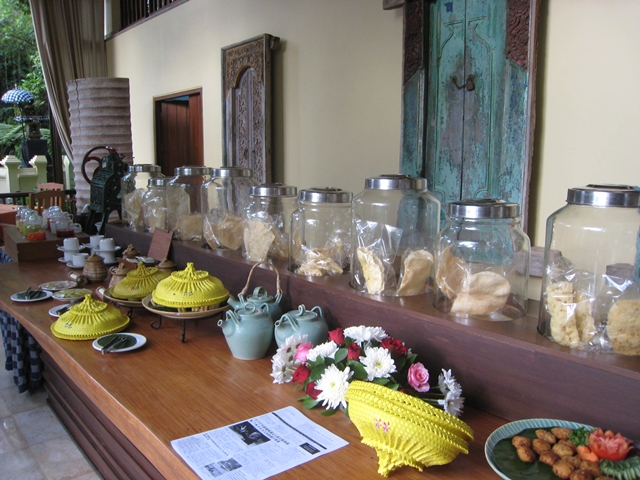 And one of our plates with the various snacks and cakes, plus fresh passion fruit, which is one of my favorite fruits: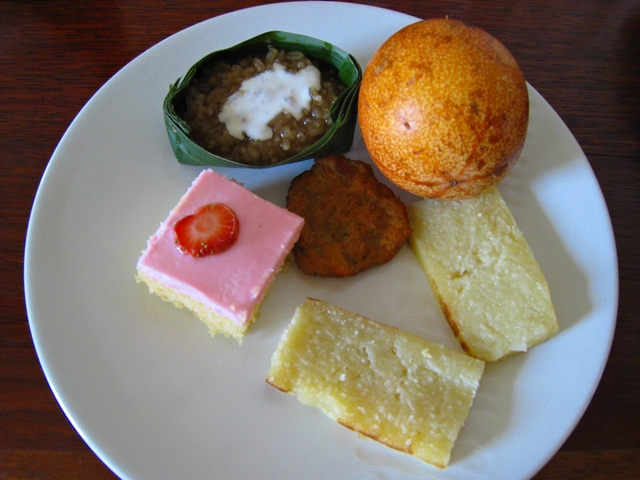 What I also loved, beyond the tasty snacks, was that one or two staff members demonstrated traditional Balinese arts. When I was there, this friendly associate was demonstrating Balinese offering making, while her colleague demonstrated Balinese wood carving: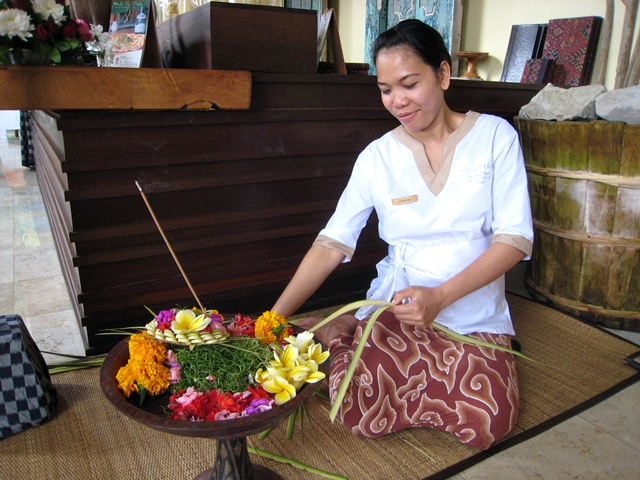 The Verdict: Notwithstanding the two challenges we experienced, with a thermostat that didn't work and undue neighbor noise in the Bisma Suite, and the leak in the One Bedroom Pool Villa, Komaneka at Bisma would still be where I'd most likely stay if I visited Ubud again. We really enjoyed the beautiful, peaceful surroundings, the very spacious suite and villa done in modern Balinese style, the lovely main infinity pool and our private pool with the pool villa, and the friendly, genuine service.
While in general the Balinese are very friendly and hospitable, and you'll receive very good service at pretty much every high end hotel as well as many more modest lodgings, we were especially fond of how genuinely friendly the staff at Komaneka at Bisma were. I got the sense that the Balinese owners had really endeavored to carefully recruit and develop their staff, and that this empowerment made them more eager to help guests. For example, there's no official shuttle between Komaneka Rasa Sayang and Komaneka at Bisma, but when the munchkin and I, tired from walking around the Monkey Forest area, stopped in to see if we could get a ride back to Komaneka at Bisma, they checked quickly and with a smile arranged a complimentary ride back. Similarly, a family allergy was carefully noted, and they made sure that nothing with that allergen was in our rooms or offered to us at the restaurant. It was quite striking that I didn't run into a single person there that seemed as though they'd rather be somewhere else and was just going through the motions.
Visiting Ubud, Bali? Book Komaneka at Bisma for a great rate with TravelSort. And for dining at Komaneka, don't forget to pay with either a Prepaid AMEX refilled with your Ink Bold or Ink Plus for 5X points, or your Sapphire Preferred for 2X points.
Related Posts