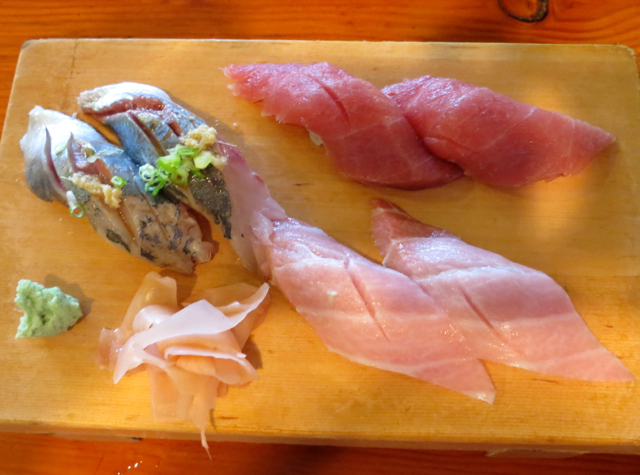 This Koiso Sushi Bar Maui Review is from a recent Maui and Hawaii trip, with stays at the Four Seasons Maui at Wailea and Andaz Maui at Wailea.
For prior posts in this trip report, please see:
Alaska Airlines First Class Review
Alaska Airlines Board Room Seattle Lounge Review
Alaska Airlines First Class to Hawaii
Hyatt Place Waikiki Beach Review
Andaz Maui at Wailea Suite Review
Ka'ana Kitchen Review and Andaz Maui at Wailea Dining
Mama's Fish House Review in Paia, Maui
Four Seasons Resort Maui at Wailea Review
Breakfast at DUO at Four Seasons Maui at Wailea
Getting to Koiso Sushi Bar in Kihei
Getting to Koiso Sushi Bar in Kihei, at 2395 South Kihei Road, is easy from the Four Seasons Maui in Wailea, or any of the Wailea resorts. Drive along Wailea Alanui Drive until you reach Oholani Drive and take a left on Oholani, which turns into South Kihei Road. Go about 1.5 miles and turn right into a small strip mall, Dolphin Plaza. Koiso Sushi Bar is located towards the back of the parking lot, on the right.
The Scene
There is no need to dress up for Koiso Sushi Bar, although an aloha shirt or sundress won't be out of place either–it's a no frills place, where the focus is on the food. When we went, there were both young and older couples around the sushi bar, and it's well known among certain Japanese visitors, although there seemed to be primarily locals there when we visited.
Since we had the munchkin with us, after being welcomed by Hiro-san's wife, who verified we had a reservation (and yes, you should make a reservation a few weeks in advance because the place is tiny) we were seated at the one table, a 4-top. Kids aren't allowed at the sushi bar, but that was fine with us, because we prefer to share family style, which is a bit harder to do at the sushi bar anyway, at least among three people.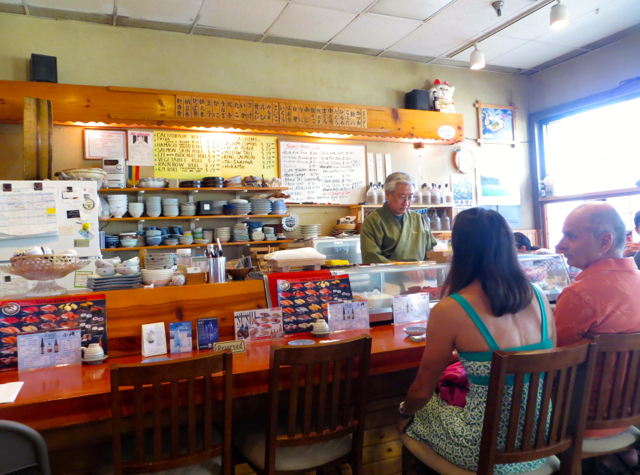 Koiso Sushi Bar Menu and Food
Koiso Sushi Bar, as its name implies, is strictly a sushi specialist. Don't come here expecting other types of Japanese food. There's no printed menu–the specials are listed on chalkboards on the wall. The one on the left noted the fresh nigiri sushi specials of the day, with their prices: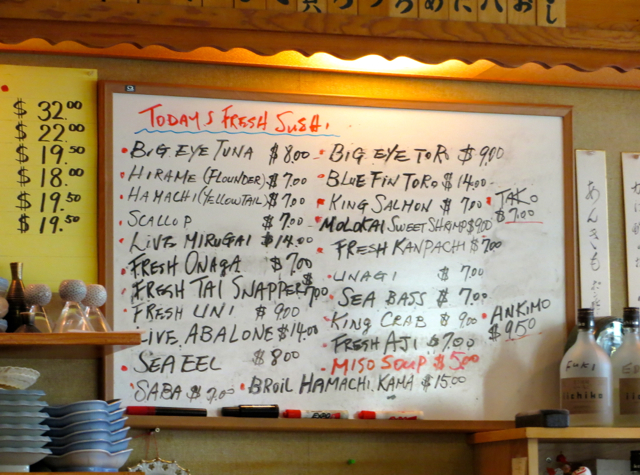 And the one on the right listed the various sushi rolls and sashimi options. Hiro-san prepares traditional Japanese sushi, where the fresh fish takes center stage. No Americanized rolls with sauces–if that's what you'd like, go to Sansei Seafood.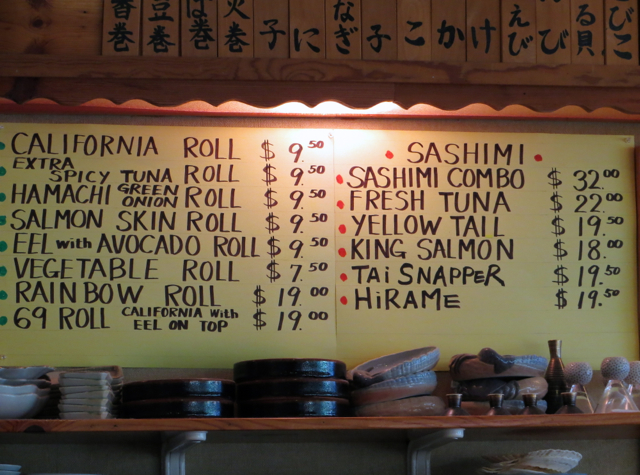 We ordered modestly, since we'd had a filling lunch at Mama's Fish House earlier that day. While we waited for our food, Hiro's wife brought us edamame, which my husband and I enjoyed, although the munchkin eyed this new food suspiciously.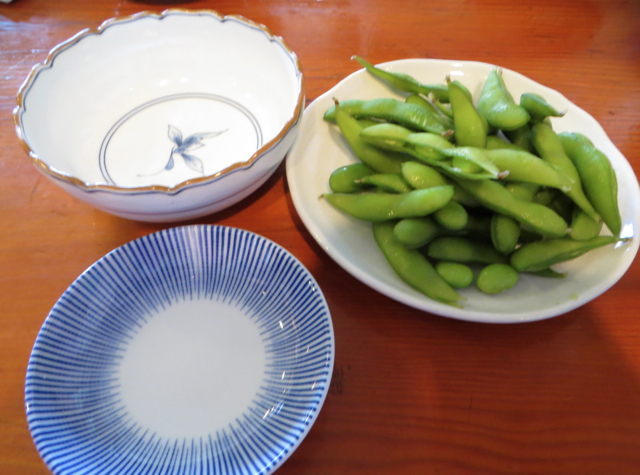 Our miso soup also came out quickly, and I have to say it was one of the better miso soups I've had in a long time–flavorful, clearly homemade, with plenty of enoki mushrooms: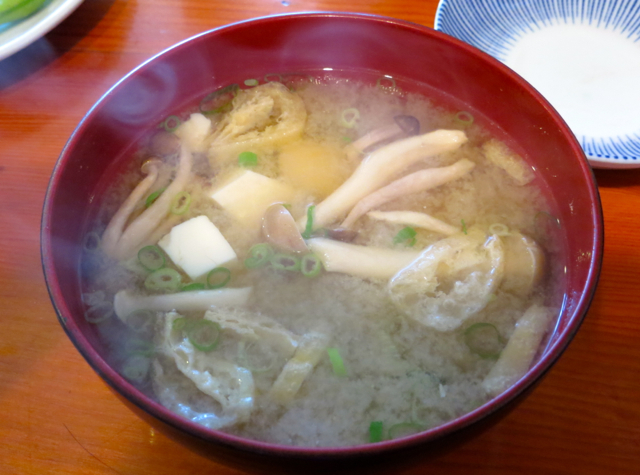 It took quite some time to receive the rest of our food, by which time the munchkin was getting quite hungry and cranky. Fortunately it was delicious once it did arrive: two orders of hamachi kama (grilled yellowtail cheeks). The fish was perfectly cooked, slightly salty with a nice crispness on the exterior, and perfectly moist inside. My only criticism was that there seemed to be less fish on these than is usual when ordering hamachi kama, but of course hamachi come in all different sizes, so this must have simply been on the smaller side.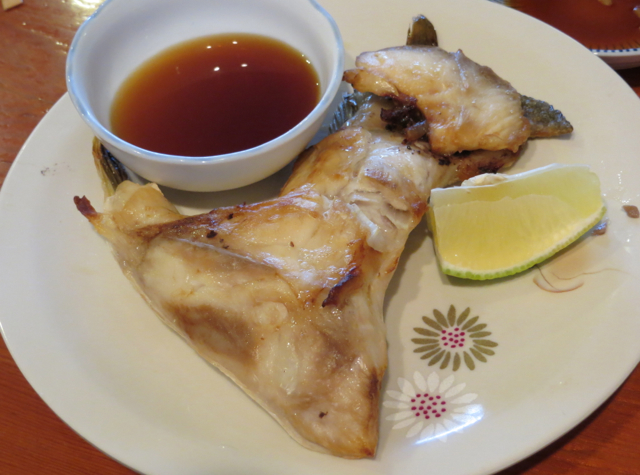 We only ordered three of the nigiri, but they were all fantastic, particularly the silky Blue Fin Toro and the super fresh Aji (horse mackeral). The Big Eye Tuna was very good as well, but just not as memorable as the toro and the aji.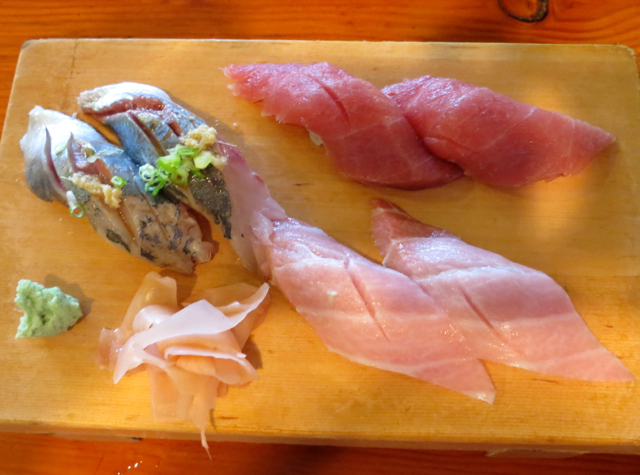 Our other order was the salmon skin roll, which we figured the munchkin would like. It came with some veggies in it that he didn't care for, but the salmon skin was superb, and we all could have easily eaten quite a bit more of it.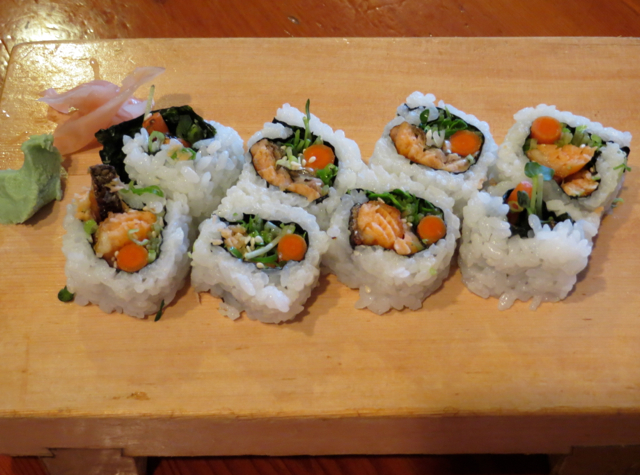 A nice complimentary touch was a plate of fresh pineapple pieces, a fresh and fitting ending to our meal.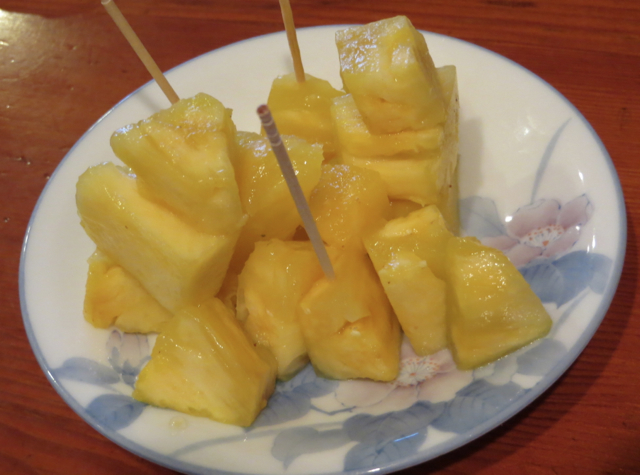 The Service
Hiro's wife was welcoming and friendly, and she always ensured our water glasses were kept filled. It did take a long time for us to receive our food, so my sense is that those seated at the sushi bar receive priority. This was a little hard since we had the munchkin with us, who at his age feels hunger pangs more intensely than we do. But the reason it can be a wait is clear: Hiro-san does all the sushi preparation, so it simply takes time to make everything. I recommend reserving for the earlier seating, in case you do end up having to wait awhile for your sushi.
The Verdict
Koiso Sushi Bar is a great, no frills sushi place for sushi traditionalists, which I am, ever since working in Japan for a year. Don't expect any atmosphere to speak of, and be prepared to wait for your sushi. But if you hang in there, do expect some of the freshest sushi and sashimi on Maui. Oh, and definitely make a reservation well in advance by calling (808) 875-8258.
Related Posts
Mama's Fish House Review in Paia, Maui
Four Seasons Preferred Partner Benefits
Best Offers: Four Seasons Maui, Four Seasons Hualalai, Four Seasons Lanai Manele Bay, Lodge at Koele
Honeymoon in Hawaii: Which Island and Which Hotels?
Best Frequent Flyer Miles for Hawaii Award Tickets
Disclosure: My family and I were guests and enjoyed a complimentary stay at the Four Seasons Maui at Wailea and breakfast at DUO, however the views expressed in this post are my own.
Need Award Booking Help? Our fee is as low as $75 per ticket if you book your hotel through us.
If you enjoyed this, join 150,000+ readers: please follow TravelSort on Twitter or like us on Facebook to be alerted to new posts.
Become a TravelSort Client and Book 5-Star Hotels with Virtuoso or Four Seasons Preferred Partner Amenities!