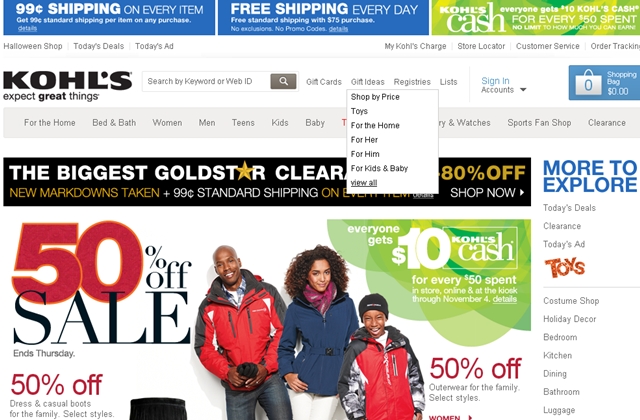 11/29/12 Update: Kohl's is offering an extra 25% off when you spend $100 or more with code MOREGIFTS25 and free standard shipping for orders $50 or more. Not bad when paired with 15X via the Ultimate Rewards Mall 10X and the Chase Freedom for 5X.
November seems a pretty lackluster month for the Chase Ultimate Rewards Mall. The best deal is Kohl's 15X, which you can get by clicking through the Ultimate Rewards Mall for 10X, then paying with the Chase Freedom Card for another 5X, since Kohl's is one of the 5X bonus categories October-December 2012, along with airlines, hotels and Best Buy.
The bad news is that Sears, which has remained at 5X, now explicitly excludes points for gift certificate purchases, which it didn't before. So it looks like Sears 20X and double dipping will no longer be possible: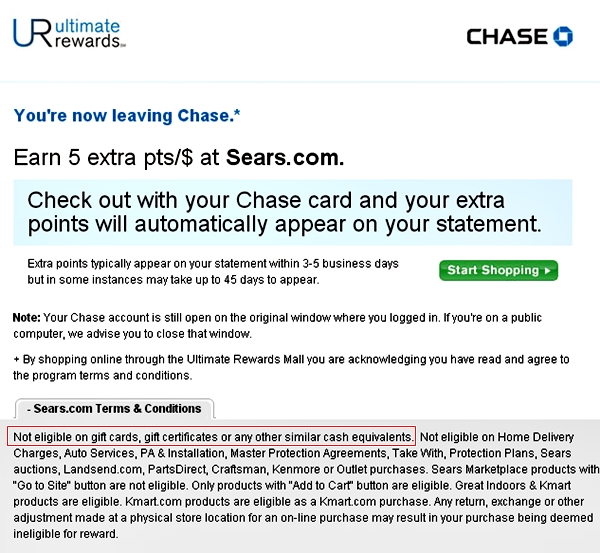 It is still possible to double dip and get 10X with Home Depot and Lowe's, by first purchasing a Home Depot or Lowe's gift card at an office supply store using your Ink Bold or Ink Plus for an effective 5X, then clicking through the Ultimate Rewards Mall for 5X and using your gift card to purchase. You may want to try to use a credit card for some small part of the purchase as some have reported not receiving points on purchases made entirely with a gift card.
But onto the current best deal, Kohl's 15X, with 20% Kohl's Cash back if you purchase by 11/4/12:
1. Ensure you Have a Chase Freedom Card
You'll need to pay with a Chase Freedom in order to get the additional 5X on top of the 10X offered by the Ultimate Rewards Mall
2. Comparison Shop on the Kohl's Site vs. Other Sites Then Clear Cookies
It's best to comparison shop then clear cookies before going through the Ultimate Rewards Mall, so that you can fairly quickly add items to your cart and checkout while retaining the cookie from the Ultimate Rewards Mall, to ensure you get your 10X points.
3. Log into the Ultimate Rewards Mall using your Chase Freedom
4. Click on the Kohl's 10 Extra Points Link
5. Click on the Green "Start Shopping" Button
Note that gift certificates are NOT eligible for points.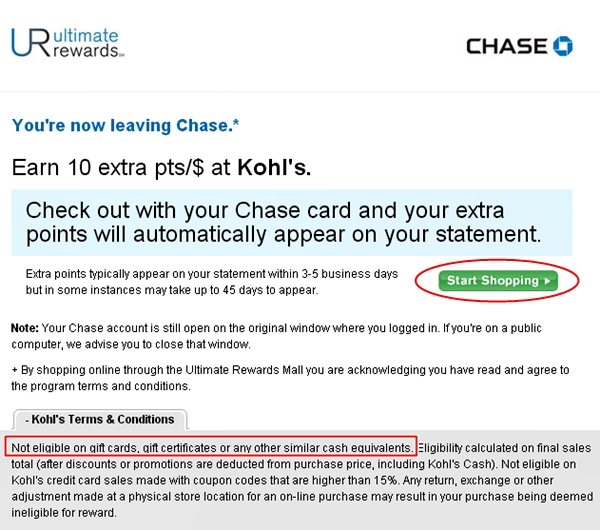 6. You Can Get an Additional 20% Kohl's Cash Back for $50, $100, etc. Purchases Made By 11/4/12
If you spend $50 you'll get $10 in Kohl's Cash, $100 gets you $20 Kohl's Cash etc. if you purchase by 11/4/12. The Kohl's Cash is redeemable in store at at Kohls.com for purchases 11/5-11/14. Note that you earn Kohl's cash on the actual amount paid after all discounts, and when you use the Kohl's Cash you won't get points for the amount of the discount.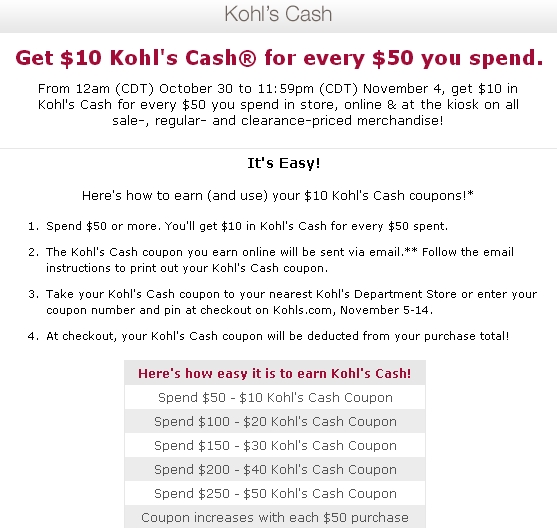 11/3 Update: Have received my Kohl's Cash via email; since my purchase was just over $200, I earned $40 in Kohl's cash that I can spend November 5-14. That's on top of 3000 Ultimate Rewards points, thanks to 15X! Here's what the email looks like: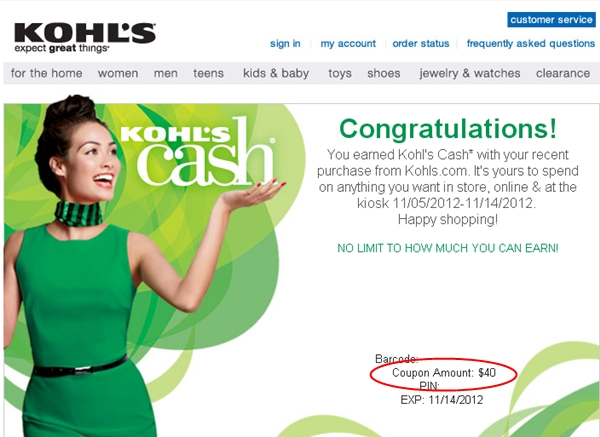 8. View Your Ultimate Rewards Mall Bonus Points
Ultimate Rewards Mall points are usually quick to post, within a few days, but the terms do say that it can take up to 45 days to appear. To view them, go to the "Rewards Activity" dropdown and select "Ultimate Rewards Mall & Travel Earnings"
Do you plan to get 15X points at Kohl's and 20% Kohl's Cash back using the Ultimate Rewards Mall and Chase Freedom?
Check out and apply for the Best Travel Credit Cards.
If you enjoyed this, please follow TravelSort on Twitter or like us on Facebook to be alerted to new posts.
Become a Member to find your perfect luxury or boutique hotel at up to 50% off: TravelSort Hotels