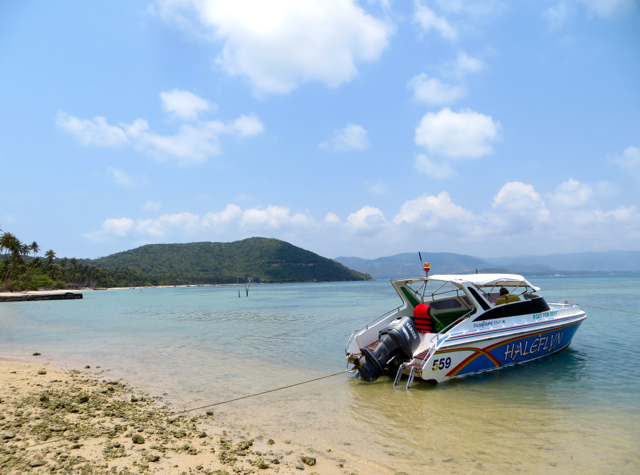 This Koh Taen Snorkeling with Tours Koh Samui review is part of a trip report including Singapore Suites, Cathay Pacific First Class, Emirates First Class, Asiana First Class and luxury resorts and dining in Southeast Asia. For the previous posts, please see:
Singapore Suites A380 Review: New York JFK to Frankfurt
Review: Lufthansa Senator Lounge Frankfurt
Singapore Suites A380 Review: Frankfurt to Singapore
Singapore Airlines Private Room Lounge Review
Cathay Pacific First Class Review NYC JFK to Hong Kong
Singapore Suites A380 Review: Singapore to Hong Kong
Review: Grand Hyatt Hong Kong Club Harbour View Room
Tin Lung Heen Hong Kong Dim Sum Review
Review: Grand Club Lounge, Grand Hyatt Hong Kong
Emirates First Class A380 Review: Hong Kong to Bangkok
Review: Novotel Bangkok Suvarnabhumi Airport Hotel
Conrad Koh Samui Zest Restaurant Review, Menu and Prices
Koh Taen is a small island with only about 20 people living on it, just over 3 miles from Koh Samui by boat. We decided to try Tours Koh Samui for a half day snorkeling trip there, after we figured out that we wouldn't make it to Koh Tao, which is better for snorkeling but also much farther: 2.5 hours by boat from Koh Samui.
There are a number of Koh Taen snorkeling tours offered, but we chose Tours Koh Samui for its speedboat (faster than other boat options) and smaller group size, since the semi-private half day tour is for up to 6 people. And in fact, there was just one other person on our tour, in addition to our family of three. We paid 2400 THB (~$75) each for my husband and me, and 1900 THB (~$60) for the munchkin for our half day tour.
Tours Koh Samui Koh Taen and Koh Mudsum Half Day Itinerary
Here's the schedule Tours Koh Samui posts on its Web site, for the semi-private half day Koh Taen snorkeling trip:
08:00 – 08:40 Transfer from your hotel to the pier
08:45 Board our speedboat and cruise to Koh Taen snorkelling areas
09:00 Enjoy the fabulous underwater world guided by our experience PADI snorkeler leader or relax onboard our floating lounge above the reef
10:00 Transfer to Koh Taen's main beach
10:10 Time to relax and explore Koh Taen beach, play beach games, take a leisurely tour along the coastline to the local temple, take a mountain guided bike tour or take a ride aboard our conservation club exploration vehicle to visit the mangrove forest
11:30 Brunch at fisherman´s village restaurant with authentic and fresh Thai food.
12:20 Board our speedboat and cruise to Koh Mudsum
12:30 Experience Koh Mudsum secluded white sandy beach
13:45 Transfer back to your hotel
Resort Pickup, Speedboat to Koh Taen and Koh Taen Snorkeling
We had originally booked and paid a deposit for a given day, but a few days after booking, were informed that due to another group, they could either offer us the day after, or refund our deposit. Although not as convenient for us, we opted for the following day, and asked if they would be able to drop us off at our next resort since we'd be checking out from the Conrad Koh Samui that day, and they agreed.
The night before our trip, they called to tell us that the trip would start later and we would be picked up later: 9:30am instead of 8:30am. This pushed back the entire schedule, which also required us to shift our other plans.
The ride from the Conrad Koh Samui to the boat was short, about 10 minutes, which we were glad of, considering the bumpy roads on Koh Samui. While we waited a few minutes for the boat's captain, we applied sunscreen–always very important here given how strong the sun is during the day.
Quite soon, the four of us, including a friendly older woman from Edinburgh, were on the speedboat and on our way to Koh Taen. Here's my husband and the munchkin on the boat: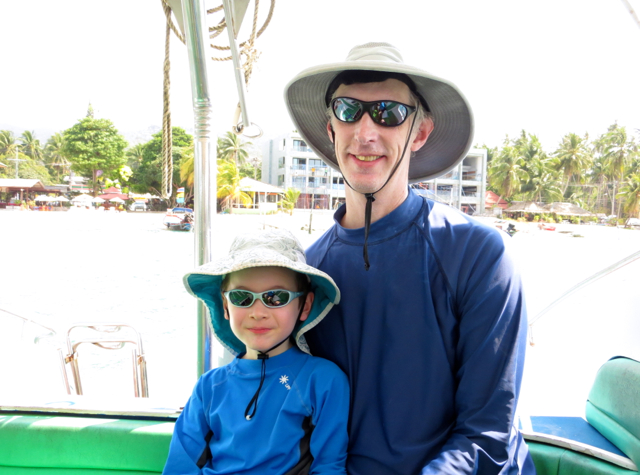 And a look back towards Koh Samui: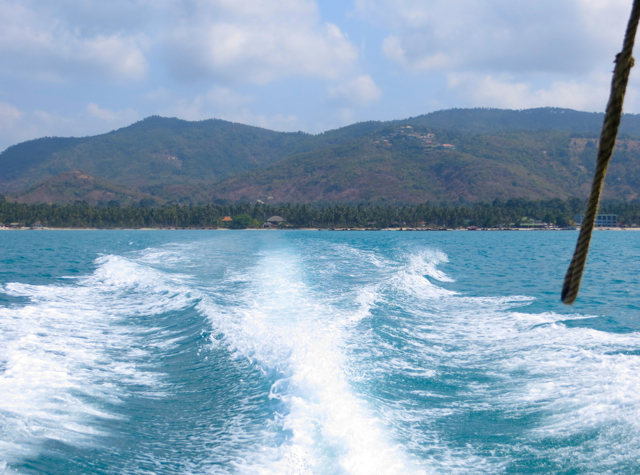 It wasn't too long of a ride, so fortunately the munchkin didn't get seasick. When we reached the snorkeling area, there were already several other boats there (due to our later start) but we didn't really bump into other people while snorkeling. Tours Koh Samui provided all the snorkel equipment–mask, snorkel and fins–and my husband got in the water first while I stayed with the munchkin.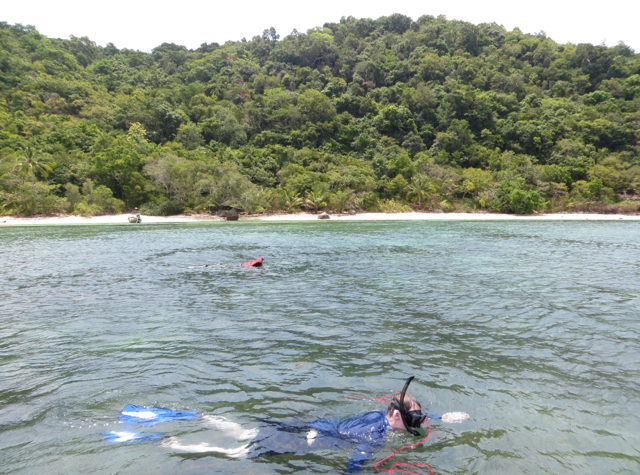 As it turned out, the water visibility wasn't great–a bit murky–and in any case, there wasn't much variety of fish to see. Mostly snappers and some parrotfish, but nothing at all like the variety we'd seen in the Maldives, while snorkeling and diving near the Park Hyatt Maldives, or snorkeling by Nusa Lembongan and Nusa Penida in Bali. So this part of the trip was fairly disappointing.
That said, a very nice feature, since the munchkin doesn't snorkel yet, is that our German guide was able to inflate a swimming pool and tie it to the boat. So after our brief and disappointing snorkeling experience, both my husband and I spent time relaxing there with the munchkin. And our guide supplied some food to feed the fish with, so the munchkin thoroughly enjoyed feeding the fish from the swimming pool.
Koh Taen Mangrove Forest
Afterwards, the boat took us to another part of Koh Taen, docking near the restaurant where we would later have lunch. A bathroom and outdoor shower were available, and my husband and the munchkin enjoyed the view from a bench under the shade: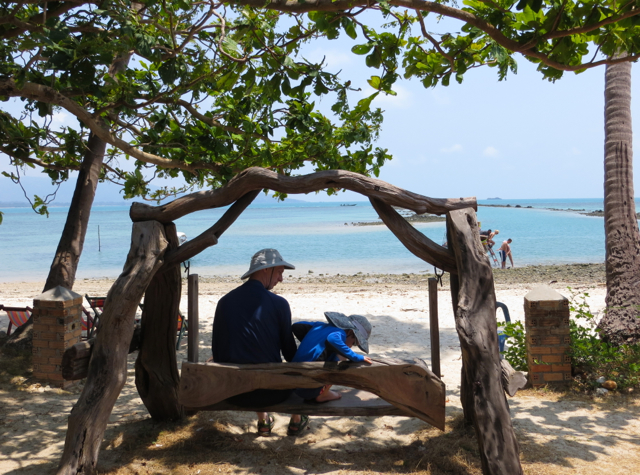 Then we took a golf cart across the Koh Taen to see the mangrove forest, with their stilt-like roots: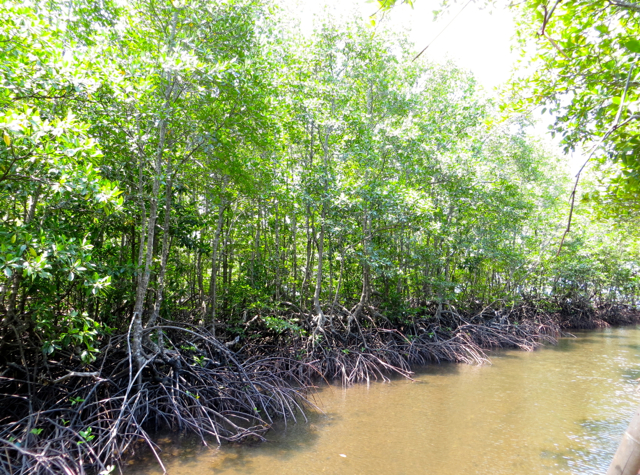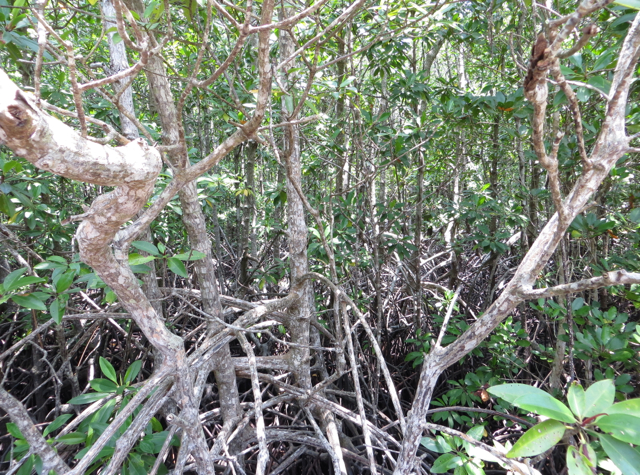 Koh Taen Lunch
After returning via golf cart, we had lunch at the sole restaurant on Koh Taen: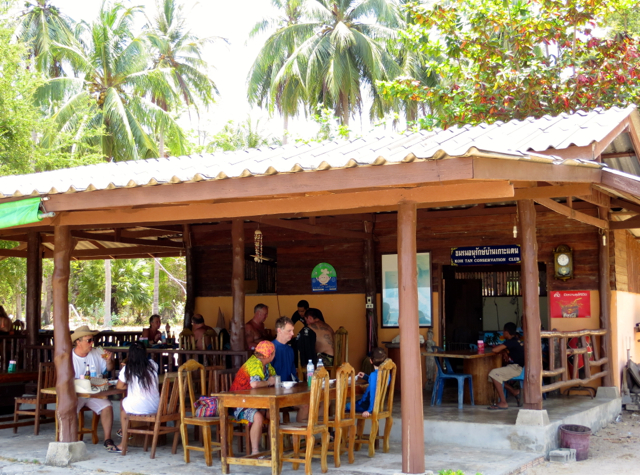 It was a simple but ample lunch of soup, shrimp fritters, fish, rice and fruit. The shrimp fritters were our favorite part of the meal: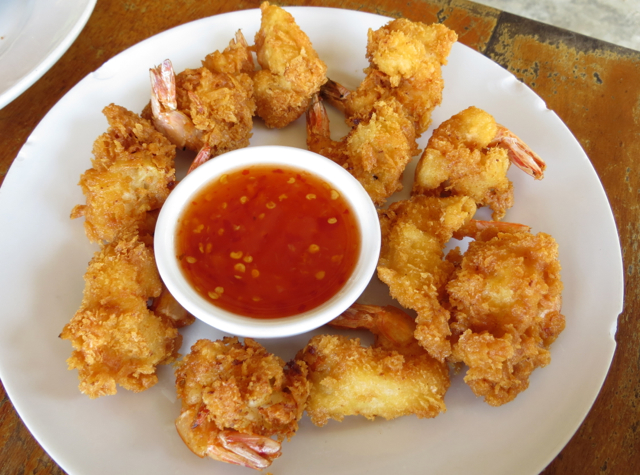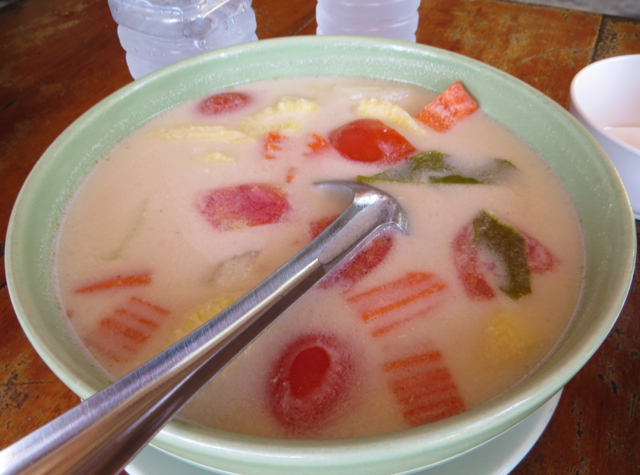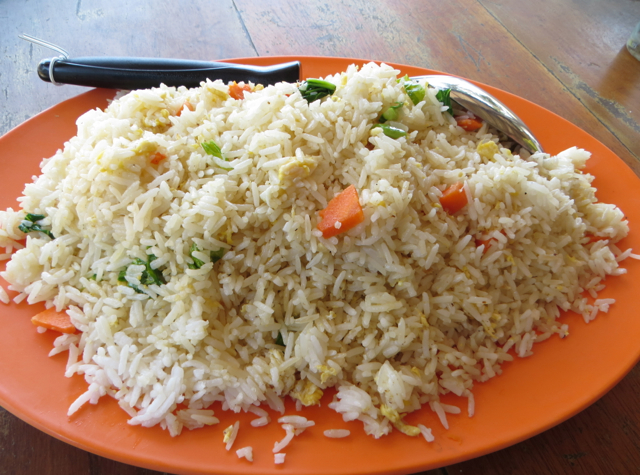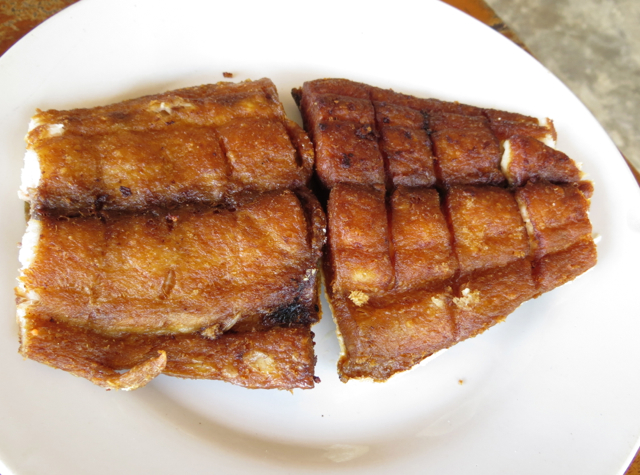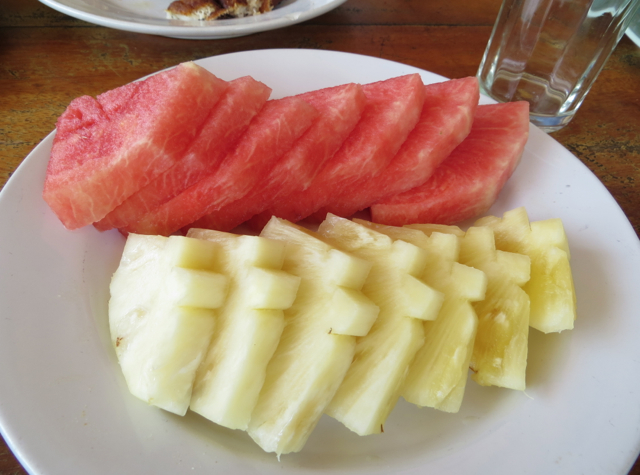 After lunch, the munchkin had his usual burst of energy, and was keen to clamber up a coconut tree that was practically horizontal: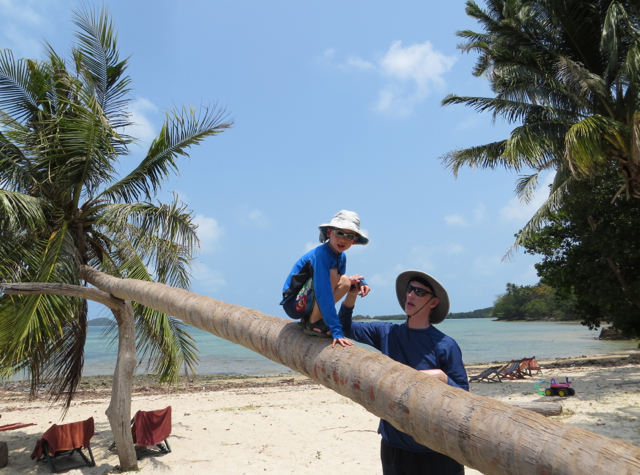 Koh Mudsum
We then got back in the speedboat for the short trip to neighboring Koh Mudsum. Koh Mudsum offers a nice white sand beach, which I pictured in Where in the World: Photo Friday a few weeks ago.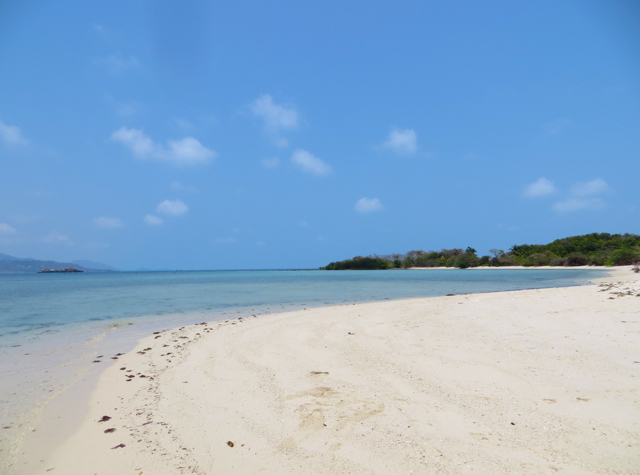 It's not the Maldives, but the shallow water made it perfect for kids or those who wanted to relax in the water but not necessarily swim or snorkel.
The munchkin of course wanted to build a fort or sand castle: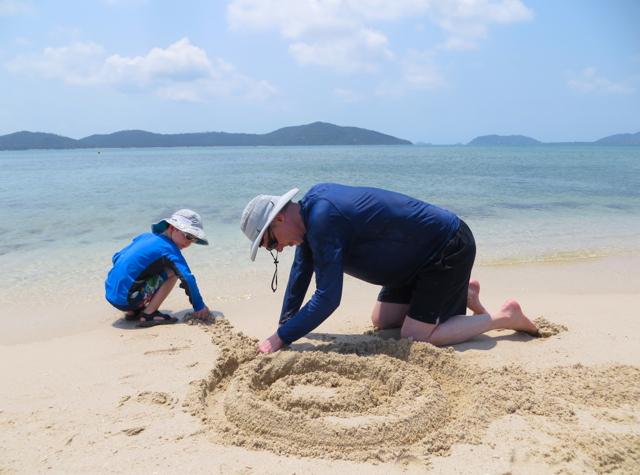 The Verdict: Overall, I was glad we did this half day trip with Tours Koh Samui, to experience something outside our resorts, even though in light of the lackluster snorkeling I found it a bit pricey for what it offered. It was great to have faster transport via the speedboat, and our guide was professional and friendly. The munchkin enjoyed the inflatable swimming pool and feeding the fish, and we all enjoyed the beach and shallow water at Koh Mudsum. The snorkeling aspect was quite disappointing, and I think Tours Koh Samui builds this up too much on its Web site–I do think that you need to go to Koh Tao if you really want to see more variety in marine life. And for us, the Maldives has spoiled us a bit for snorkeling and diving.
Related Posts
Conrad Koh Samui Zest Restaurant Review, Menu and Prices
Where to Go Snorkeling and Diving in Bali
Park Hyatt Maldives Snorkeling and Diving: What to See
Need Award Booking Help? Our fee is as low as $75 per ticket if you book your hotel through us.
If you enjoyed this, join 100,000+ readers: please follow TravelSort on Twitter or like us on Facebook to be alerted to new posts.
Become a TravelSort Client and Book 5-Star Hotels with Virtuoso or Four Seasons Preferred Partner Amenities!