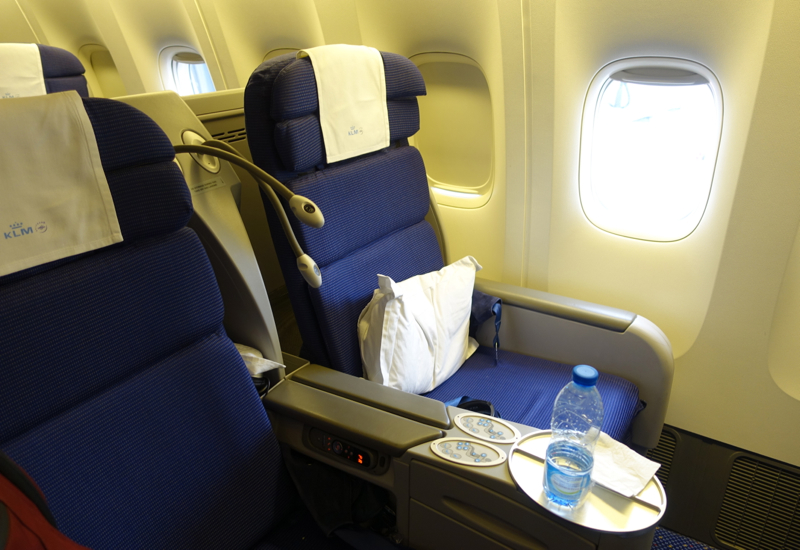 This KLM Business Class review from Amsterdam to NYC JFK is part of a trip report on Germany. For prior posts, please see:
Review: Hotel Traube Tonbach in Baiersbronn, Black Forest, Germany
What to Do in Heidelberg, Germany
KLM Business Class Seat Selection on the 777
KLM old business class on the 777 is in a 2-3-2 configuration, so if you're traveling as a couple, you'll want the couple's seats, either A/C on the left hand side, or G/J on the right hand side. The front row is next to the lavatories and the galley and there's no floor storage for take-off and landing, so you may want to avoid those. Similarly, I would avoid the last row, which is also close to the galley separating business class from economy class.
That leaves rows 2, 3 and 4, which are the ones I'd pick. Note that as a solo traveler, it can be awkward in the couple's seats to have to climb over your neighbor if you're in the window seat (or have your neighbor climb over you, if you're in the aisle seat) so take that into consideration.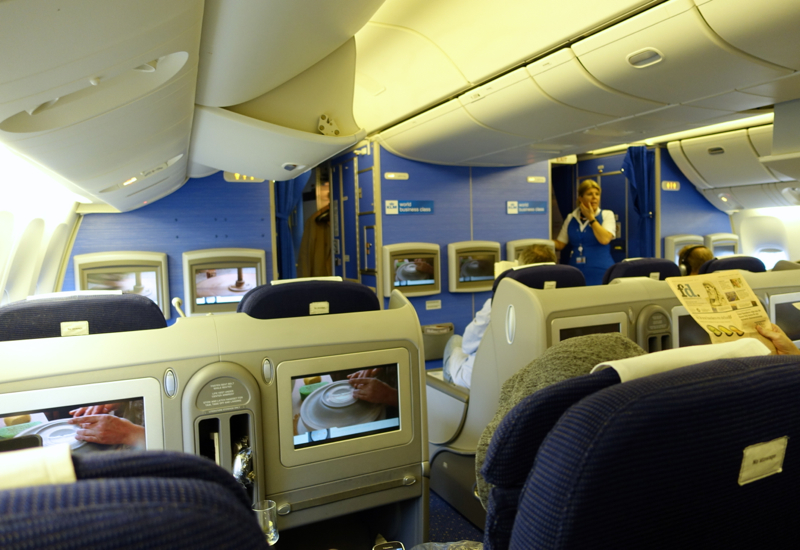 KLM Business Class Seat on the 777
As I was on a 777 for this Amsterdam to New York JFK flight, this was KLM's standard old business class product, with angled flat seats. The seats are pretty narrow, at 20 inches wide, but at least better than the 17.5 inches KLM allocates in economy class. They came with a small pillow and a plastic wrapped thin blanket.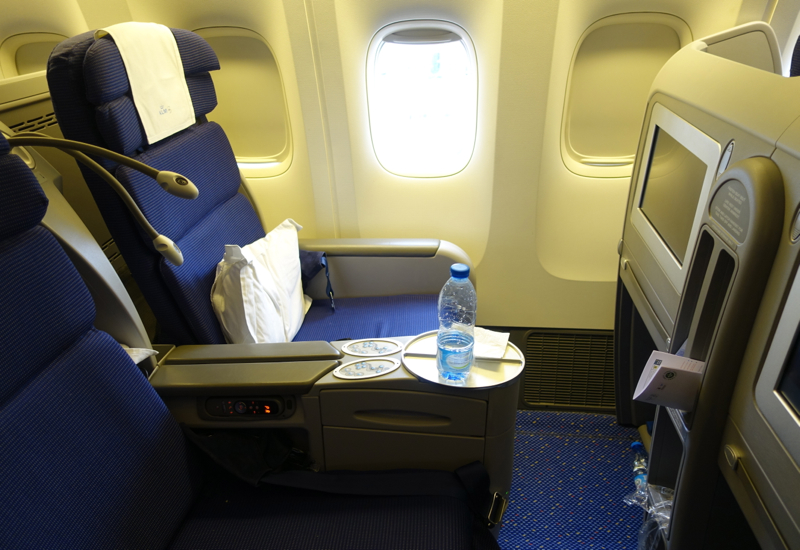 Seat controls are straightforward and manual, which I prefer to touch pad controls (just one more thing that can go wrong, in my view).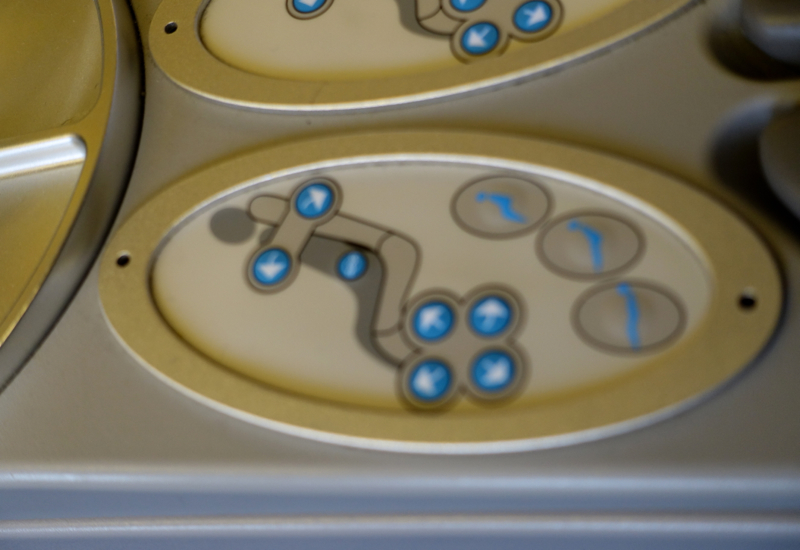 Normally I wouldn't sleep on a daytime flight, but I hadn't gotten much sleep the prior few nights, so I was exhausted. After the meal service I reclined my seat as far as it would go (ostensibly to a 170 degree angle, although it didn't feel as though the recline was that much) and tried to get some sleep. With a sleep aid I did manage to get about 3 hours, but it wasn't very comfortable. The retrofitting of these 777s to KLM's new business class with fully flat seats can't come soon enough.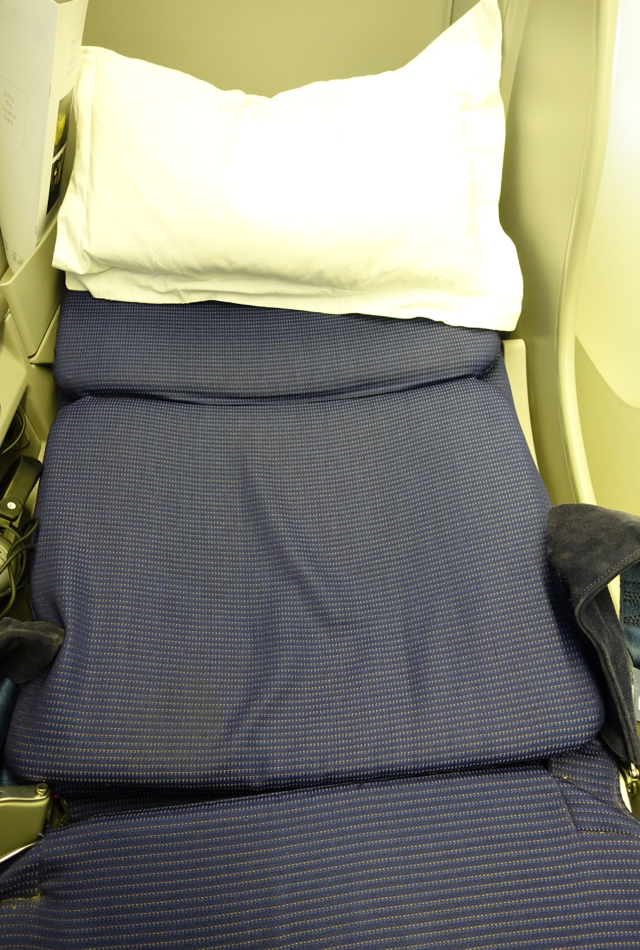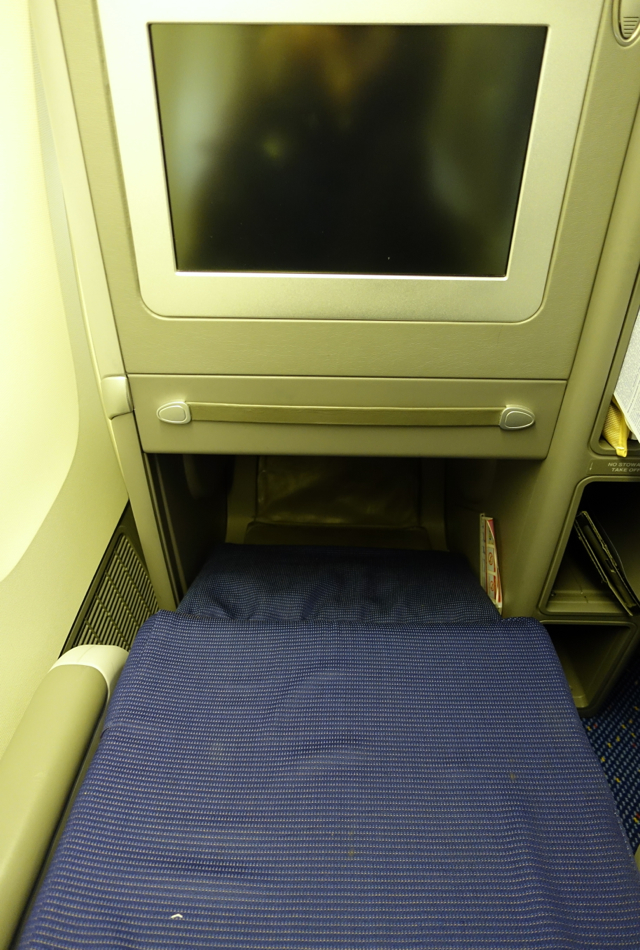 The amenity kit was at least presented in a little Viktor & Rolf bag (better than British Airways Business Class, which put them in a simple Elemis bag) but just had the essentials: ear plugs, sleep mask, toothbrush kit, socks and lip balm.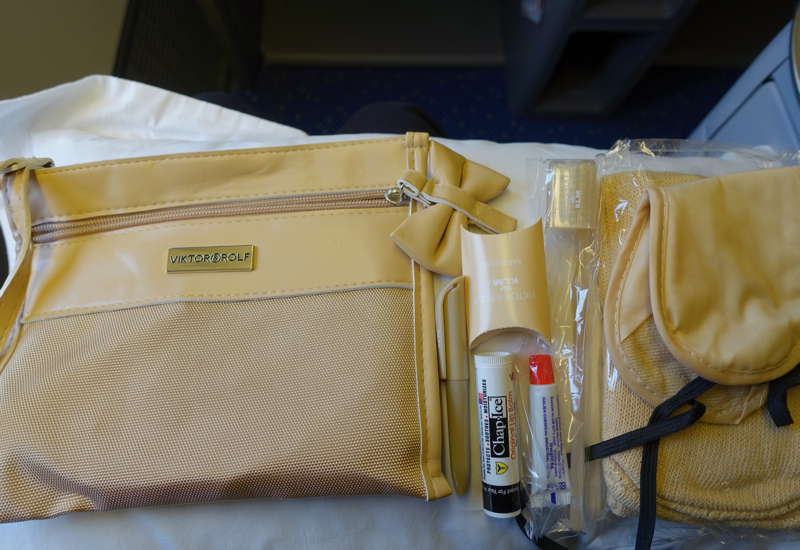 KLM Business Class Menu and Food
Prior to take-off we were offered a pre-flight drink. I chose orange juice, and this was one of the highlights of the trip, since it was fresh squeezed (there were even a couple of seeds at the bottom of the glass), which isn't always the case even in first class.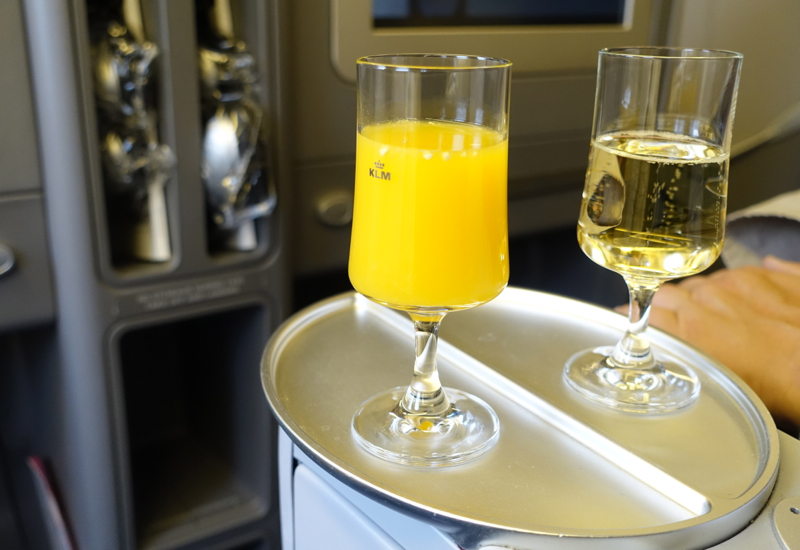 Lunch menus were distributed and included a couple choices for the appetizer and three main course choices:
There was also a menu for the light meal offering prior to landing in NYC: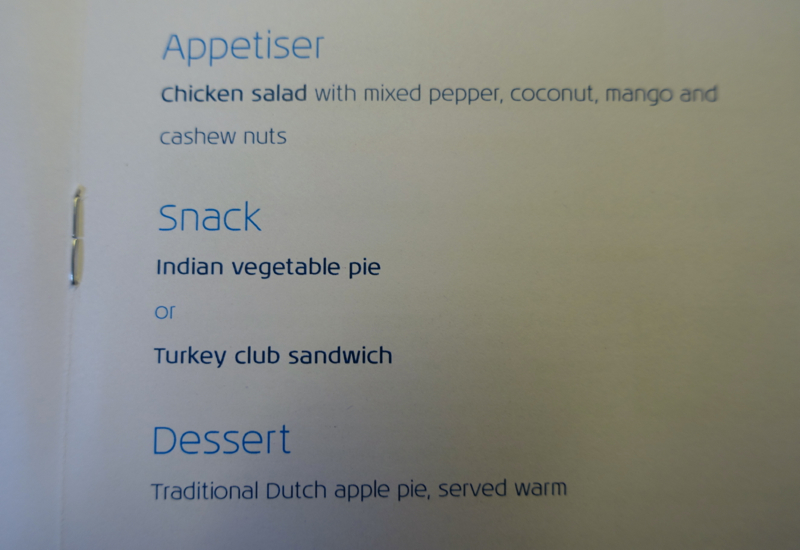 And here's the wine list, which I avoided, since I wanted to sleep after the meal.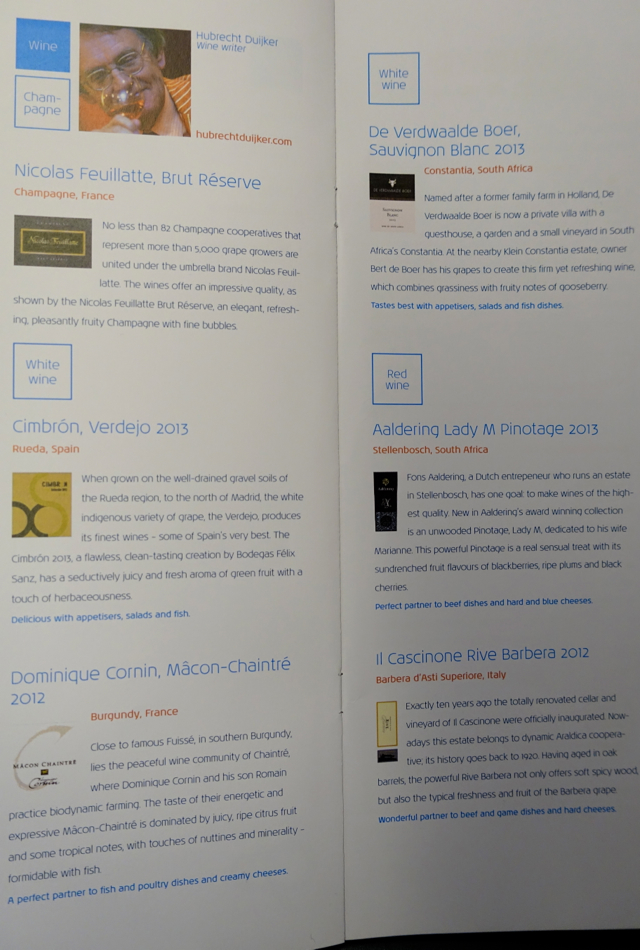 Prior to the meal, we were offered some mixed nuts and another drink: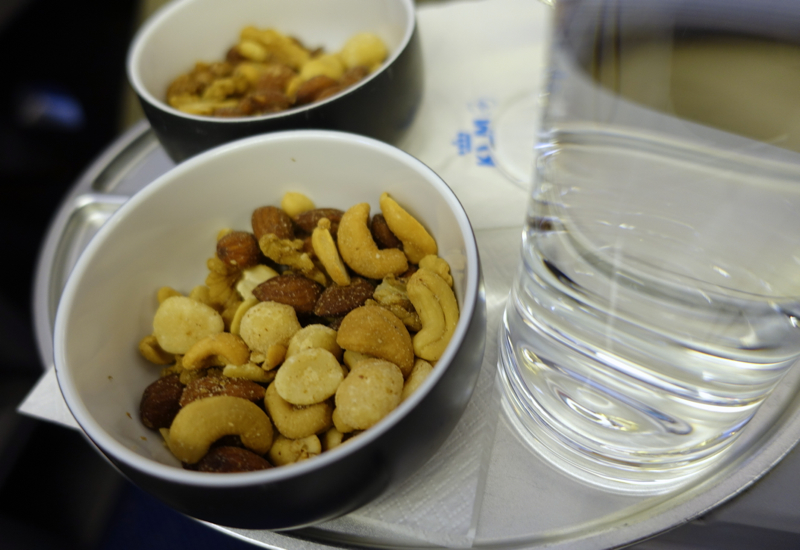 I chose the Smoked Salmon Tartare as my appetizer, and this was presented on a tray along with the salad. I was pleasantly surprised how good the appetizer was, with its cream of coconut roulade and a nice kick from the red chilis. While I've had much better Thai green papaya salads, I was nevertheless impressed at being served one on a European carrier. Even at average quality, it was better than a regular green salad.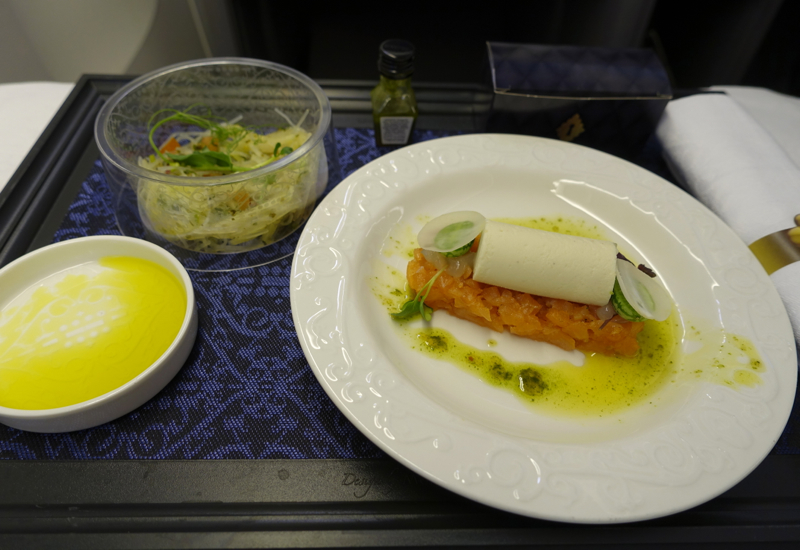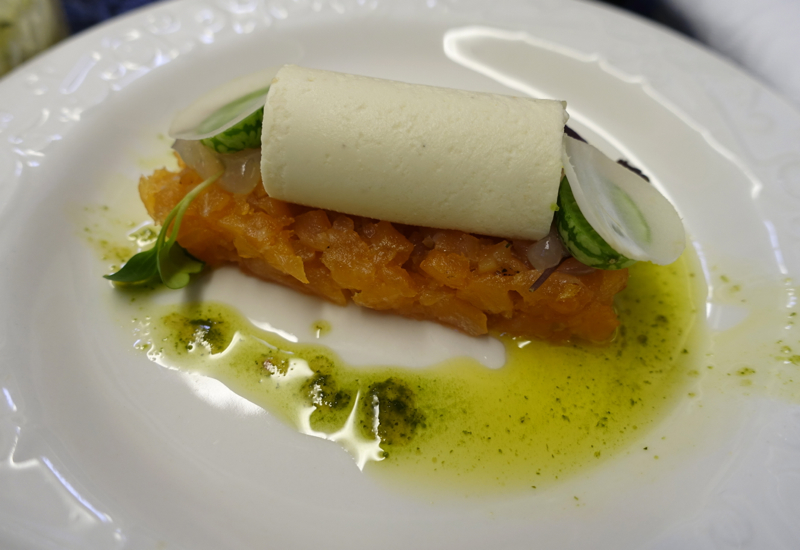 While in a restaurant I might have ordered the Fish Tajine, I'm always leery of ordering fish on flights, as they typically come out overcooked. So I ordered the Braised Beef with Onion Compote, served with baby potatoes and vegetables. It was also overcooked and lackluster, so I probably should have chosen the Chicken in Thai Coconut Sauce.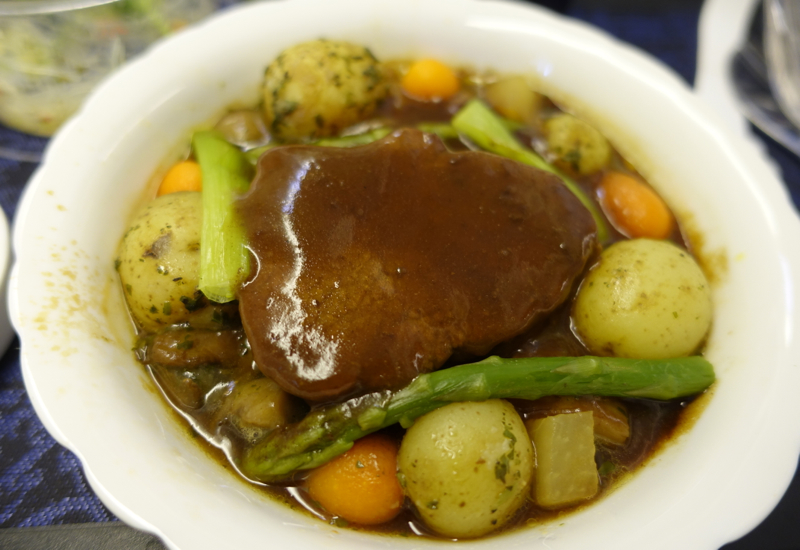 Dessert was chosen from a trolley, and I opted for the Chocolate Cake, which was prettily presented with gold dusted pecans. I also chose some seasonal fruit on the side, which somehow was strawberries, although that hardly seemed seasonal in late October. The cake was chocolatey and a bit better than average, especially for business class.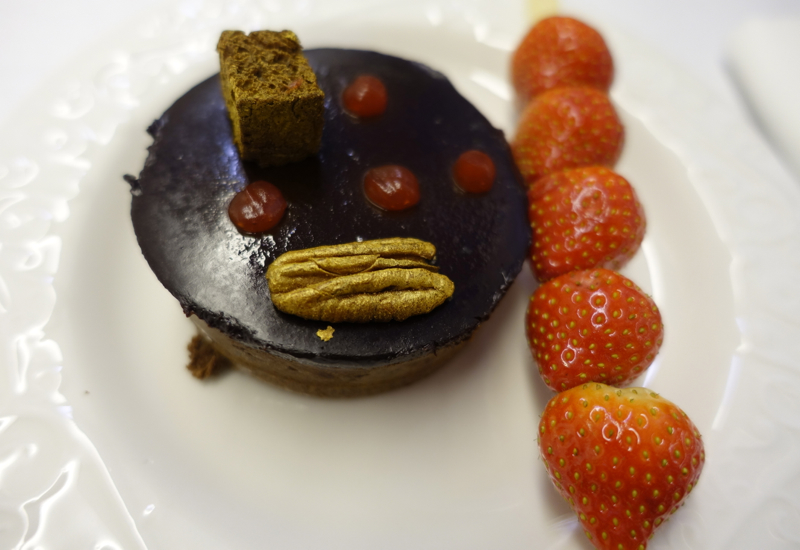 After my nap and before landing, I wasn't hungry enough for the light meal as a whole, but I did try the traditional Dutch apple pie, served warm. This was even better than the chocolate cake, although really called for some vanilla ice cream.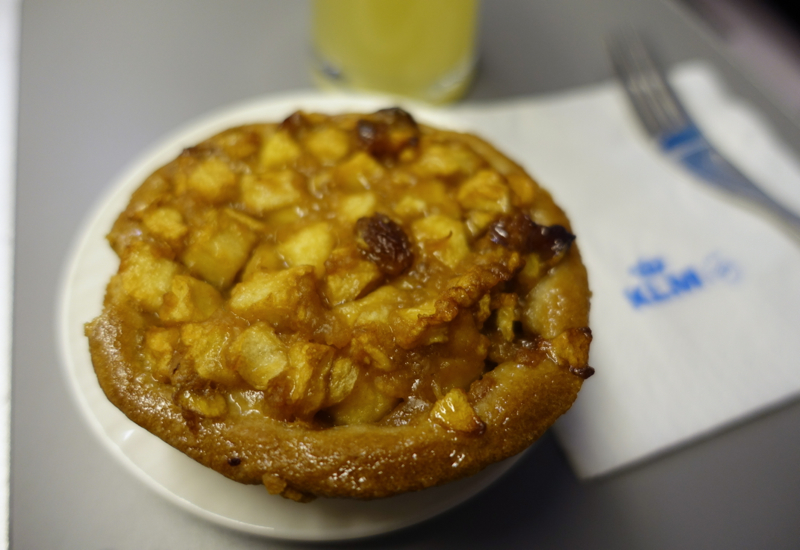 KLM Business Class Service
Service was about what you'd expect for international business class-professional and competent, but not overly friendly. I also wasn't impressed by the fact that at the end of the flight, the purser spent quite some time asking my (male) seatmate for his experience on the flight and mentioning that he hoped he'd fly KLM again, and didn't bother to look my direction or speak with me at all.
There was one more slightly more friendly flight attendant who offered me one of the souvenir Delft Blue houses, which are a traditional gift to business class passengers. It was a nice souvenir for my son, who is interested in architecture.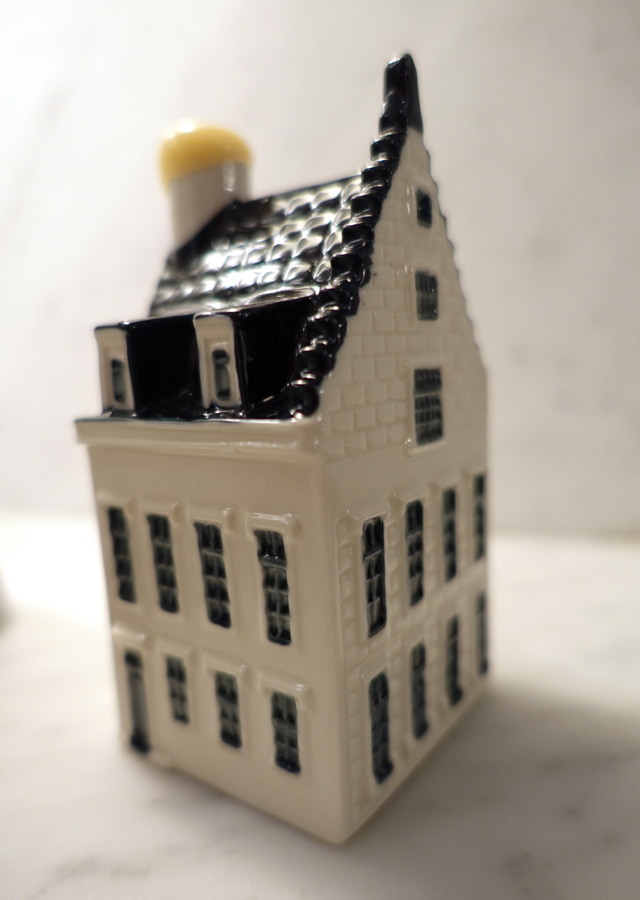 The Verdict
KLM old business class on the 777 is fine if you need a nonstop from Amsterdam and are on a day flight, when the angled flat seat doesn't matter as much. I did find the seat too narrow with insufficient personal space. I'm not a big person, so it was never physically uncomfortable, but it just seemed more cramped than other international business class products I've flown, particularly Singapore Business Class, Asiana Business Class and JAL Business Class.
The food was better than expected in terms of the appetizer and dessert, and average or slightly below average for the main dish. Service was average to below average, compared with my other international business class flights. Would I fly it again? If I had to, but I would much rather fly other fully flat bed business class products to and from Europe over KLM, based on this experience.
If you've flown in KLM Business Class, what was your experience?
Related Posts
Review: Hotel Traube Tonbach in Baiersbronn, Black Forest, Germany
Best Credit Cards for Award Flights to Germany for a Couple
Disclosure: I was a guest of the German National Tourist Office, which paid for an economy flight that I upgraded at my own expense; however the views expressed in this post are my own.
Need Award Booking Help? Our fee is as low as $75 per ticket if you book your hotel through us.
If you enjoyed this, join 150,000+ readers: please follow TravelSort on Twitter or  like us on Facebook to be alerted to new posts. 
Become a TravelSort Client and Book 5-Star Hotels with Virtuoso or Four Seasons Preferred Partner Amenities!