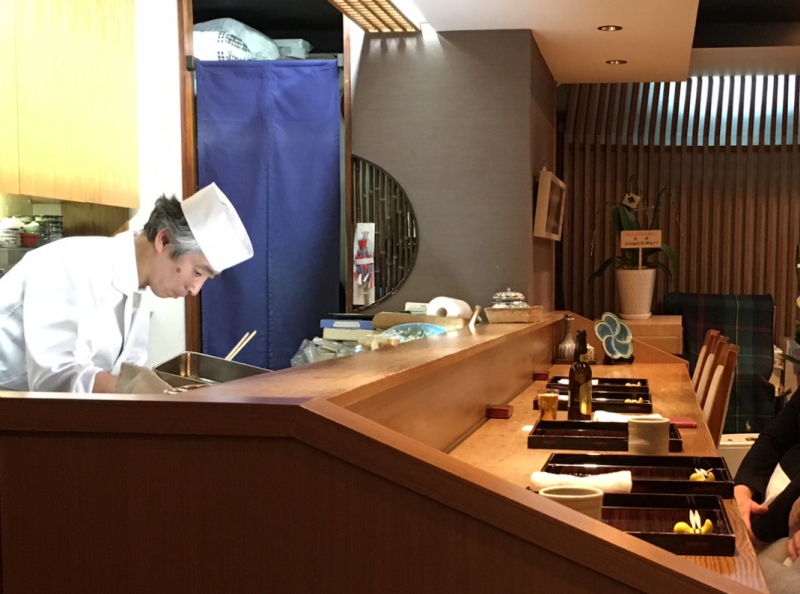 We dined at Kikuchi, a Tokyo 2 Michelin Star restaurant in Nishi-Azabu, our final night in Tokyo. Since we had a mixed experience, I hope that this will help clients and readers deciding whether to dine here. We've had great experiences at some Michelin recommended restaurants, such as 3 Michelin Star Le Cinq in Paris, 2 Michelin Star Mathieu Pacaud Histoires in Paris, and most recently 2 Michelin star Aska in Brooklyn. But in Tokyo, our best meal was at Sushisho Masa, which isn't rated at all by the Michelin guide.
Nishi-Azabu Kikuchi Location, Hours, Reservations and Cost
Kikuchi (き久ち) is located on the 2nd floor of the Minatoya Sohonten Building at 2-7-17 Nishi-Azabu, Minato-ku, off a quiet alley in the Nishi-Azabu residential area. It's about a 20 minute drive from the Four Seasons Tokyo, by Tokyo Station, where we were staying, and a closer 6-8 min. drive from the Grand Hyatt Tokyo in Roppongi Hills or from the Ritz-Carlton Tokyo in Akasaka.
The restaurant is open Monday to Saturday starting at 6pm, and we reserved and prepaid for our meal using Pocket Concierge. Our meal of about 7 courses was JPY 12,500 (~$112) per person. The counter has just 7 seats, and there's also a table that seats four, which is where we were seated.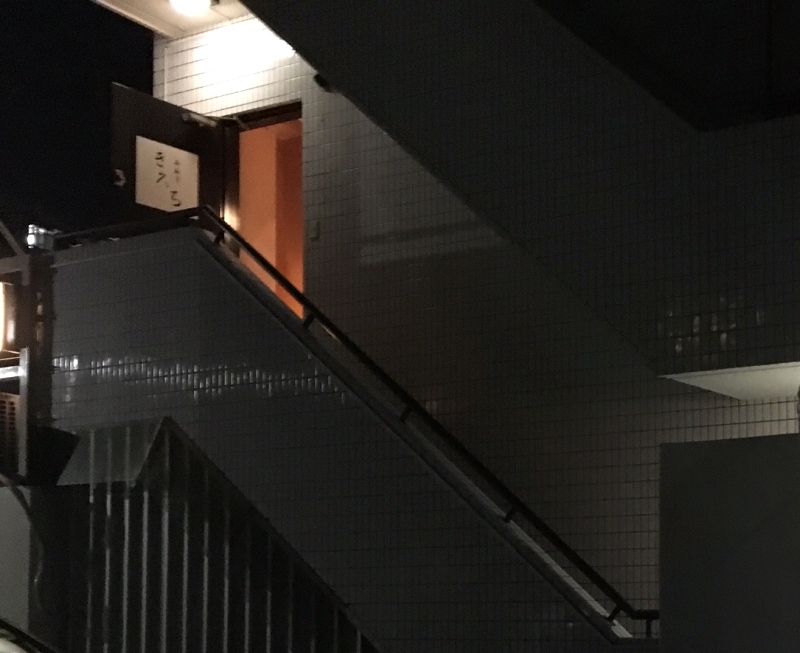 Nishi-Azabu Kikuchi Omakase
Nishi-Azabu is not a sushi bar, but note that in common with many Japanese sushi bars, there is a changing chef's choice menu, so this is not a place to go if you want an a la carte menu of any kind. It's also not a place to go if you're hoping to have a quick meal–we'd allotted 2.5 hours for dinner but it wasn't enough and we barely tasted any of the final course because we needed to get our son to bed.
The meal started on a healthy note, with a trio of vegetables, our favorite being the spring mountain vegetable with silky sweet tofu sauce. My husband and I also liked the wasabi flower with fish that had been pressed between kelp, since we both like wasabi, but it was too strong for our son. The green vegetable in Japanese mustard was bracingly strong in its use of mustard, and our least favorite.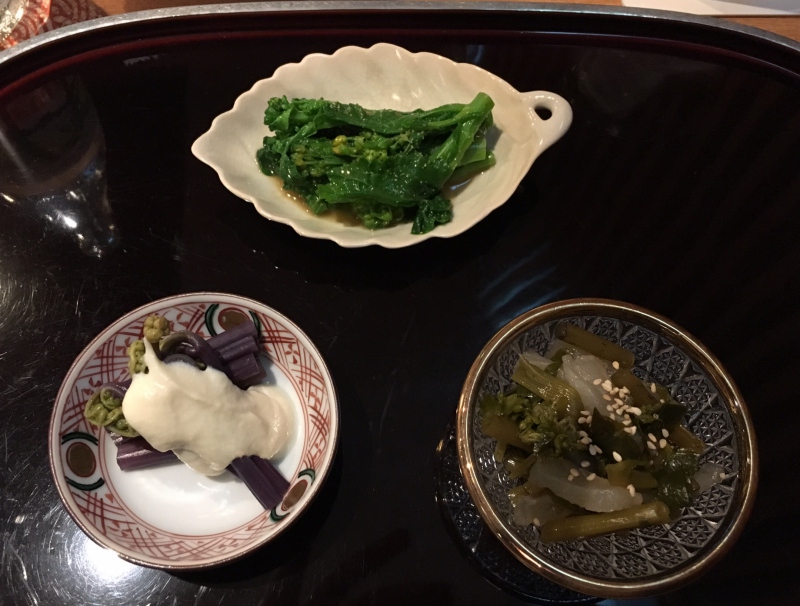 Next up was a seaweed soup with ginger, very subtly flavored and nourishing, if a little slimy in texture.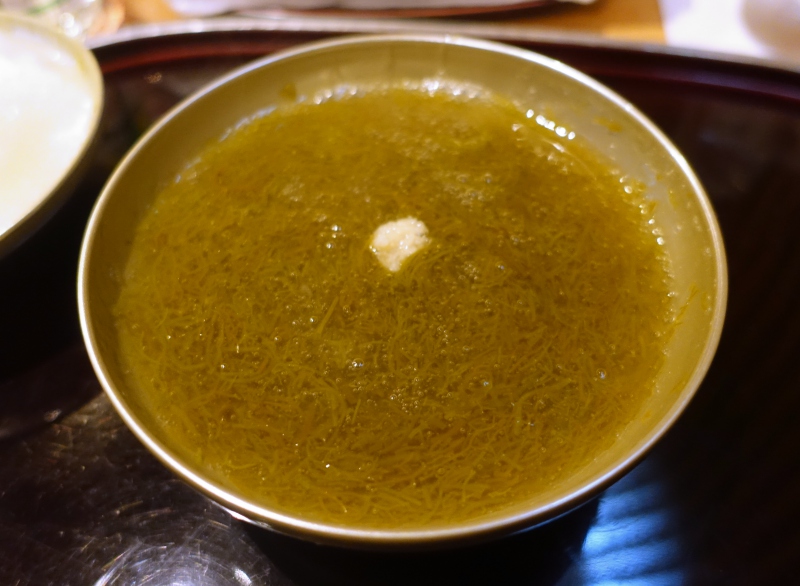 The third course was an adventure: Fugu (blowfish) which is deadly if not prepared correctly. I'm not an Indiana Jones type when I eat, so I've never particularly wanted to try fugu, but here it was as part of the omakase. And we were hungry, so we ate it. Served with julienned green onions and chili, we hoped that our tongues were tingling from the chili and not from the fugu's tetrodotoxin, which is over 1000 times deadlier than cyanide.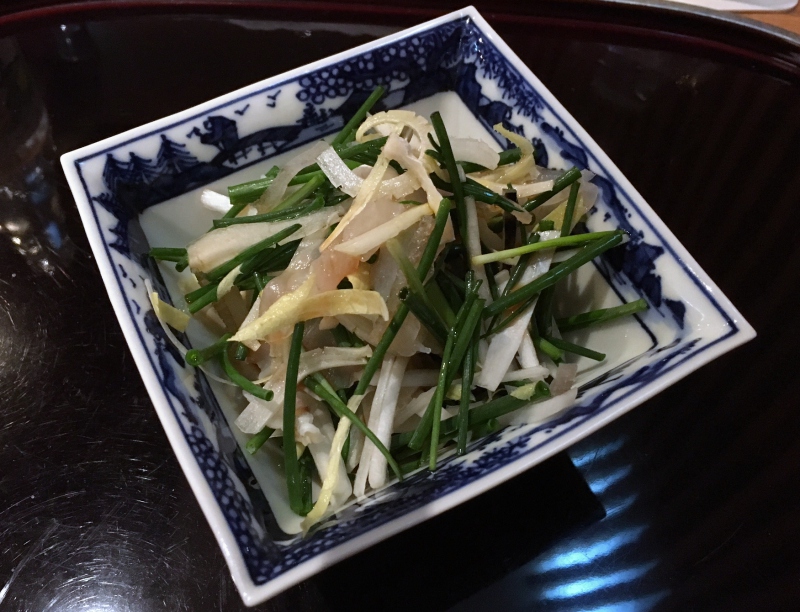 Thankfully the next course was tuna. It was fine, although not as amazing as the tuna at Sushisho Masa.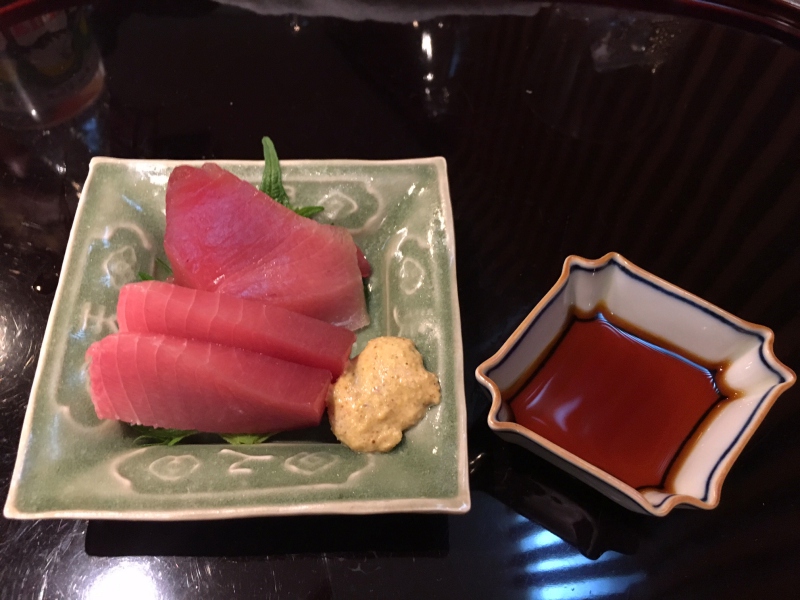 The fifth course was a soup course of dashi (the quintessential Japanese soup broth, made with kelp and dried bonito) with spring bamboo and seaweed.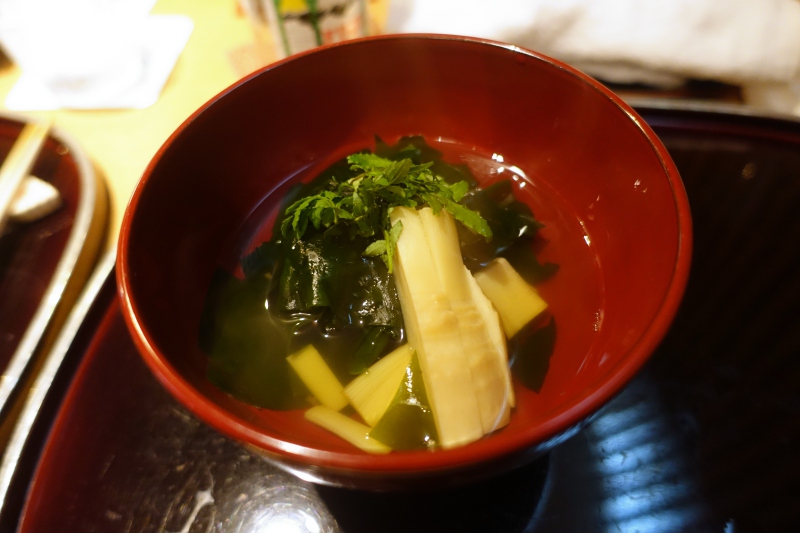 Sixth was my favorite course: grilled beltfish with a salted and grilled shiitake mushroom, both of which were incredible. Had everything been this tasty, I would have been far more enthusiastic about our meal.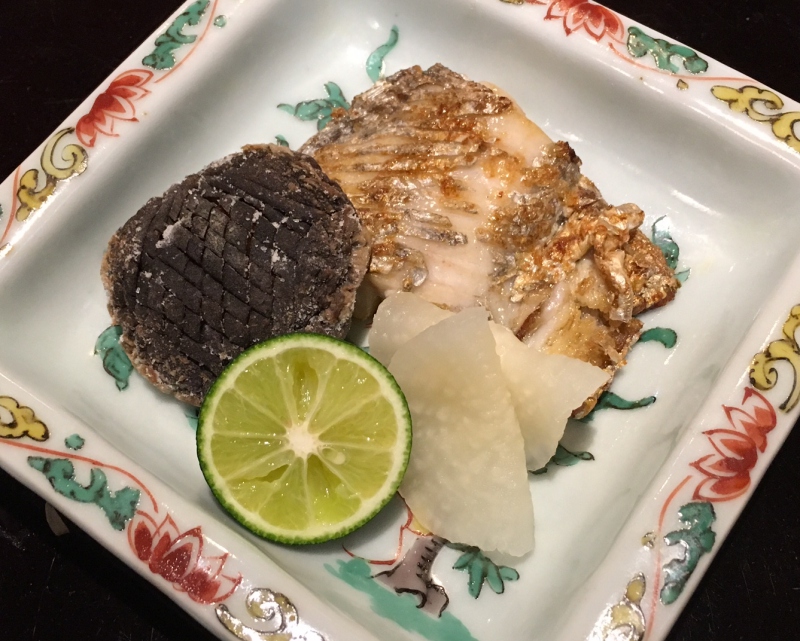 A palate cleanser followed, of a chilled tomato. There must have been some salt added, since it was far more flavorful than I'd have expected for a large tomato of this type.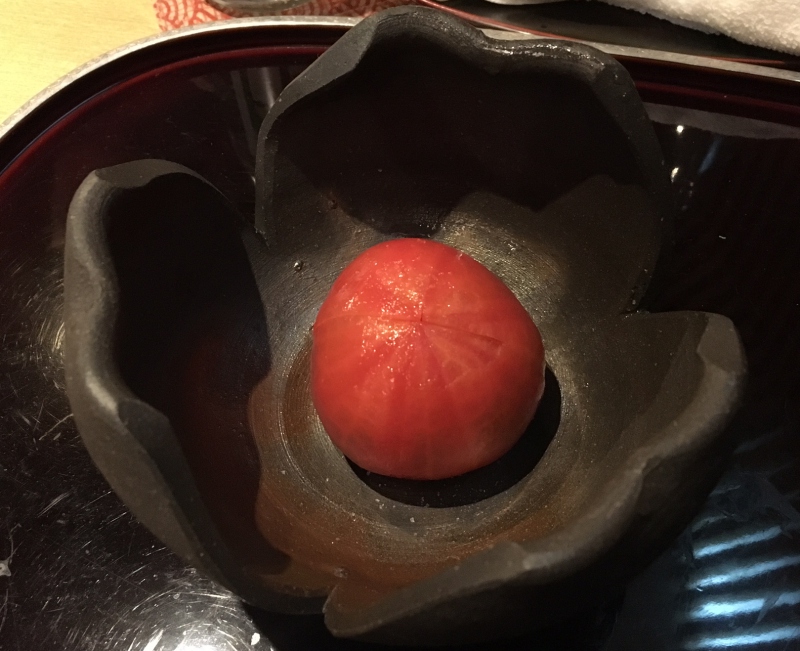 There was quite some delay after this course, and since we'd pre-ordered a taxi, we knew at this point we wouldn't be finishing the very last course as we simply needed to get our son to bed. The phone rang several times, and Chef Kikuchi took the calls himself, since he has no assistants there. It's understandable that he doesn't want to lose future bookings, but it was also frustrating that our meals were delayed further by him taking these calls.
The final course, which we barely tasted, consisted of rice, Japanese pickles, and soup.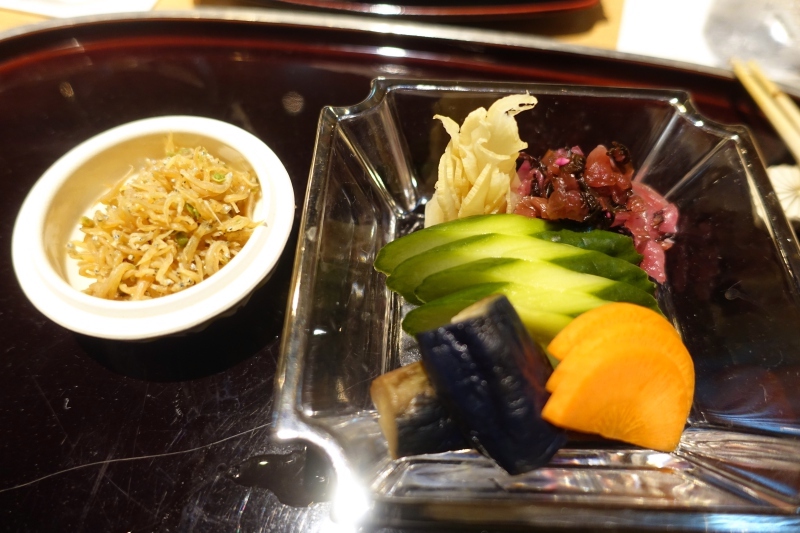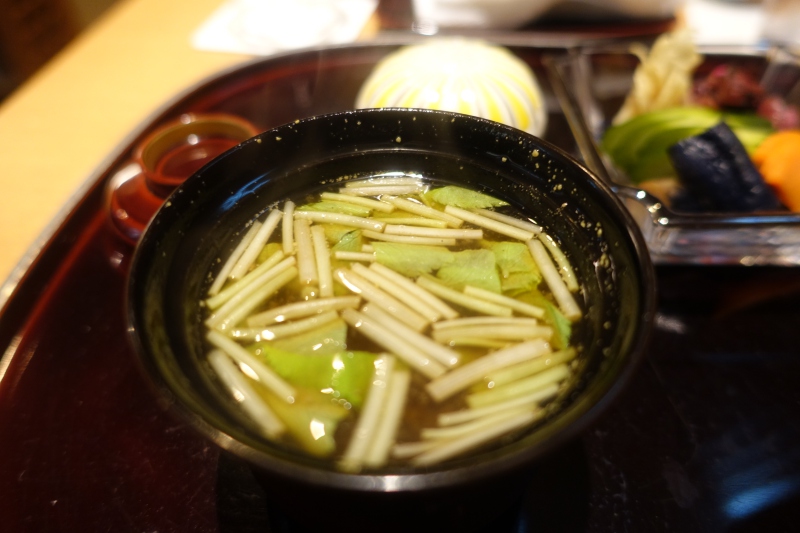 The Verdict
I personally was disappointed with Kikuchi, but I'm more than willing to admit that I'm just not the right guest. I think it would be more appealing to Japanese food purists, who have had it with all the various fusion takes on Japanese cuisine and want to get back to basics, such as a perfectly made dashi soup broth, the essence of a tomato, etc. I did really enjoy the grilled belt fish and the accompanying mushroom, which were the best I've tasted of those particular foods. I also really loved the tofu sauce that topped the spring mountain vegetable appetizer, and I can now say I've eaten fugu and survived.
Ultimately, though, I'm looking for a different kind of experience with a 2 Michelin Star restaurant and the associated price tag.
If you've dined at Kikuchi in Nishi-Azabu, Tokyo, what was your experience?
Related Posts
Sushisho Masa, Tokyo Review: Our Favorite Sushi Bar in Tokyo
Hotel Review: The Peninsula Tokyo
Kinosaki Onsen: Nishimuraya Honkan Review
Review: ANA First Class 777 New York JFK to Tokyo Narita
Need Award Booking Help? Our fee is as low as $75 per ticket if you book your hotel through us.
If you enjoyed this, join 200,000+ readers: please follow TravelSort on Twitter or like us on Facebook to be alerted to new posts.
Become a TravelSort Client and Book Your Hotel with Virtuoso or Four Seasons Preferred Partner Amenities!