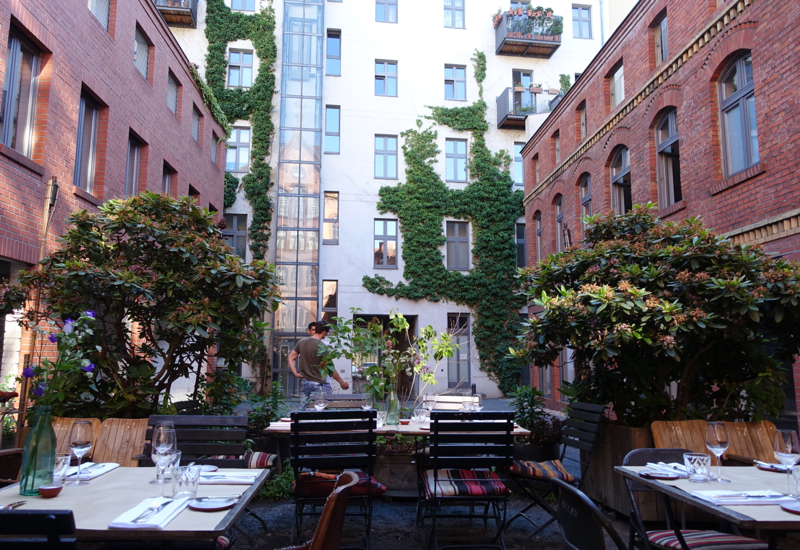 This review of Katz Orange Restaurant in Berlin, Germany is part of a trip report featuring Singapore Suites, Air Berlin Business Class, and luxury hotel stays, dining and activities in Berlin and Italy.
For the prior posts, please see:
Review: Air Berlin Business Class A330 JFK to Berlin
One of Europe's Best Hidden Secrets: Guess the Place
Review: Virgin Atlantic Clubhouse, New York JFK Airport
Review: Singapore Suites A380 New York JFK to Frankfurt with a Kid
Katz Orange Berlin Location
Katz Orange is located at Bergstraße 22 in Berlin, and for us was a pleasant 25 minute stroll from the Rocco Forte Hotel de Rome, where we were staying. We had a nice view of the Spree River as we crossed it, with the TV tower in the distance.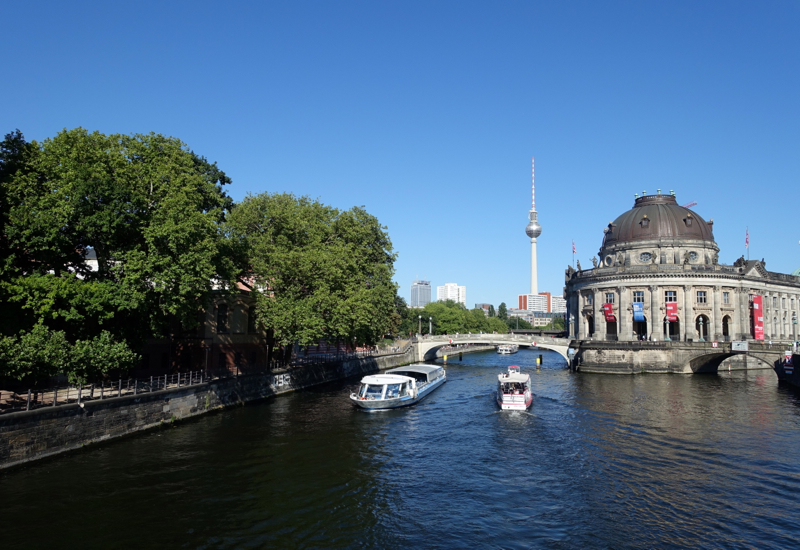 Bergstrasse itself is quite residential, so you might think you're in the wrong place, but you're not; presently you come to the entrance, through a courtyard:
The Scene
We had reservations for an early dinner, since we knew we'd be jetlagged, so we were among the first diners to be seated. Subsequent tables included young couples, small groups of friends, and another family, at least in the outdoor courtyard where we asked to be seated. It seemed like a very friendly, local crowd, and we may have been the only non-Berliners at the time of our visit.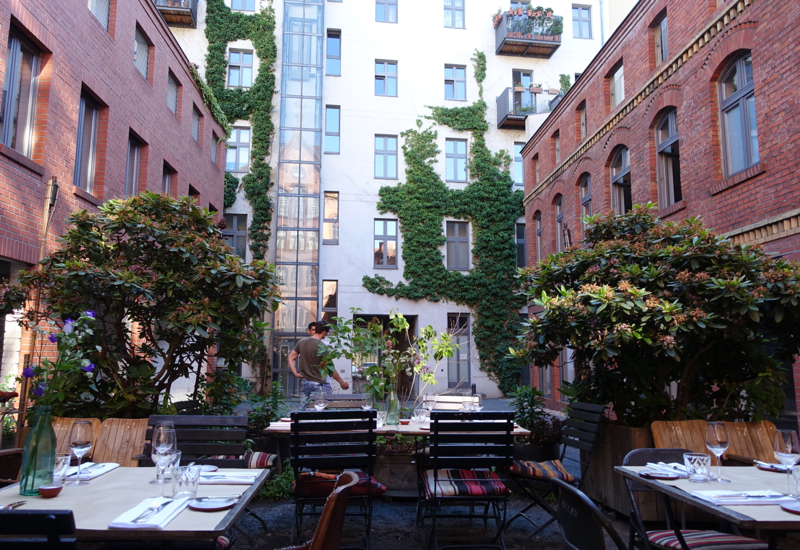 Katz Orange Berlin Menu and Food
Katz Orange menu's is eclectic, with some great flavor combinations. Here's the appetizer and shared plates part of the menu: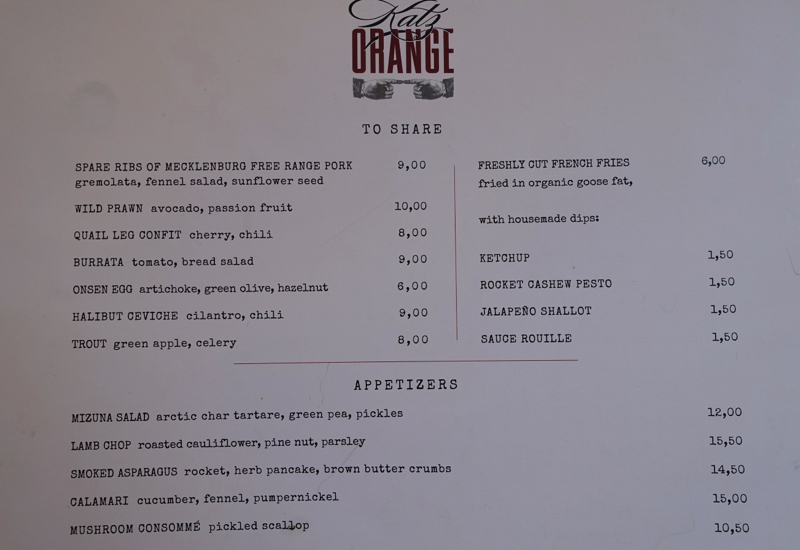 There are relatively few main course selections, but this was fine by us, since we prefer to try a range of dishes.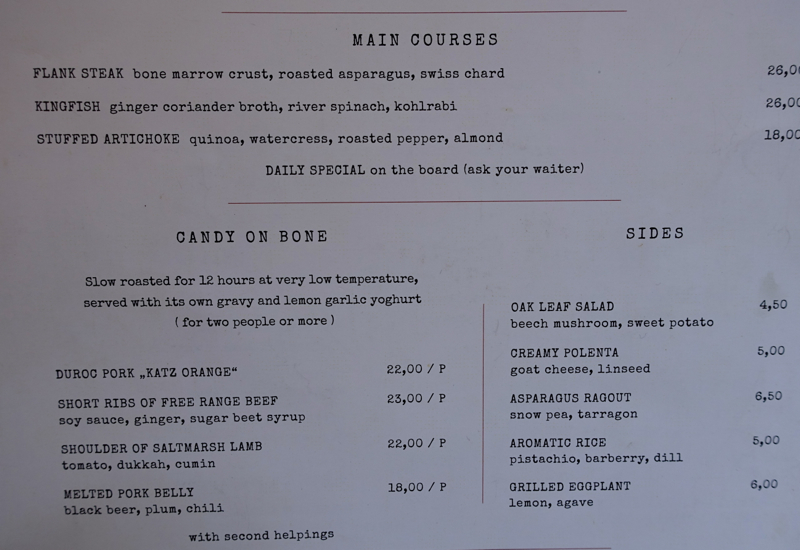 Our server started us off with a basket of bread and butter, and the tangy rye sourdough flavor reminded me of some of my favorite Russian bread.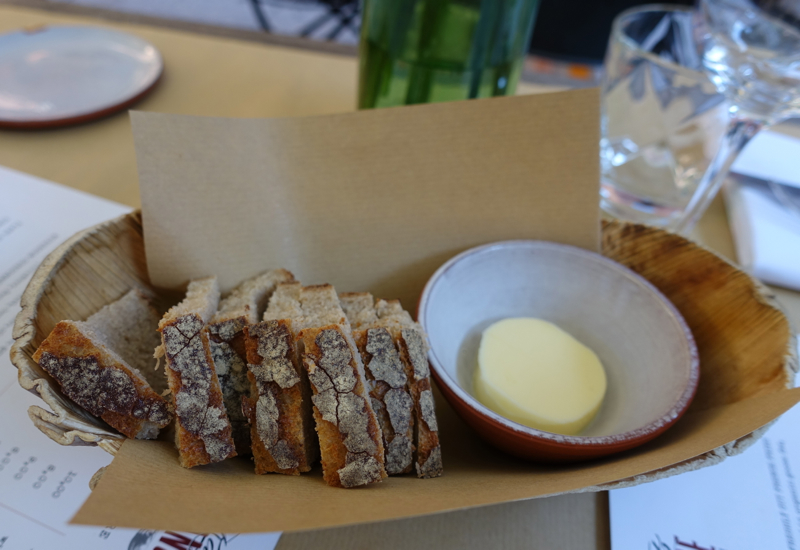 Our son insisted on the lamb chops dish, even though he's not a huge fan of the roasted cauliflower it came with–no matter–my husband and I enjoyed his cauliflower and the taste of lamb I had was delicious.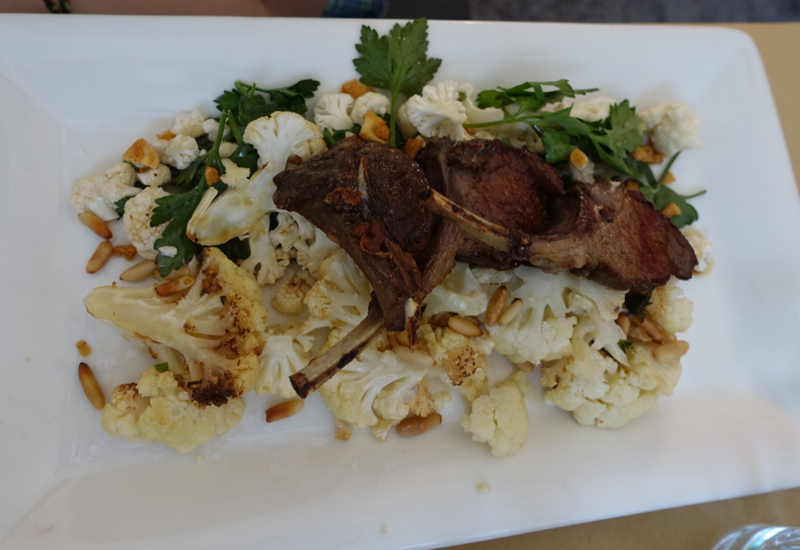 I was perhaps the only fan of the Wild Prawns with Avocado and Passion Fruit, since my husband doesn't care for prawns and my son doesn't care for avocado, but I thought it was incredibly fresh and the flavors well-matched.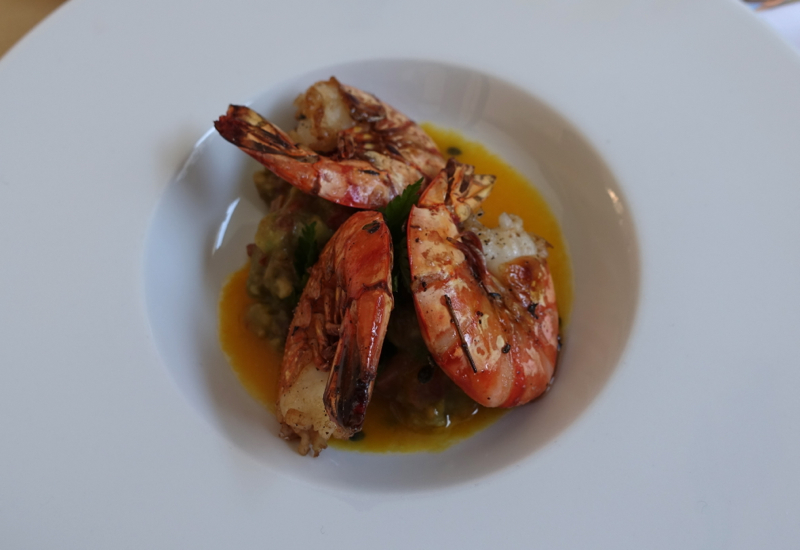 Our server had highly recommended trying one of the "Candy on the Bone" selections, so we chose the Short Ribs. They were indeed highly flavorful and scrumptious, coming from free range beef, even if I've had perhaps more meltingly tender ones.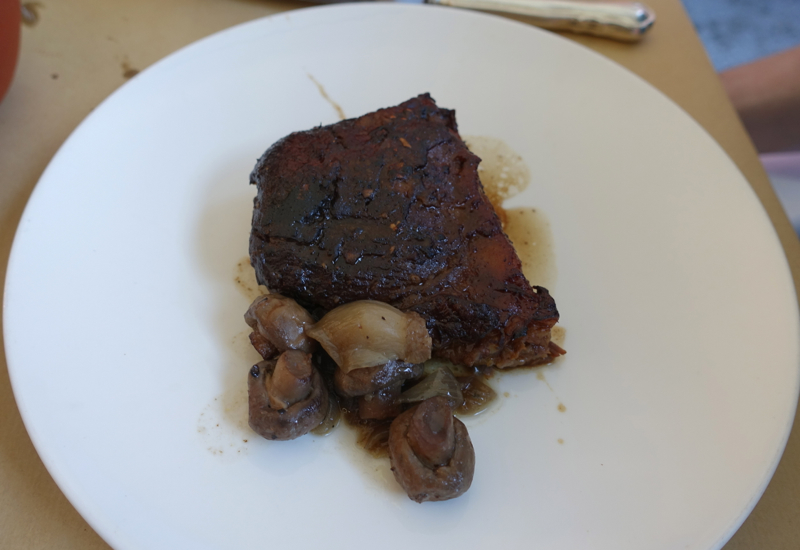 Our favorite dish of the night was one of the appetizers, Quail Confit with a spicy cherry sauce. The quail legs were addictive, as was the sauce, and I wished we'd ordered two of these.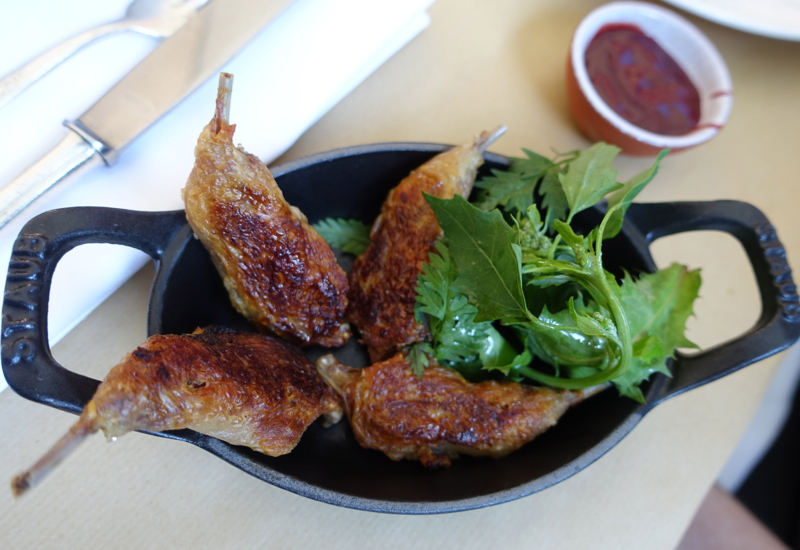 A usually unassuming side, creamy polenta, was also superbly rendered at Katz Orange–you could tell this had been slow cooked to perfection, and I liked the textural contrast of the flax seed that adorned it.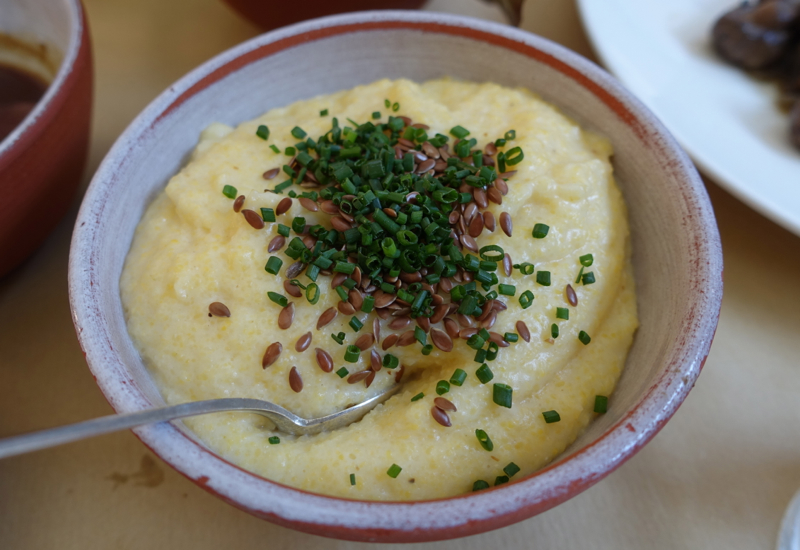 While we didn't want to stay long enough to have a full dessert, we did look at the dessert menu: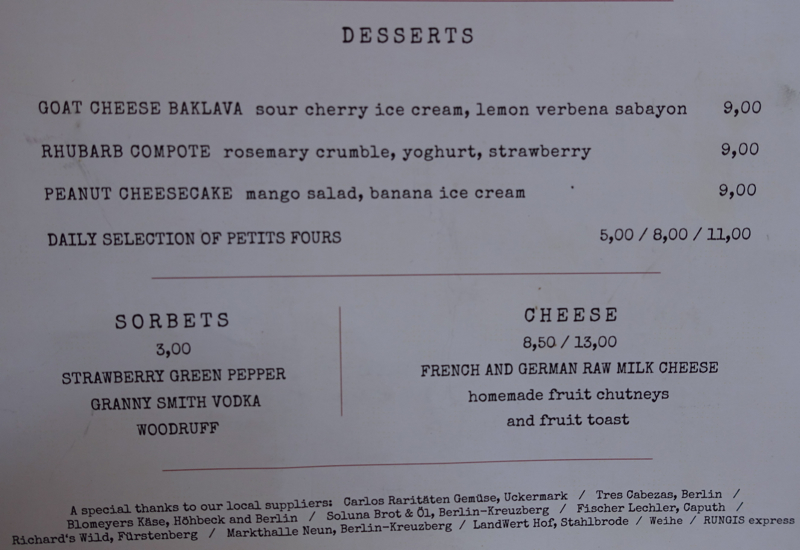 And we asked to try the sour cherry ice cream. This came out quickly, as we'd requested, and I liked the fact that it wasn't too sweet. That said, I've had much better ice cream, gelato and sorbet, so I'd view the dessert we had as the weak link in an otherwise stellar dinner.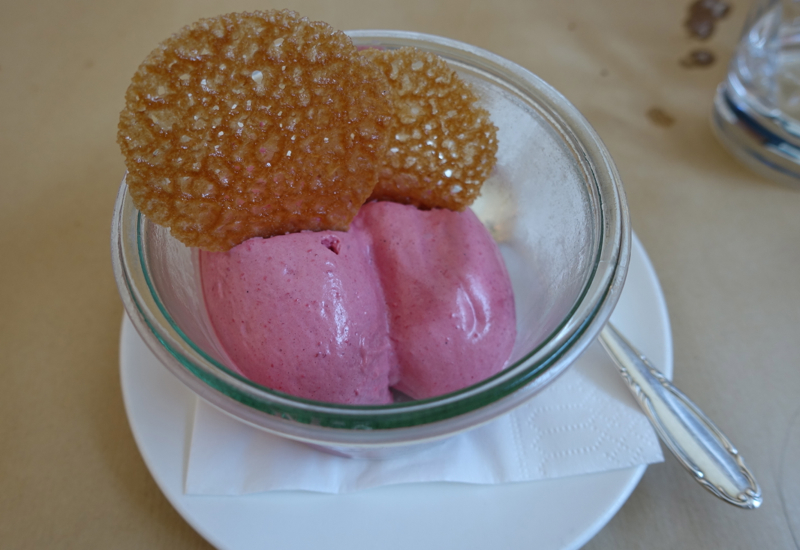 The Verdict
We love dining at a favorite local haunt, and that's what Katz Orange felt like–unassuming, but a very well thought out menu and space, with a highly skilled and creative kitchen team at work. Don't miss the quail confit and creamy polenta if they're on the menu!
If you've been to Katz Orange in Berlin, what was your experience?
Related Posts
Review: Air Berlin Business Class A330 JFK to Berlin
Need Award Booking Help? Our fee is as low as $75 per ticket if you book your hotel through us.
If you enjoyed this, join 200,000+ readers: please follow TravelSort on Twitter or like us on Facebook to be alerted to new posts.
Become a TravelSort Client and Book 5-star hotels with Virtuoso Perks and Preferred Partner Benefit