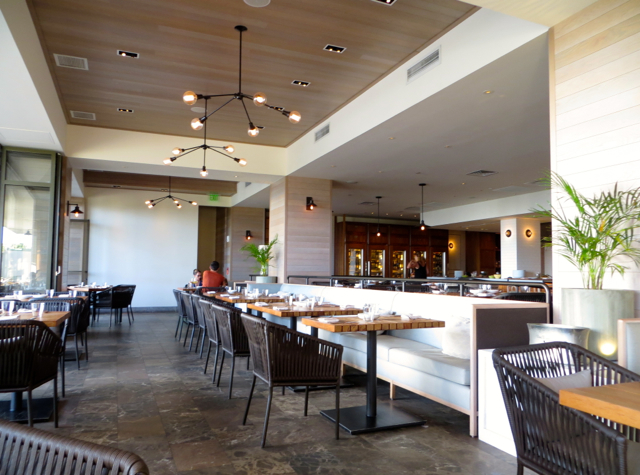 This review of the Ka'ana Kitchen and Andaz Maui at Wailea dining is from our recent stay while on Maui and the Big Island of Hawaii, including stays at the Four Seasons Resort Maui at Wailea and the Four Seasons Resort Hawaii at Hualalai.
For the previous posts of this Maui and Hawaii trip report, please see:
Alaska Airlines First Class Review
Alaska Airlines Board Room Seattle Lounge Review
Alaska Airlines First Class to Hawaii
Hyatt Place Waikiki Beach Review
Ka'ana Kitchen
Ka'ana Kitchen is the Andaz Maui at Wailea's signature restaurant, offering farm-to-table cuisine with many of the ingredients sourced from local farms. As with the lobby, it has an airy, open feel, and outdoor balcony seating, with a prime view of the ocean and pools, is especially popular, particularly for sunset viewing and for morning breakfasts.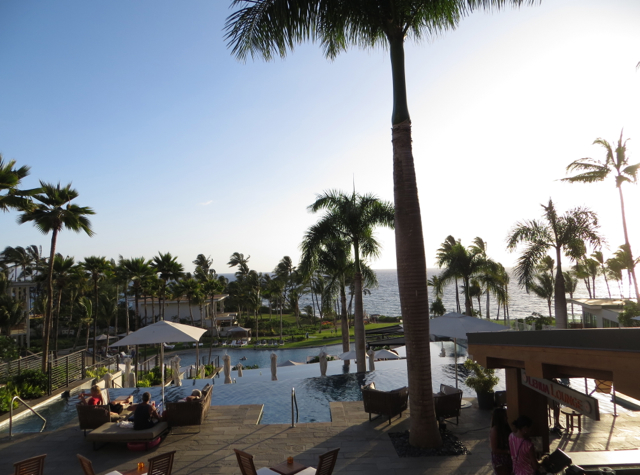 Breakfast at Ka'ana Kitchen
The breakfast buffet at Ka'ana Kitchen is complimentary if you have Hyatt Diamond status (including through the Hyatt Diamond Trial), otherwise it's $45 per person, and half price for kids. You can even order one a la carte breakfast entree if you get the breakfast buffet, which we did; otherwise, expect to pay about $20-$25 for a breakfast entree, plus the cost of juice, coffee etc. That makes it tempting to go for the buffet even if you're paying for it, which we did.
We had an incredibly friendly and helpful server, who made recommendations for the a la carte choices, kept our waters and my coffee filled, and just generally helped get our day off to a great start.
Here were our favorite items from our breakfast at Ka'ana Kitchen:
1. Steamed Pork Buns with Scrambled Eggs and Hoisin Sauce
The steamed pork buns with hoisin sauce and scrambled eggs were my favorite breakfast dish at Ka'ana Kitchen. I almost missed them, since the station with dim sum steamers is a bit off to the side of the main buffet. If I could, though, I'd add a bit of Sriracha to kick it up a notch (although I realize not everyone shares my penchant for spicy food).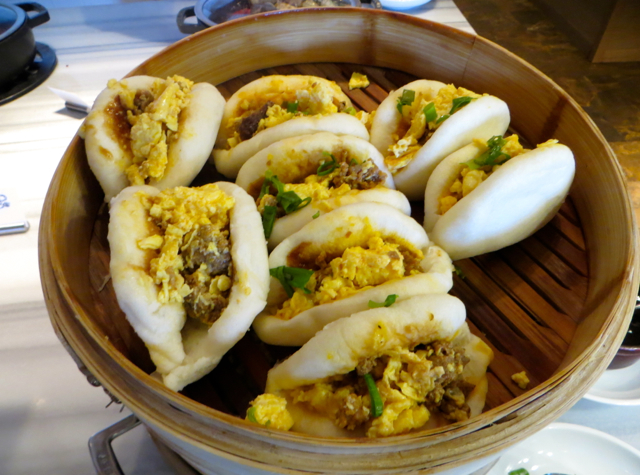 2. Yogurt Panna Cotta Parfait
While there wasn't much in the way of yogurt, which I sorely missed, there were some small glass jars of yogurt panna cotta parfait that were delicious and flecked with vanilla bean. There only seemed to be six at a time on display, so my bet is that these have to be replenished pretty quickly. Even better if you add a few raspberries to them.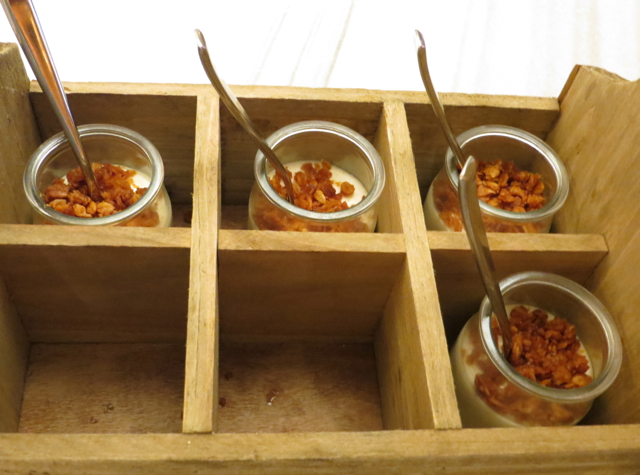 3. Malasada with Passionfruit Butter
Ok, so these malasadas aren't exactly the real deal (at least not if you're also a kama'aina as I am, and remember the fantastic free form malasadas from the annual Punahou and Iolani carnival booths) or even compared to the super fresh made to order malasadas from Champion Malasadas. But for restaurant malasadas, these were good, and even better when eaten with the housemade lilikoi (passionfruit) butter alongside. Yum!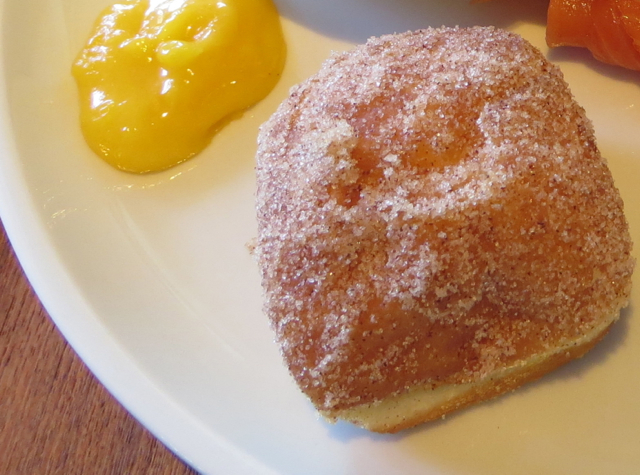 4. Fresh Squeezed Juice from Juice Bar
For some strange reason it's harder than you'd think to get fresh squeezed juice at a reasonable price in Hawaii. So take advantage of the fresh squeezed juice of the day from the juice bar. My favorite is still the amazing fresh squeezed orange juice, passion fruit and raspberry juice we enjoyed at the Four Seasons Koh Samui, or for fresh squeezed orange juice Solano at the Four Seasons Marrakech (best fresh squeezed orange juice ever) but this was pretty good too. The munchkin got the fresh squeezed juice of the day, which I tried, while I got plain fresh squeezed orange.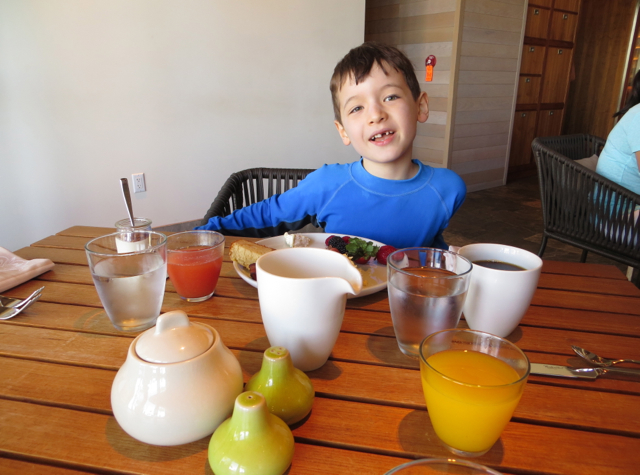 5. Kalua Pork Benedict
I was hoping that the Kalua Pork Benedict would be better than it actually was, but it was still a nice combination. The kalua pork wasn't smoky enough, however, so the taste was a bit flat and single dimensional. The tomatoes were very fresh, even though they looked more conventional, instead of the heirloom tomatoes that were described on the menu.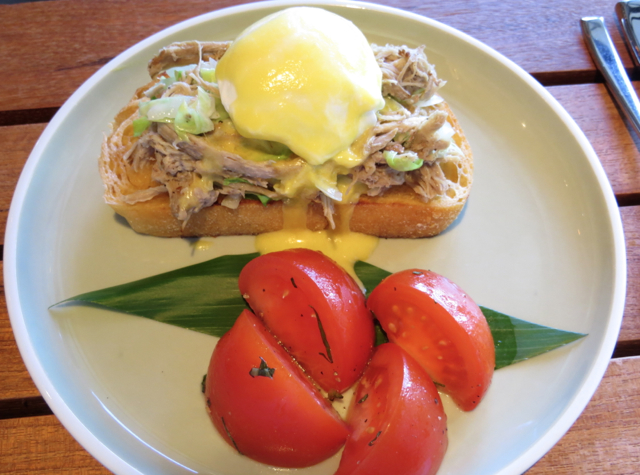 Dinner at Ka'ana Kitchen
We also had an early family dinner at Ka'ana Kitchen, and since it was quite warm, opted to sit inside by the window. The dinner menu is arranged in columns, with Ka'ana Classics on the far left, then subsequent columns arranged by the local purveyors of key ingredients, such as Surfing Goat Dairy, Kona Cold Lobsters, Craig Nihei and Bryan Otani local farmers, and Tagima Wagyu.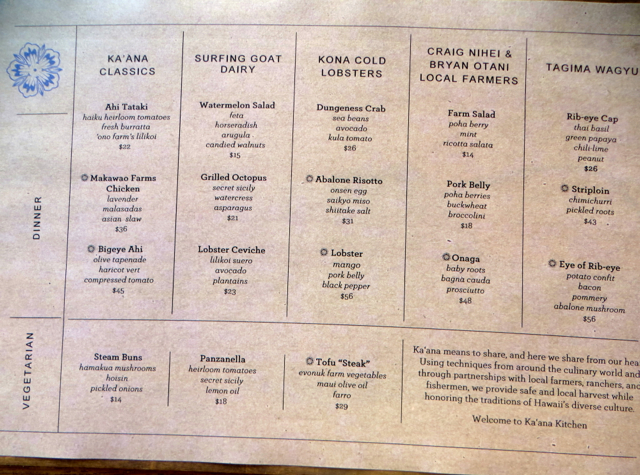 The Kids' Menu had just three choices, but fortunately one of them was mac and cheese, which is the munchkin's favorite food.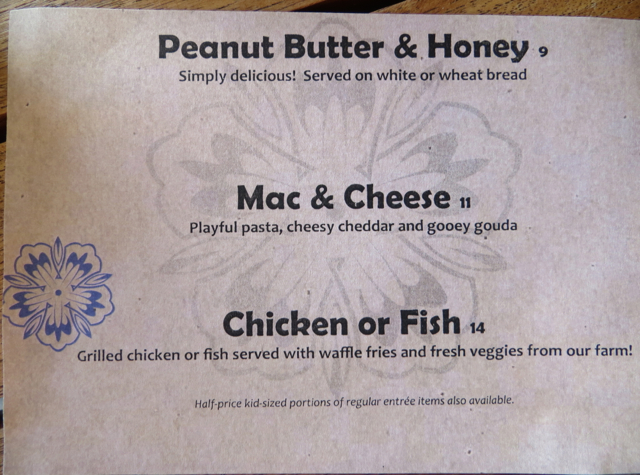 Our meal started with fresh rolls, served with butter sprinkled with Hawaiian red salt–simple but good.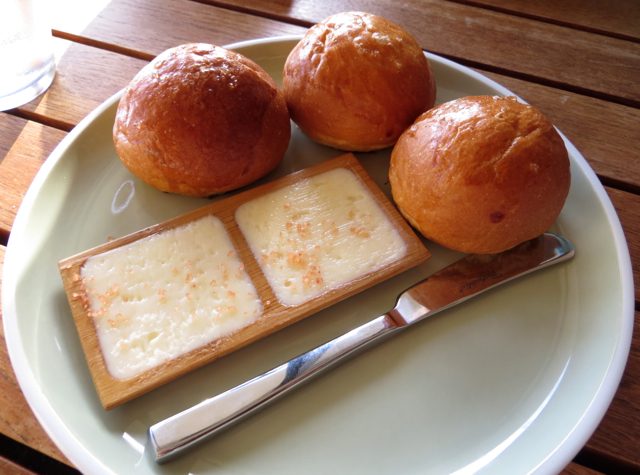 My husband ordered one of the Ka'ana Kitchen Classics, the Makawao Farms Chicken with Lavender Malasadas and Asian Slaw. This was beautifully plated and the chicken was very good, if not as addictive, as, say, the fried chicken we get at Som Der in NYC. The malasadas were nice and an interesting accompaniment, but I preferred the breakfast malasadas at breakfast.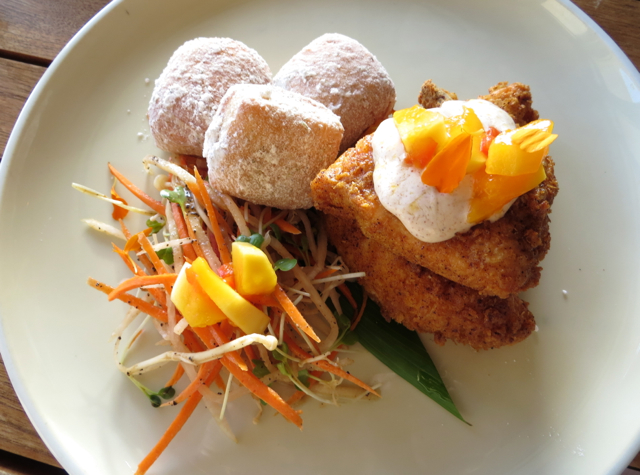 I splurged on lobster, which was adorned with mango and came with a black pepper sauce, which provided a nice kick and contrast to the rich, buttery lobster meat. Even as a main dish it wasn't overly filling, so be prepared for a bit of sticker shock over portion sizes here.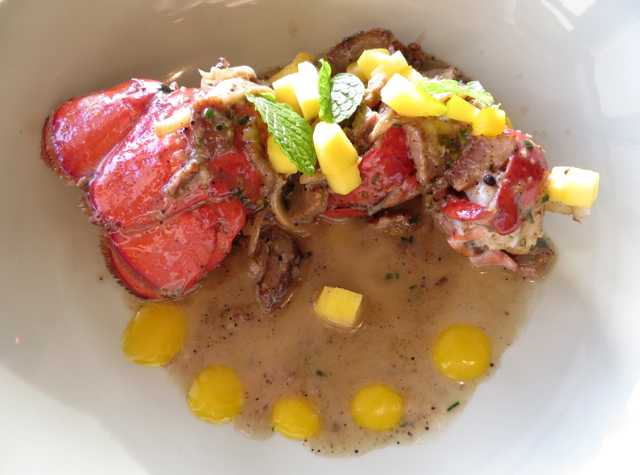 The munchkin was happy with the mac and cheese, but honestly the mac and cheese we get from Trader Joe's is better. It also would have been good some vegetables were served on the side.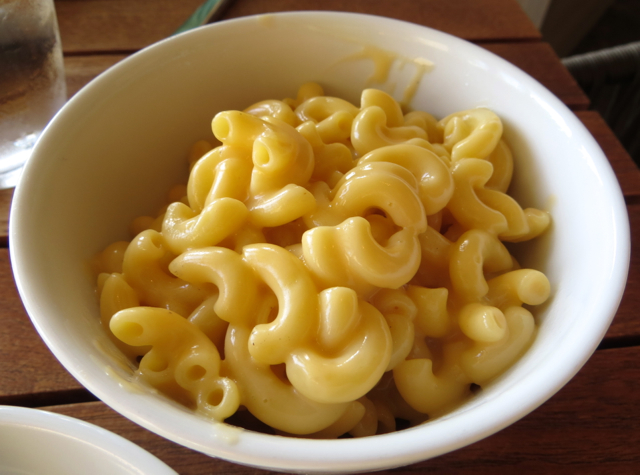 Since we weren't entirely full from dinner, we decided to split two desserts among the three of us. Here's the dessert menu: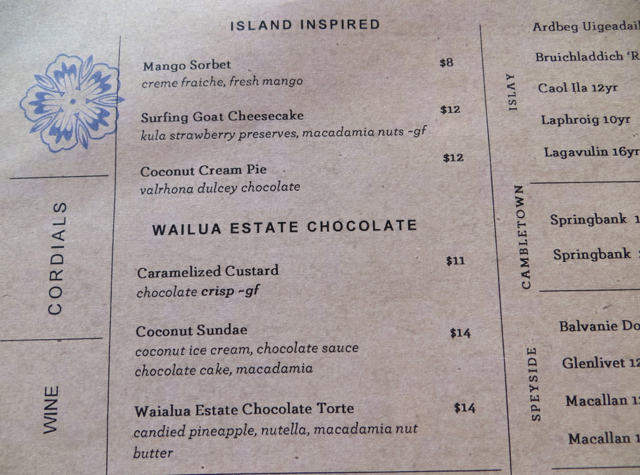 Our server recommended the Coconut Sundae, so we ordered that. It was ok, but in my view it was the weakest dish of the evening. The ice cream could have had better coconut flavor, and it just wasn't a very memorable dessert.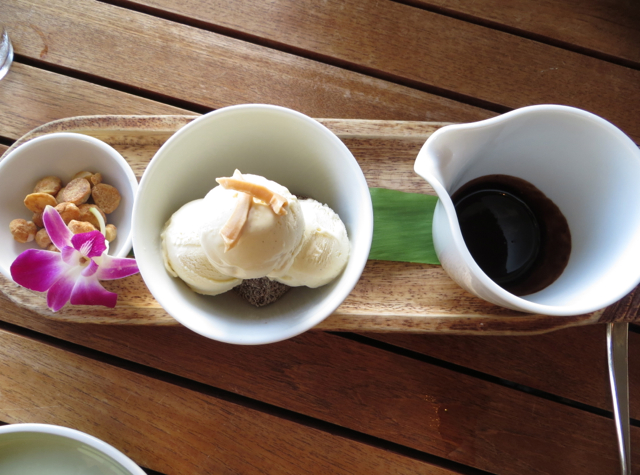 The Surfing Goat Cheesecake with Kula Strawberry Preserves was better and had a nice tangy taste from the goat cheese, but it was a tiny portion for $12. Would it kill them to make this a more normal sized portion? So overall, I would recommend skipping dessert at Ka'ana Kitchen, unless the dessert menu improves.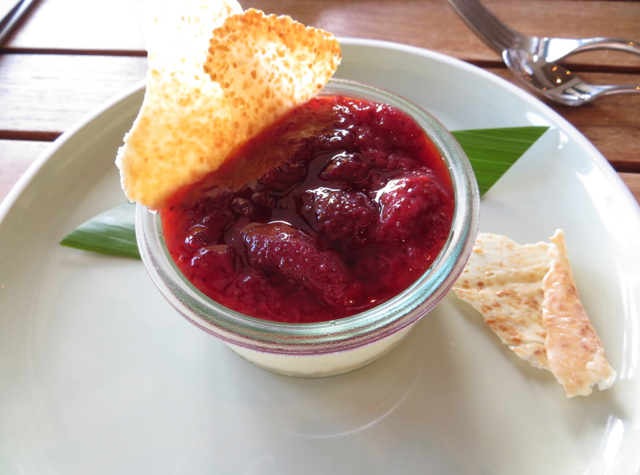 Service was excellent, however, both from the hostess who seated us and from our server, so no complaints based on our experience.
Mokapu Market
The munchkin and I arrived on an earlier flight than my husband, so we had our first meal at the Andaz Maui at Wailea at Mokapu Market, which is reached by walking down the corridor to the right off the lobby. It has grab and go drinks, yogurt and sandwiches in a refrigerated case: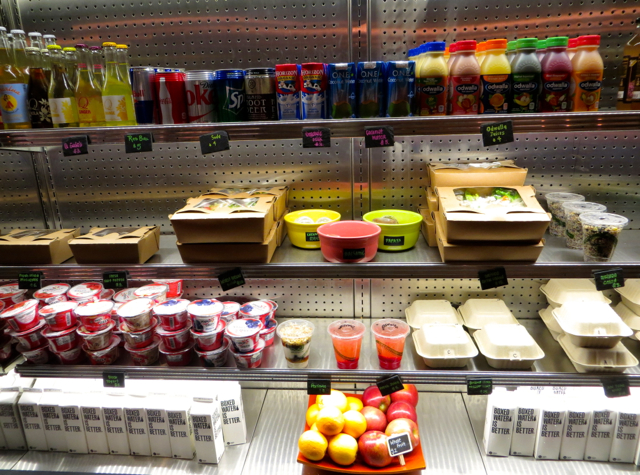 And there are also hot items available, written up on the chalkboard menu: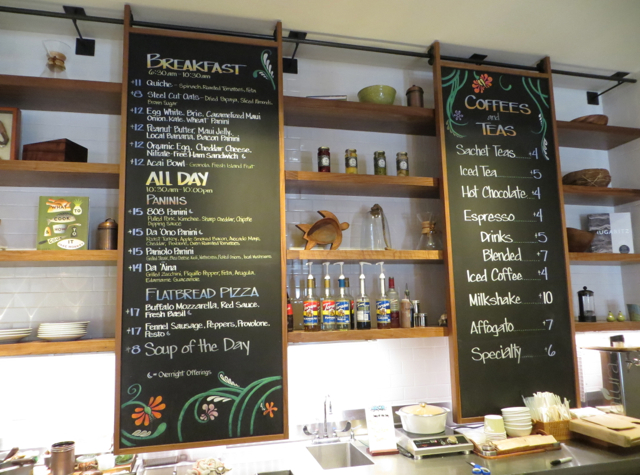 We decided to split a flatbread pizza with fennel sausage, peppers and pesto sauce. It was excellent–both the munchkin and I really enjoyed it.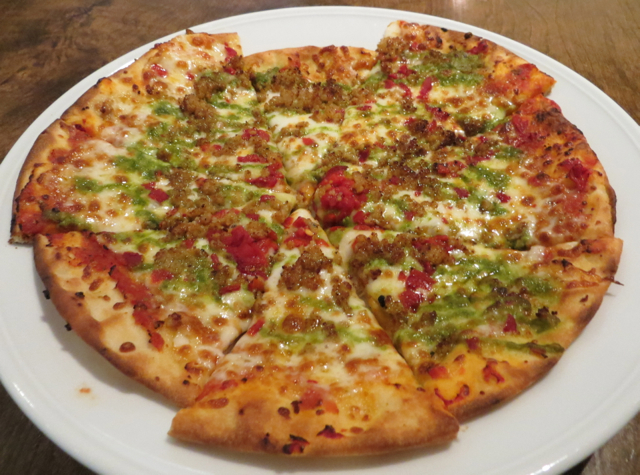 We didn't get around to trying the gelato, particularly since it was $9 per serving: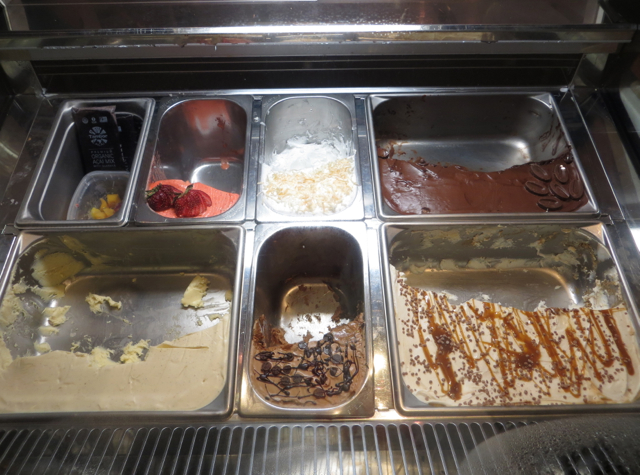 Verdict: I was happier with Ka'ana Kitchen, particularly the level of service, than with the overall resort service at the Andaz Maui at Wailea. There's no question the menu items are very pricey for what you get, but unfortunately that's true at all luxury resorts in Wailea, Maui. I'd say it's worth visiting Ka'ana Kitchen for breakfast even if you're staying elsewhere in the Wailea area, and particularly if you have discounted Hyatt gift cards or gift checks to pay for your meal. Dinner is also a possibility, but if you're very hungry you may run up quite a tab, as portion sizes can be modest, even for main entrees, at least in the case of lobster.
The main areas of improvement, in my view, are more yogurt choices at breakfast, better quality pastries apart from the malasadas, a few more choices on the kids' menu at dinner, and higher quality desserts.
If you've dined at Ka'ana Kitchen, what was your experience?
Related Posts
Hyatt Award Chart Devaluation: New Category 7 for 30K Points, Pricier Awards
Hyatt Place Waikiki Beach Review
Best Frequent Flyer Miles for Hawaii Award Tickets
Disclosure: We paid for our own meals at Ka'ana Kitchen and Mokapu Market
Need Award Booking Help? Our fee is as low as $75 per ticket if you book your hotel through us.
If you enjoyed this, join 200,000+ readers: please follow TravelSort on Twitter or  like us on Facebook to be alerted to new posts. 
Become a TravelSort Client and Book 5-Star Hotels with Virtuoso or Four Seasons Preferred Partner Amenities!