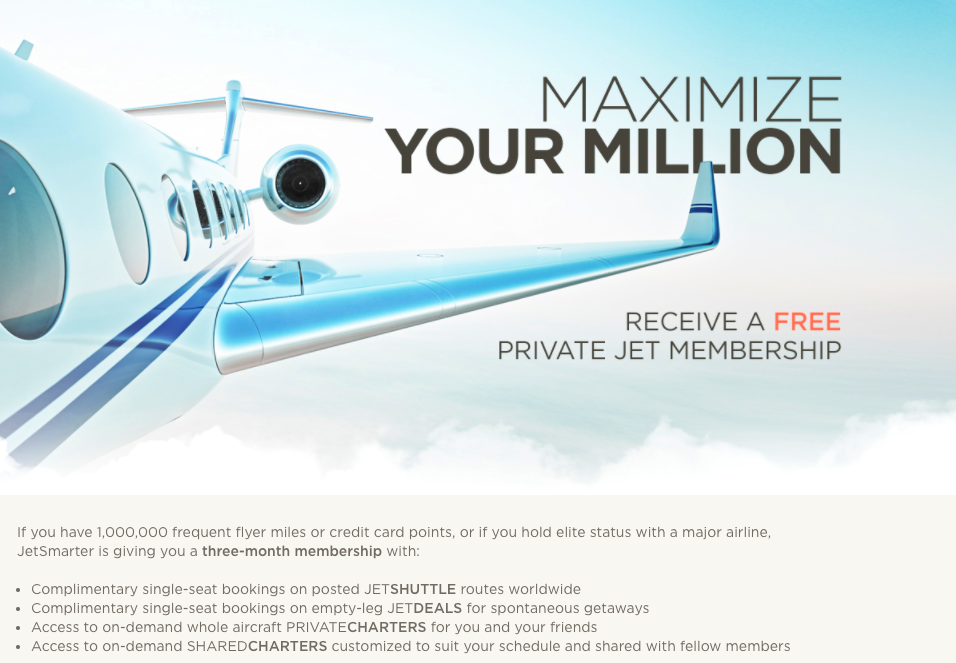 JetSmarter is offering a free trial membership if you have 1 million frequent flyer miles or credit card points or elite status with a major airline, per Reddit. But what is JetSmarter, and is it worth it? Here are the offer details:
Provide photo or video proof that you have 1,000,000 frequent flyer miles or credit card points or elite status with a major airline via email to status.verify@jetsmarter.com
Offer valid until July 1, 2017
After verification, JetSmarter will notify you that your free 3 month trial membership has been activated; it includes:
Free single-seat bookings on posted JETSHUTTLE routes worldwide
Free single-seat bookings on empty-leg JETDEALS for spontaneous getaways
Access to on-demand whole aircraft PRIVATECHARTERS for you and your friends
Access to on-demand SHAREDCHARTERS customized to suit your schedule and shared with fellow members
What is JetSmarter?
Dubbed the "Uber of Private Jets" JetSmarter was started in 2012 to offer empty legs and repositioning flights of private jets to members. These empty legs result from needing to fly a private jet chartered by a client to where that flight would depart from, or to reposition it for the next client.
But as it became clear how difficult it was to match consumer demand to these very specific empty legs, as well as the logistical problems that arose when the charter client decided to change his/her charter flight day and time, JetSmarter decided to expand into chartering regular shuttle services, and to enable members to create their own private or shared charter flights.
JetSmarter membership is tiered, so "Sophisticated Members" who pay $45,000 per year have early access to new scheduled shared shuttles and JetDeals, followed by "Smart Members", who have access 6 hours before Simple members, which this free trial is for.
Cost Cutting and Member Discontent
The issue? Adding these regular shuttles is far more expensive than reselling empty legs, as much as 20-50 times as much. That means that in all likelihood, JetSmarter is losing significant money and has yet to turn a profit in any given year; this would also explain some of the cost cutting and changing membership benefits that have roiled some of its customers, such as doing away with free helicopter rides to the airport and free meals, and charging more for reserving the entire plane on an empty leg and for travel around major holidays.
Flyertalker
cakiwi
noted on 5/31/17 that LA to NYC flights now come with $800 in surcharges, and helicopter service to the airport has increased in cost to $395 from $250.
Meanwhile, Flyertalker
ensnare
received the following note, which seems like a desperate bid for cash:
"
To account for the change and to thank you for continued business, we are launching a voluntary deposit program with some additional perks we think you will enjoy. Here's how it works:
When you make a $50,000-$100,000 deposit into your JetSmarter account, we'll deposit an additional five percent as extra funds to fly.
For deposits between $101,000 and $200,000, we'll add seven percent.
For deposits over $200,000, we'll add 10 percent."
No Negative Reviews Allowed
JetSmarter's previous membership agreement included a non-disparagement clause, which appears to have since been removed. Troublingly, however,
The Verge
reported that invitations to the press to review JetSmarter came with a huge catch: $2000 charged to the journalist if s/he didn't publish a positive story within 5 business days. So if you've been reading positive press on JetSmarter, you may want to take those pieces with a huge grain of salt.
The Verdict
By all means, if you've been wanting to try JetSmarter shared jet service and have elite status and/or 1 million frequent flyer miles or points, submit your documentation to JetSmarter for the free trial. It's unclear from the offer terms if top-tier elite status is needed, and if the miles/points must all be in a single account, but worth a try even if you have mid-tier status or have 1 million miles/points in a few different accounts.
It looks from the recent posts of Flyertalkers who are members and have received communications from JetSmarter that the company is burning cash quickly, lending credence to AirStream CEO Peter Maestrales' article post "
Is JetSmarter a Ponzi Scheme?
" So, whether you're an existing JetSmarter member or trying it out for this trial, you may want to fly as much as possible soon. Who knows how long the company will be around…
If you've flown with JetSmarter recently, what was your experience?
Recommended Posts