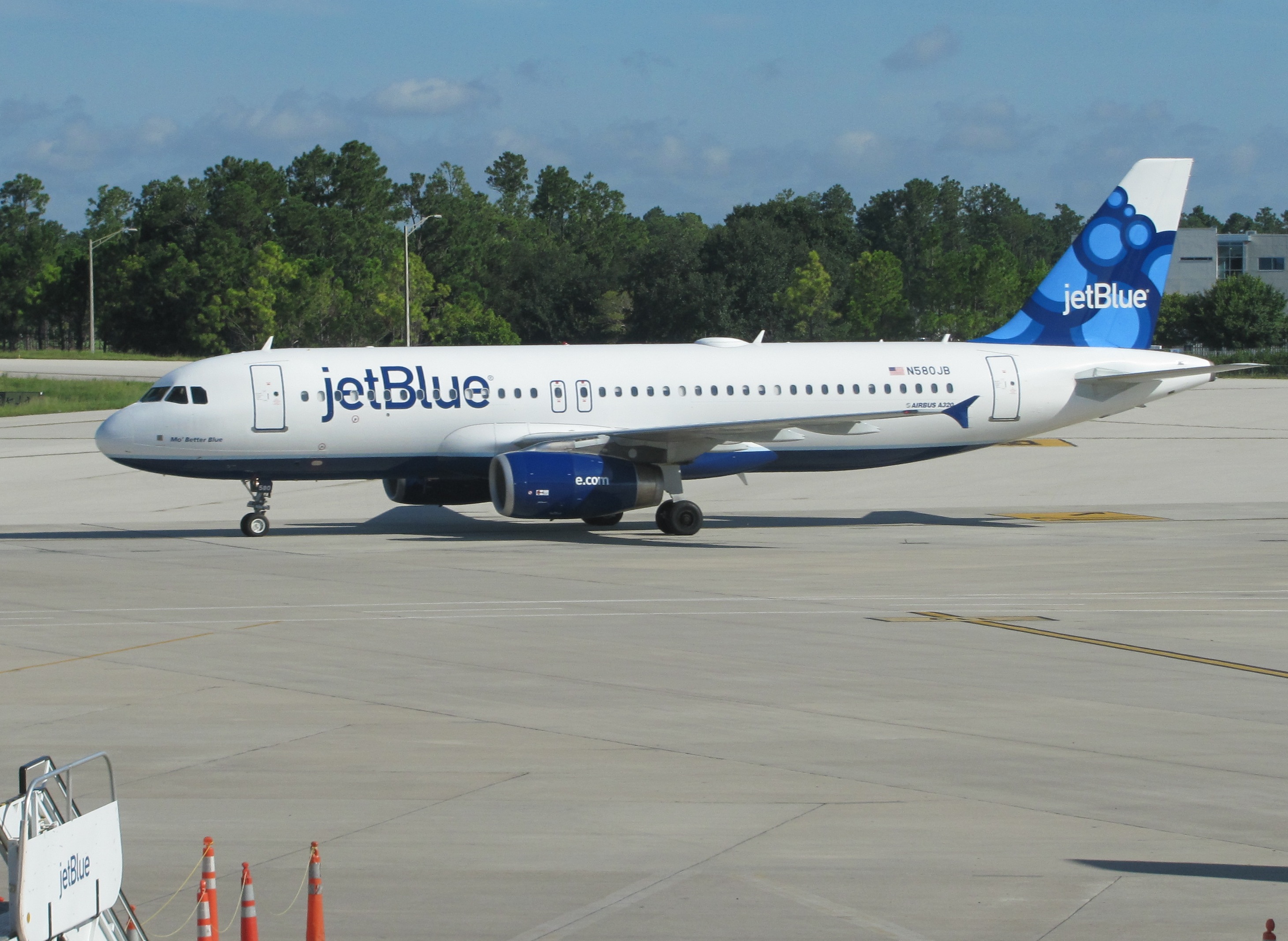 If your JetBlue flight was delayed, will you receive Travel Bank credit as compensation? Here's how to figure out if your delayed flight is entitled to compensation, how much to expect, and Travel Bank credit terms.
Recently I was on a JetBlue flight from NYC JFK that was delayed almost 3 hours–fortunately I was already in the Airspace Lounge at JFK Terminal 5 and worked during the flight delay, which oscillated a few times between a planned departure delay of just under 2 hours and the actual delay of nearly 3 hours.
Given that American took over 2 months to get back to me about a non-working seat before eventually issuing me a $100 eVoucher (see American Airlines eVoucher Compensation and eVoucher Rules) I didn't even bother to complain to JetBlue. To my pleasant surprise, the very next day I received an email from JetBlue notifying me that I'd received a $50 JetBlue credit:
"Thank you for choosing JetBlue.
The following credit has been applied to your Travel Bank account number: [number]
Service Credit: Bill of Rights 50.00 USD
We're sorry that you did not experience the high standard of service we aim to provide every JetBlue customer. Please accept our sincere apologies and this flight credit for the inconvenience you recently experienced with us.
This credit, which expires 365 days from the date it is issued, is available for use on future travel with JetBlue and is non-transferable.
To book a flight using your Travel Bank credit, visit jetblue.com and choose Travel Bank as your form of payment.
For more information about Travel Bank and your credits, please visit jetblue.com/help/travelbank. We thank you for your understanding and look forward to a future opportunity to welcome you onboard.
Sincerely,
JetBlue Airways"
While the credit wasn't as much as the American eVoucher credit, the prompt and proactive email, without any input from me, left a more positive impression. Now of course I'd prefer to have had the flight take off on-time, but this was a good service recovery, especially in the context of U.S. airlines. Here's what to know about JetBlue Travel Bank Credit:
JetBlue Travel Bank Credit is Available for Departure Delays Caused by a Controllable Irregularity
JetBlue passengers receive travel bank credit if a JetBlue flight's departure is caused by a "Controllable Irregularity."
What's a Controllable Irregularity vs. an Uncontrollable Irregularity?
JetBlue defines a "Controllable Irregularity" as anything that causes a delay, cancellation or diversion that is NOT a Force Majeure event. Force Majeure events include weather, runway closure, Air Traffic Control delays, airport construction, and anything else that cannot be considered reasonably under JetBlue's control.
Controllable Irregularities include crew unavailability that is not due to weather-related disruption and aircraft maintenance.
How to Verify If Your Flight Delay Qualifies for Travel Bank Credit Compensation
Go to JetBlue's Flight Compensation Status page and input your flight number and departure date, then click the "Check Status" button to see if your flight qualifies for compensation. Note that it can take up to 72 hours for the compensation status to be reflected; before that it may state "pending."
How Much JetBlue Travel Bank Credit Are You Entitled To?
JetBlue compensates passengers with Travel Bank credit based on how long they were delayed, starting at a $25 credit for a delay of 1 hour 30 minutes-1 hour 59 minutes, up to a maximum of a $200 credit for a delay of 6 or more hours. Note that there is no compensation for delays of less than 1 hour 30 minutes.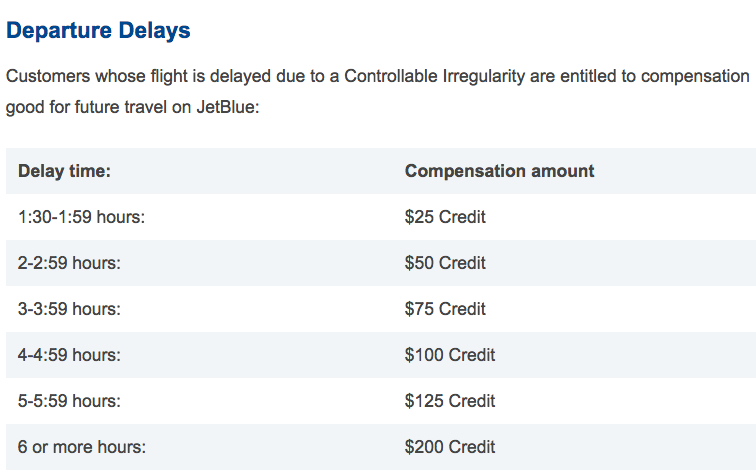 Do You Have to Request Compensation?
This is my favorite part–you do not have to request compensation–it is automatic and you should receive an email within 7 days of your flight's scheduled departure (though as noted, my email arrived the day after my flight).
How Do I See My Travel Bank Credit?
JetBlue sends you two separate emails: one includes your account number, and the other provides your password. You can also log into your True Blue frequent flyer account and click on the "View Credits" link to view your Travel Bank credit.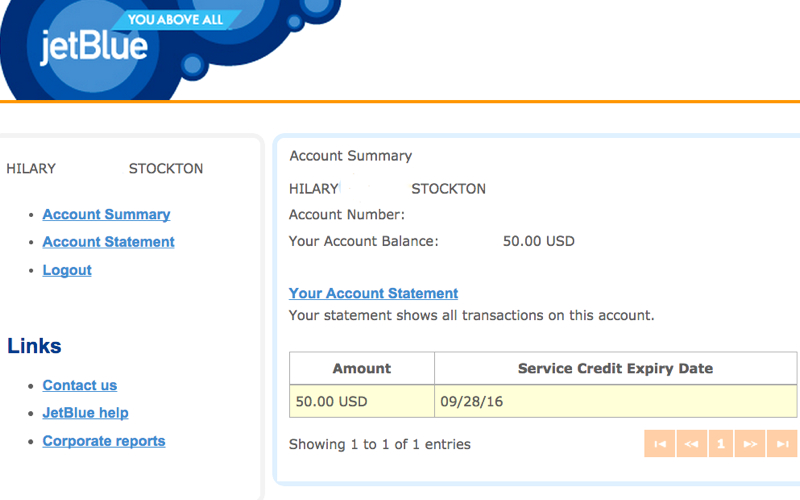 Do I Have to Travel on JetBlue Within a Year of the Travel Bank Credit Being Issued?
No; the Travel Bank credit is valid for 1 year from date of issue, but as long as you book travel with your Travel Bank credit before it expires, the actual travel can be more than 1 year from the date the credit was issued.
What Can I Use the JetBlue Travel Bank Credit For?
You can use the JetBlue Travel Bank credit for:
JetBlue flights
Change/cancel fees for paid JetBlue flights
Air portion only of JetBlue Getaways packages
You can NOT use JetBlue Travel Bank credit for anything else; all of the following are NOT eligible to be paid for with Travel Bank credit:
Change/cancel fees for TrueBlue point award bookings
Same-day change fees
Other fees, such as Even More Space fees, Extra Speed fees, excess baggage fees, pet fees, unaccompanied minor fees, etc.
Have you received a JetBlue Travel Bank Credit as compensation for a delayed flight?
Related Posts
Need Award Booking Help? Our fee is as low as $75 per ticket if you book your hotel through us.
If you enjoyed this, join 200,000+ readers: please follow TravelSort on Twitter or like us on Facebook to be alerted to new posts.
Become a TravelSort Client and Book 5-Star Hotels with Virtuoso or Four Seasons Preferred Partner Amenities!