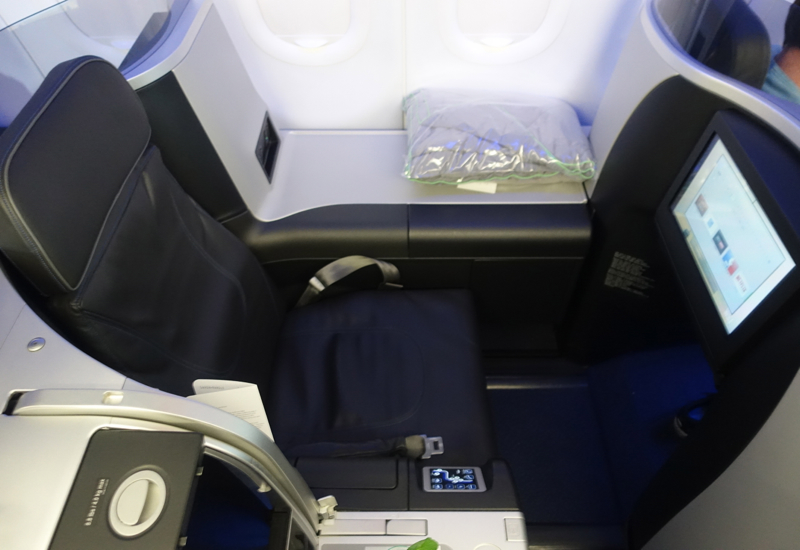 JetBlue Mint is expanding its routes to include Seattle to NYC, Seattle to Boston and Boston to Las Vegas, which is great news for passengers wanting non-stop premium service between those cities. I'm especially happy about the NYC to Seattle non-stop route, given that we have relatives in Seattle and aren't keen on the subpar Alaska business class seats.
JetBlue Mint already flies to the Caribbean, including Aruba, St. Maarten, Barbados, St. Lucia, as I posted in JetBlue Mint Expands to Las Vegas, Caribbean.
Even though I don't care for JetBlue's TrueBlue frequent flyer program, which is revenue-based and hard to get outsize value from, I do like JetBlue Mint service itself, and booked far in advance, it can be quite reasonable, as low as $549 each way. Note, however, that for certain route dates and times, or when booked last minute, prices can be well over $1000 each way, so it does pay to book ahead and be flexible.
Here are the details on the new routes, which all start in 2018:
JetBlue Mint Boston (BOS) – Las Vegas (LAS) Starts January 4, 2018
Depart Boston 7:10am, arrive Las Vegas 10:22am (Flight #1077)
Depart Boston 8:50pm, Arrive Las Vegas 11:52pm (Flight #177)
Depart Las Vegas 7:45am, Arrive Boston 3:44pm (Flight #1078)
Depart Las Vegas 11:32am, Arrive Boston 7:31pm (Flight #178)
JetBlue Mint Boston (BOS) – Seattle (SEA) Starts February 15, 2018
Depart Boston 8:56am, arrive Seattle 12:18pm (Flight #597)
Depart Boston 7:22pm, Arrive Seattle 10:46pm (Flight #197)
Depart Seattle 1:29pm, Arrive Boston 9:47pm (Flight #598)
Depart Seattle 11:56pm, Arrive Boston next day 8:11am (Flight #498)
JetBlue Mint New York (JFK) – Seattle (SEA) Starts April 15, 2018
Depart JFK 10:42am, arrive Seattle 1:58pm (Flight #263)
Depart Seattle 3:08pm, Arrive JFK 11:30pm (Flight #264)
A second daily roundtrip between JFK and Seattle will be announced later in 2017.
Here's a map of the current JetBlue Mint routes in blue, with the future Mint routes in green: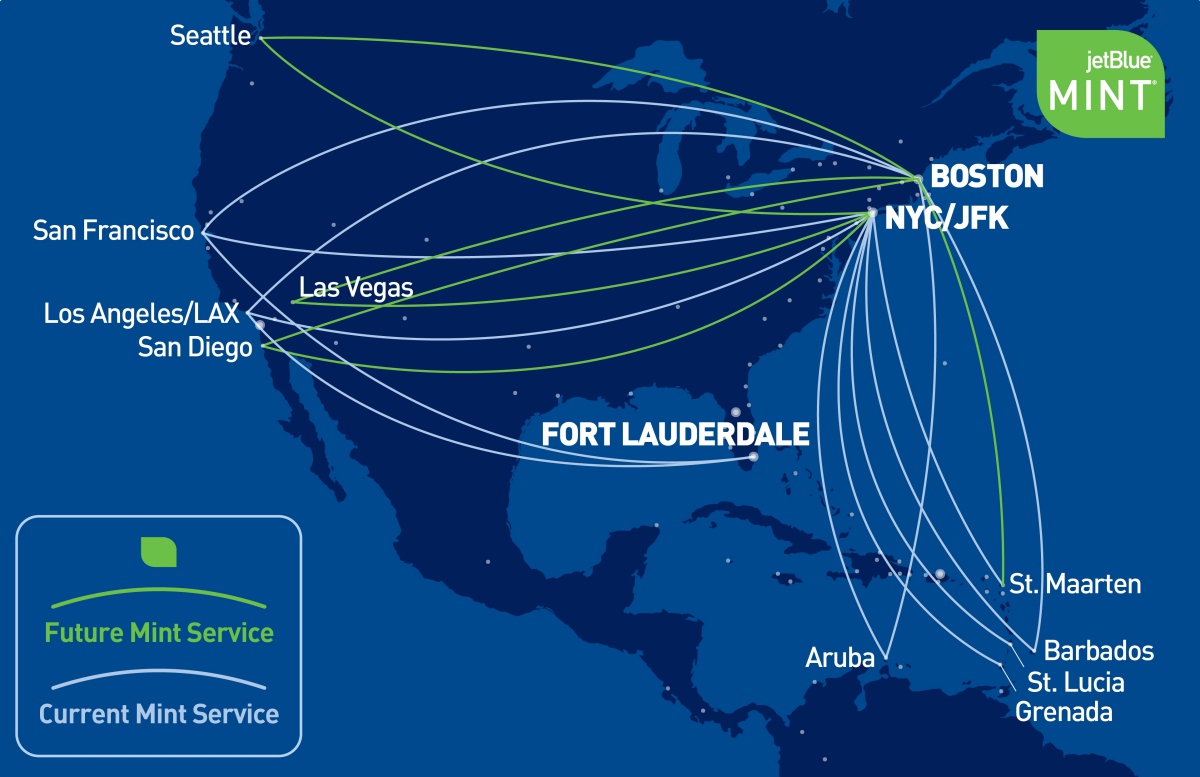 Are you looking forward to JetBlue Mint's new Boston to Vegas, Boston to Seattle and NYC to Seattle routes?
Recommended Posts
Need Award Booking Help? Our fee is as low as $75 per ticket if you book your hotel through us.