This Japan Airlines (JAL) 777-300ER Business Class Sky Suite Review is from our recent trip to Japan, including ANA First Class, JAL Business Class review, and Tokyo luxury hotel reviews and Kyoto luxury hotel reviews. For previous posts in the trip report, see:
Review: British Airways First Class Lounge New York JFK Terminal 7
Review: ANA First Class 777 New York JFK to Tokyo Narita
Review: Air France Lounge New York JFK
Hotel Review: The Peninsula Tokyo.
Japan Airlines Business Class Cabin and Seat Selection
I recently flew Japan Airlines from New York JFK to Tokyo.  My seat was 9K, a window seat on the right hand side. The business cabin was full, and it was a morning flight, so I chose the complimentary glass of 
champagne
 over the orange juice.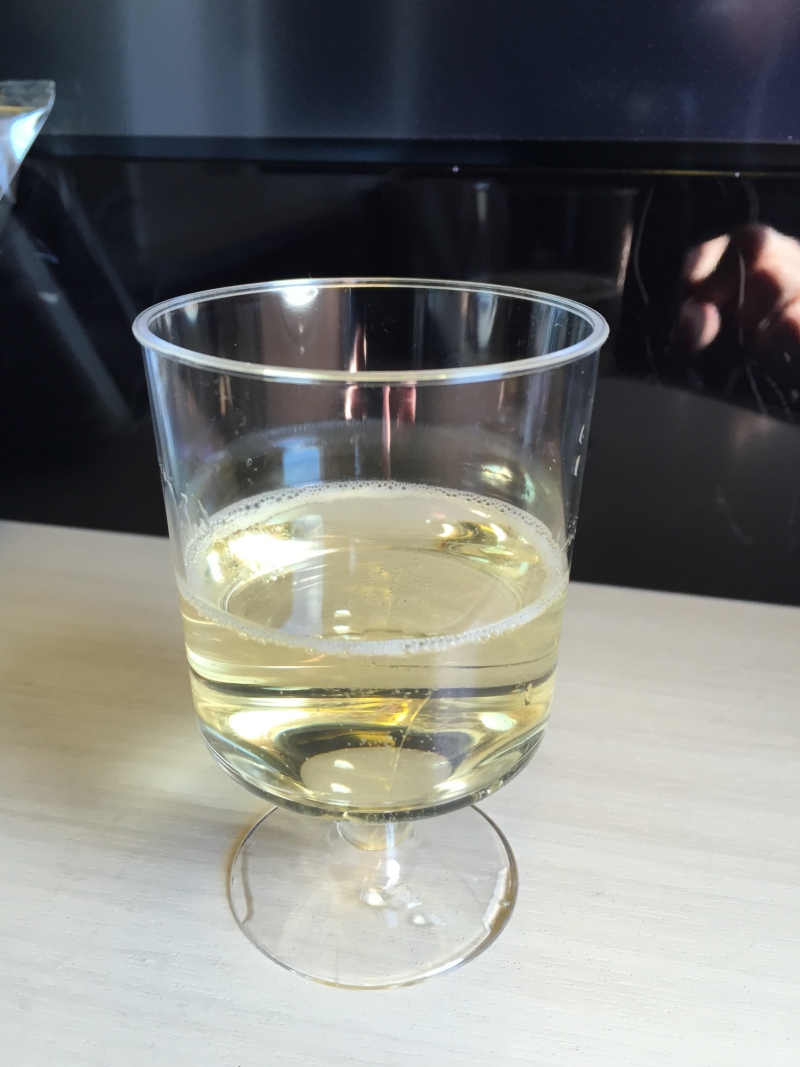 The Business Class is very large, seating 7 across in a 2-3-2 configuration. The most private seats are the window seats on either side, A or K, and I highly recommend these with a caveat that I'll describe below.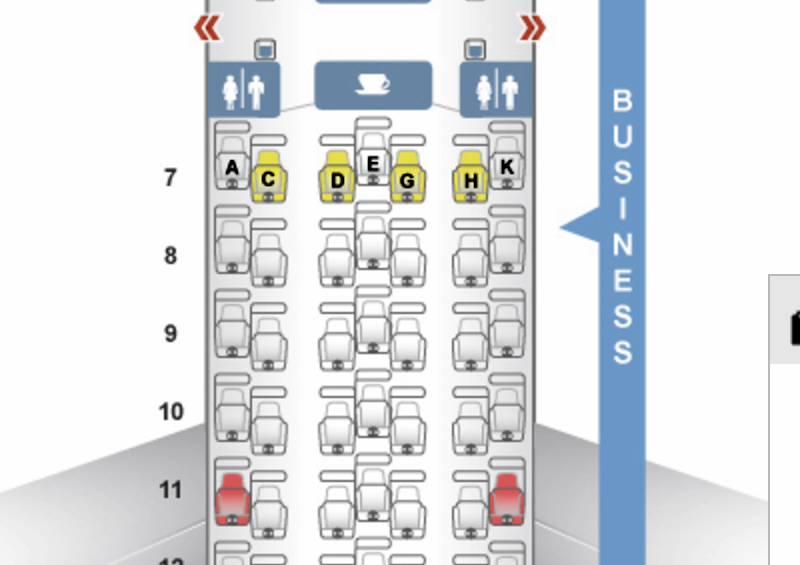 JAL 777-300 SkySuite Business Class SeatMap, Courtesy SeatGuru
The flight attendants covered a lot of ground, and were very hospitable and warm.  The plane sat on the tarmac for a while at JFK, as often happens, but the attendants were good at checking in and making sure everyone was comfortable.
Japan Airlines Business Class Seat
My seat was next to the window, which meant I had to squeeze in through a narrow partition to reach it.  I'm not sure how a larger customer would be able to make the squeeze, and even I had to turn sideways.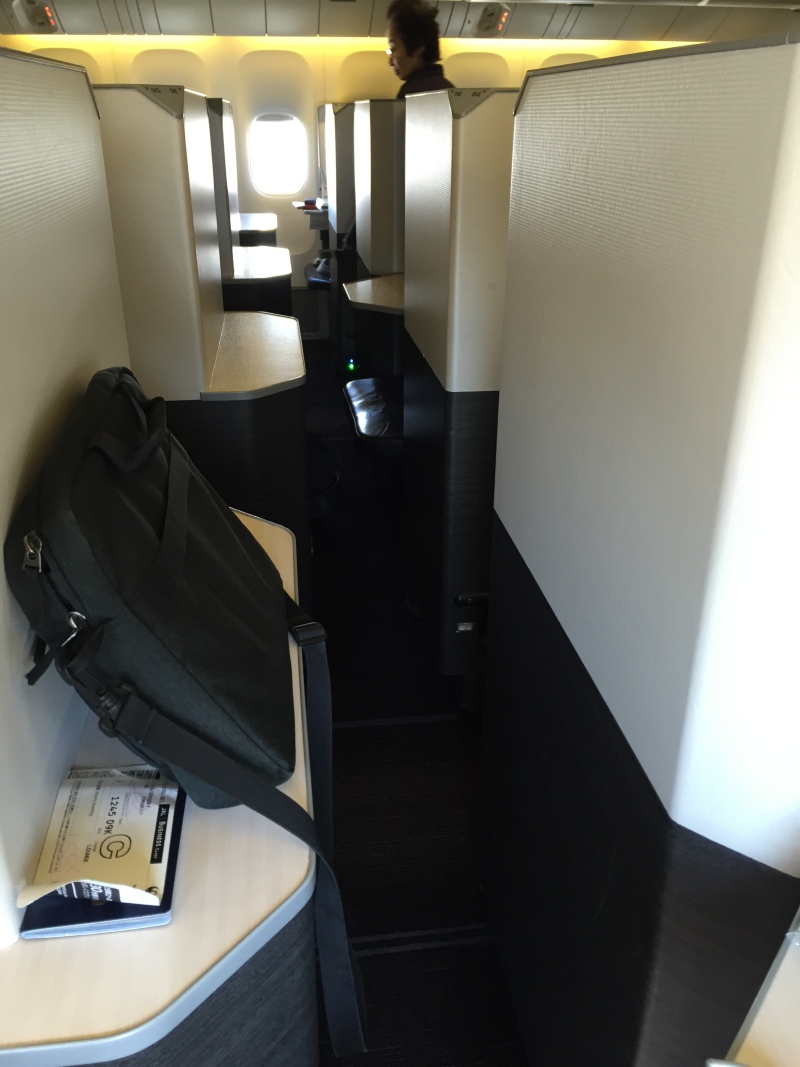 Once I got to my seat, I realized I had in effect my own little private Business Class cabin, separated from the rest of the plane.  The seat is 3 windows long (4 if you count the divider between seats).  The seat is pretty narrow, but the seat cushions are very comfortable and the pillow makes for a very cozy and snug arrangement.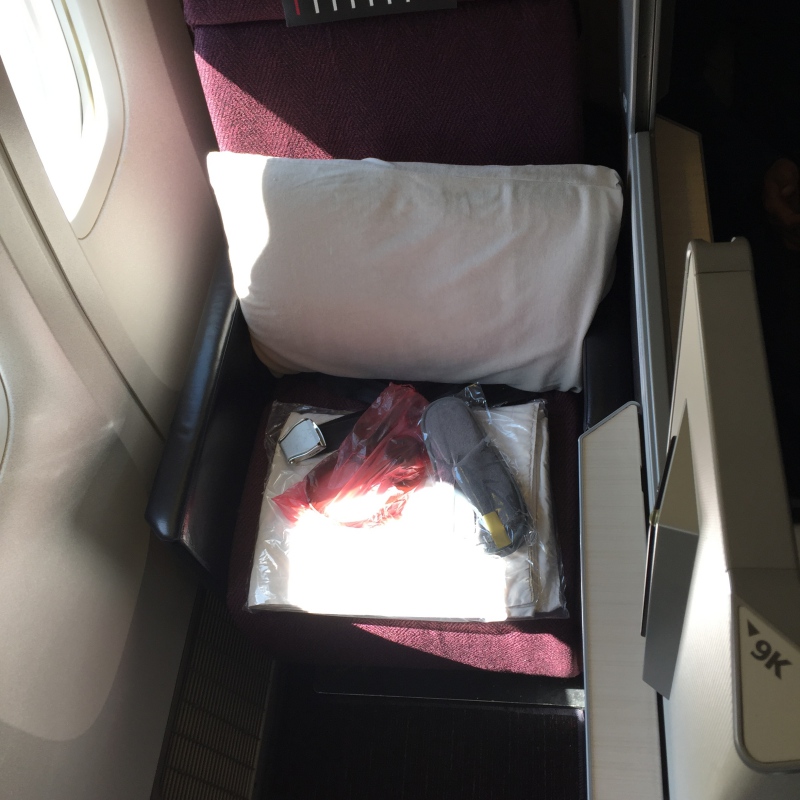 There is really fantastic legroom, and an ottoman with a space below it that can be used for storing shoes or a laptop.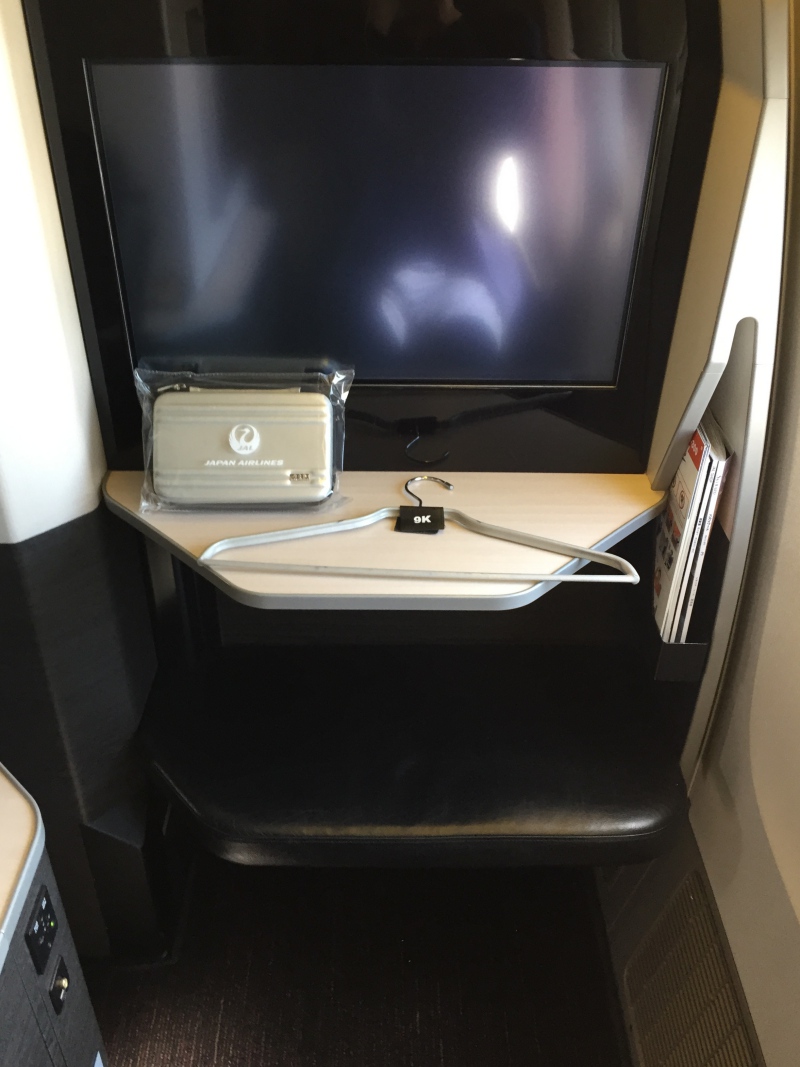 To the left of the chair there is a narrow shelf that came in handy for resting personal items like an iPhone, or for drinks.  And there is easy access to a power outlet for recharging your phone, tablet or laptop.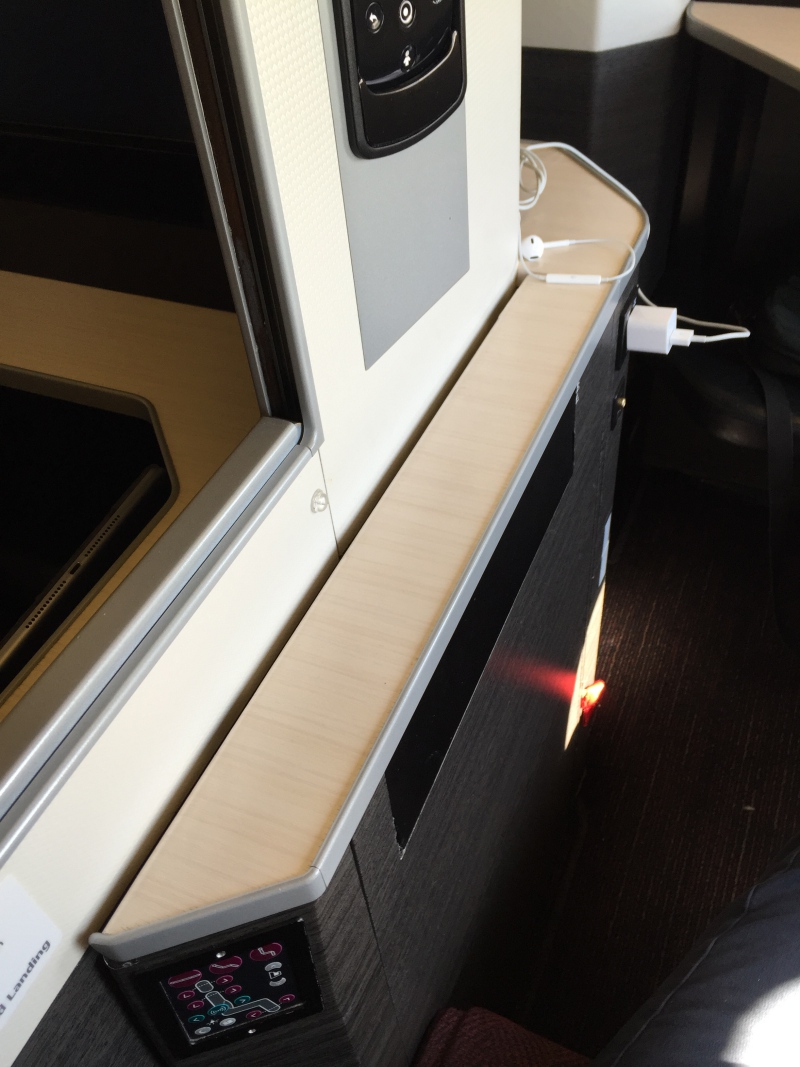 And there is a privacy screen that can be raised after takeoff to separate you from your neighbor in the aisle seat, for the duration of the flight, until preparing for landing: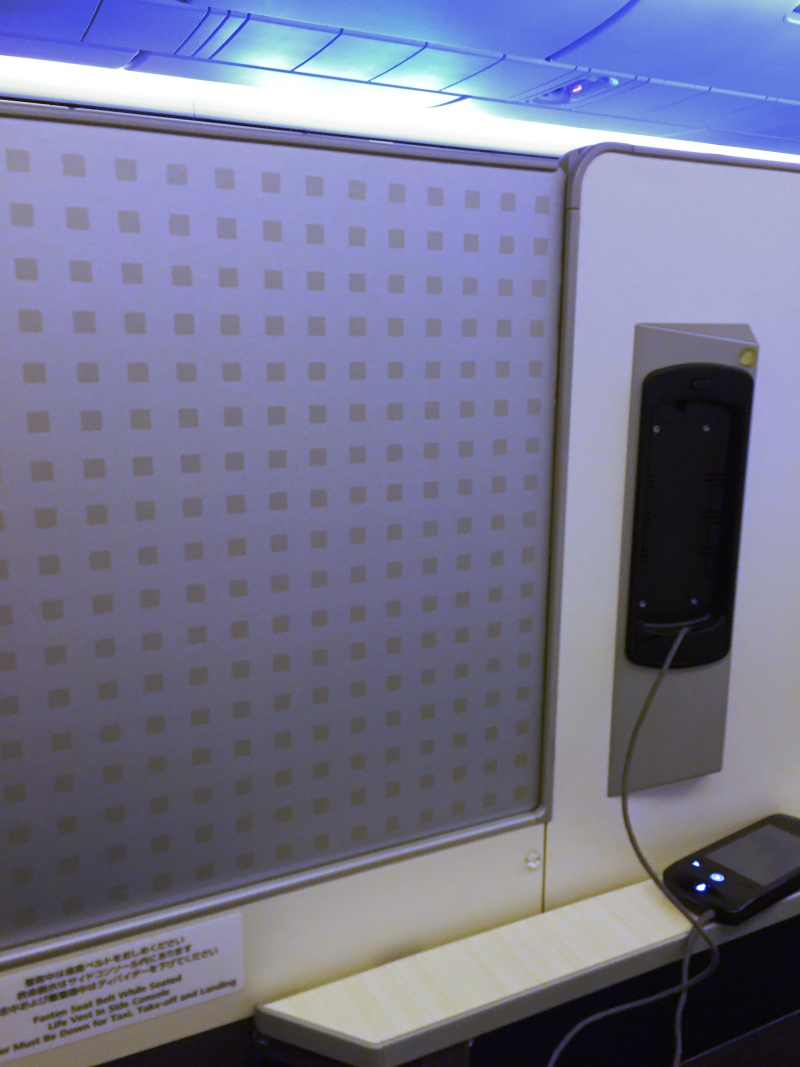 The manual seat controls are easy to use to convert your seat into a lounging position or a flat bed, or intermediate positions: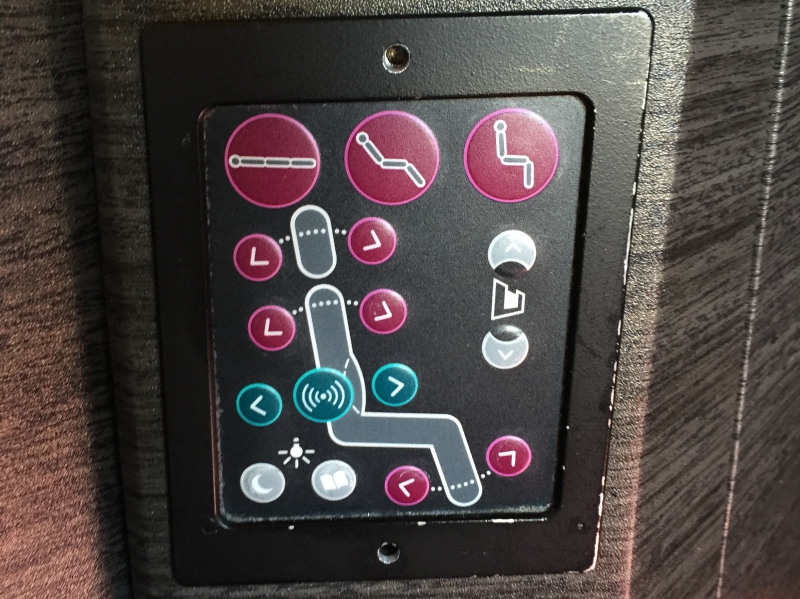 Overall, I was struck by just how much privacy I had for Business Class.  And with all the various storage compartments and spaces, my seat resembled a smaller, narrower, version of a First Class Cabin product.
Japan Airlines Business Class Menu and Food
After takeoff, I was given a hot towel, and ordered a glass of Chardonnay, which was quite flavorful and refreshing.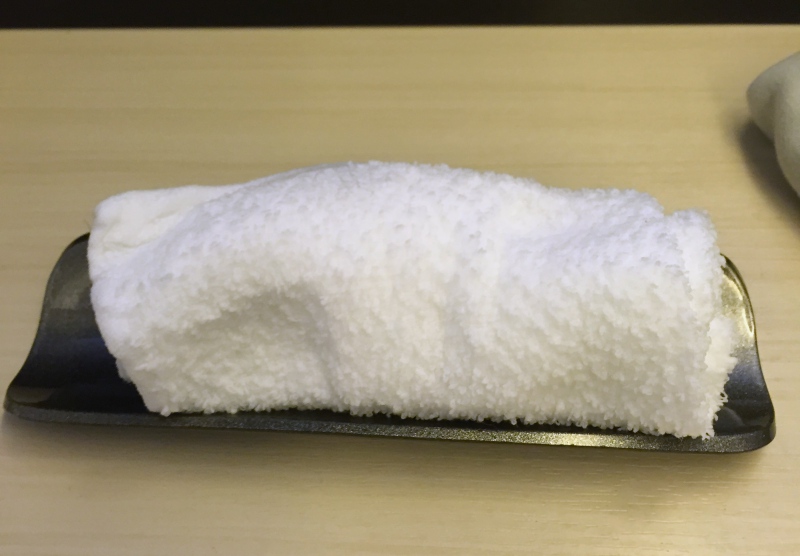 The amuse bouche of olives, tomatoes mozzarella, and scallops was really good.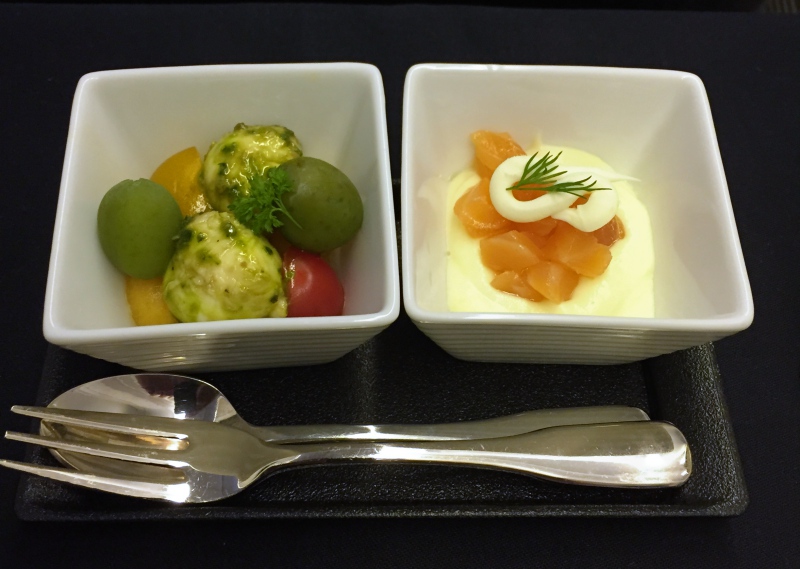 I'd chosen the Western menu, so as an appetizer, I had the white asparagus tart and marinated green asparagus with prosciutto atop salad with blood orange vinaigrette, which was also very nice.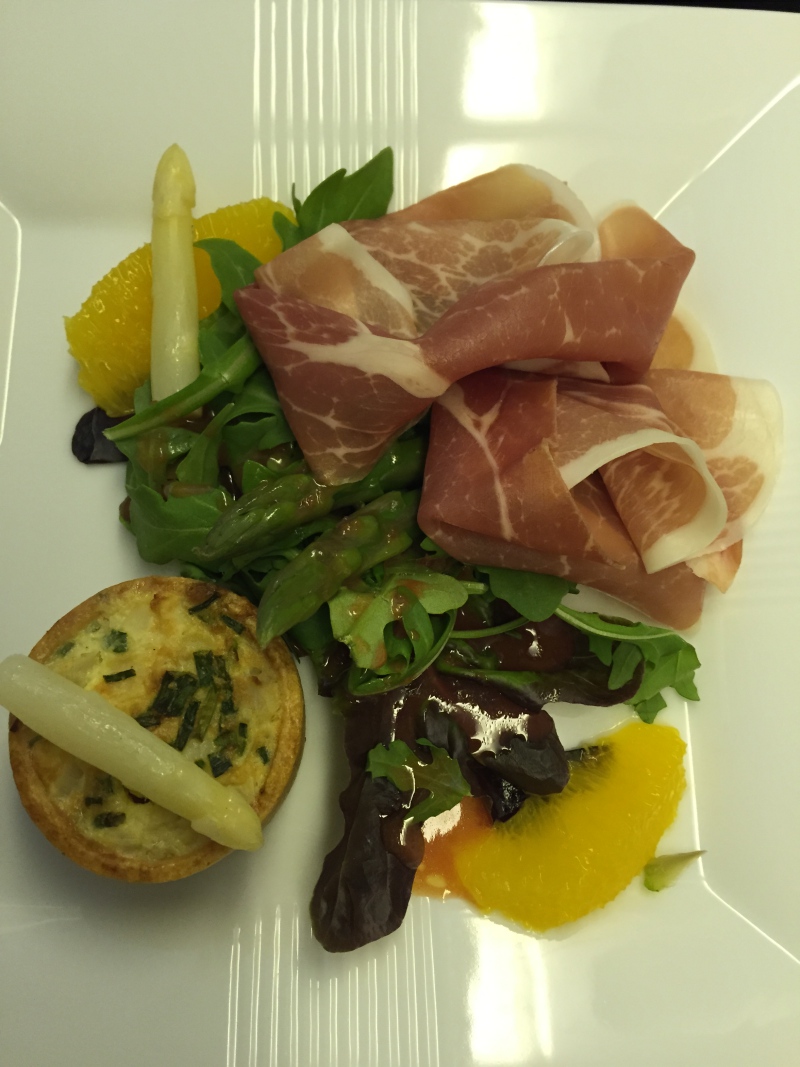 The next dinner rolls were very tasteless and textureless, like cardboard.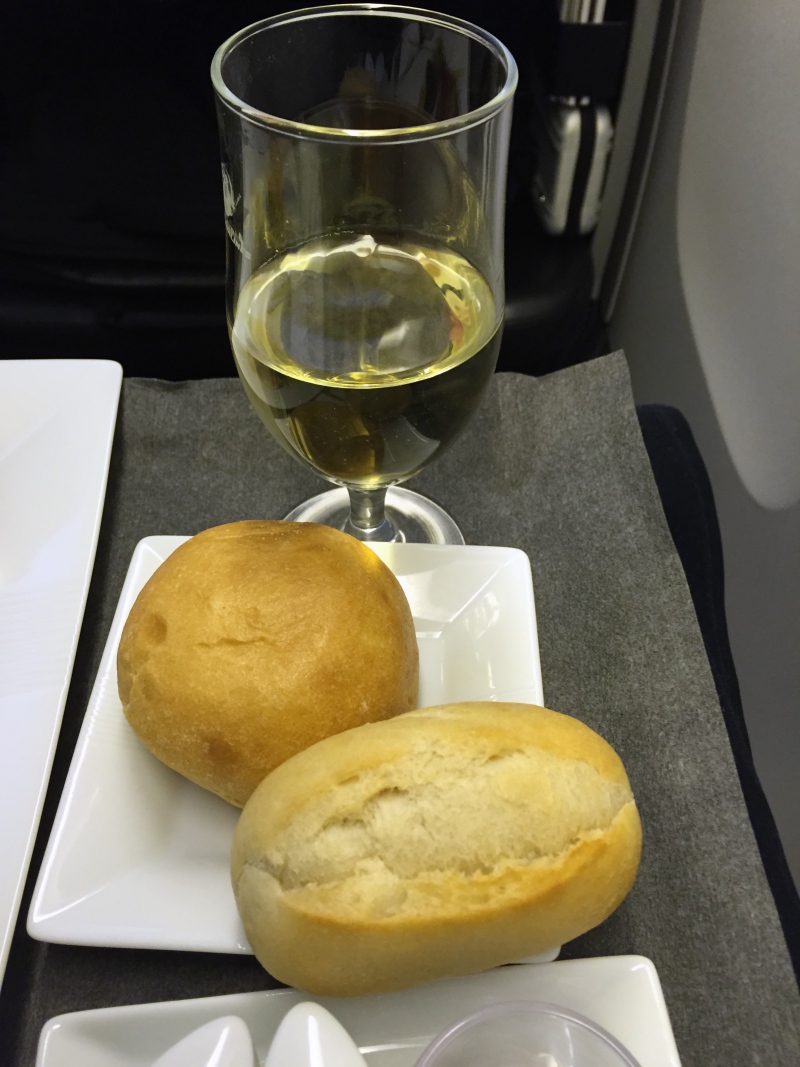 For my main course I ordered the US Prime Beef Tenderloin with Caramelized Spring Onion Port Wine Sauce and Warm Vegetable Potato Salad which was ok, but rather bland.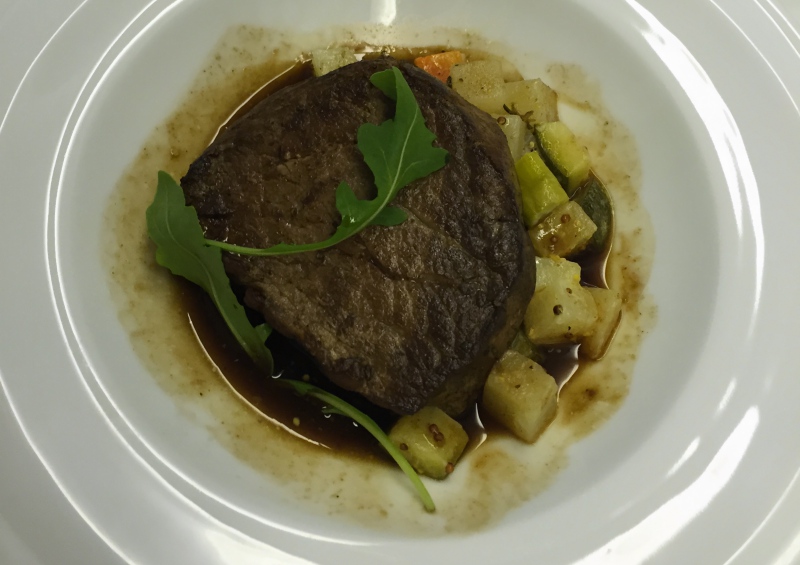 For dessert I had the coffee mousse, which was rather tasty, and a very delicious green tea.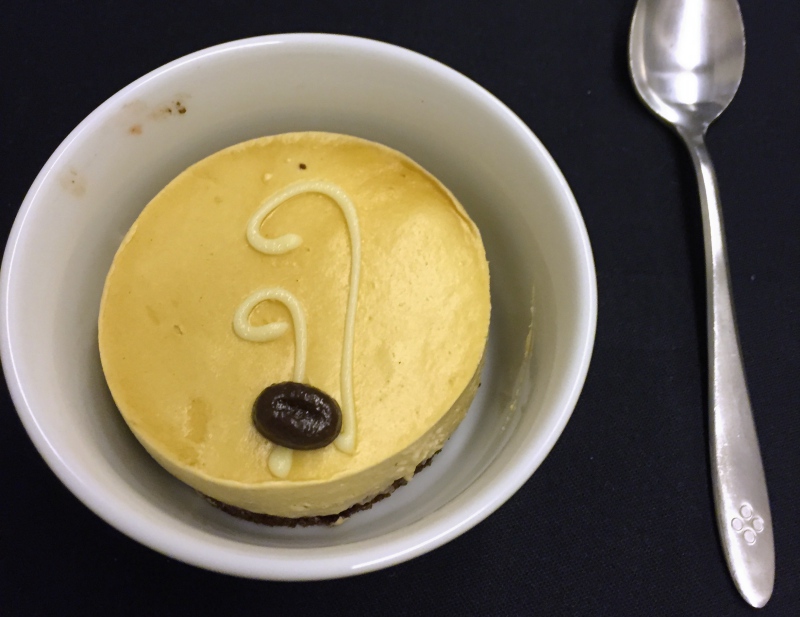 After I had slept, and in anticipation of my arrival destination, I switched from a Western menu to the Japanese menu, and had the Japanese breakfast of miso soup, rice, and grilled fish, all of which was delicious (and significantly better than the Western food).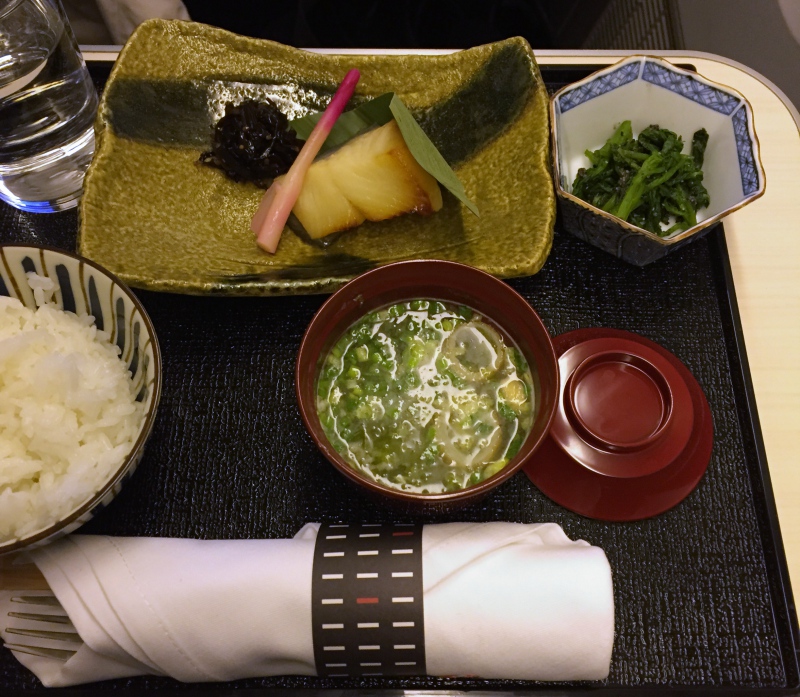 Japan Airlines Business Class IFE
Japan Airlines Sky Suite Business Class on the 777-300ER has one of the largest screens of any international business class product, at 23 inches across. The headphones were fine, and the IFE remote device was very intuitive and easy-to-use (you can also use it to view flight maps and even order light meal items, any time after the conclusion of the main meal service).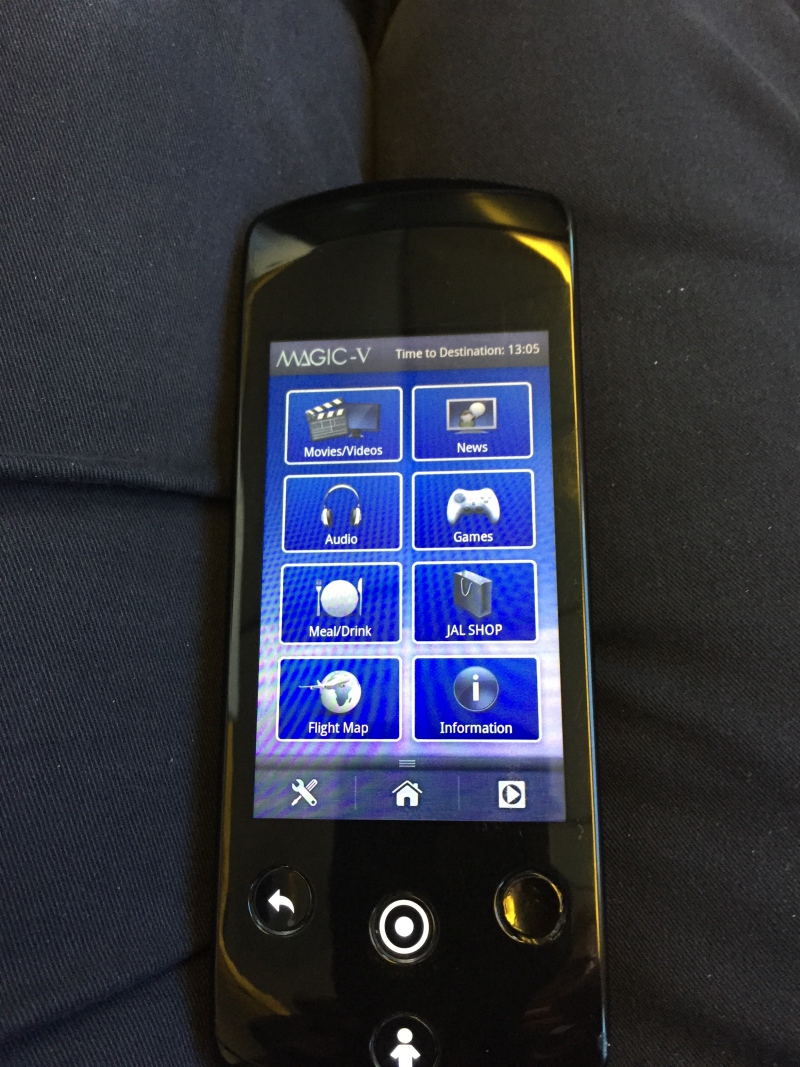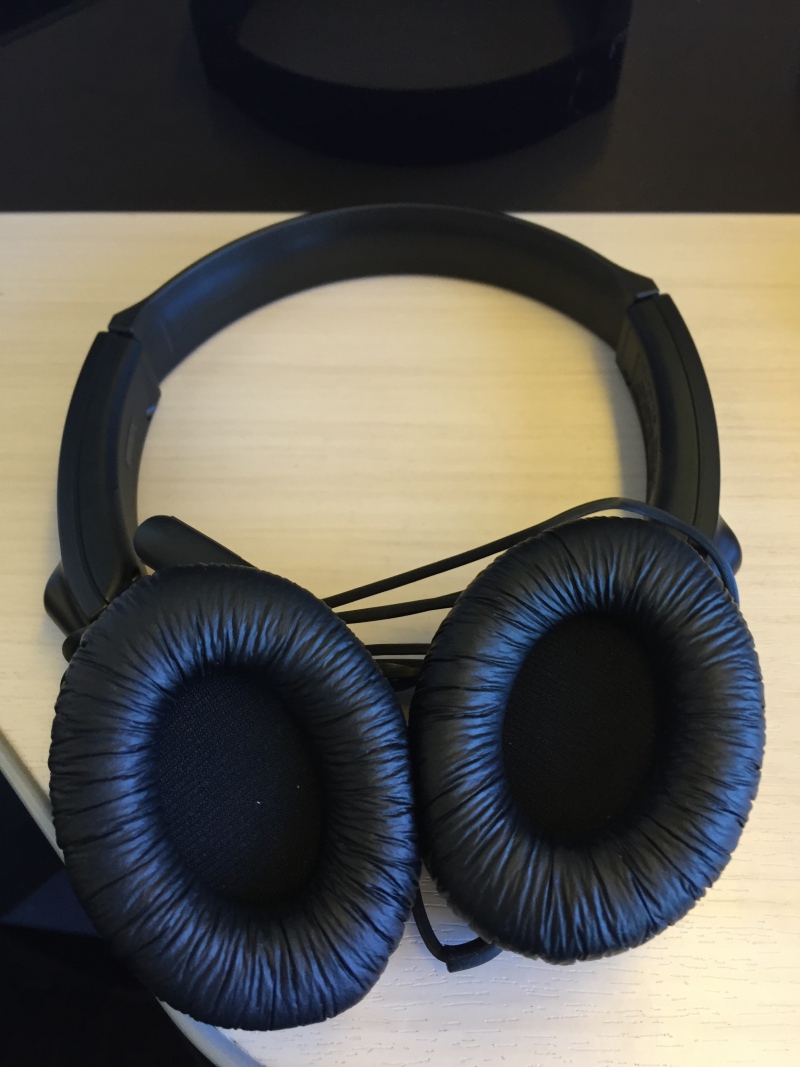 But there was just an ok selection of contemporary choices and new releases.  I watched the new Jack Reacher film, and marveled at Tom Cruise, who is still an amazing presence on screen, and as he ages is becoming increasingly aloof and distant in his roles, which seems to be working for him.
Japan Airlines Business Class Flatbed and Sleep Quality
Time for sleep!  The seat becomes a really comfortable flatbed due to the Japan Airlines extra layer of cushioning: a narrow futon that is placed on top of the flatbed seat.  It was still a little hard and narrow for me, but much better than most Business Class flatbeds, and I slept several hours.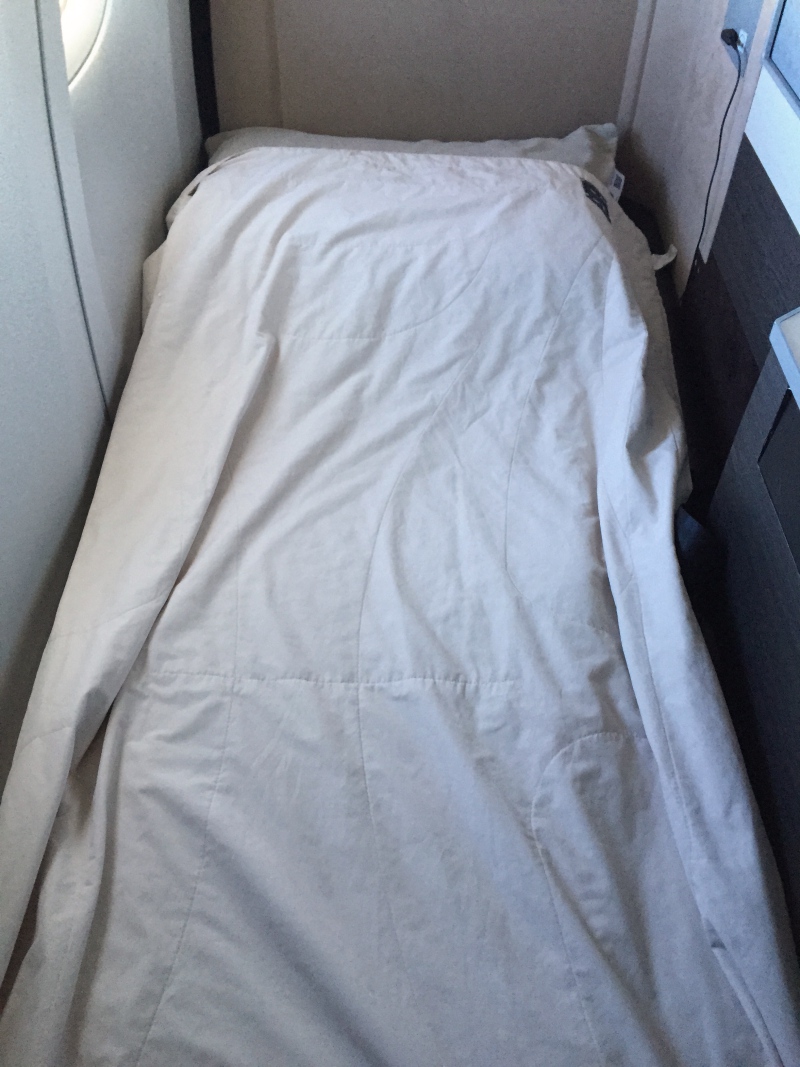 The amenity kit was very handy, and had everything I needed (toothbrush, toothpaste, tissues and sleep mask), as well as the obligatory Japanese face mask.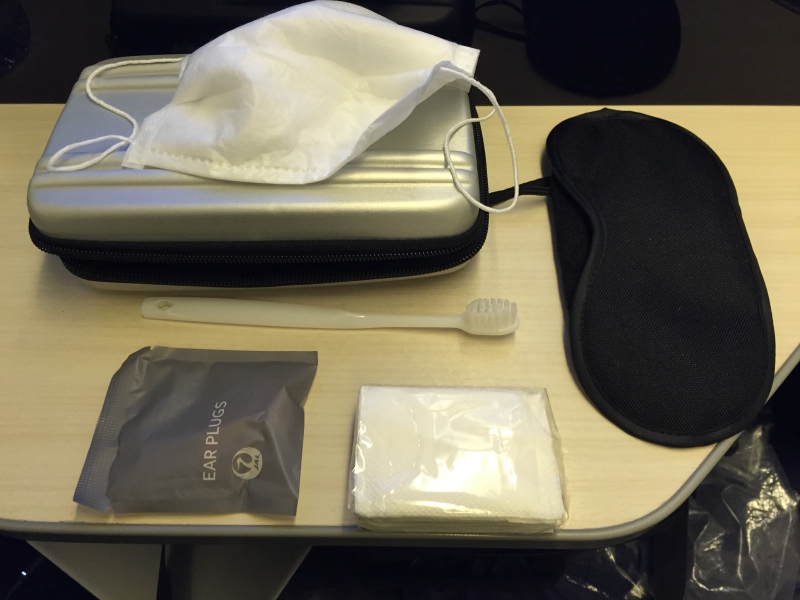 The Verdict
I found this to be a top-rate Business Class product, much better than other international airlines.  If you don't mind a narrow squeeze getting in and out, I highly recommend the window seat, which provides you with a little private sanctuary of your own (unlike the other seats).  The service was also top-notch, and the food (Japanese at least) was similarly excellent.  My only complaint was film selection, but other than that this was a highly enjoyable and luxurious product.
Recommended Posts