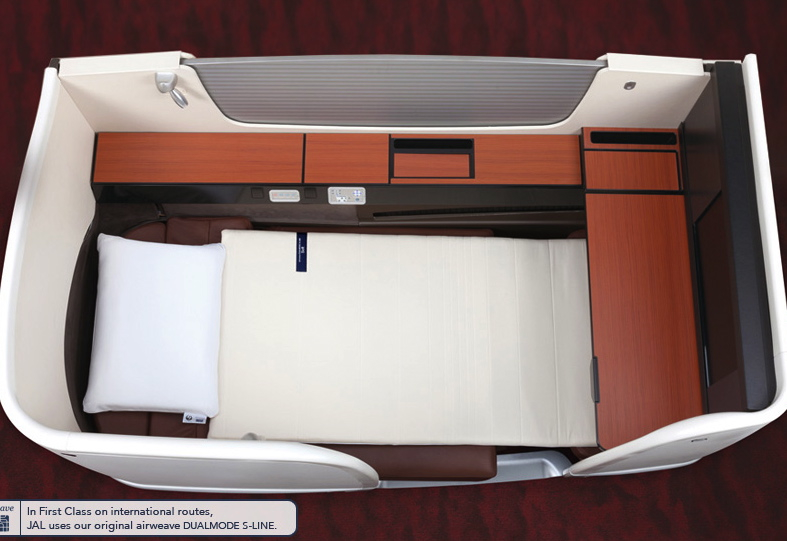 Japan Airlines First Class award space is wide open on many days in December 2014 and January – March 2015, thanks to an equipment change to a 777-300ER, per Ben and the JAL Web site, which displays the routes that deploy the JAL First Class Suite and the JAL Sky Suite.
As you can see, Japan Airlines Flight 771 from Tokyo Narita to Sydney and Japan Airlines Flight 772 from Sydney to Tokyo Narita operate daily with the JAL Suite throughout December 2014, and, if you check the other tabs, also January 1 to March 28, 2015.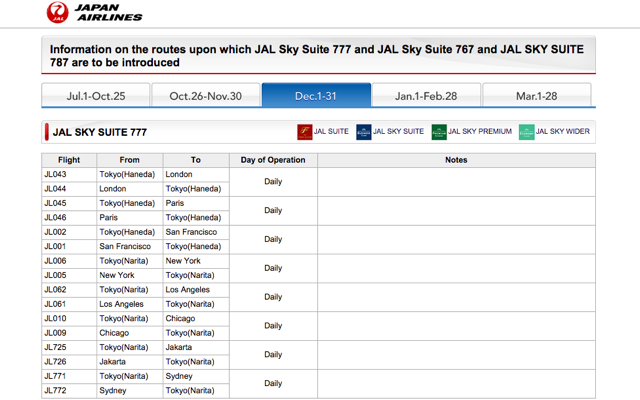 The great thing is that award space was recently loaded and is still quite good, with 4 award seats in first class on a number of days, although you'll want to book quickly if you want this space.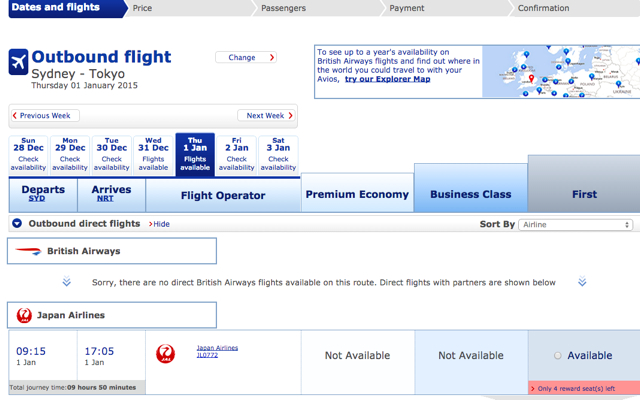 Redeeming Frequent Flyer Miles for JAL First Class
US Airways Dividend Miles charges 140,000 miles roundtrip from the U.S. to Australia. You'll need to call to book the space, and there have been issues with agents claiming they can't see or book the space. You may need to hang up, call again (HUCA) a few times and get the agent to long sell the space in order to book first class.
American Airlines AAdvantage charges 60,000 miles each way / 120,000 miles roundtrip between Tokyo (Asia Zone 1) and Sydney (South Pacific). Unlike with US Airways, there is no way to get the U.S.-South Pacific award via Asia as one award; any stop in Asia will break it into two awards. You also can no longer use an AAdvantage Explorer award, as those were killed off in April 2014 (see Bye Bye AA Free One Ways and Explorer Awards)
British Airways Avios is an expensive option, at 75,000 Avios each way between Tokyo and Sydney, but also easy to book online (saving the hassle of calling US Airways) and cheaper to change or cancel if you have a change of plans (see British Airways Avios Awards Pros and Cons). Avios are also generally worth less than other types of miles, so if you have a ton of Avios, this could be a good award redemption, in spite of the comparatively high mileage amounts.
The Challenge: Getting to Tokyo on an Award
A challenge for many flyers originating in the U.S. will be getting to Tokyo on a business or first class award ticket, especially if seeking to include it as part of a single US Airways award. You'll need a lot of flexibility and may need to settle for business class even so, while paying for a first class award. My advice would be:
JAL First Class: Aim for the SFO-HND flight, where you may find a couple first class award seats if you're flexible with dates and don't mind having to transfer airports from Narita to Haneda:
JAL Business Class: You may find a couple seats on JAL's other routes, such as JFK-NRT or ORD-NRT, which are convenient in terms of not having to change airports.
If you have the time for another flight and connection, you could look at first class into Seoul ICN via Korean Air, Singapore Airlines, or Asiana, then an award or paid ICN-NRT flight
Where to Stay in Sydney
Ideally, try to make it over to New Zealand for incredible views, scuba diving and water sports, glacier walks, and helicopter flights, not to mention gorgeous luxury lodges fit for foodies such as Otahuna Lodge, Huka Lodge and Matakauri Lodge, all with Virtuoso benefits.
Do you plan to take advantage of these JAL First Class awards between Tokyo and Sydney?
Related Posts
Qantas First Class Award Availability
Top Tips for Using Delta SkyMiles for Asia Award Tickets
Best Sydney 5-Star Luxury Hotels