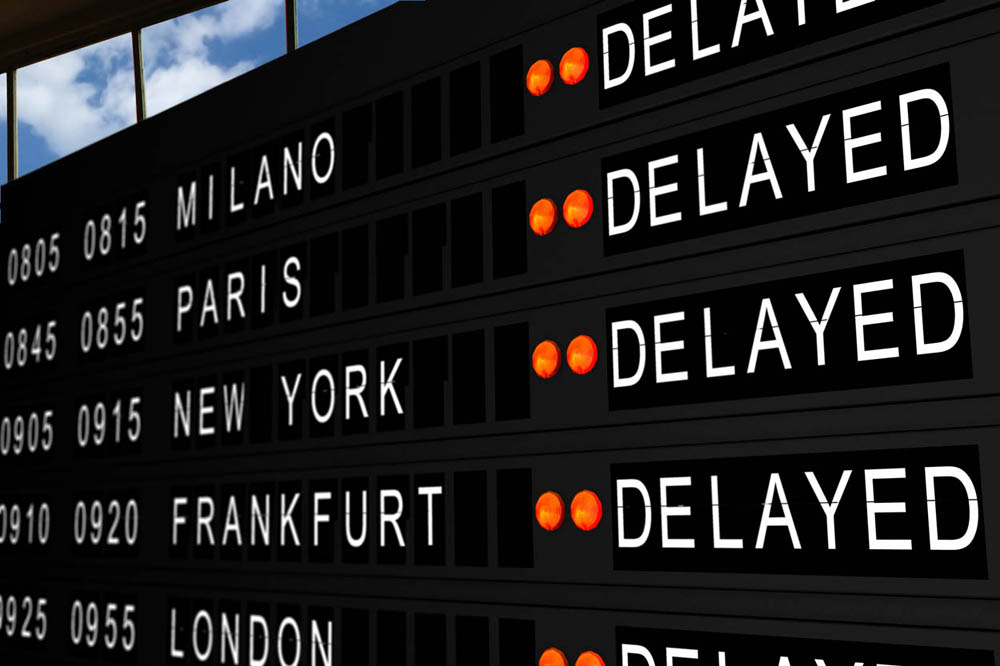 Is EU 261/2004 compensation owed when the US connecting flight is delayed? TravelSort reader Elliot commented on my post Getting United to Pay EU Compensation for a Flight Delay:
"I'm wondering if I can claim EU compensation as our connecting flight was delayed. We were a party of 8 (4 children) and flew United Airlines, Heathrow -> Washington -> Orlando. The Heathrow to Washington flight actually arrived early, however after boarding the 12.30 pm Washington flight and getting to the end of the runway we got told there was a technical fault with the plane.
We spent an hour on the runway before returning back and after a couple of hours got told the flight was cancelled and we'd been booked on the 10.15 pm flight…Anyway 10 hour delay, and total door to door delay of around 29 hours, but as the delay was in the US can we claim that we were actually traveling from London to Orlando via Washington…or will United claim it was just Washington to Orlando that was delayed and not valid for an EU claim?"
This is a great question, and I wouldn't be surprised if this scenario has occurred to other readers. First, I'll recap the eligibility requirements for EU 261/2004 compensation to apply:
Your flight is departing from an airport located in an EU Member State; or
Traveling to an EU Member State on an airline based in an EU Member State
You have a confirmed reservation on the flight and arrived in time for check-in
The delay must be 3 hours or more than the scheduled arrival time
Note that this means that EU compensation is NEVER due for flights TO Europe on a United flight (or AA, Delta, or any other non-EU member airline); it only applies to flights FROM the EU if you're flying United or another U.S. or non-EU carrier. In this case, Elliot and his family were departing the EU from London LHR on United, so his flight is covered by EU 261/2004.
The Entire Flight, Including Connections, Is Covered by EU 261/2004
Elliot describes a situation where his initial flight departing London had no issues and even arrived a bit early; rather, his connecting flight in Washington DC was the one that was delayed. Since this connecting flight was departing the U.S., does that invalidate his EU 261 claim? You can almost bet that United will either claim it does or otherwise fight his claim tooth and nail to avoid paying.
But in fact, Elliot has a claim. See
Air France SA v Heinz-Gerke Folkerts and Luz-Tereza Folkerts, where the European Court of Justice (ECJ) ruled that just because

the

original flight was not delayed beyond the limits laid down by EU law does not affect the right to compensation. In the case, Mrs Folkerts held a single ticket from Bremen, Germany to Asuncion in Paraguay via Paris and Sao Paulo. There was an initial 2.5 hour delay out of Bremen, that caused her to miss her flight from Paris to Sao Paulo, and her later rebooked flight to Sao Paulo also caused her to miss her original flight from Sao Paulo to Asuncion, resulting in a total 11 hour delay.
Air France argued that since the initial 2.5 hour delay was less than the 3 hour delay required for EU 261/2004 to apply, it wasn't liable for the 600 EUR it had been ordered to pay. The Court of Justice disagreed with Air France, and ruled, bolding mine:
"…a passenger on directly connecting flights must be compensated when he has been delayed at departure for a period below the limits specified in the regulation, but has arrived at his final destination at least three hours
later than the scheduled arrival time.
That compensation is not conditional upon there having been a delay at departure."
Just note that the entire journey must be on a single ticket; naturally, if Elliot and his family had held a separate ticket from Washington to Orlando there would be no compensation due. And if there was a stopover such that it was no longer part of a single journey, the delay out of Washington wouldn't count either for purposes of EU 261 compensation.
Mechanical Issues Are Almost NEVER Considered an Exceptional Circumstance
Now, let's suppose for a moment that United doesn't argue the fact that the entire journey, including the flight from Washington, is covered by EU 261. United is most likely to argue that it owes no compensation to Elliot and his family because the mechanical issue is an exceptional circumstance.
Fortunately for passengers, The ECJ, as noted in my prior post, has ruled that "
a technical problem in an aircraft which leads to the cancellation or delay of a flight is not covered by

the concept of 'extraordinary circumstances' …unless that problem stems from events which, by their nature or origin, are not inherent in the normal exercise of the activity of the air carrier concerned and are beyond its actual control."
More recent cases such as
Huzar v. Jet2.com
have also reinforced a narrow interpretation of "extraordinary circumstances" to be those that are truly outside an airline's control, such as severe weather conditions, terrorist attacks and the like. In the Huzar case, Ronald Huzar's flight from Malaga to Manchester was severely delayed (by 27 hours), and Jet2 argued that it was not liable for EU compensation due to extraordinary circumstances: a wiring defect in the fuel valve circuit could not have been prevented by prior maintenance or prior visual inspection.
Huzar's case was initially rejected by the Stockport County Court, but on appeal, Judge Platts of the Manchester County Court held that the extraordinary circumstances exception did not apply and awarded compensation. Jet2 appealed, and the London Court of Appeal upheld the award of EU compensation to Huzar. Lord Justice Elias noted that Jet2 failed to give sufficient consideration to the meaning of "extraordinary":
"As the CJEU recognized in paragraph 24 of Wallentin-Hermann, difficult technical problems arise as a matter of course in the ordinary operation of the carrier's activity. Some may be foreseeable and some not but all are, in my view, propertly described as inherent in the normal exercise of the carrier's activity…they are part of the wear and tear. In my judgment, the [airline's] submissions…make an event ordinary which in common sense terms is perfectly ordinary."
In other words, recent cases mean that airlines should be liable for EU compensation for just about all mechanical issues, unless they were truly caused by a third party or source, such as severe weather damage, a terrorist incident, birds flying into the engines, a recall from the aircraft or part manufacturer or the like.
Getting United to Pay
Getting United (or any US airline, for that matter) to pay is, of course, another matter. See my prior post on Getting United to Pay EU Compensation and the comments from those who have filed for compensation for tips.
Have you successfully received EU 261 compensation for a delay that occurred at a connection in the U.S., and not the original departure from the EU? Please share in the comments!
Related Posts
United Compensation for Flight Delays and Delayed Baggage
Airline Passenger Bill of Rights – What Are Flyers' Rights for Delays, Cancellations and Reroutings?
How to Complain to Airlines and Get Compensated
Flight Cancellation or Delay? Tips for What to Do
American Airlines Compensation for Cancelled Flight or Delayed Flight?
Need Award Booking Help? Our fee is as low as $75 per ticket if you book your hotel through us.
If you enjoyed this, join 180,000+ readers: please follow TravelSort on Twitter or like us on Facebook to be alerted to new posts.
Become a TravelSort Client and Book 5-Star Hotels with Virtuoso or Four Seasons Preferred Partner Amenities!