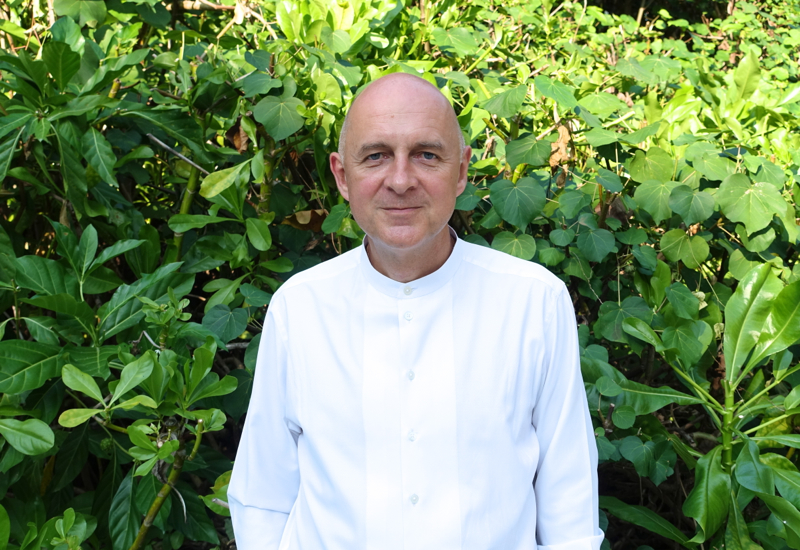 Armando Kraenzlin, General Manager of Four Seasons Maldives at Landaa Giraavaru, graciously agreed to be interviewed while I was on a visit and site inspection of the resort. For prior posts on Four Seasons Maldives at Landaa Giraavaru, please see:
Four Seasons Maldives at Landaa Giraavaru Review
Four Seasons Maldives at Landaa Giraavaru Restaurant Reviews and Menus
Four Seasons Maldives at Landaa Giraavaru Activities: Top 10 Things to Do
How Did You Get Started in the Hotel and Hospitality World?
I came to hotels and hospitality through F&B (food and beverage). My father and grandfather worked in theater design, hotels and restaurants, so I learned from them. I then went on to hotel school in Lausanne. My initial idea was that I would work outside of Switzerland 2-3 years, then go back and open a restaurant. I went to Asia, which held the best reputation for hotels and restaurants. My first work experience was in Saudi Arabia, then I spent 9 years in Thailand: 6 years in Bangkok, then in Koh Samui, Singapore and Hong Kong, before helping open Four Seasons Jakarta in 1999.
What Attracted You to the Maldives and to Four Seasons Landaa Giraavaru?
While working in Koh Samui, I fell in love with islands. I even bought half of an island in the Philippines (Palawan), built a house there, and got very excited about having my own little island to call home.
After opening Four Seasons Jakarta, I joined Four Seasons Maldives Kuda Huraa. I then helped with Four Seasons Mumbai, which opened in 2008. After that, I was asked to become the General Manager of Landaa Giraavaru and I was happy to get back to an island. It's not for everyone, due to how isolated it is, but for me it's been a great choice.
What Makes Four Seasons Maldives at Landaa Giraavaru Unique?
We're an interesting island, because we're very comprehensive—to families with kids, teenagers, honeymooners, older couples, watersports enthusiasts. Very serious wellness guests often spend 2-3 weeks here, on all-inclusive ayurvedic immersions. Landaa Giraavaru's location of course draws avid divers and snorkelers, especially to see manta rays and sometimes whale sharks. And families enjoy coming not only for the beach, but also for the educational component.
Some first-timers are initially worried about being on an island for 10 days, and wondering if they'll be bored. But with all the water sports on offer, from kite surfing to kayaking to X-Jetpacks, this is rarely a concern.
Another unique aspect is how active we've been in environmental initiatives. Between Landaa Giraavaru and Kuda Huraa we have 15 marine biologists on staff, and we partner with the Manta Trust, run by one of the top four world experts in manta rays, on vital research, conservation, and public awareness building to better understand and protect manta rays.
We've also been very active in coral reef building, with 4500 coral frames created to date, as well as fish breeding, in partnership with Seamarc.
How Do You Select and Train Landaa Giraavaru Team Members?
It's always critical to get the right fit. We seek out those with an interesting, engaging personality, warm, who can connect with others, both employees and guests. They need to have energy, ambition and motivation, be able to work well in a team, humility, and a good work ethic.
I also helped implement a hotel apprenticeship program in 2002 which is a year long vocational training course for Maldivians interested in working in resorts and hospitality. Upon successful completion, each graduate receives a national certificate that is internationally recognized. The students work 5 days a week in one of the Four Seasons Maldives resorts, and have classes 1 day a week. We've had about 500 graduates to date over the years, and Four Seasons Maldives hires many of the graduates, while some go on to work at other resorts in the Maldives.
We visit about 20 different islands when selecting students for the apprenticeship program, looking for those who are a great fit. Now that the program has been going for so long, many of the graduates refer their family members and friends, so we are fortunate to have a great deal of interest and many enthusiastic candidates for the program.
What are the Biggest Challenges of Operating a Luxury Resort in a Remote Area?
Being on an island, with long lead times for certain types of projects and shipments, means realizing that you're self-reliant–you can't rely on other people to make things happen. It's important that we set ourselves up with a) a team that enjoys working here; and b) people that enjoy working together as a team to get things done.
What's New for Landaa Giraavaru in the Future?
I have a weakness: I'm not very good with the status quo. It gets me into trouble sometimes, but I wouldn't be happy if things didn't change and evolve. At Kuda Huraa, we developed the Maldives' first spa on its own island. Our next innovation was the Four Seasons Explorer, which divers love. And then in 2006, we opened Landaa Giraavaru.
We're fortunate to have many repeat guests, and on return visits, they'll often ask what's new. I'm very excited about a new private island, Vovah, that we're working on now, which will offer 7 rooms as well as its own restaurant and yacht. Our Three Bedroom Landaa Estate that we opened in late 2013 has been very popular with extended families and for special celebrations, and often guests booking it also reserve a few additional bungalows or villas, so we think Vovah will be a popular choice for those who want a more private experience.
Related Posts
Four Seasons Maldives at Landaa Giraavaru Review
Four Seasons Maldives at Landaa Giraavaru Restaurant Reviews and Menus
Four Seasons Maldives at Landaa Giraavaru Activities: Top 10 Things to Do
Interview with Robert Whitfield, General Manager of Four Seasons Hualalai
Need Award Booking Help? Our fee is as low as $75 per ticket if you book your hotel through us.
If you enjoyed this, join 150,000+ readers: please follow TravelSort on Twitter or like us on Facebook to be alerted to new posts.
Become a TravelSort Client and Book 5-Star Hotels with Virtuoso or Four Seasons Preferred Partner Amenities!