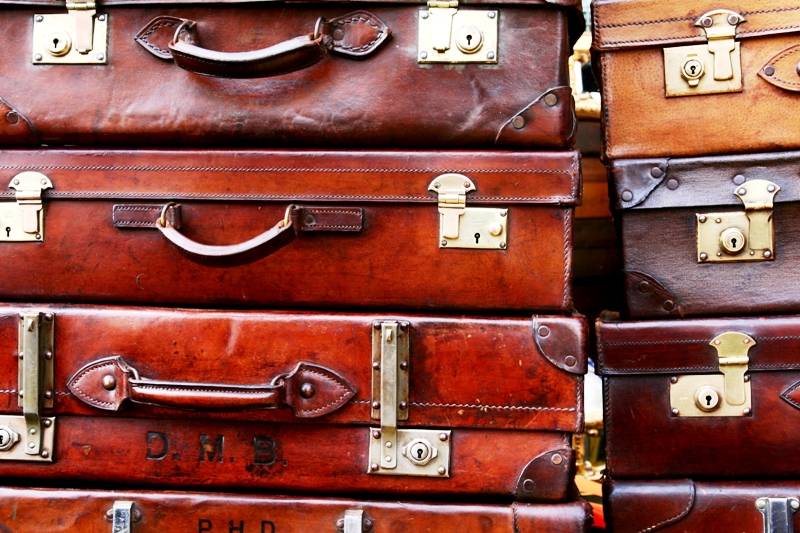 Can you check through baggage on separate tickets? What are the baggage policies for United, American, Delta, and Alaska when you're booked on separate tickets? Baggage interline agreements are only part of the equation, since even if an airline has an interline agreement with another airline, it can have its own baggage policy on whether it will check through baggage for you when you hold separate tickets, as opposed to flying different airlines but all booked on a single ticket.
Why Separate Tickets?
Flying on separate tickets comes up more frequently than you might think. Here are the main reasons clients or readers end up on separate tickets:
Award space only available on the long haul flight, with a separate ticket needed as a positioning flight
Award rules either prevent the entire itinerary being booked as a single ticket or make it substantially more expensive
Two separate paid tickets result in substantial cost savings
Of course, one way to avoid restrictive baggage policies and issues with checking through baggage when on separate tickets is to simply not check baggage, which is what we do in my family, ever since my son was out of the toddler phase and we no longer needed to bring much with us. See How to Avoid Checked Luggage and 6 Reasons to Never Check Baggage
That said, this isn't possible for everyone, for example if you're an expat moving somewhere, you're on an especially long trip, or you have a lot of gear that simply must be checked.
Even with Interline Agreements, Checking Through Baggage is at Agent's Discretion
This is one of the biggest headaches travelers occasionally face: even when there are interline agreements in place and when the airline, such as United, allows baggage to be checked through on a separate tickets, ultimately checking through baggage on separate tickets is at the check-in counter agent's discretion. I always recommend getting to the airport early, ensuring you have a clear printed copy of your onward ticket, including the ticket number, and being polite and friendly with the agent.
No Checked Through Baggage When Returning to the U.S.
Keep in mind that when returning to the U.S., you'll always need to collect your baggage at the first U.S. city you arrive in and clear customs with it, then recheck baggage. So ensure you leave enough time to do this if you have a U.S. connection on a return flight, since you won't be able to check through baggage.
Here are the current baggage policies when you're booked on separate tickets, and as always, I welcome reader comments about their own recent experience checking through baggage on any of these carriers, when traveling on separate tickets.
United Airlines
United can check through baggage to any carrier it has an interline agreement with, which includes most legacy carriers (but not low cost carriers) but you will pay United baggage fees. So even if your onward flight is in international first class, if you don't have United elite status or a United credit card that gives you free checked bags, you'll pay checked bag fees.
Note as well that just because United *can* check through baggage with carriers (including non Star Alliance carriers) that they have an interline agreement with, doesn't mean they will, when you're traveling on separate tickets. As noted above, it's based on agent discretion, and some agents aren't as familiar with the procedure on how to correctly check through baggage on separate tickets so will tell you it can't be done.
American Airlines
Update: Oneworld Change: No Separate Tickets Protection, No Through Checked Bags
American Airlines recently changed their baggage policy, when traveling on separate tickets. As of October 1, 2014, American Airlines will only check through baggage for customers traveling on separate tickets if the separate ticket is on:
American Airlines and American Eagle
US Airways and US Express
So if your subsequent flight is on a non-oneworld airline, you'll need to retrieve your luggage at your AA destination city, then recheck it with your next airline. And unfortunately, this includes (upated: oneworld airlines) as well as airlines that AA partners with but which are NOT oneworld partner airlines, for example Etihad Airways, Alaska Airlines, Air Tahiti Nui. So as an example, if you're booked on an Etihad flight out of JFK but live in Miami and book a separate ticket on American because there's no saver level award space, you'll need to collect baggage in JFK and recheck it with Etihad.
Delta Airlines
Delta Airlines announced back in 2012 that effective January 15, 2013, it would no longer check through bags, when a traveler was traveling on separate tickets, regardless of the airline (i.e. even for Skyteam partners)–an even more restrictive policy than American. Then in 2013, Delta announced it would postpone implementing the new policy. Since I never fly Delta (in addition to not checking bags) I don't have personal experience to go by, in terms of whether Delta is now implementing the policy.
Flyertalker Oxymore notes in April 2014 that not long ago a Delta agent checked through baggage from Delta to Air France on separate tickets, so it may be possible if you're checking through to a Skyteam partner and get a nice agent–YMMV.
Alaska Airlines
Alaska Airlines had also previously announced that it would not check through baggage on separate tickets, but fortunately after customer complaints backtracked, and now does allow baggage to be checked through even on separate tickets. Even better, unlike United Airlines, your baggage allowance/fees will be based on the most significant carrier. So for example, for clients of mine who will be traveling in British Airways First Class and have a separate Alaska ticket to the international gateway city, they won't have to pay Alaska Airlines baggage fees for their positioning flight. Make sure to bring a printed copy of your entire onward ticket, including the PNR and ticket number, so that the check-in agent can properly tag your bag to its final destination.
U.S. Airlines That Don't Interline Baggage on Separate Tickets
Note that US Airways, Hawaiian, and low cost carriers such as Southwest do NOT check baggage through when you travel on separate tickets. You will need to pay any checked bag fees due them, and collect your baggage before rechecking it with your onward carrier.
Related Posts
How to Avoid Checked Luggage and 6 Reasons to Never Check Baggage
Tips for Avoiding Lost Luggage (And What to Do if the Airline Loses Your Bags)
More United MileagePlus Devaluations
United: Free Checked Bag on Award Flight with United MileagePlus Card?
Need Award Booking Help? Our fee is as low as $75 per ticket if you book your hotel through us.
If you enjoyed this, join 150,000+ readers: please follow TravelSort on Twitter or like us on Facebook to be alerted to new posts.
Become a TravelSort Client and Book 5-Star Hotels with Virtuoso or Four Seasons Preferred Partner Amenities!
Photo Credit: Alessandro Capurso, Flickr