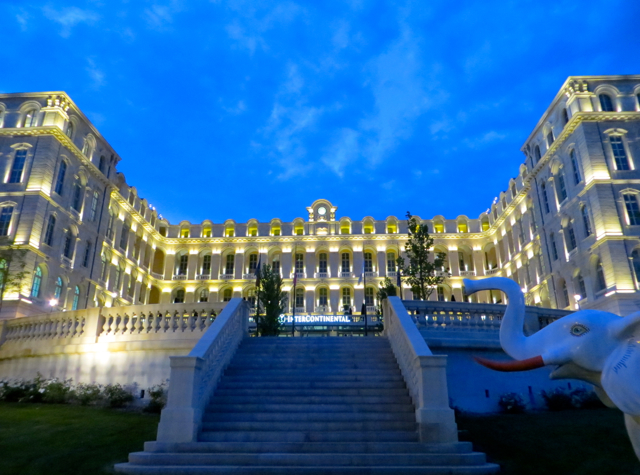 This InterContinental Marseille Hotel Review is part of a UK and France trip report including flights in British Airways in New First Class, Singapore Business Class and Singapore Suites, stays in a Scottish castle and 5-star hotels in London and Paris, and Michelin Star Dining in Paris. For the prior posts, please see:
British Airways Galleries Lounge in Newark and First Class Dining Review
British Airways New First Class 777 Review
British Airways Galleries Arrivals Lounge London and Concorde Room
Singapore Business Class Review NYC (JFK) to Frankfurt
Petrus London Restaurant Review
Dalhousie Castle Hotel Review, Scotland
Dalhousie Castle Falconry Review, Scotland
Epicure at Le Bristol Paris Restaurant Review
Four Seasons Paris Hotel Review
Paris Plages (Paris Beaches) Review
Le Cinq at Four Seasons Paris Restaurant Review
Park Hyatt Paris-Vendome Review
Park Hyatt Paris Breakfast Buffet Review
Prince de Galles Paris Hotel Review
La Grande Eperviere Barcelonnette Hotel Review
Things to Do in Barcelonnette, France with Kids
Since my husband was flying back earlier than the munchkin and me, I booked the InterContinental Marseille Hotel Dieu for an overnight stay in Marseille, before an early morning TGV high speed train back to Paris the next day. Marseille is a European Capital of Culture in 2013 (along with Kosice, Slovakia), but it's not a place I would normally recommend spending much time, given all the other great places to explore in the south of France, particularly if you get off the beaten track and the highly touristed areas of the French Riviera. Another consideration for those looking for luxury is that Marseille really only has two ostensibly 5 star hotels: the InterContinental Marseille Hotel Dieu, and the Sofitel Marseille Vieux-Port. But all that said, on to the review:
InterContinental Marseille Hotel Dieu Location, Lobby and Check-In
A good thing about the InterContinental Marseille Hotel Dieu is that, assuming you're traveling lightly (we only travel with carry ons now that the munchkin is older) you can walk to it from Vieux-Port Metro station. We took our time, so it took about 20 minutes, but if you're walking briskly and without a young child, it will of course be faster. If you meander around the Vieux Port, as we did, you'll eventually be able to see the stairs leading up to 1 Place Daviel, where the InterContinental Marseille is located.
The long curved driveway surrounds a pretty lawn, which included one of several whimsically painted elephants that we saw, one of the outdoor exhibitions that are part of Marseille's status as a 2013 European Capital of Culture.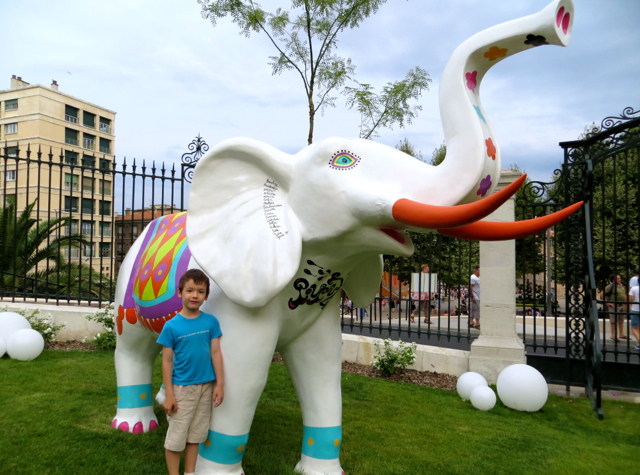 We eventually reached the lobby, which is done in stylish black and white: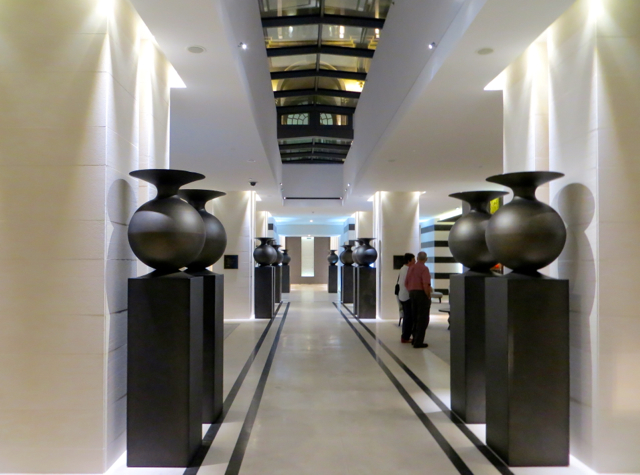 I liked that there were comfortable seating areas, not that we actually had time on this occasion to sit and relax: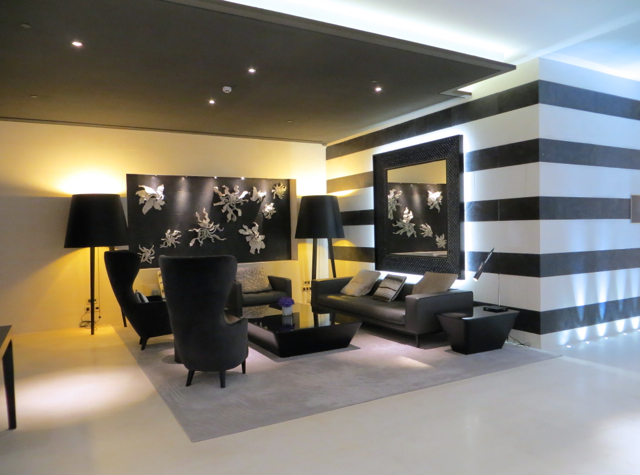 At check-in, there was a friendly associate, and I thought she had a Russian accent, although I continued to speak French to her. But then she noticed that my passport's protective cover is in Russian, and she cheerfully asked if I'd been to Russia, mentioned that she was from Russia, and we did the rest of the check-in in Russian.
Deluxe Room
Our Deluxe Room was a bit of a hike from the elevator, and faced the courtyard, but I didn't mind since we needed a good night's sleep before getting on the TGV early the next morning. As requested, there were two double beds: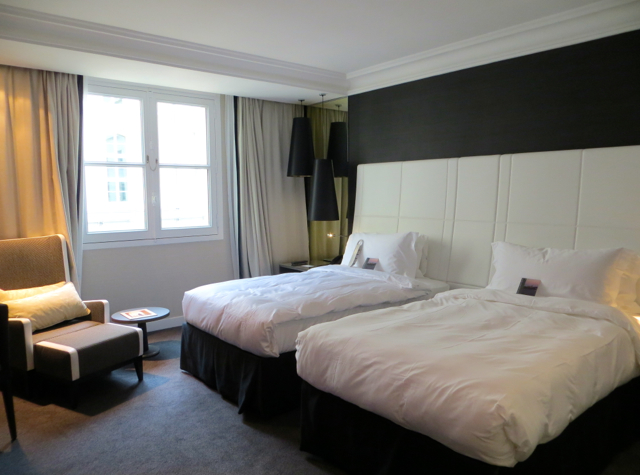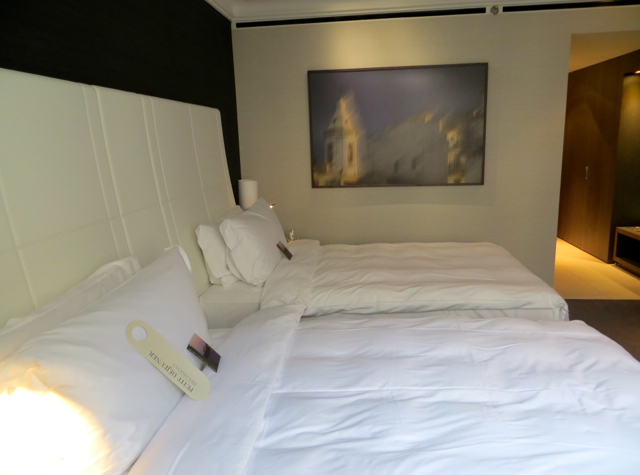 I liked that the desk was nice and long. The free WiFi worked well for my needs, primarily uploading photos and a blog post and emailing clients. The flat screen TV was rather small, which could be an issue for some, although we rarely watch anything so it wasn't a problem for us.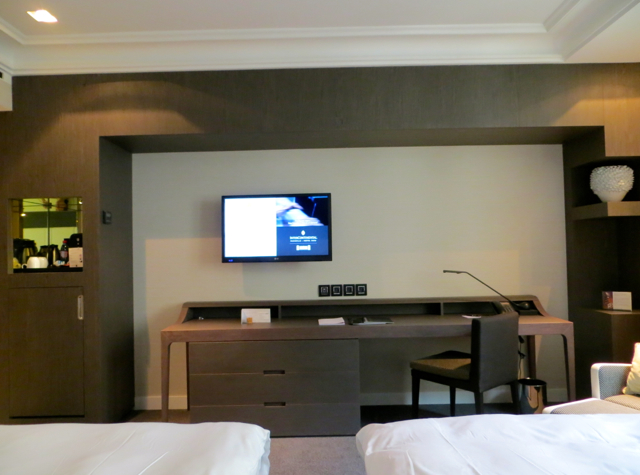 Here's the view of the rather minimalist courtyard: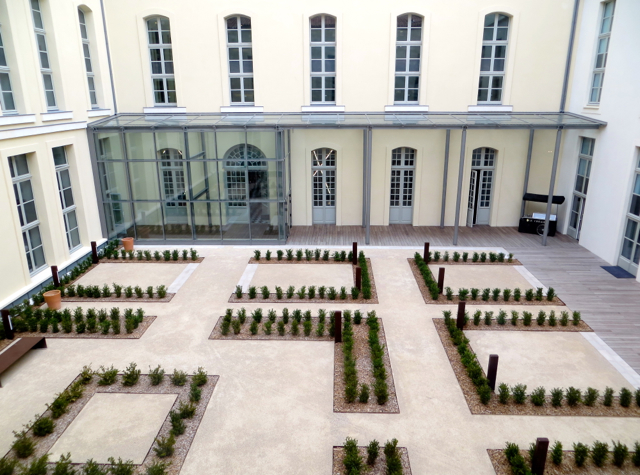 There was complimentary water and a coffee maker, although due to never receiving my wake up call (more on that below) I never had a chance to try it.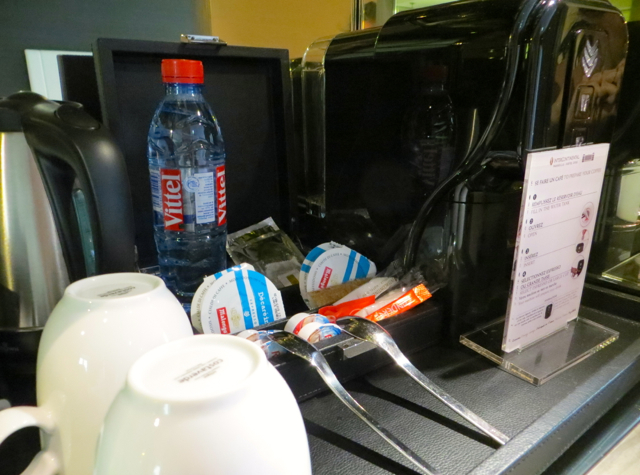 Thanks to its recent opening and the extensive renovation that preceded it, everything, including the bathrooms, was new and in great shape. The bathroom featured a good sized soaking bathtub, separate rain shower, and separate toilet chamber.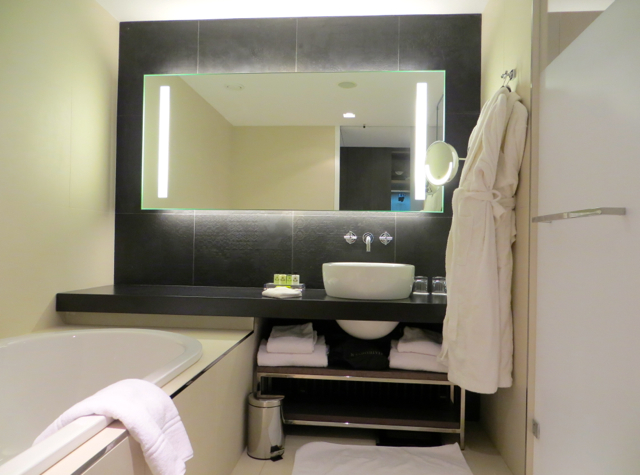 I did find it a bit odd that the bath amenities were Agraria San Francisco, given all the wonderful French brands, but I suppose I shouldn't be too surprised, since Agraria has a corporate contract with InterContinental hotels worldwide. I opted to upgrade to Bulgari, thanks to the Four Seasons Paris Bulgari bath amenities I still had with me.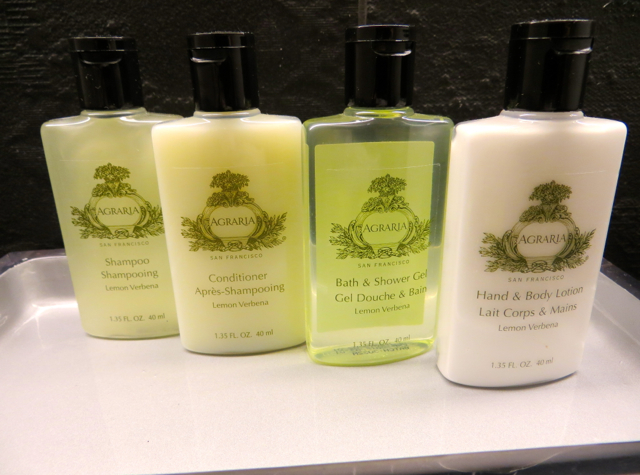 Spa Swimming Pool
Although we didn't have time to use it, there's a spa with a swimming pool, and we saw a family enjoying it. Note that it's not very big, so forget any plans to do laps.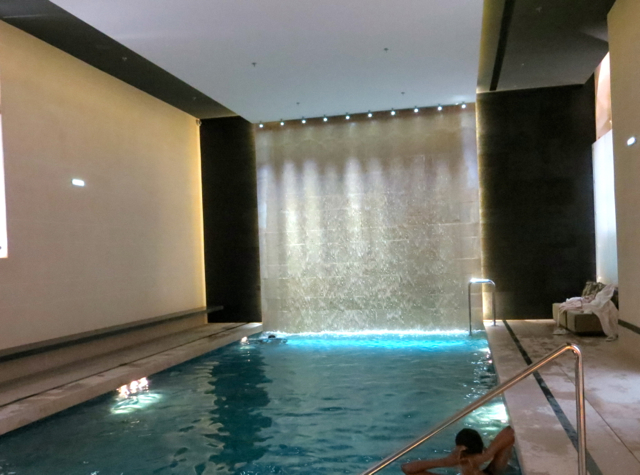 Restaurants and Terrace
While we didn't eat at either of the InterContinental Marseille's restaurants, it offers Brasserie Les Fenetres and the fine dining Alcyone. The outdoor terrace of Les Fenetres was bustling, and looked to be a pleasant place to take in the views over the city. Food has received quite good reviews, but service reviews have been far poorer.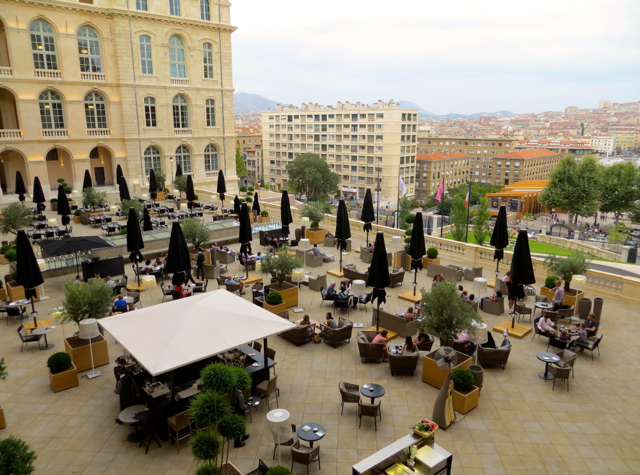 The Verdict
The InterContinental Marseille Hotel Dieu looks beautiful and is in a great location, an easy walk to the Vieux Port, but with a great view, thanks to its elevation. Standard Deluxe Rooms are well equipped, comfortable, and quiet, at least if the room faces the courtyard. Service was very friendly and helpful, but I wasn't impressed with the initial restaurant recommendations of the Concierge, and I was disappointed that our wake up call wasn't made–it was a good thing my phone alarm woke us up in time to not miss our TGV to Paris.
I also was not too impressed when I was asked to sign a room charge that was substantially higher than the rate I booked. Interestingly, as soon as I pointed out that this wasn't the rate I booked, another paper was put in front of me, apparently already printed out (seriously? Is it the usual practice to see if the guest just doesn't notice being overcharged?)
While I usually don't care to stay in InterContinental hotels as I don't find them very luxurious or good value for money, the InterContinental Marseille is easily the best one I've stayed at in terms of the hard product, and even service friendliness. It just needs to get the basics, such as wake up calls and guest room charges, right.
Disclosure: I paid for my own stay at the InterContinental.
Related Posts
InterContinental Boston Review
Best French Riviera Luxury Hotels
Nice: The French Riviera on a Budget
What Are the Best Beaches in Nice, France?
Need Award Booking Help? Our fee is as low as $75 per ticket if you book your hotel through us.
If you enjoyed this, join 90,000+ readers: please follow TravelSort on Twitter or like us on Facebook to be alerted to new posts.
Become a TravelSort Client and Book 5-Star Hotels with Virtuoso or Four Seasons Preferred Partner Amenities!