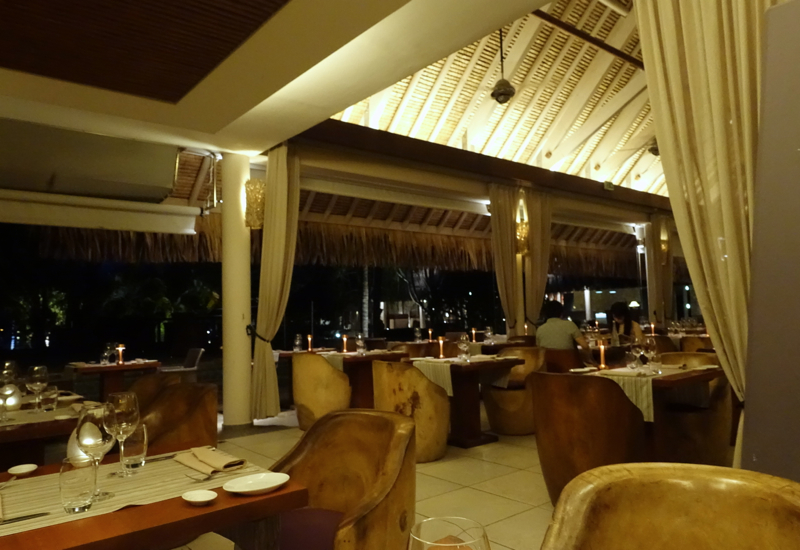 This InterContinental Bora Bora Restaurant and Room Service Review and Menus is part of a trip report on Bora Bora and New Zealand luxury resorts, dining and activities. For the prior posts, please see:
Review: American A321 Business Class New York to Los Angeles
Paradise! Can You Guess the Place?
Review: Residence Inn by Marriott LA
Review: Los Angeles International Lounge
Review: Air Tahiti Nui Business Class
A Must in New Zealand: The Farm at Cape Kidnappers, Hawkes Bay
Review: American Airlines A321 First Class JFK to LAX
Four Seasons Bora Bora Restaurant Reviews and Menus
Four Seasons Bora Bora: Top 10 Things to Do
Review: InterContinental Bora Bora Resort Thalasso Spa
Bora Bora Dream Pictures Review
InterContinental Bora Bora Thalasso Restaurants
The resort has 3 restaurants, although note that Le Corail is very seasonal and may not be open during your visit (it wasn't open during our stay, even though it was a very busy period, during spring break and right after Easter).
Reef Restaurant: This is the hotel's main restaurant, where the daily buffet breakfast is served 6:30am-10:30am, and dinner 6:45pm-9:30pm
Sands Bar and Restaurant: This is by the pool and is open for lunch and dinner, 12noon-9:30pm
Le Corail: The resort's most gourmet restaurant is open, seasonally (only starting in April) 6:45pm-11pm
There are also a couple of bars, Bubbles Bar and the South Beach Bar, and room service.
During our stay we briefly tried Sands for lunch, had breakfast both days and one dinner at Reef Restaurant, and ordered in-room dining twice.
Reef Restaurant at InterContinental Bora Bora
From the main reception area where you check-in and where you settle your bill, you continue along the path for a couple minutes until you reach the large pavilion where the Concierge desk, Bubbles Bar, and Reef Restaurant are located. Most of Reef Restaurant is covered, although open air; there are also some tables outside on a raised deck, but we preferred the greater shade of eating indoors, since the sun was already strong at breakfast time.
Breakfast at Reef Restaurant
Breakfast is generally not included in the regular rates at the InterContinental Bora Bora, although there are packages offered, such as the current Dream and Dine package, that include daily breakfast and dinner for two, which can be a good deal if the rate is XFP 10,000 (~$100) or so more than the best available flexible rate, since breakfast alone is about $44 per person.
With a kid, we're fairly early risers, so we were generally at the breakfast buffet before 7:30am, and the buffet was quite beautifully laid out, which also made for better photos. I noticed, however, that by the time we left several of the dishes were badly in need of replenishing, particularly highly in demand items such as the sashimi.
Our favorite items from the breakfast buffet were:
1. Fresh Passion Fruit
I really enjoy passion fruit, and while we had that fantastic passion fruit mousse cake and passion fruit sorbet at the Four Seasons Bora Bora, I didn't ever see fresh passion fruit on the breakfast buffet. So I was very happy to enjoy fresh lilikoi, as we call it in Hawaii.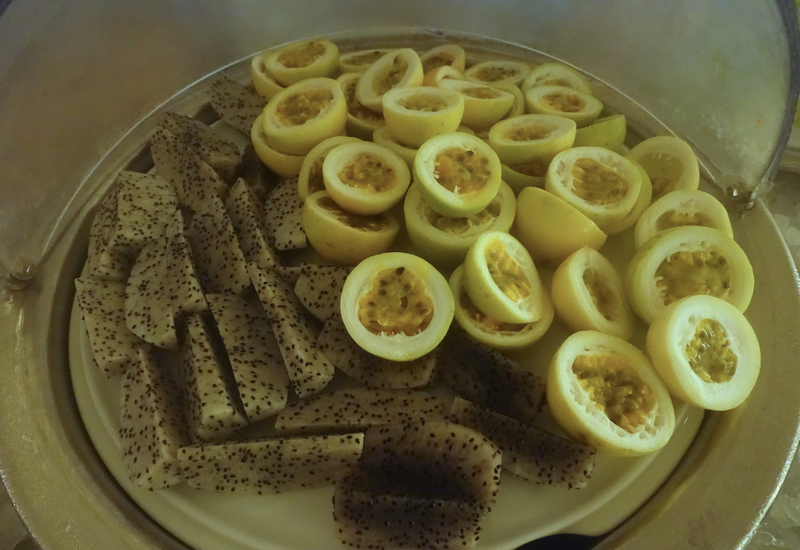 2. Sashimi
Don't miss the nicely plated tuna sashimi, to the right of the omelet station. I didn't see any wasabi or soy sauce, but it was fresh enough to be enjoyed plain.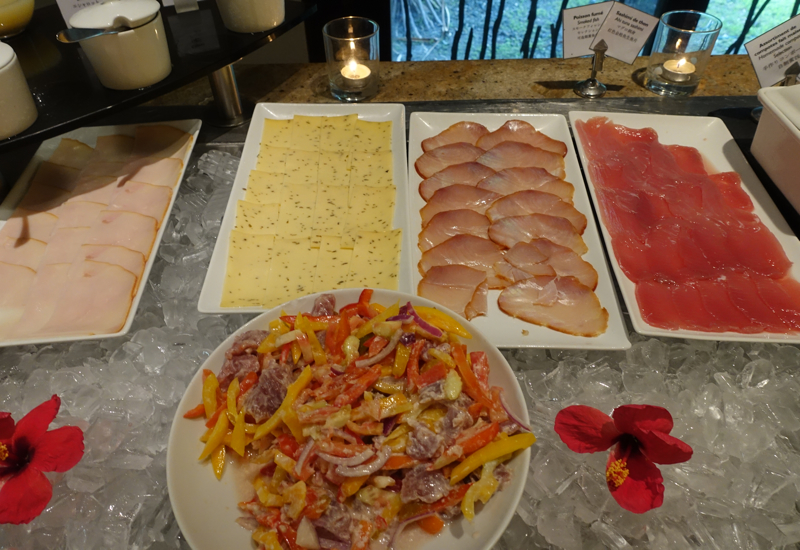 3. Frangipane Tart
On the pastry table, this was by far the best item: a frangipane tart of the day. It's obviously like having dessert for breakfast, but since I wasn't able to get any dark hot chocolate, this was my one indulgence.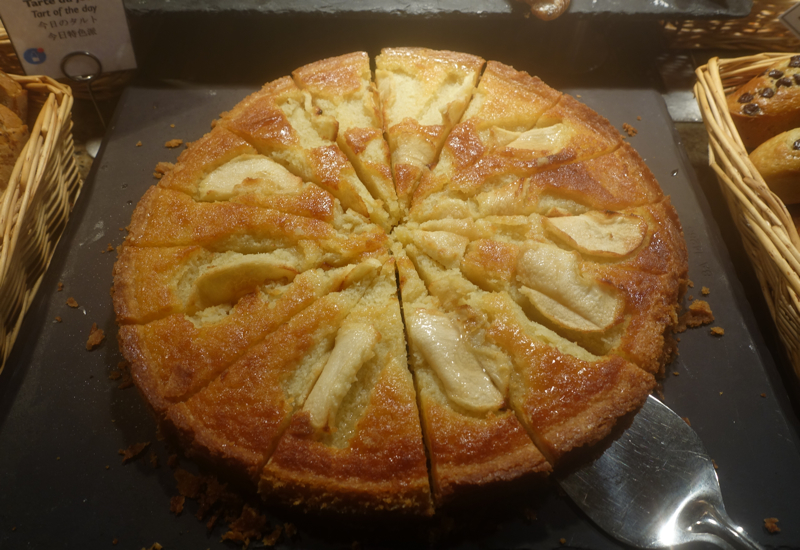 4. Omelet Made to Order
The nice thing about getting to breakfast on the early side is that there was no wait for an omelet (or other eggs) cooked to order. I wouldn't say that it was better than at the Four Seasons, but it was freshly made and delicious.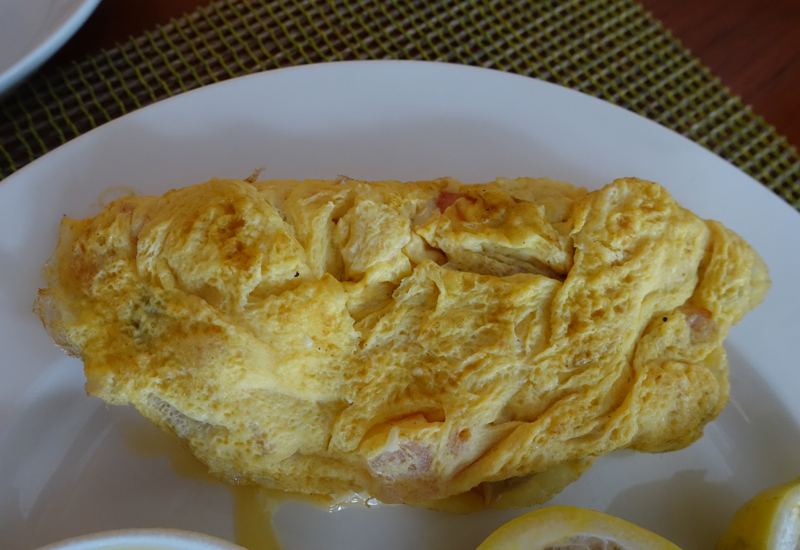 5. Yogurt
As our breakfast staple, we made full use of the yogurts on offer. I preferred getting plain yogurt and mixing it with some berry compote from another station, while my son liked the vanilla yogurt.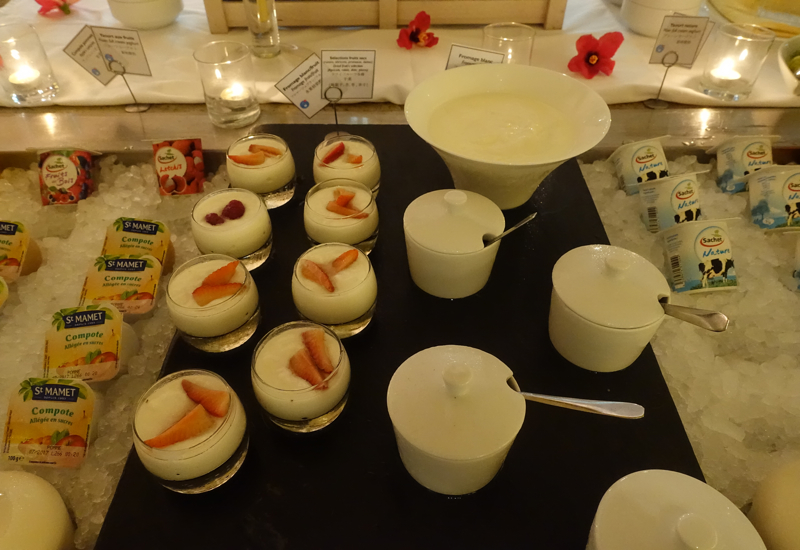 The worst items were:
1. Fresh Squeezed Juice
You might think of lots of fresh squeezed juice when you think of Bora Bora, but unfortunately, it's hard to come by. We were able to get fresh squeezed orange juice at the Four Seasons, and it was certainly possible to juice your own fruits and veggies at the buffet there. At the InterContinental Bora Bora, I didn't see a juicer, and when we asked for fresh squeezed juice, we were brought juice that–I'm not joking–tasted fermented, as though it had been made with spoiled fruit. We were told it was watermelon juice. If so, it was well on the way to becoming watermelon wine, it was so sour and foul tasting.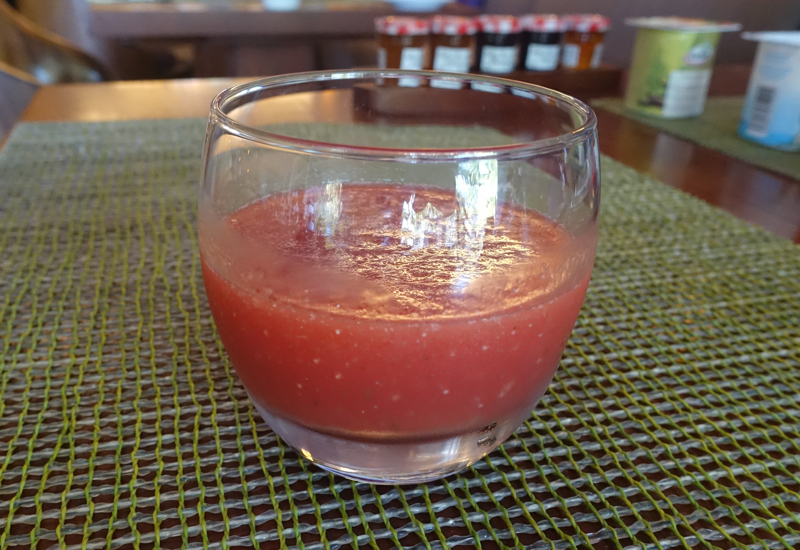 2. Cappuccino and Hot Chocolate
These were drinkable (unlike the juice) but clearly machine made. I was really missing the dark hot chocolate at the Four Seasons.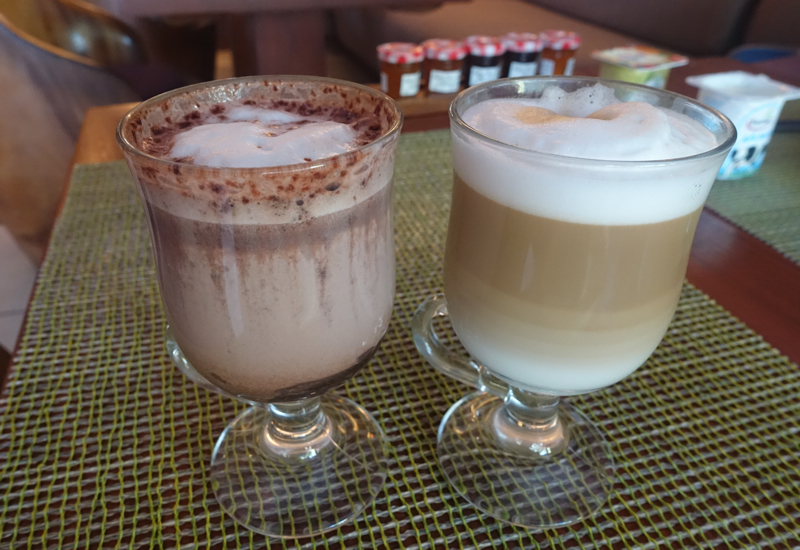 3. Pastries (Except the Tart)
While the frangipane tart was one of my favorite items, the other pastries were decidedly mediocre–the ones at the Four Seasons were much better.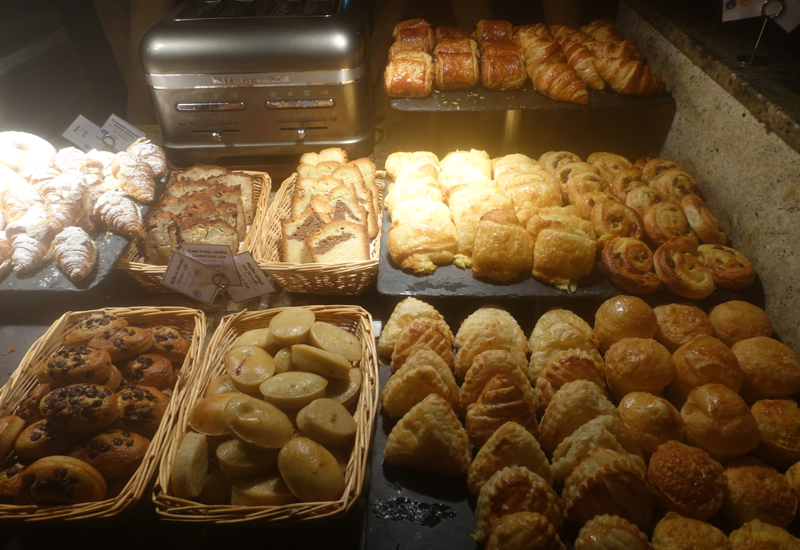 Dinner at Reef Restaurant
Our first evening we had an early dinner at Reef Restaurant, arriving at 6:30pm, probably even before it was technically open. The staff were kind enough to seat us, and in retrospect it was a very good thing that we came early, since about 10-15 minutes after us, the restaurant steadily started filling up and I can only imagine how backed up the kitchen got.
While it was dim and I didn't get photos of the menu, the basic entree choices were:
Angus Beef Fillet with Honeyed Shallots
Guinea Fowl Supreme with Nut Butter, Jus, Roasted Polenta
Pork Fillet with Sage, Gnocchi and Morel Mushroom Cream
Duck Breast with Mashed Parsnip and Roasted Figs
Roasted Mahi Mahi with Lobster Sauce
Roasted Scallops, Mashed Cauliflower
Shrimp and Vegetable Stirfry with Lemongrass and Orange Butter Sauce
Lagoon Fish and Mediterranean Vegetables with Parmesan
The entrees were all in the $30-40 range before tax/service/gratuity.
We were first brought bread rolls and given olive oil. While a choice of bread or a bread basket would have been nice, that' probably only the case at the resort's fine dining restaurant, Le Corail.
There was an amuse bouche, but it was quite disappointing, with a slimy texture. I didn't finish mine.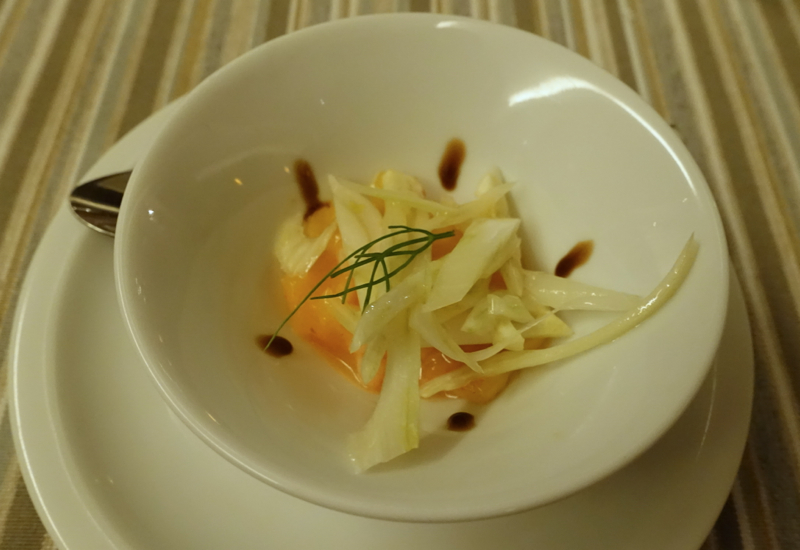 Our son was happy with his cheese pasta from the kids' menu: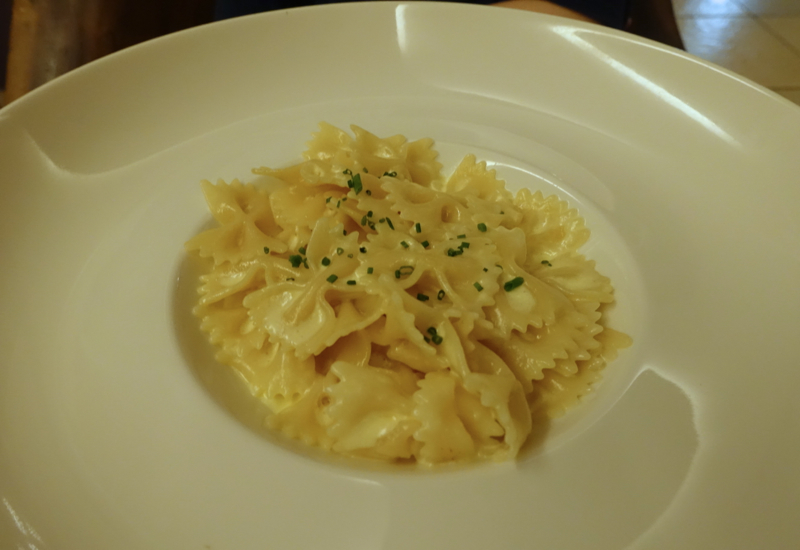 And I was very happy with my main course, the Duck Breast with Mashed Parsnip and Roasted Figs, which in my view was the best dish. Given the poor amuse bouche, I was pleasantly surprised at just how good and expertly prepared this was: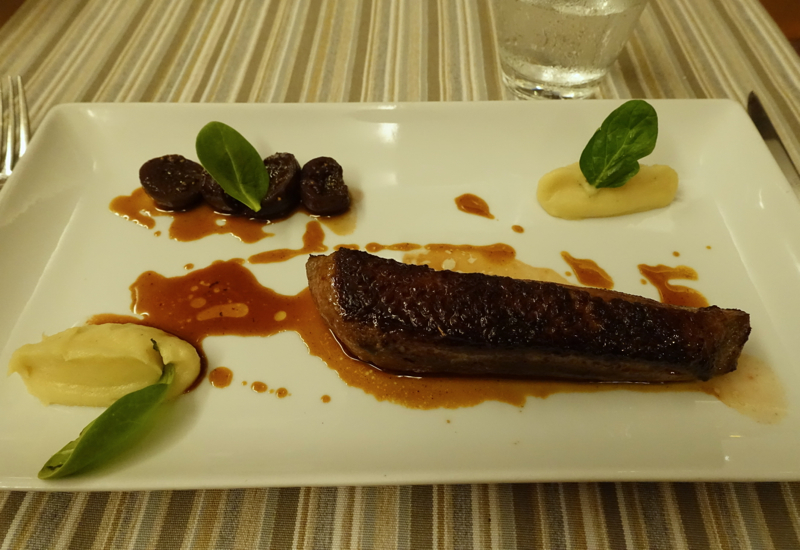 My husband's Guinea Fowl was less good, and not memorable, although perfectly edible.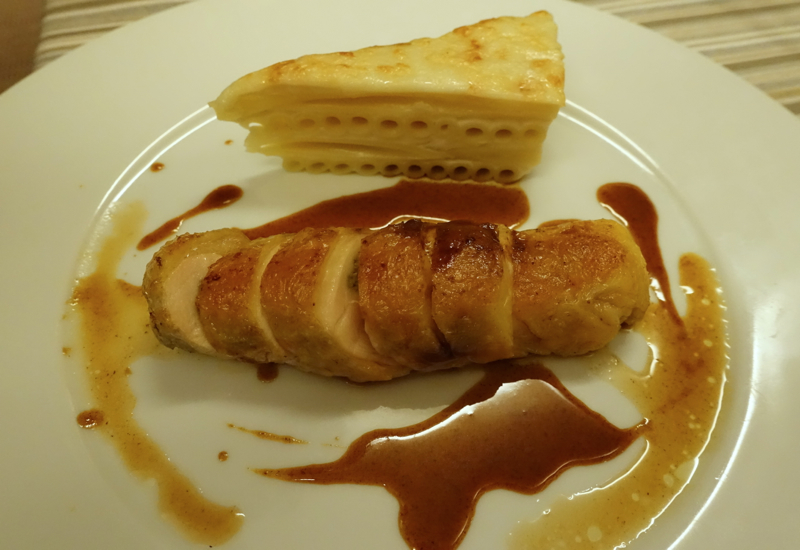 Room Service at InterContinental Bora Bora
Since we hadn't finished our New Zealand Sauvignon Blanc that was one of our anniversary amenities at the Four Seasons, we brought it with us and ordered room service a couple of times so we could enjoy the rest of it with our meals.
Menus
Here are the InterContinental Bora Bora menus, for room service:
Appetizers, Salads, Soups, Pastas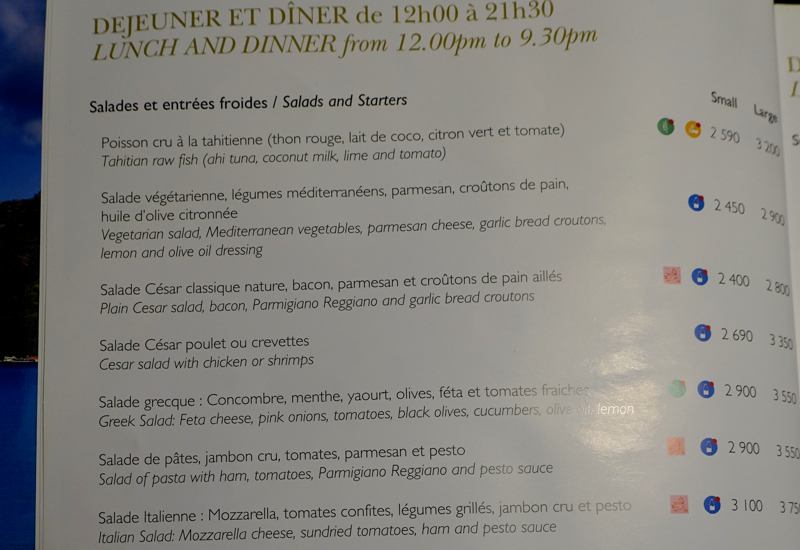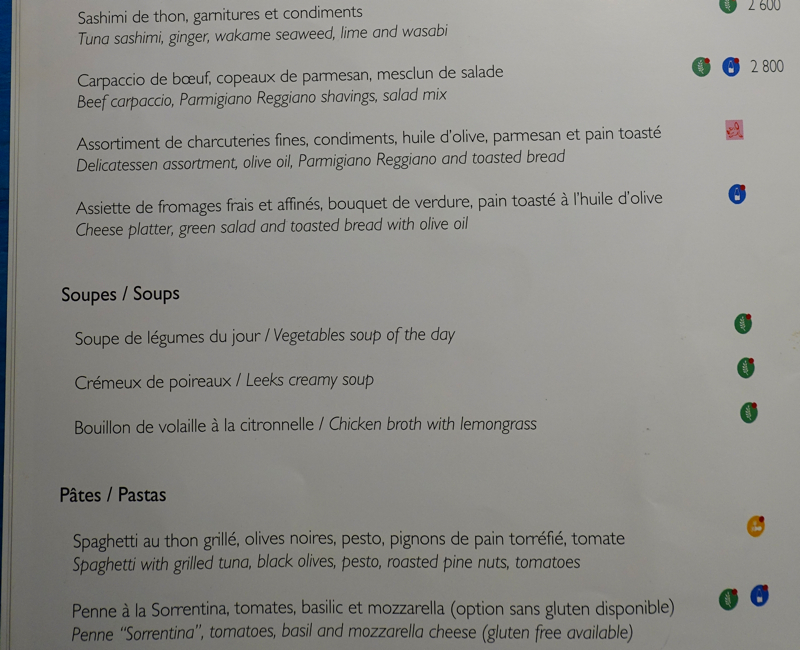 Lunch and Dinner Menu: Main Dishes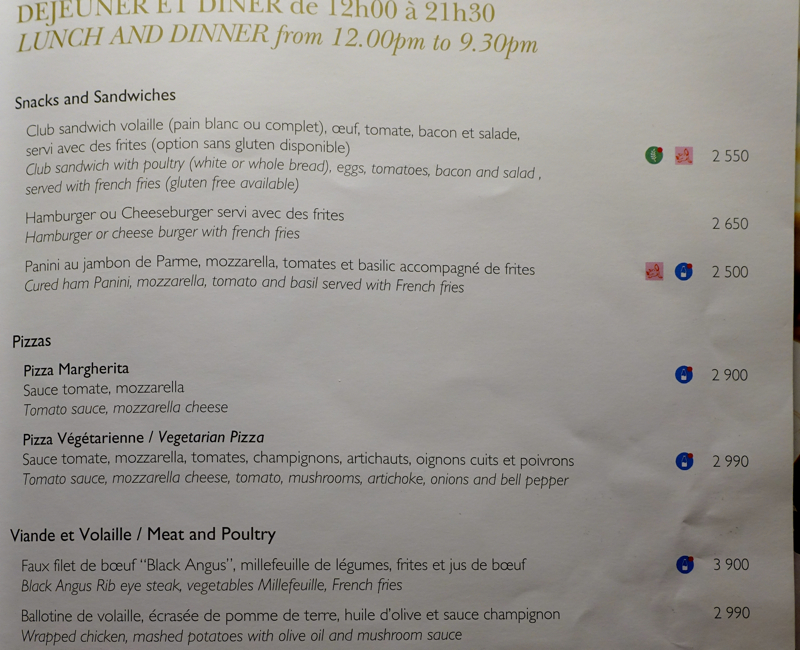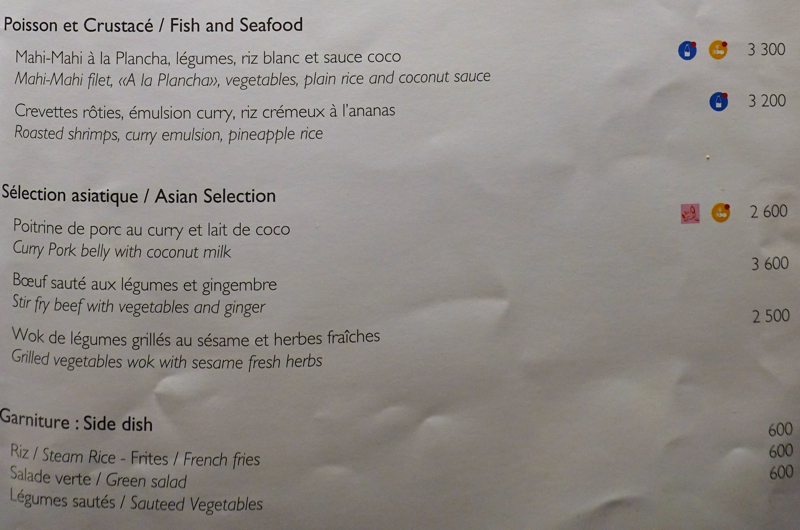 Dessert Menu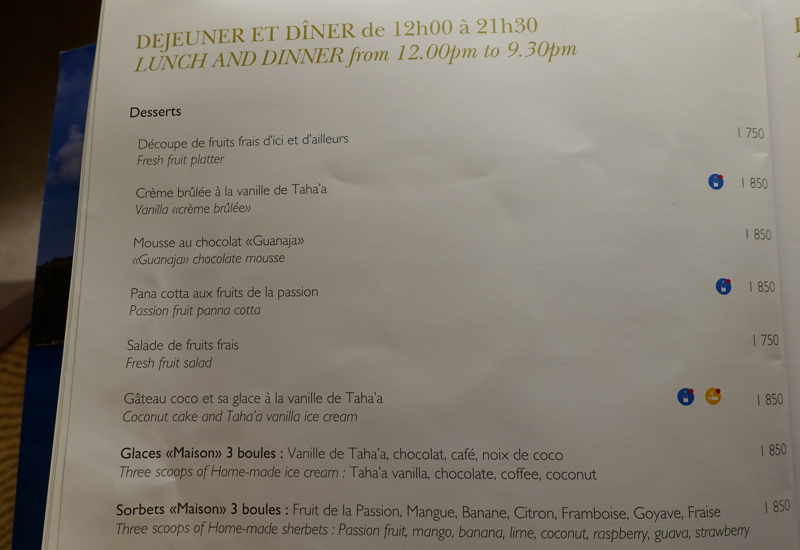 Favorite Room Service Dishes
1. Chocolate Mousse
This chocolate mousse had great dark chocolate flavor; the menu listed it as gianduja, so presumably it also had hazelnut paste in it, although the hazelnut flavor wasn't really discernible. I liked that it was fairly dense, as I prefer a denser, dark chocolate mousse rather than airy milk chocolate varieties.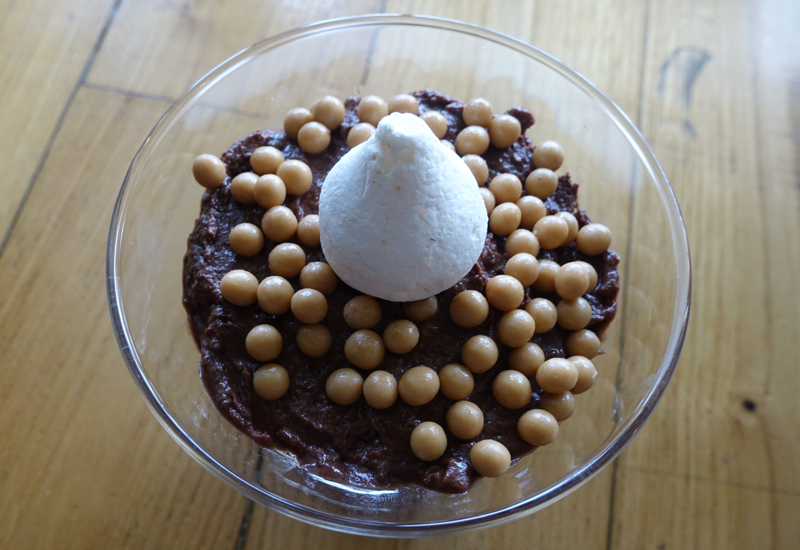 2. Roasted Shrimp with Pineapple Rice
This was a simple dish, and while the shrimp weren't as big or as good as the Sauteed Moorea Shrimp dish at the Four Seasons Bora Bora, it was still one of my favorite dishes of those we tried from InterContinental Bora Bora room service.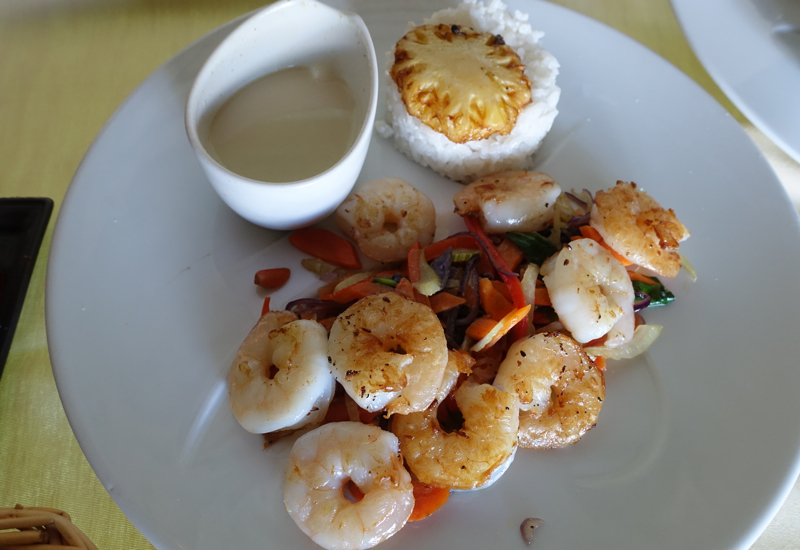 3. Poisson Cru
Again, I preferred the version I had at the Four Seasons Bora Bora, but still thought this was one of the more satisfying dishes from the room service menu. I prefer French Polynesian Poisson Cru to traditional Mexican ceviche, since the coconut milk helps balance out the acidity of the lime, for a more nuanced dish.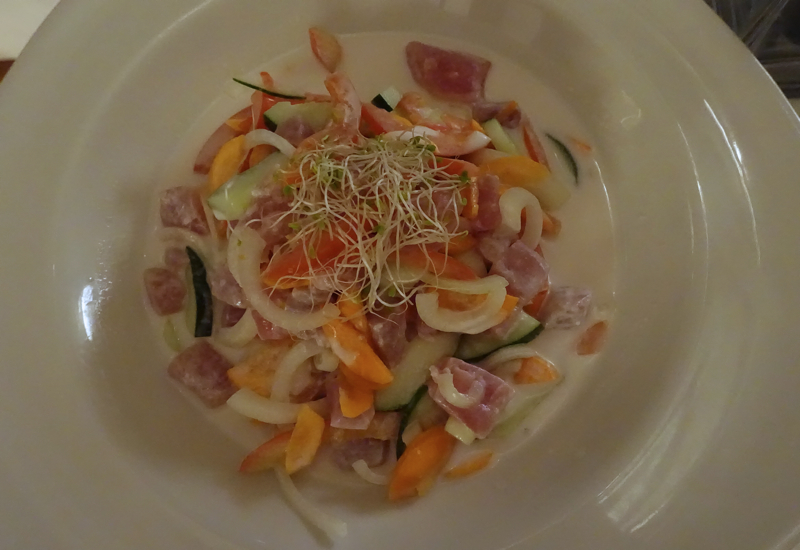 The Verdict
I really enjoyed my roast duck dinner at Reef Restaurant the first night, although it was not a huge portion and might not have sufficed for a heartier appetite. The buffet breakfast was decent, although not as extensive or as high quality as the one we enjoyed at the Four Seasons Bora Bora. It did, however, have more beautifully presented fresh tuna, as it was plated in sashimi form rather than chunks, and I certainly appreciated the fresh passion fruit, which was not available during our stay at the Four Seasons.
Our room service orders were mostly correct, although there was a huge variation in the kids' fruit plate that we ordered twice–the second order was about one fifth the size of the first order, so a huge lack of consistency. Fish was in general overcooked, so I recommend going with the Poisson Cru instead.
If you've dined at the InterContinental Bora Bora, what was your experience?
Related Posts
Paradise! Can You Guess the Place?
Review: Air Tahiti Nui Business Class
Flat Bed Business Class to Tahiti and Bora Bora?
Top Things to Do in Bora Bora if You Don't Scuba Dive
Disclosure: I received two complimentary nights, inclusive of breakfast, and paid for all other meals. The opinions in this review are mine.
Need Award Booking Help? Our fee is as low as $75 per ticket if you book your hotel through us.
If you enjoyed this, join 200,000+ readers: please follow TravelSort on Twitter or like us on Facebook to be alerted to new posts.
Become a TravelSort Client and Book Your Hotel with Virtuoso or Four Seasons Preferred Partner Amenities!