Why Go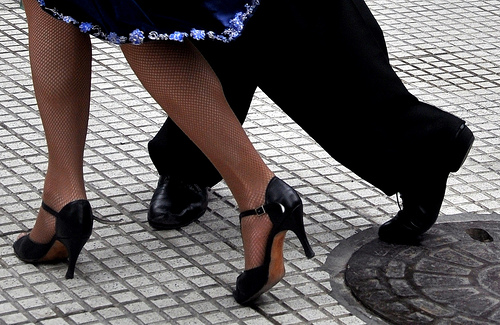 It's not so much why go to Buenos Aires as why go home! Buenos Aires is filled with people who planned on staying for a couple of months, and just never got on that return flight (myself included). It's a rare city that manages to make well-traveled people fall in love with it quickly. It might have touches of Paris in the buildings or Barcelona in the never-ending nightlife, but Buenos Aires is really a world of its own. Famous for its steak, tango, and leather goods, the city is currently experiencing somewhat of a renaissance in art and music, with famous local club nights touring CNN and galleries popping up just about everywhere (check out Top 10 Things to Do in Buenos Aires). While it's worth visiting historical sights around town, one of the city's big draws is that something new and exciting is always happening.
Come to Buenos Aires for its incredible diversity. Have cocktails in a Parisian mansion and eat a steak bigger than your head, or visit Hollywood and SoHo–Palermo, that is, and see how well a country can bounce back from an economic collapse. Just don't expect to be at a dinner table before ten, or in a club or bar before two. And everything you heard about how beautiful and stylish the locals are? All true.
Insider Tips
Don't get caught up in the San Telmo hype. Too many guides talk up the neighborhood of San Telmo, and while it's a lovely Sunday afternoon excursion, prices are designed with tourists in mind. Most of the tourist attractions you're going to want to spend time at are over a half-hour cab ride from San Telmo, and the neighborhood practically shuts down at dark. If you do want to stay in a quiet neighborhood, stay in Palermo instead
Don't underestimate the value of change. This might sound crazy, but Argentina has been experiencing a change shortage. When people at the stores are asking if you're sure you don't have change, it's not haggling–it's because they don't want to part with their coins. This won't happen in large stores where credit cards are accepted, but if you're going to the grocery store, don't be surprised if your change includes some sort of candy instead of coins.
Enjoy some Latin American art for free on Wednesday. MALBA, the local modern art museum, has a rather diverse collection of artists you've never seen, and some who managed to make it famous even in the northern hemisphere. The museum is free on Wednesdays (well, there is a suggested donation), and it's a great way to spend an afternoon or evening. Unlike many museum restaurants, MALBA's cafe is run by an acclaimed French chef and worth a visit for its desserts alone.
Get ready to disco nap–a lot. For those travelers who aren't used to staying up late, Buenos Aires can be a little bit of a struggle. Dinner is at 10, and even then it's early, and most clubs actually offer promotions where admission is free before 2:30 because otherwise, people won't stay up. If you want to take on the night, be ready to be out until seven in the morning.
Where to stay
Be sure to check out TravelSort's Buenos Aires 5-star luxury and boutique hotels–it's free to join TravelSort and you can take advantage of wholesale prices.
Buenos Aires is no stranger to boutique hotels, but for one of the very finest, it has to be Hotel Home. This small hotel differentiates itself from other options with its truly fabulous sense of style, impeccably decorated rooms, and perhaps the best pool in town. For travelers working with American dollars or Euros, the price tag is a steal compared to similar style hotels in, say, New York or Paris.
Located in a quiet residential corner of Palermo Hollywood close to one of the cutest French cafes in town, Home Hotel is perfect for anyone who wants to be close to where stylish Argentines actually spend their time. Every staff member that was asked for a recommendation truly went above and beyond to suggest spots that local people actually go in the city.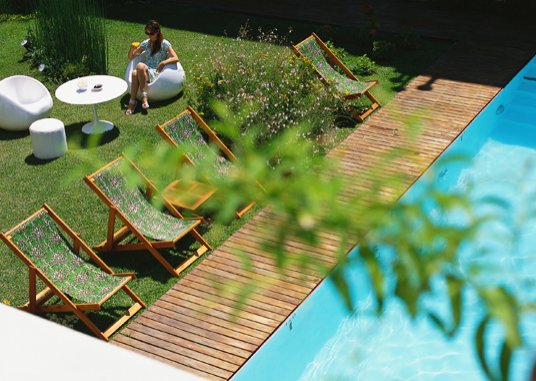 What to eat
There are a number of takes on porteno food, the local cuisine that's heavy in meat items and French and Italian influences, but nothing manages to improve on the original concept quite the way that the chefs at Cafe San Juan (San Juan Avenida 450, tel. 4300 1112) do. A true neighborhood joint, from its open kitchen to slightly off-putting bright lighting, the restaurant is run by a family: mom's taking reservations, the son's in the kitchen juggling his kids and the pots and pans, and everyone else is waiting tables and washing dishes. It's worth the trek to San Telmo even if you're staying in Palermo just to try their tapas, and their mains, which change according to the season and have been everything from a big juicy steak to chocolate rabbit stew, and are gigantic and easily sharable. Cash only.
Although Le Ble only recently opened its Colegiales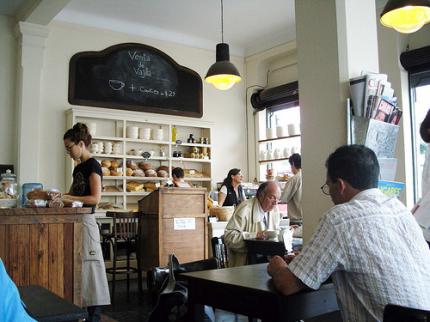 restaurant/bakery, it's done so well that another location in Palermo just took the pressure off an attractive and relaxed staff who were easily turning tables 20 times a day during weekend brunch rush. A little bit New York and a little bit Paris, this lovely cafe and bakery has something for everyone. Visit at after-school times and watch parents let their children pick out sweets from the always-enticing baked goods table by the bread counter. Stop in for a pitcher of their incredible lemonade and organic juices and people-watch from an outside table, or come by for one of the best breakfasts in the whole city, hands down. There is a reason that the line is literally out the door on Sundays here, but breakfast is every day, so if you're not into crowds, come during the week.
What to do
A wonderful look at both history and architecture, Chacarita Cemetary is a lot less crowded than Recoleta Cemetary, where Evita (Eva Perón) is buried, but no less interesting. In fact, the cemetery is the largest in the whole country, a surprise because it's hidden from the nearby neighborhood by unassuming walls. Incredibly quiet compared to the din of the busy streets surrounding it, Chacarita is known as the National Cemetery and has rows and rows of mausoleums housing many prominent Argentines, including Alberto Castillo, the tango singer, novelist Osvaldo Soriano, and the actor Marcos Zucker. If you're not quite sure where to go for your cultural and historic fix, this is an excellent location to begin.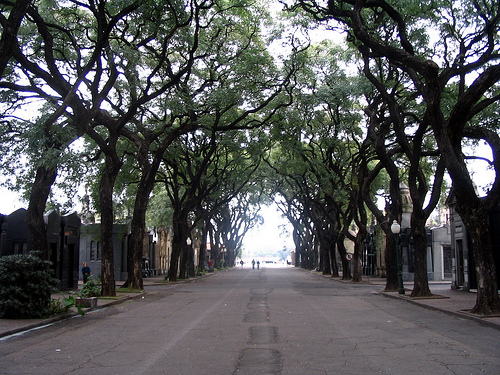 While a bar/restaurant might not be an attraction in its own right many places, Milion is worth a visit just to see one of the most beautifully maintained and lovingly restored French mansions in the city's downtown. Bought, saved, and kept alive by a pair of stylish Argentines with vision, Milion is a place for a little bit of everything. Head all the way upstairs to the top floor and lounge while international DJs spin on weekends, explore the third floor art gallery, or have dinner at the renowned restaurant on the first floor. Classic films regularly screen during the summer months, but everyone heads to Milion for one thing–the regal terrace area, complete with a descending staircase for you to pretend you're in your own period piece. Pretty much it's a guarantee you've never been anywhere like it.
Related Posts
Top 10 Things to Do in Buenos Aires
Locals' Favorite Special Occasion Restaurants in Buenos Aires
Where to Find the Best Authentic, Non-Touristy Tango Shows
Malbec and More: A Foodie's Guide to Mendoza
Beaches, Surfing and Seafood in Romantic Miramar, Argentina
Sweet Seclusion in Mar del Sud, Argentina
Need Award Booking Help? Our fee is as low as $75 per ticket if you book your hotel through us.
If you enjoyed this, please follow TravelSort on Twitter or like us on Facebook to be alerted to new posts.
Become a Member to find your perfect luxury or boutique hotel at wholesale prices: TravelSort Hotels
Photos: Suzana Gudolle, Home Hotel, Le Ble, BrianMKA