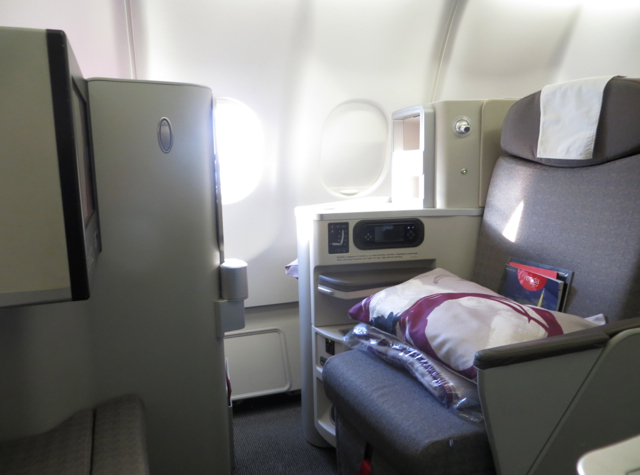 This Iberia New Business Class on the A330-300 Review is part of a trip report including Iberia Business Class, plus reviews of luxury hotels and dining in Marrakech, Morocco. For the prior post, please see British Airways Galleries Lounge at JFK Terminal 7 Review
After finally extracting the munchkin from the British Airways Galleries Lounge Kids' Room, we boarded our Iberia A330-300 flight. By the time we got there, there was no line, and we were welcomed aboard and pointed in the direction of our Business Plus seats.
Iberia's A330-300s were acquired about a year ago, in February 2013, and have been on the NYC-Madrid route since May–although not every flight has them, and in fact our return flight was switched to the old business class, which I'll review in a future post.
Iberia's new business class consists of 36 seats in a 1 – 2 – 1 configuration, with solo seats on each side and the two seats in the middle alternating row by row in terms of being close to the aisle vs. the "honeymoon" seats that are placed close together, and good for couples or friends traveling together. I picked seats 3E and 3G for the munchkin and me, since it was a night flight so a window wasn't a high priority.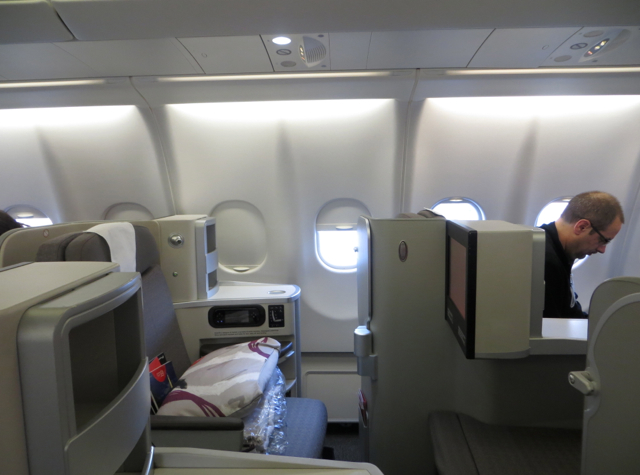 Before pushing back, we were offered a pre-flight drink, and as usual I chose water. There was just a packaged towelette with the drink, although a real towel was offered prior to meal service.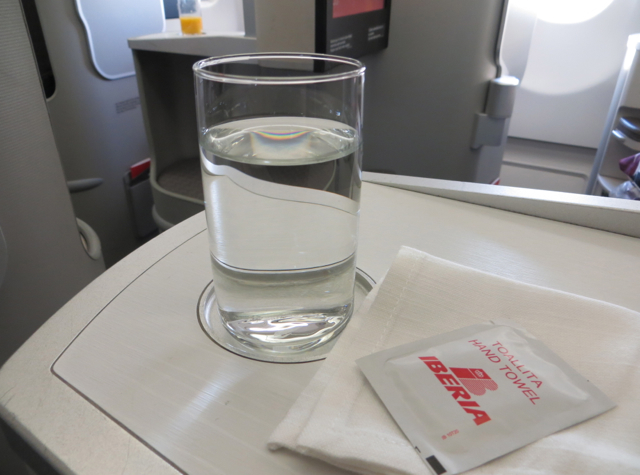 Prior to departure amenity kits were handed out. While the products were generic, the assortment was quite comprehensive for business class: socks, ear plugs, toothbrush and toothpaste, moisturizer, lip balm, hairbrush/comb, eau de toilette, and even a couple of hairbands around the socks, something I've never seen in any other amenity kit and which is a nice touch for women travelers. Note that this photo was taken after the flight–no marble in the Iberia Business Plus cabin 🙂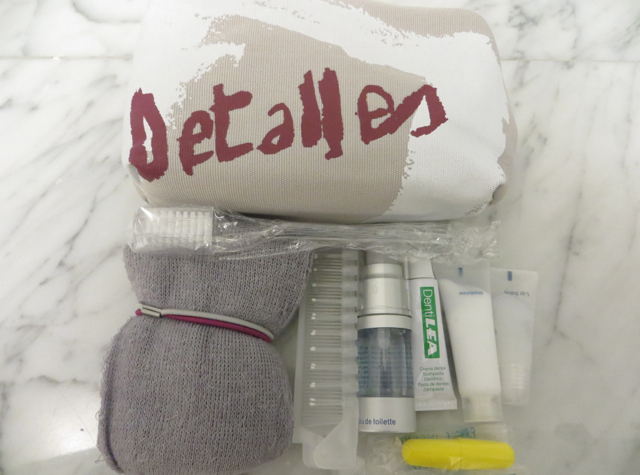 Departure was on time, and once airborne, it did seem to take a rather long time for meal service. In retrospect, given the short flight time to Europe, I would have loved to have just gone straight to sleep, but the munchkin was hungry for dinner so we stayed up for it.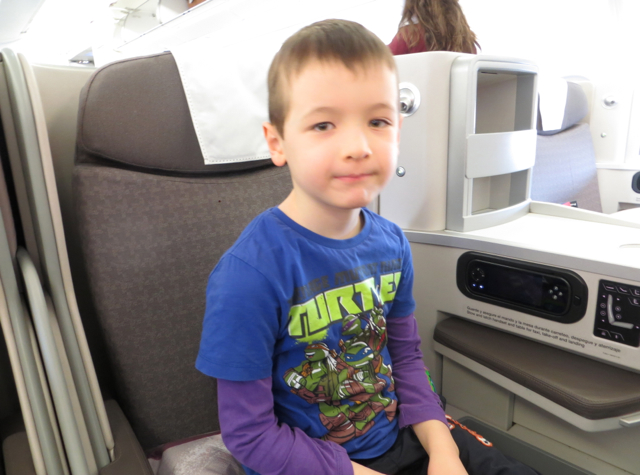 The dinner menu offered a set appetizer of marinated salmon and a choice of Duck with Porto wine sauce, King Prawns and Tomato Tortellini. Desserts were listed as Chocolate and fudge cake or vanilla ice cream.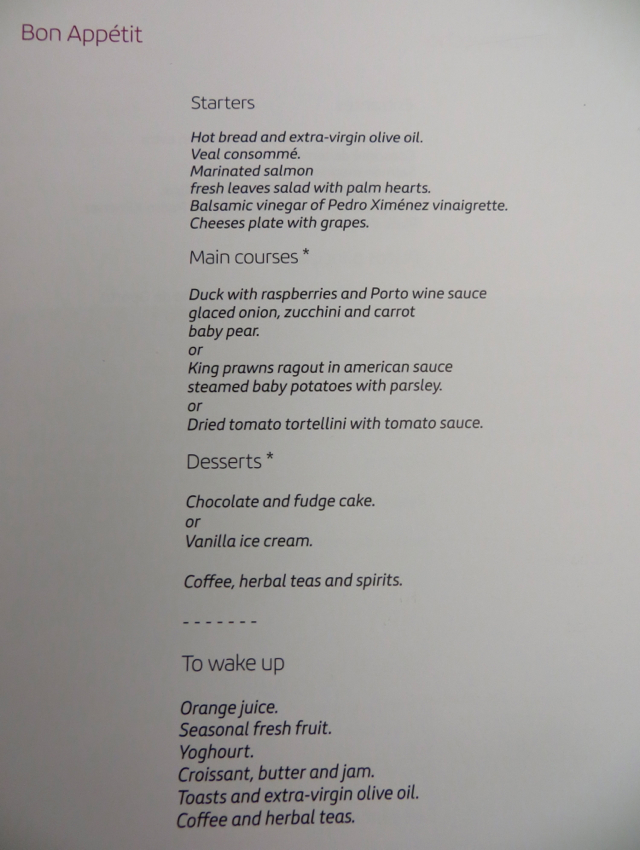 Prior to the meal, we were offered a warm towel: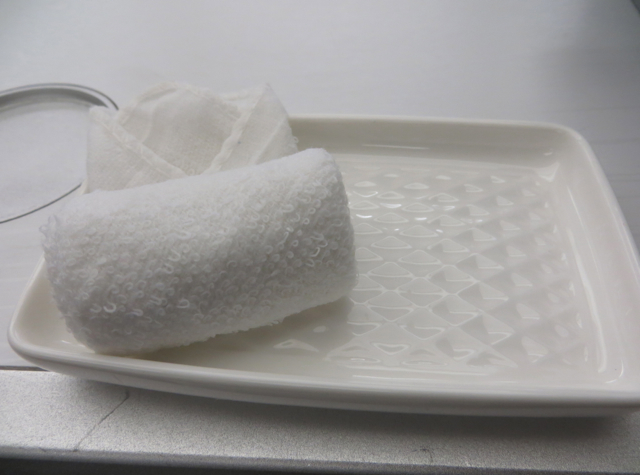 And we were also offered drinks. I chose the featured wine of the month, the Valduero 22 Meses 2010 from Bodegas Valudero, a 100% Tempranillo.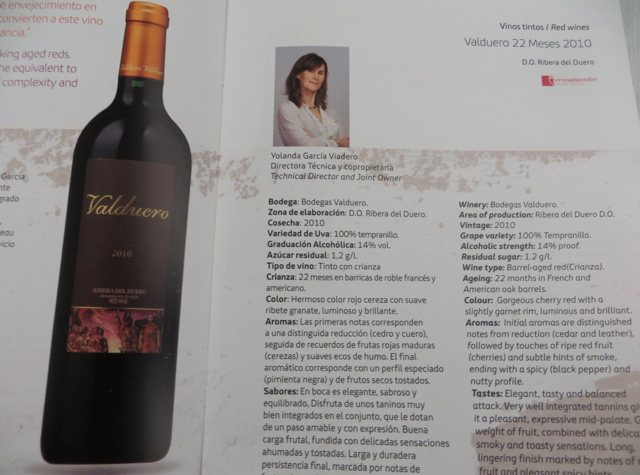 Instead of pre-meal mixed nuts or the like, boxes of potato chips were served, which I found a little odd. I didn't touch them, but the wine was quite good.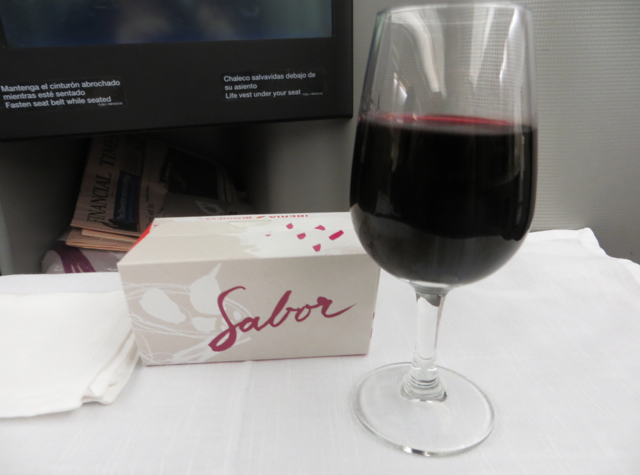 The marinated salmon and the cheeses in the appetizer were good, and both the munchkin and I finished those parts of the appetizer. I could have done without the bland clear consomme.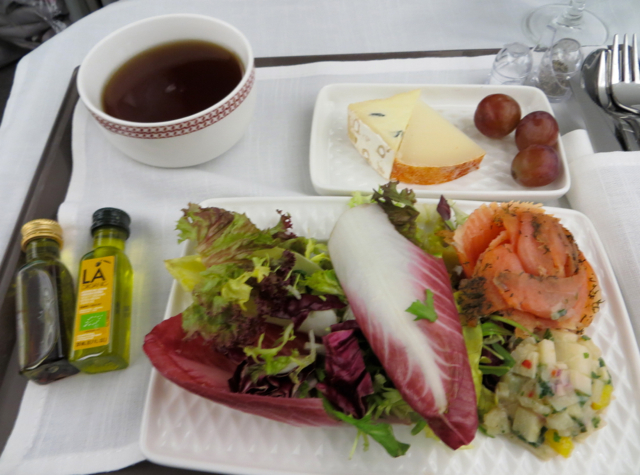 For the main course, even though I'd ordered duck for both of us, initially the munchkin was mistakenly brought the tortellini. The attendant seemed flustered when I explained that we had both ordered duck, but eventually the munchkin was also brought duck. In the meantime, I shared my dish with his.
While Iberia's menu makes much of its Michelin star chefs, I didnt' think much of the presentation, although this is business class, not first class, so that has to be taken into account. That said, even though the duck was rather overcooked and the dish didn't look like much, the sauce was very tasty. I also liked the pear served with it–it looks like a potato in the photo, but was actually poached pear.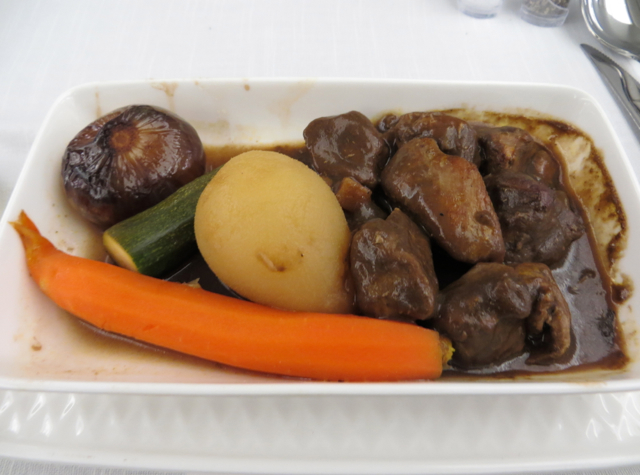 For dessert, the munchkin chose vanilla ice cream, which was rock hard and had to be left for a few minutes to soften.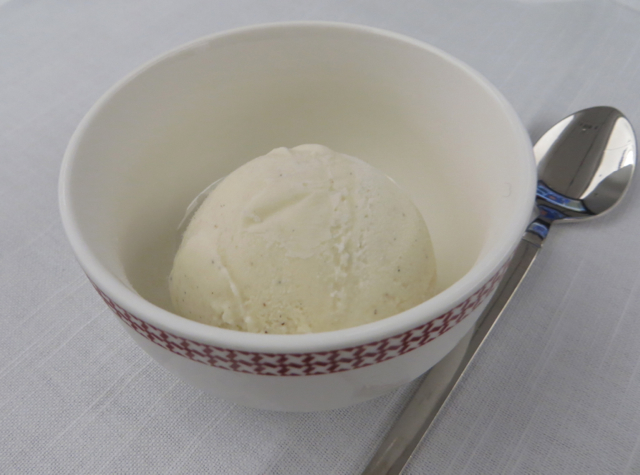 There was no chocolate fudge cake, and instead the other choice was a lemon mousse cake. As long as you didn't mind the fact that it was completely different from what was stated on the menu, it was actually delicious, and the highlight of the meal for me.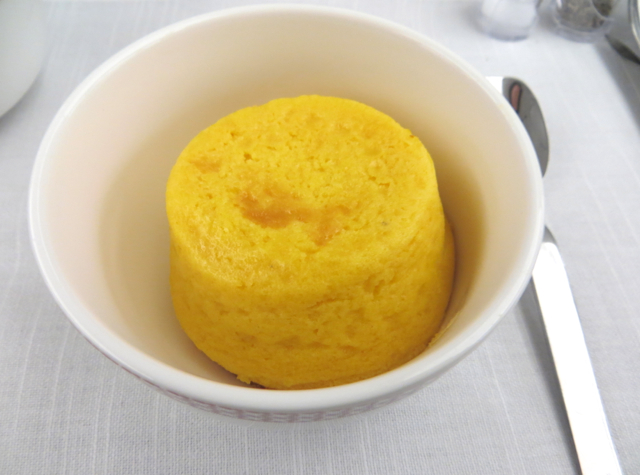 Coffee and tea were offered but I declined. Here's the coffee and tea menu:
We did select a couple of chocolates for later:
The IFE looks sleek, but to be honest I found it a complete pain to use–it was seemingly impossible to scroll to see more movies without inadvertently selecting one. This was not a user friendly experience, and it wasn't just me–even the flight attendant and purser I asked for help couldn't get it to scroll to one of the movies we wanted, even after resetting both of our systems, so I never was able to see all of the kid-friendly options.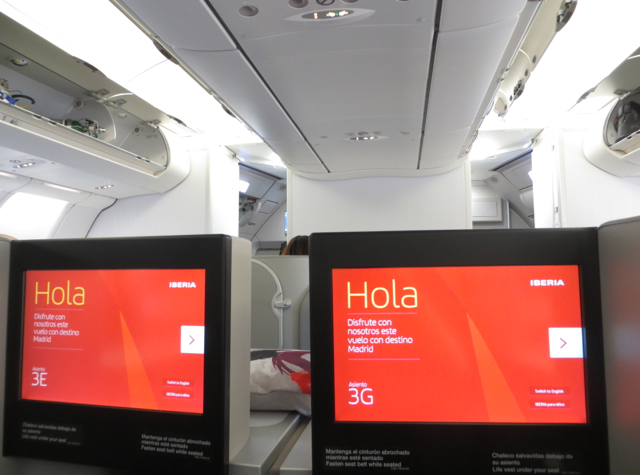 The munchkin did enjoy the couple of programs he watched however, including Dora the Explorer and a superhero cartoon.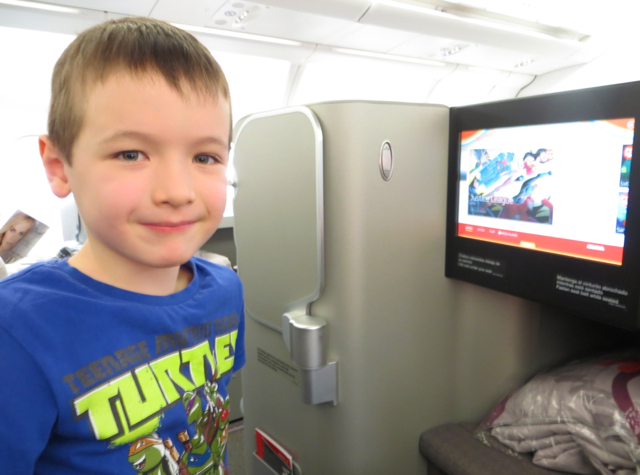 Before resting, we made a trip to the bathroom, which was a standard bathroom, no bigger than what you'd find in Economy. No fresh flowers either, just a red and white paper decoration.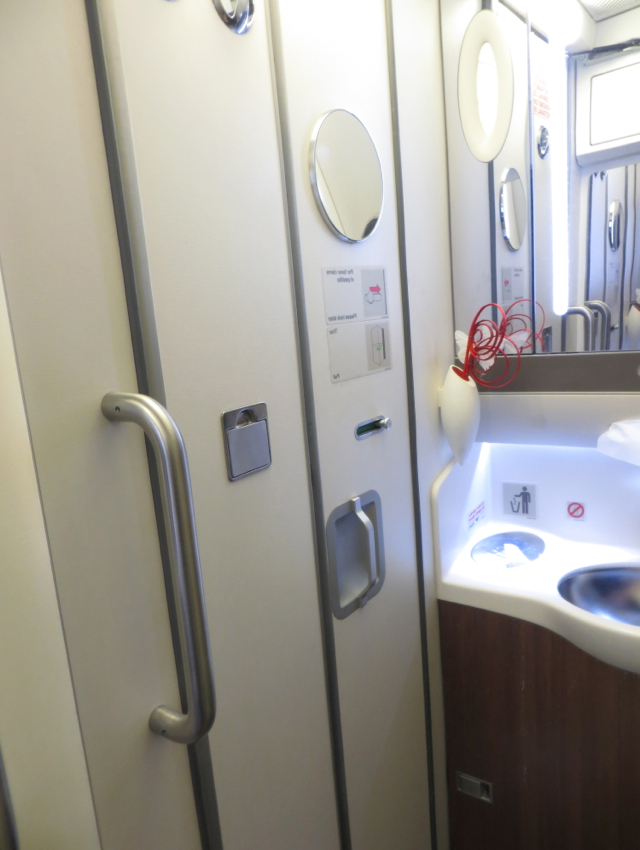 Amenities were basic: hand soap, packaged towelettes, eau de toilette: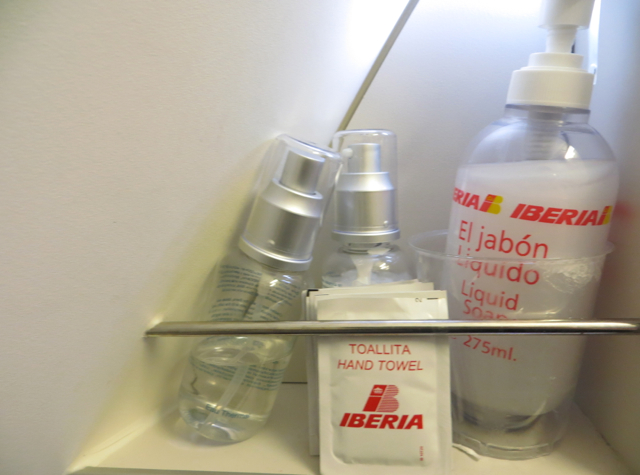 The new Iberia Business Plus seat is a full 180 degree flat bed seat, but even though it's billed as being 200 cm. long (almost 6'7) I don't think my 6'5 husband would have fit on it stretched out. It seemed more like 6'3 to me, so tall travelers, be prepared to bend your knees a bit.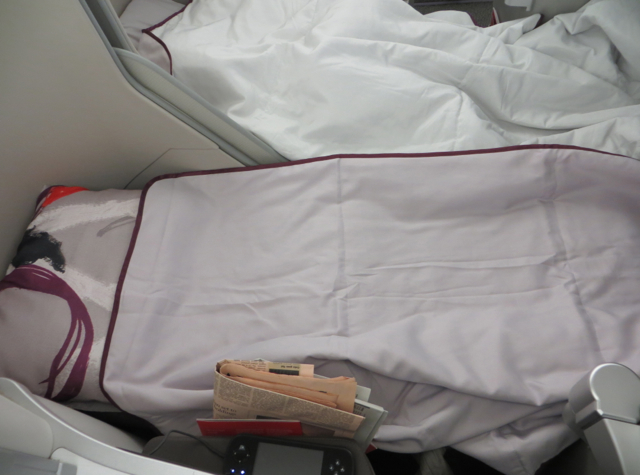 The flight was somewhat turbulent, so even though the seats are fully flat bed, neither of us slept that well. Since the cabin was fairly warm, I used my duvet as a mattress pad to make the bed a bit more comfortable. In more calm conditions we probably would have slept decently, although I prefer Cathay Pacific business class, especially its old business class, in terms of flat bed seat comfort. At least the seat controls, unlike the IFE, are user-friendly: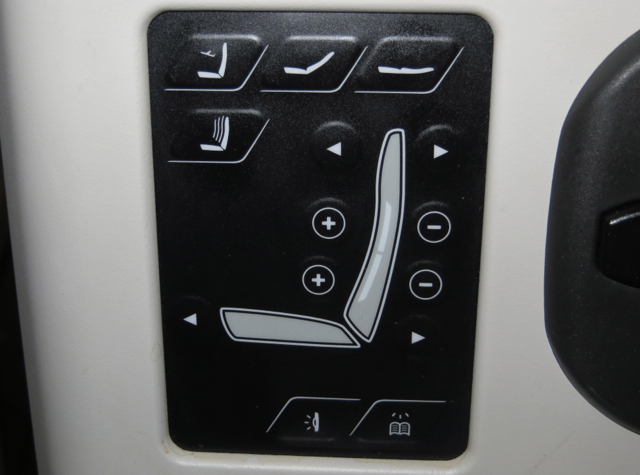 Prior to landing, breakfast was served. I was still full from dinner, but the munchkin sampled it, mainly the orange juice, which was good, the yogurt, and some fruit.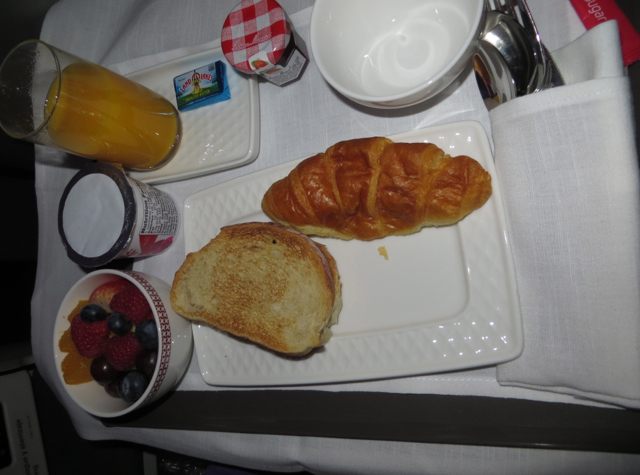 The Verdict: Iberia's new Business Plus on the A330-300 definitely looks much better as a cabin compared to its old business class on the A340-600. The hard product in terms of the flat bed seat is good, and great in terms of allowing direct aisle access for each passenger. The service was professional and friendly but not perfect, given the mistake in bringing the wrong meal. The IFE, while it looks good and had a decent number of choices, was incredibly frustrating to use. Food is often not a strong point of business class, and Iberia is no exception–I found it to be quite average, apart from dessert (which wasn't even the dessert described on the menu).
Related Posts
How to Transfer British Airways Avios to Iberia Plus to Avoid High Fuel Surcharges
SPG Airline Partners: Transfer Starwood Points to Miles
Top Hotels in Madrid, Barcelona, Istanbul and Marrakech
Need Award Booking Help? Our fee is as low as $75 per ticket if you book your hotel through us.
If you enjoyed this, join 100,000+ readers: please follow TravelSort on Twitter or like us on Facebook to be alerted to new posts.
Become a TravelSort Client and Book Your Hotel with Virtuoso or Four Seasons Preferred VIP Amenities!