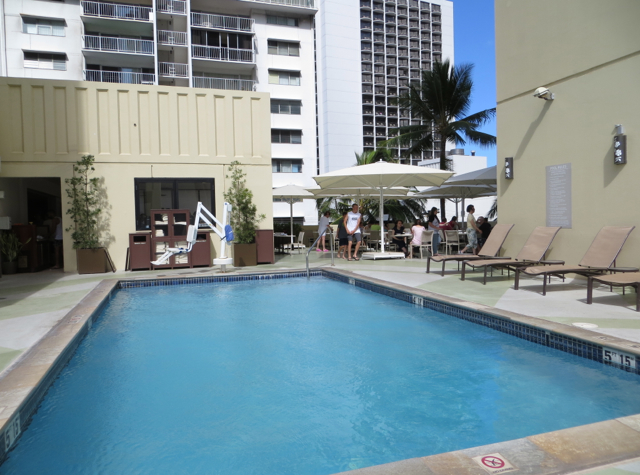 This Hyatt Place Waikiki Beach Review is from a recent stay before our trip to Maui and Hawaii (the Big Island). We booked a Deluxe Ocean View Room using my annual free night from the Hyatt Visa (see Hyatt Visa Annual Free Night at Category 1-4: Top Hotels to Use It At).
For reviews of our Alaska Air First Class flights to Hawaii, see these prior posts:
Alaska Airlines First Class Review
Alaska Airlines Board Room Seattle Lounge Review
Alaska Airlines First Class to Hawaii
Because of our late arrival into Honolulu and how exhausted I knew we would both be, I never considered trying to fly to Maui that night. I also had no desire to stay at the Honolulu Airport Hotel, run by Outrigger, which barely manages to get 54% from Tripadvisor reviewers, hardly a vote of confidence. Since it was such a brief overnight, however, I didn't want to book an expensive property either.
Fortunately I remembered that I had a free annual night at a category 1-4 Hyatt, which I thought I'd never use, but the Hyatt Place Waikiki Beach ended up being a good use for it.
Hyatt Place Waikiki Beach Location, Lobby and Check-In
The Hyatt Place Waikiki Beach is located at 175 Paoakalani Avenue, near the Diamond Head side of Waikiki Beach close to the Honolulu Zoo and Kapiolani Park. It's about an 8 minute walk from the Barefoot Beach Cafe (formerly Queen's Surf Cafe & Lanai) where we enjoyed pancakes with a view, on a prior Hawaii trip (see Best Pancakes in Honolulu, Hawaii).
Fortunately, since it was late, there was no traffic and from Honolulu Airport, we got to the hotel in under 20 minutes. There was no line for check-in, but it did seem to take longer than expected. Finally we were on our way to our room.
Deluxe Ocean View Room with 2 Queen Beds
All we were interested in, upon getting to our room, was getting to sleep as quickly as possible. Fortunately Hyatt Grand beds are pretty comfortable, and the munchkin was soon fast asleep while I took care of a few emails using the free WiFi.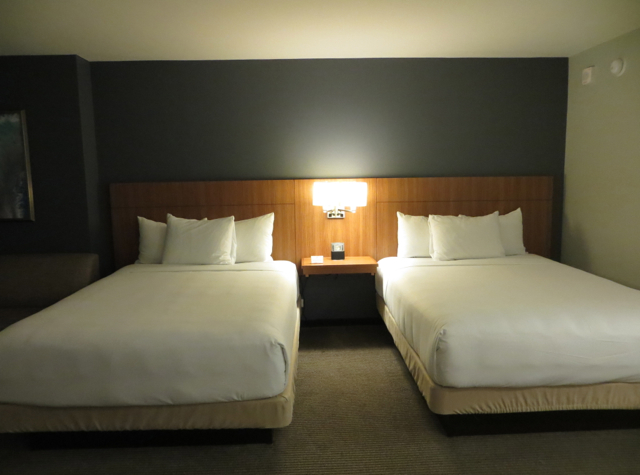 In addition to the 2 Queen beds, there is a "Cozy Corner" with a sleeper sofa that converts to a Queen size bed, so it's a pretty good set up for families.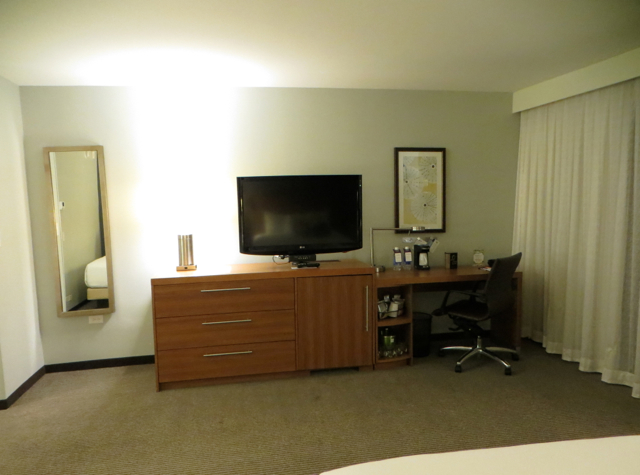 There was a bit of nickel and diming going on with the bottled water, which was not complimentary but instead cost $1.50 per bottle. Not an issue in Hawaii though, which has clean and good tasting tap water.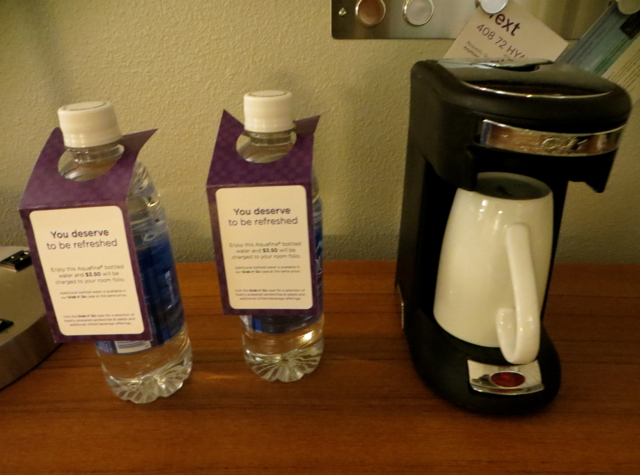 The sink is in the room itself, which is a bit odd and not terribly convenient if someone needs to sleep while someone else needs the light on in the sink area.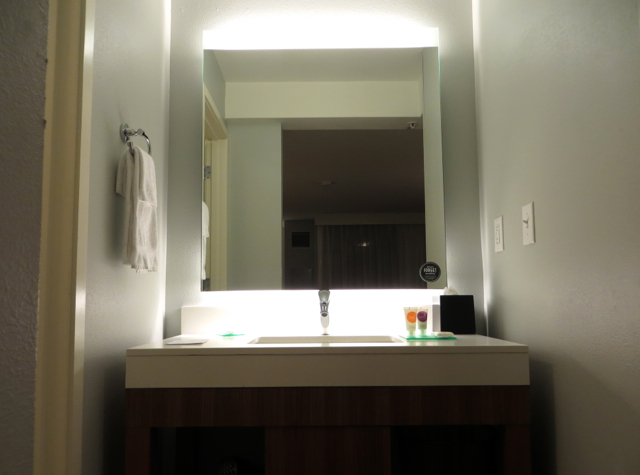 The average looking bath amenities (which are nevertheless described as "luxury skin and hair care amenities" on the hotel's Web site) are by KenetMD. I opted to use L'Occitane amenities I'd brought with me, instead.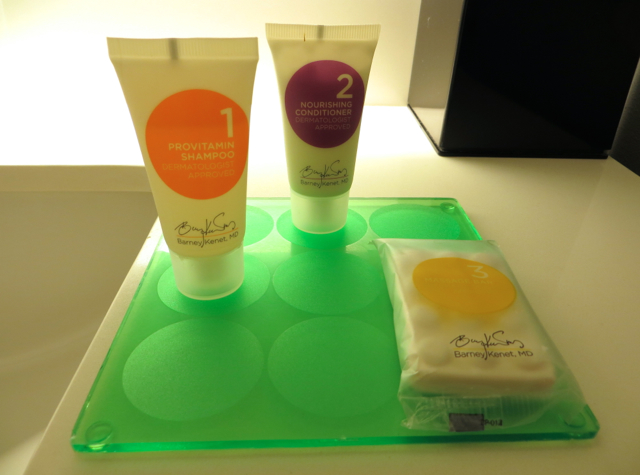 The bathroom is tiny, with just barely enough room for the toilet and the bathtub shower combo. It's clear this is an older property, so there have been constraints on what they can cost-effectively do with regards to the bathroom.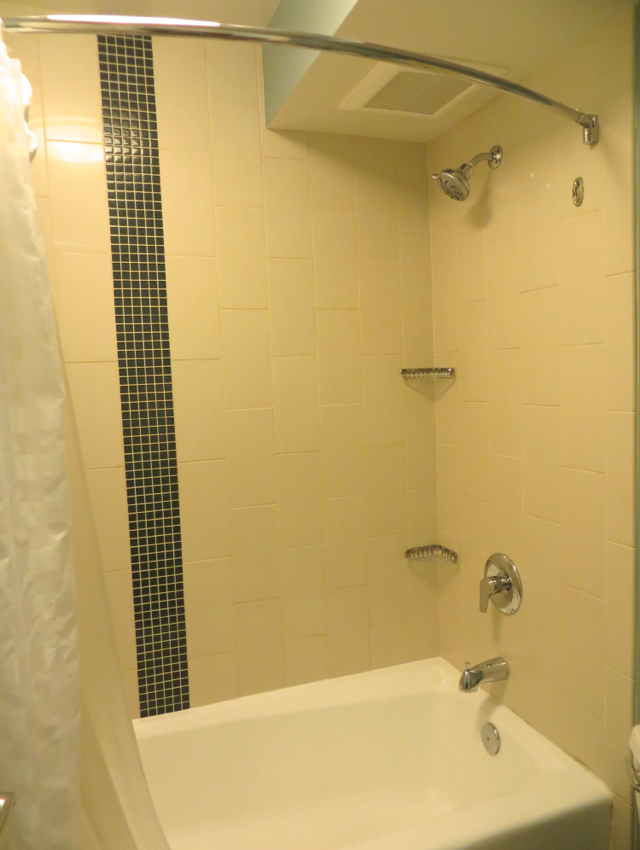 In the morning, I took a look at our balcony and at the view. Our ostensible "ocean view" was mostly obscured by other buildings, so if I'd been staying there any length of time, I would have wanted to try to switch rooms for a better view. I suspect there are actually very few rooms that have the view illustrated on the Web site.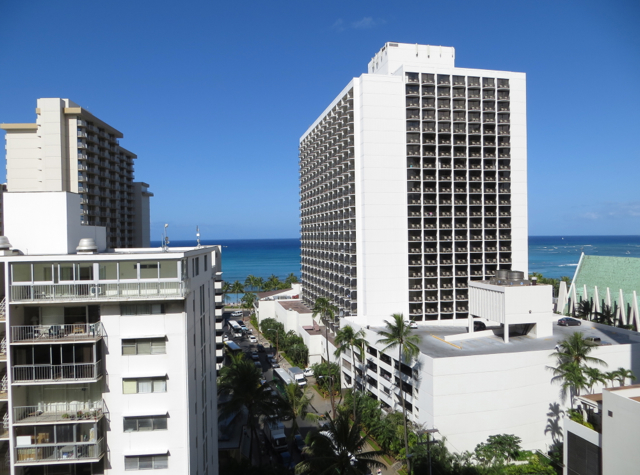 Here's the view from inside the room: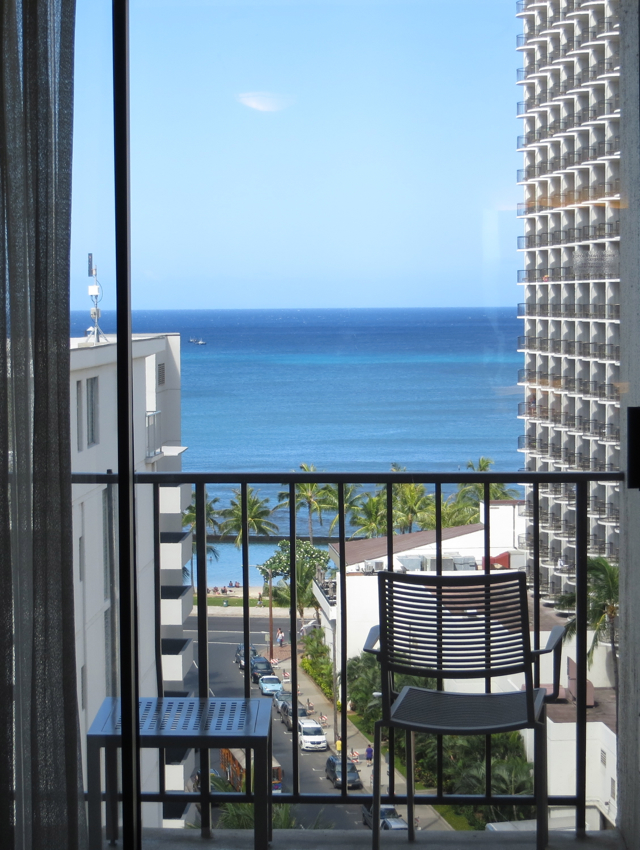 Swimming Pool
There's a good reason the hotel doesn't highlight its swimming pool on its Web site–it's tiny, especially given the size of the property. Think of it as an oversized plunge pool (ok, that's perhaps a bit of an exaggeration, but not much). It was also incredibly windy when we were there on the Pool Deck at breakfast, so perhaps not surprising that we saw nobody in it.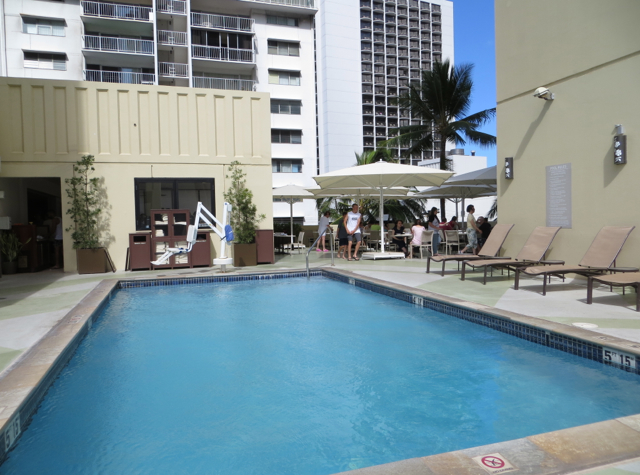 Kitchen Skillet Buffet Breakfast
A complimentary buffet breakfast is served, billed as "free a.m. Kitchen Skillet." It's pretty much what you'd expect for a free breakfast from a basic Hyatt: very mediocre. Except that it was actually worse than the breakfast offered at the Hyatt House Denver Airport (a Hyatt Category 2 property), which actually had very good omelets cooked to order.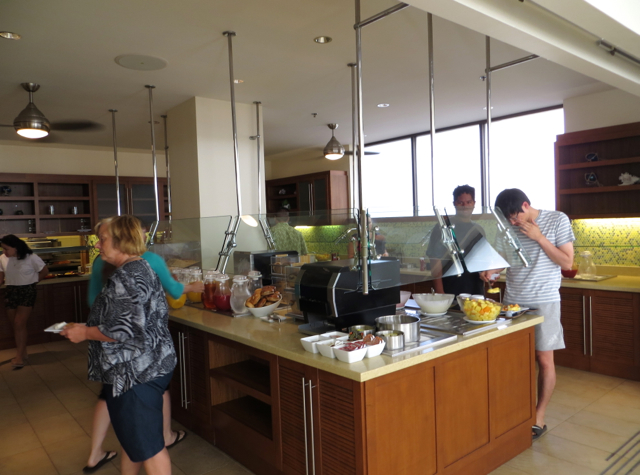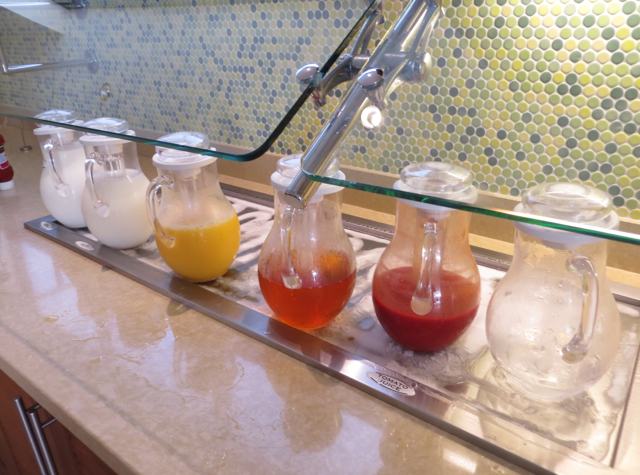 In fact, the breakfast sandwiches would probably make most McDonalds or other fast food breakfast sandwiches look good. The munchkin, who normally really enjoys egg and bacon sandwiches, took one bite and didn't want any more. We probably should have stuck with the French Toast, or plain bagels.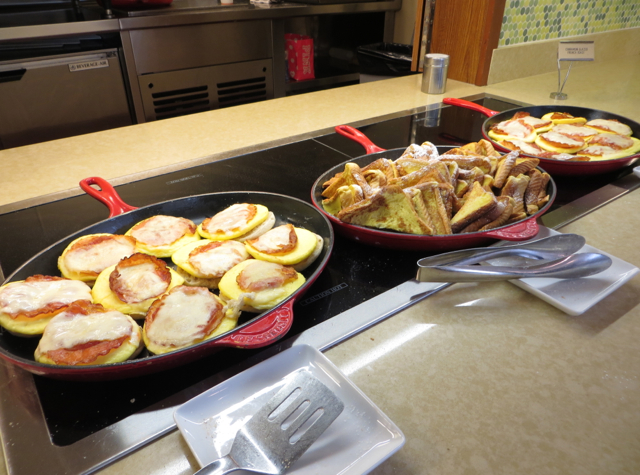 There was oatmeal that looked even less appetizing, although I did add some dried cranberries and raisins to some cereal, which I mixed with some of the poor quality yogurt.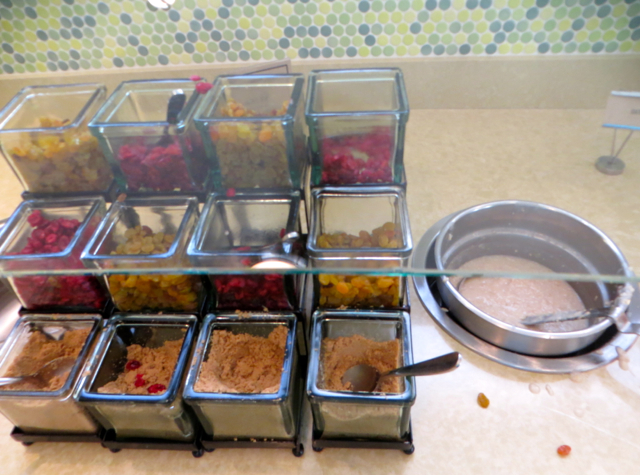 And if you fancy Korean Kimchee and/or tofu for breakfast, you're in luck: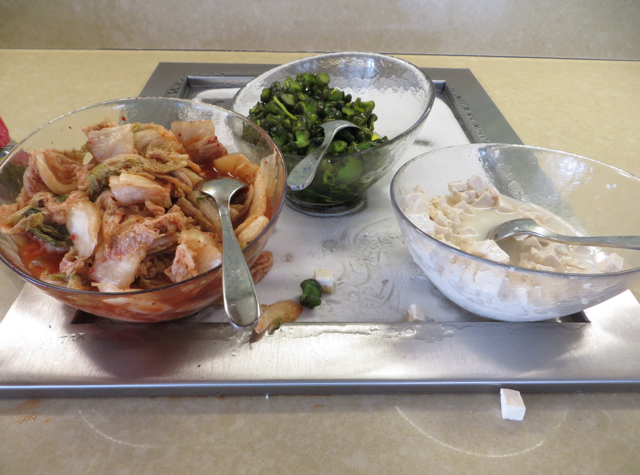 The one thing that wasn't bad, at least if you can tolerate Starbucks, was the Torrefazione Italia coffee, which is one of Starbucks' higher end coffees.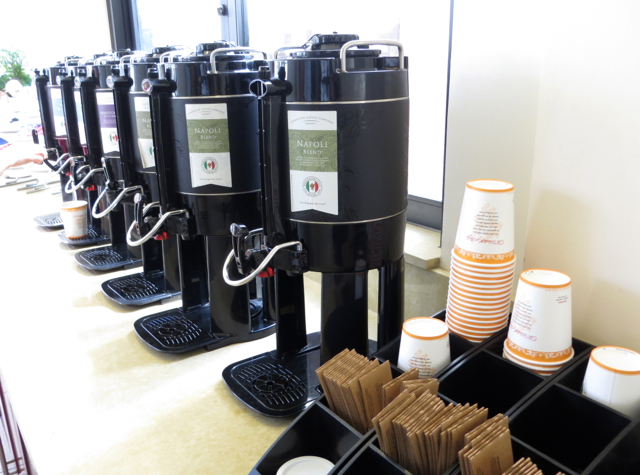 The Verdict: The Hyatt Place Waikiki Beach is a great use of the Hyatt Free Night for Category 1-4 Hyatts, which is an annual benefit of the Hyatt Visa. It's far from a fancy hotel, but is a comfortable, clean place to sleep in Waikiki and good if you'll be out much of the day. Just don't be disappointed if your "ocean view" is mostly blocked by buildings. I highly recommend foregoing the breakfast, however, and getting some better food elsewhere.
If you've stayed at the Hyatt Place Waikiki Beach, what was your experience?
Related Posts
Hyatt Visa Annual Free Night at Category 1-4: Top Hotels to Use It At
Hyatt Award Chart Devaluation: New Category 7 and Pricier Awards
Hotel Review: The Royal Hawaiian in Waikiki
Hotel Review: The Modern Honolulu
Exploring Honolulu, Hawaii with Kids
Need Award Booking Help? Our fee is as low as $75 per ticket if you book your hotel through us.
If you enjoyed this, join 100,000+ readers: please follow TravelSort on Twitter or like us on Facebook to be alerted to new posts.
Become a TravelSort Client and Book 5-Star Hotels with Virtuoso or Four Seasons Preferred Partner Amenities!