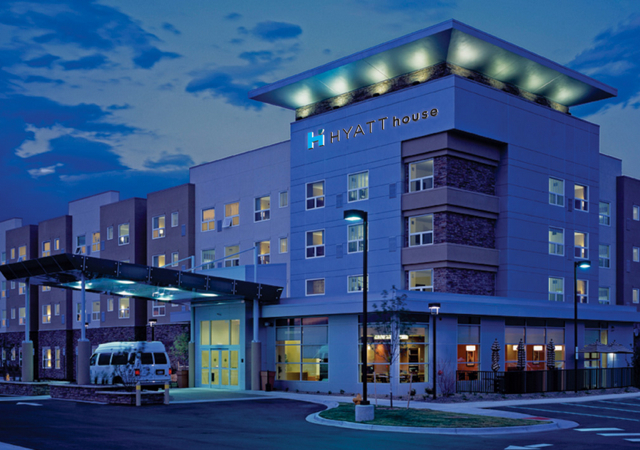 The Hyatt House Denver Airport may not be luxurious, but it was a convenient choice on our recent trip to Denver, given that we were arriving way past the munchkin's bedtime and didn't want to drive into downtown Denver that night. There are actually two Hyatt Denver Airport hotels, a Hyatt Place and a Hyatt House, both of them Category 2 Hyatts, with Hyatt House being Hyatt's extended stay brand and Hyatt Place with more of a business focus. The Hyatt House Denver Airport seemed a bit closer, so we chose it.
Hyatt House Denver Airport Location, Lobby and Check-In
Even though Hyatt House, located at 18741 East 71st Avenue, bills itself as being only 9 minutes from Denver Airport, what I discovered, after calling the hotel upon landing in Denver, is it can be several minutes more than this in snowy conditions, which is what we landed in. The person I spoke with while on the plane, just after landing, insisted that I should first come to baggage claim, and that after I called, the hotel shuttle would be there in 10-15 minutes.
Instead, when we got to baggage claim and I called again, the associate I spoke with mentioned that a shuttle had just left and that it would be 40-45 minutes until the next one! I (and especially the munchkin, who was exhausted) naturally was quite unhappy about that and about the misinformation I had just received minutes earlier on my call after just landing, so eventually the hotel agreed to pick up the tab for a yellow cab taxi to the hotel.
After having arrived, things began to look up. The hotel paid the taxi driver, promptly checked us in, and we took the elevator to the 4th floor to our room.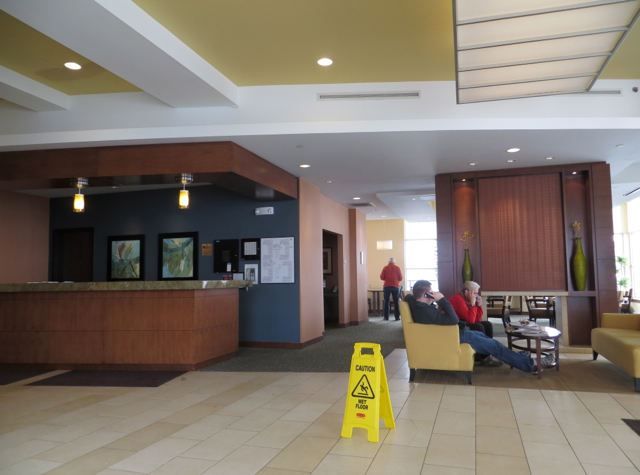 Studio Suite (Standard Room)
I had used a Hyatt Cash & Points award to just book a standard room, but even standard rooms are Studio Suites, with a separate one bedroom and bathroom, a kitchen, and a living room with a sleeper sofa.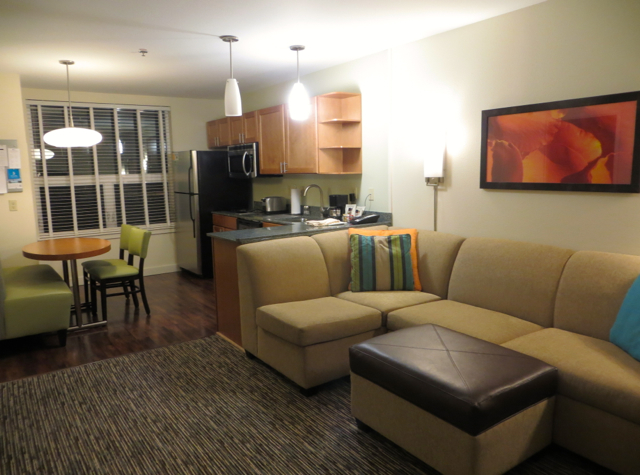 The sleeper sofa already had clean sheets on it, so I unfolded it and made it into a bed for the munchkin, who very quickly went to sleep. The separate one bedroom was convenient, as it allowed me to get a little work done without the light and computer noise disturbing the munchkin.
While we didn't have occasion to really use it over a brief one night stay, the kitchen, with a full size fridge and freezer, range top, microwave and dishes would certainly be handy for any type of extended stay.
The King size bed was perfectly comfortable, no complaints there, although it also helped that I was quite tired.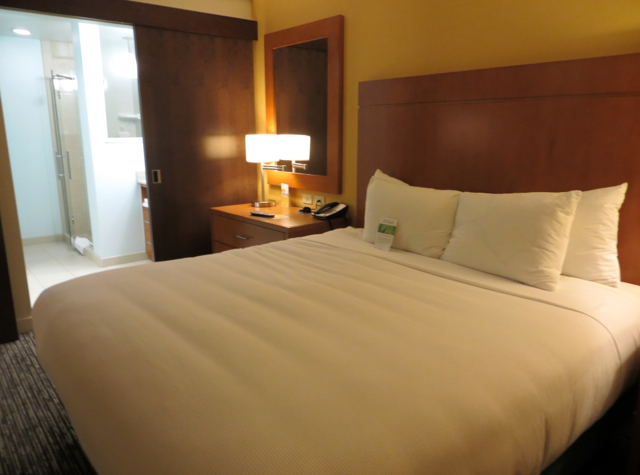 The bathroom had a single sink, a closet (a rather odd place for it, and not an ideal place given moisture from showers), a toilet and a shower. The munchkin didn't need a bath, but that would be the main downside for families with young children: no bathtub.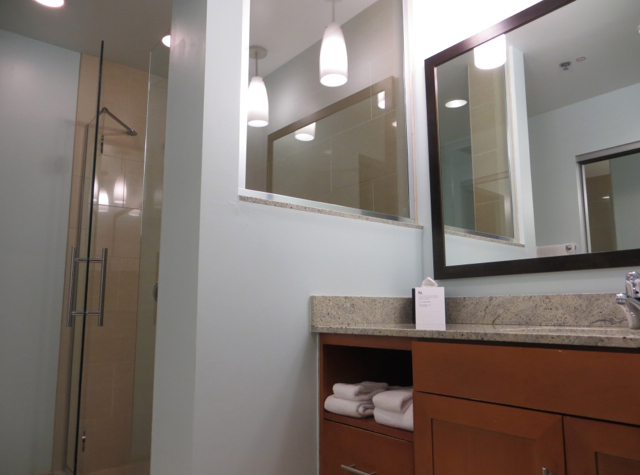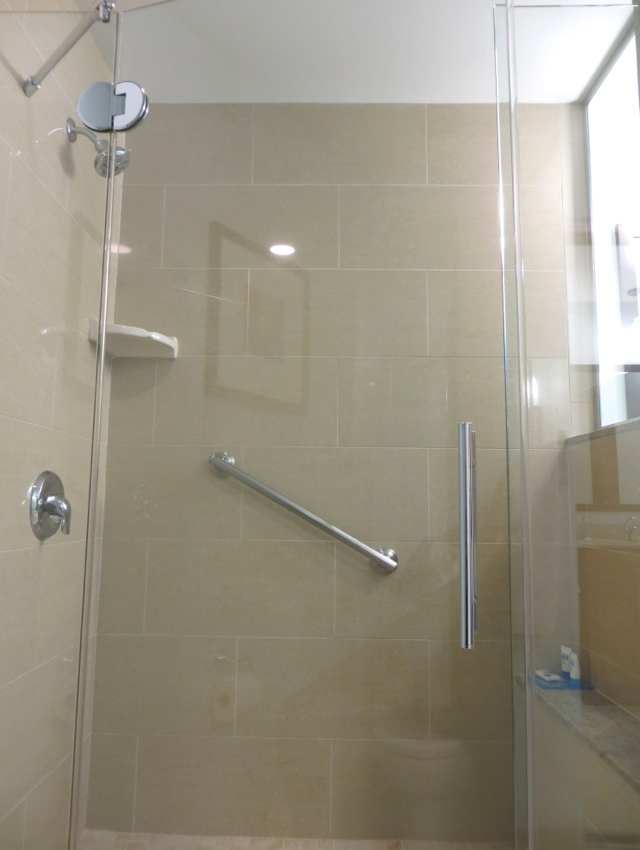 Bath amenities are "Well" and were ok (better than the awful, chemical smelling Portico bath amenities Hyatt properties used to have), although I was glad I'd brought my own Bulgari The Vert (Green Tea) amenities from the Four Seasons Paris – so much nicer!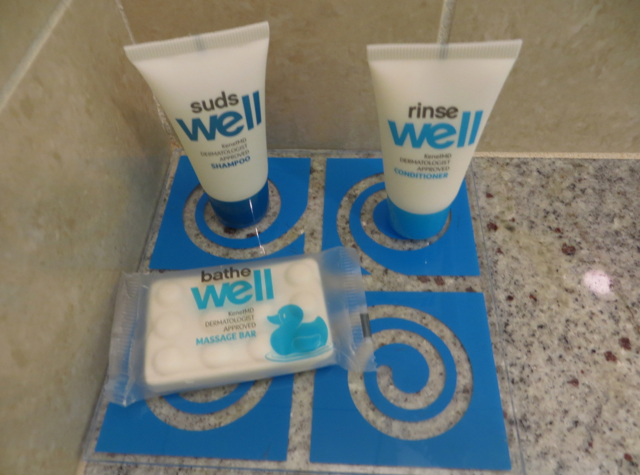 Pool
We didn't have time to use the swimmin pool, but there is a heated pool, which is a plus if you're a swimmer or are traveling with kids: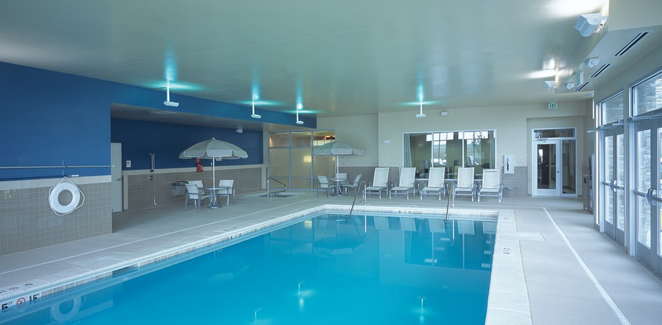 Complimentary Breakfast
A complimentary breakfast is served daily from 6am – 9:30am, to the right of the lobby: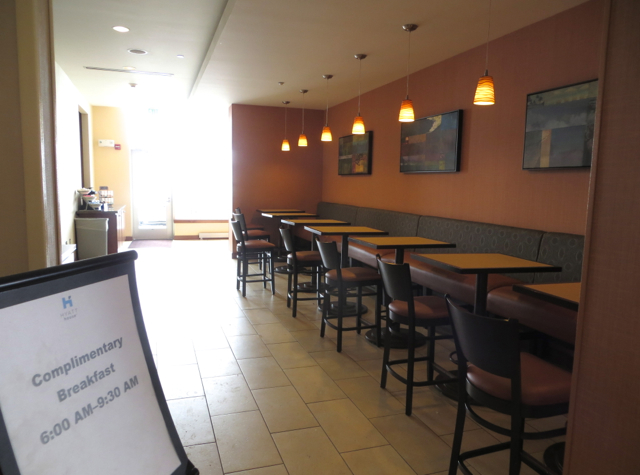 I never expect much in terms of the breakfast served at Extended Stay hotels, and usually bring my own cereal, jam, pastries, tea bags and espresso powder. I was right and wrong when it came to the Hyatt House Denver Airport. As I expected, the bread and pastries, jam and cereals were nothing special and we didn't bother with them:
And some of the fruit had clearly seen better days: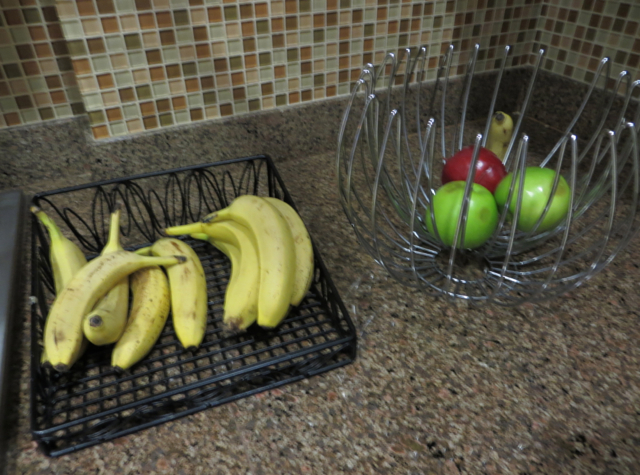 The yogurt was that pretty nasty Danone Light & Fit stuff. Not that I expected Wallaby organic yogurt, which is our favorite, but just using the available plain yogurt with honey or jam for sweetening it was a good deal better.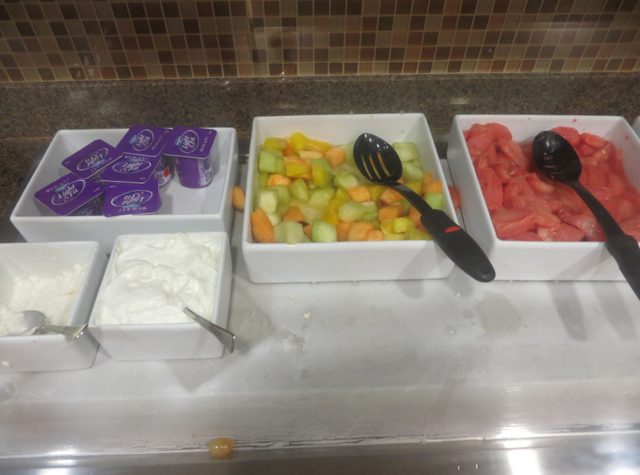 But what was impressive was the bacon, which is about as thin and perfectly crispy as I've had in most restaurants: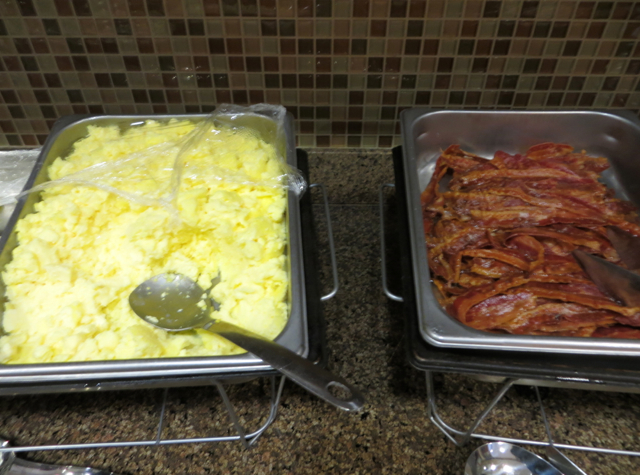 And also the omelet station. At first, I thought it was a DIY affair, but when I checked with a staff member, she cheerily offered to make omelets for the munchkin and me. I asked for a spinach, mushroom and cheese omelet, and it was excellent–much better than I expected. I tipped her, and encourage anyone else staying here and getting a made to order omelet to do the same–it was very well made.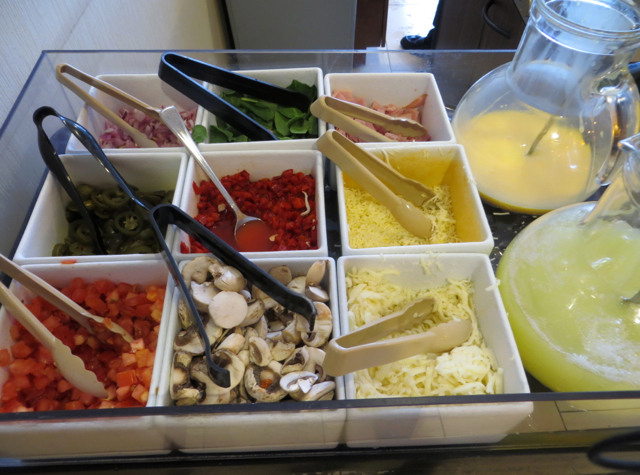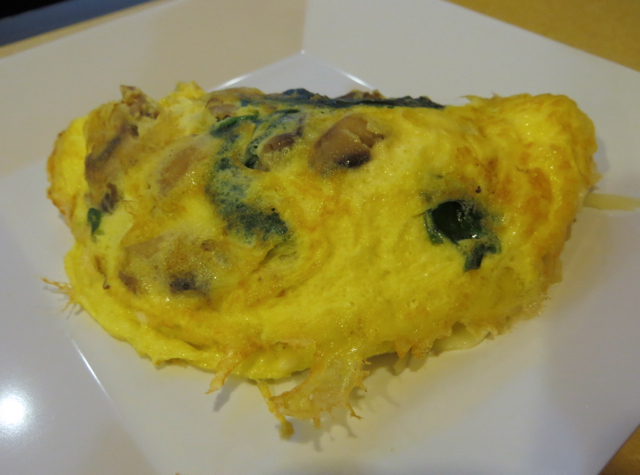 There was also a coffee and tea station, with various Tazo teas offered in addition to regular and decaf coffee.
The Verdict
I went in with low expectations, and found the Hyatt House Denver Airport a very pleasant surprise. The standard room, a Studio Suite, was immaculate and it was convenient to have a separate bedroom, while my son slept on the fold out bed in the living room. The hot complimentary breakfast, particularly the made to order omelets and bacon, was also a good deal better than I expected for a free breakfast.
My main complaint is the infrequent shuttle service from the airport. Going to the airport I didn't find it a problem because I could plan around the schedule departure times, every 45 minutes, but arriving late at night and having apparently just missed a shuttle due to some initial misinformation, that wait would have been a killer.
Disclosure: I booked my stay at the Hyatt House Denver Airport with a Cash & Points award. I wasn't actually charged the cash portion of the award; when I tried to pay for it using a Hyatt check certificate (bought last year at an effective 16.5% discount, thanks to the 10% Hyatt discount + AMEX Open savings), the associate said it was an award stay so no payment was needed. There must be some kinks Hyatt is working out with Cash & Points, because I was charged the correct Cash & Points points amoung, but not the cash portion, although of course I'm not complaining. At 4000 Hyatt points, this was a good deal and perfect for our needs that night.
If you've stayed at the Hyatt House Denver Airport, what was your experience?
Related Posts
Hyatt Follows SPG and Hilton, Adds Cash and Points Awards
Hyatt Cash and Points Awards Now Available
Best San Francisco Airport Hotels
Need Award Booking Help? Our fee is as low as $75 per ticket if you book your hotel through us.
If you enjoyed this, join 90,000+ readers: please follow TravelSort on Twitter or like us on Facebook to be alerted to new posts.
Become a TravelSort Client and Book 5-Star Hotels with Virtuoso or Four Seasons Preferred Partner Amenities!