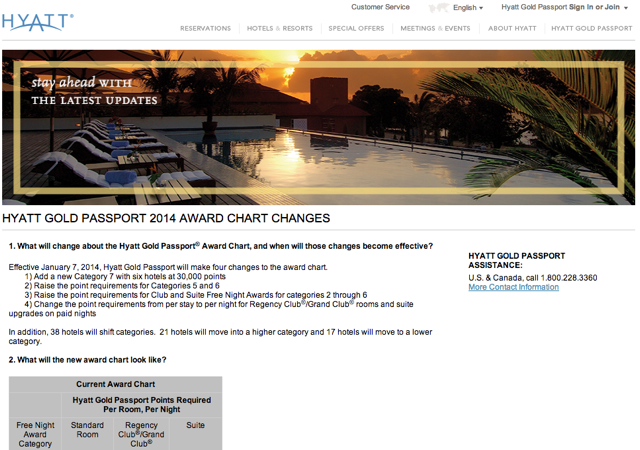 The Hyatt Gold Passport devaluation has been announced, to be effective January 7, 2014, and as expected, the worst change is adding a new Category 7 that these Park Hyatts move into:
Park Hyatts increasing from Category 6 to new Category 7 (30K points per Award Night)
Park Hyatt Beaver Creek
Park Hyatt Milan
Park Hyatt Sydney
Park Hyatt Tokyo
Park Hyatt Zurich
Also keep in mind that the new Park Hyatt New York, when it opens in mid-2014, will be a Category 7 property.
What's most surprising is that the
Park Hyatt Maldives
, where I stayed with my family earlier this year, remains a Category 6 property. Perhaps due to its location and the costs to
transfer to the Park Hyatt Maldives
it somewhat limits the award nights redeemed, compared to the other Park Hyatts now in Category 7, and of course once at the Park Hyatt Maldives there you are a captive audience for incremental food and beverage and activity spend. Apart from Beaver Creek, the other Park Hyatts now in Category 7 are all in major business centers, with more limited ability to generate incremental spend from award guests.
New Award Chart: Most Award Price Increases at High End Hyatts, Club Rooms and Suites
Award Nights are also becoming more expensive, especially Regency Club and Grand Club Rooms and Suites. Here's the current award chart: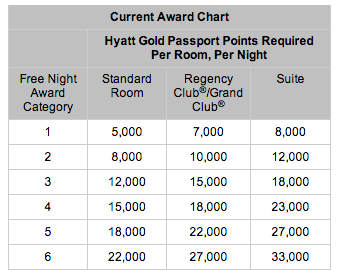 And here's the new Hyatt award chart, effective January 7, 2014: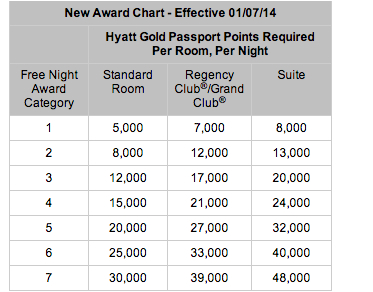 27 Hyatt Hotels Are Moving to a Higher Category
While there are a few Hyatts that are moving to a lower category, only two, the Hyatt Capital Gate in Abu Dhabi and the Hyatt Regency Changbaishan, are moving from a Category 5 to a Category 4. Just a guess, but somehow I don't think many of my readers will be redeeming their annual free night from the Hyatt Visa at either of these new category 4 hotels.
On the other hand, 27 Hyatt properties are moving to a higher category, including these 4 that used to be a Category 4 and will now be Category 5 hotels, making them ineligible for the free night certificate:
Andaz West Hollywood (Increases from Category 4 to Category 5)
Hyatt Chicago Magnificent Mile (Increases from Category 4 to Category 5)
Hyatt Place New York Midtown South
Park Hyatt Melbourne
Here is the full list of Hyatt hotels moving to a higher category: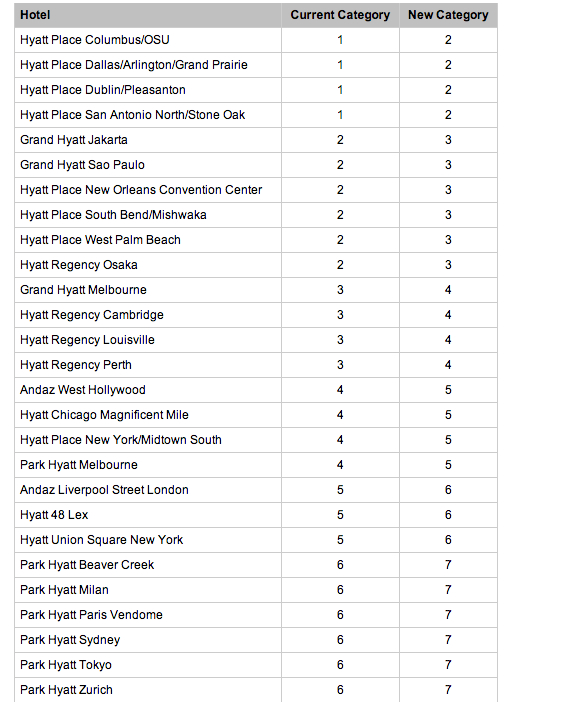 Standard Room Awards for Low End Hyatts Don't Change
Category 1-4 standard room award redemptions don't change at all. And even Category 5-6 standard room award redemption increases are modest: 11% increase for Category 5 room awards, and 14% increase for Category 6 room awards
Biggest Devaluation: Category 7 Suite Awards
The biggest increase is for a category 7 suite, since these Park Hyatt hotels used to be in Category 6 with a 33,000 points per night suite award price (min. 3 nights) and this now increases to 48,000 points per night (46% increase).
Upgrades on Paid Stays are Now Per Night
One of the great deals for those staying multiple nights was using 3000 Hyatt Gold Passport points for an upgrade to a Regency or Grand Club room for a stay of up to 4 nights, or 6000 Hyatt points for an upgrade to a suite. Mind you, this was only able to be used in conjunction with a Hyatt Daily Rate (not any promotional rates) but it was still often a good deal. These will now be priced per night, so if you're staying 3 nights in a suite, that will be 18,000 points used with the Hyatt Daily Rate, not 6000 points.
Good News? Advance Notice and a Window to Make Changes
The good news is that there are almost 2 months until the new award chart takes effect on January 7, 2014, and that any free night reservations made before January 7, 2014 can be changed through February 15, 2014 at the old award chart point levels. Any changes made after February 15 will be subject to the new award chart levels.
For example:
If you made an award reservation in December 2013 at the Park Hyatt Paris for June 2014 for 2 nights and on February 1, 2014 wanted to add 2 more nights, you could do this assuming there was availability for the standard night or suite night awards you wanted to book
If, however, on February 16, 2014 you wanted to add 2 more nights you would need to redeem at the new award chart levels of 30,000 points per standard room award, or 48,000 points per suite award (minimum 3 nights).
The Verdict:
It was only expected that sooner or later Hyatt would devalue, given the other hotel program devaluations we've seen, such as the
Starwood Cash & Points Devaluation
,
Hilton HHonors Massive Devaluation
, and Marriott Rewards. This was about in line with what I expected for standard room awards, including the new Category 7, although I didn't expect suite awards to increase so much.
The Hyatt devaluation also further devalues Ultimate Rewards points, which already went down in value with the
United Devaluation
, at least if you tend to save up Hyatt points for more aspirational redemptions. That said, having been unimpressed with the Park Hyatt Paris, in my view the best value award, the Park Hyatt Maldives, which remains a Category 6 property, becomes an even better value in comparative terms. It also makes the 2 free nights at any Hyatt from the Hyatt Visa that much more valuable to use at one of the Category 7 Hyatts in terms of the Hyatt points opportunity cost.
While even the existing Hyatt Category 4 properties weren't interesting to me, for those that used to redeem their annual free night certificate at one of the Category 4 Hyatts that are moving up to Category 5, it makes it less compelling to keep the Hyatt Visa past the first year, unless they stay in enough Hyatts to value Platinum status and don't already have it.
What do you think of the Hyatt Gold Passport Devaluation?
Related Posts