I recently received a notice that my (paltry number of) United MileagePlus miles would expire in February 2012 without any activity (of course the notice was one of those trying to get you to use your miles on a magazine subscription) so Ben's post on simply transferring MileagePlus miles to Continental OnePass was very timely.
As Ben points out, Continental OnePass miles currently don't have an expiration, but they next year, in Q1 2012, Continental will adopt United's 18 month expiration (if there's no account activity) as part of the merger. Even with that changeover, it's nice to be getting almost 2 years before worrying about expiring miles again. Who knows? I may even fly the new United by then 🙂
It took a little hunting on the site for me to find the transfer page though, so I thought I'd provide a few screen shots to make it easier for any of you who haven't already linked your MileagePlus and OnePass accounts or transferred miles between the two.
1. Go to the Transfer Miles page, and scroll down to "Transfer miles between MileagePlus and OnePass"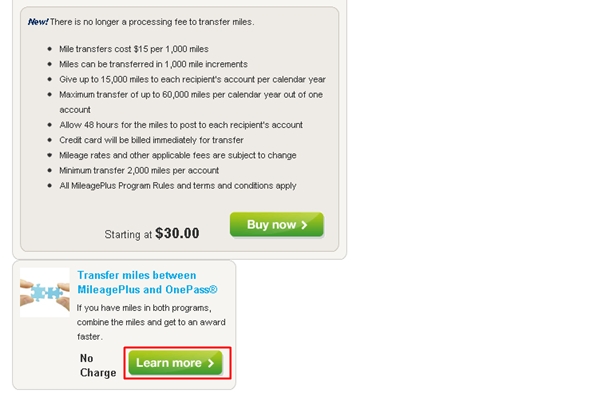 2. Login, using your MileagePlus account: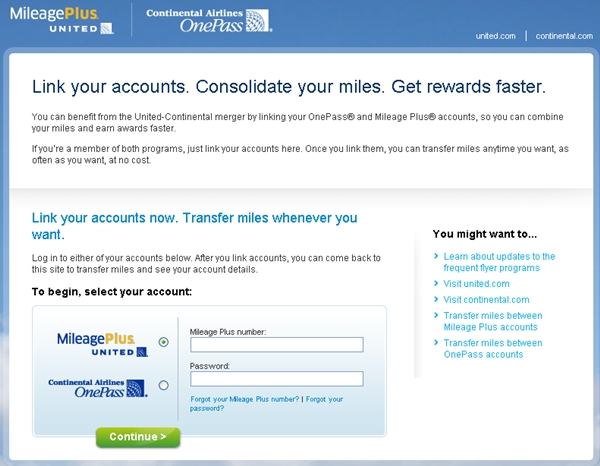 3. You'll be able to review your account info for both MileagePlus and Continental OnePass, then prompted to agree link the accounts. Click the green "Accept" button: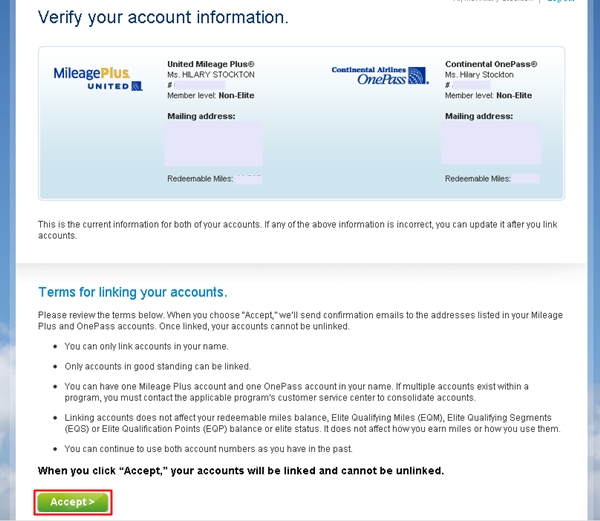 4. You'll then be able to enter the number of miles you want to transfer: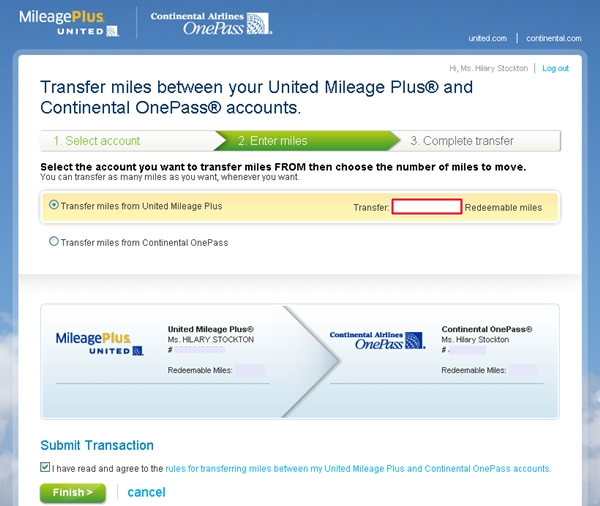 5. You'll then see a confirmation screen of the tranfer and the updated account balances, and you should receive confirmation emails as well.
While there are of course other ways to keep your account active, I was just as happy to not transfer Ultimate Rewards points into my MileagePlus account or have to scout for a halfway decent restaurant in MileagePlus Dining, to say nothing of subscribing to a magazine I don't want or need.
If you're ready to search for an award using your MileagePlus or Continental OnePass miles, check out How to Find Star Alliance Award Space
If you enjoyed this, please follow TravelSort on Twitter, like us on Facebook or become a Member to be alerted to new posts.