The old United Web site is better for award searches than the new United.com site. Why? Because it's easier to search for award flights for specific routes, by specifying nonstop flights and seeing which days have business class available. See New United Site: Sleeker But Less Functional for Award Search
The new United.com site may look sleeker, but it also is incredibly frustrating for anyone trying to maximize the value of their United miles, as I do for my Award Booking clients. That's because the calendar ignores your request to see only nonstop options and instead shows ALL flights, including ones with stops, which you don't want to see. Effectively, you then have to go day by day to see if there's any saver award space for the nonstop flight you want. Painfully slow, which is no doubt what United wants, in its effort to prevent MileagePlus members from redeeming for the most valuable awards.
Fortunately, there's still a way to see the old United.com–at least, it works for me as of October 25, 2015, so I assume it can work for others.
Go to a browser you rarely use. In my case, I usually use Google Chrome, so I pulled up Safari.
In Safari, go to Safari and select "Private Browsing"
While in "Private Browsing," go to UAL.com
That enables me to get the old United.com site, which is so much better for seeing actual award availability for given non-stop flights. Here are three examples:
1. Los Angeles to Istanbul in Turkish Business Class
There's still very good Turkish Airlines Business Class award availability in May and June for four people. And of course this can be valuable even if you have no desire to spend your vacation in Turkey, since Turkish Airlines connects to so many destinations in Europe and beyond.
Nor do you need to use United miles; the least expensive option is to book with Aeroplan miles (which is a transfer partner of AMEX Membership Rewards), also with no fuel surcharges.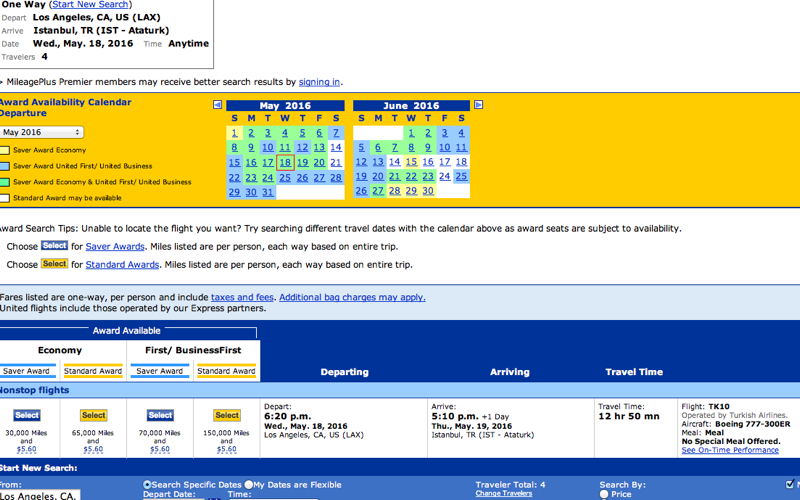 The old United.com Web site also makes it easy to see that there's good Asiana First Class or Business Class on the A380 for all of April and early May, for two people, at the saver award level. While 120,000 United miles per person is pricey, considering that AAdvantage charges almost half that each way to Korea / Japan, 62,500 miles per person each way, you could use fewer Avianca LifeMiles, which charges 90,000 miles each way.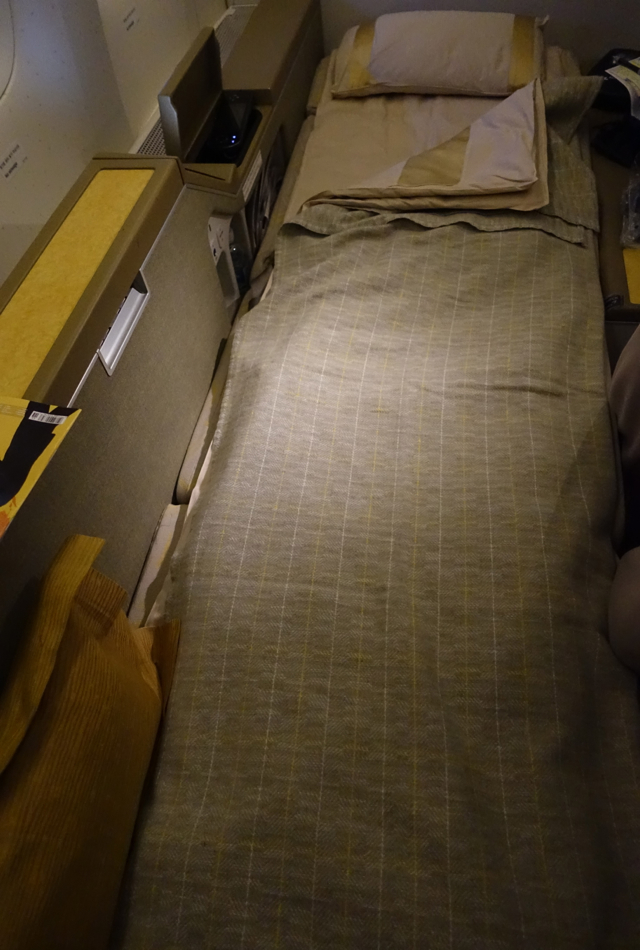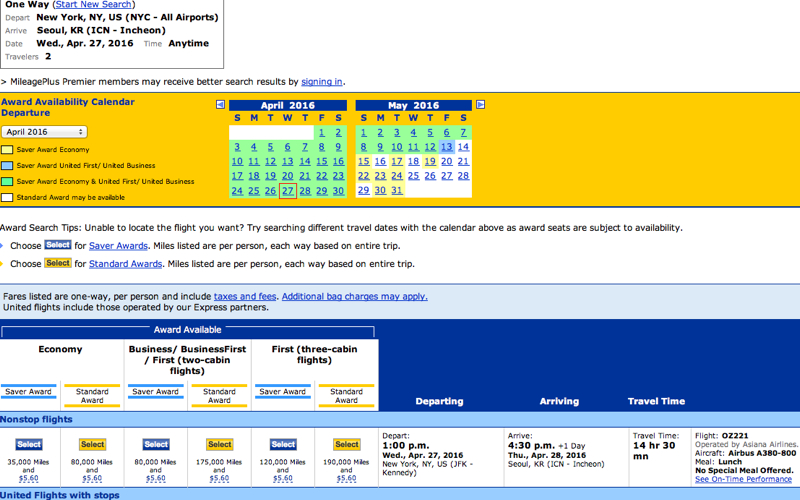 If you have a choice between SWISS Business Class or Lufthansa Business Class to Europe, I recommend SWISS Business Class, particularly if you're a solo traveler. Lufthansa's New Business Class, strangely for such a relatively new business class product, pairs its business class seats together, instead of the staggered seating, all with direct aisle access, that you'll find in SWISS.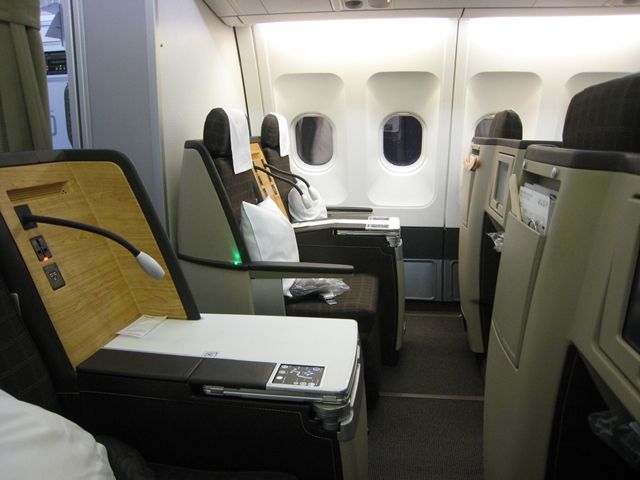 It can be challenging finding SWISS Business Class award availability from Los Angeles LAX (unless, say, you're booking for 1 person at the last minute–for example this flight leaving in about 1 hour):
But there does tend to be better SWISS Business Class award space to Zurich from Boston, even for two people next summer, as easily seen with the old United.com site:
Now, I wasn't able to pull up the old United.com Web site in my heavily used Chrome browser, even after clearing browsing history and opening an Incognito window, but hopefully at least some readers will have the same experience I have in being able to use Safari in private browsing mode to still see the old United.com Web site and plan Spring or Summer 2016 travel.
Are you still using the old United.com to view Star Alliance award space?
Related Posts