Link: Please see Best Travel Credit Cards for the current best offer.
Ever since the British Airways Chase Signature Visa card has been introduced in the US market, they have offered a pretty unique benefit (in addition to some very nice sign-up bonuses!). If you spend $30,000 on the card in a year, you earn an award ticket companion certificate valid for two years from the date of issue.
The companion certificate can be redeemed for award tickets on British Airways flights (not any of their OneWorld partner airlines), and with it the second passenger doesn't have to pay the mileage component of the ticket. The second passenger does, however, still have to pay the taxes and fuel surcharges, which can be quite substantial. While US airlines mostly only charge taxes on award tickets, British Airways charges the fuel surcharge component of the revenue ticket cost, which can easily be over $500 for a roundtrip ticket to Europe.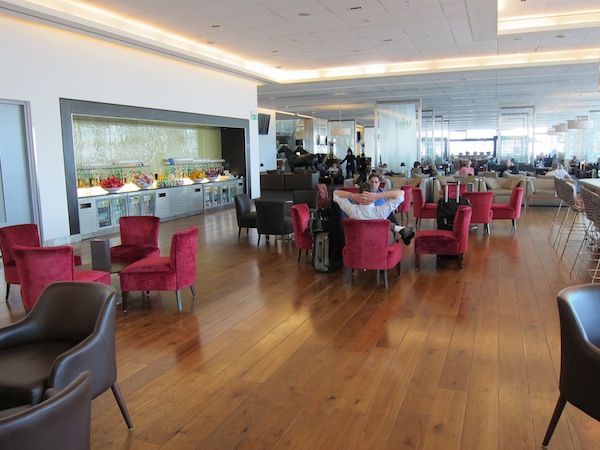 So up until now I've advised most people to use their British Airways miles for travel on their partner airlines since that allows one to take advantage of the "one partner award chart," which prices the cheapest. I outlined some of the best Premium Cabin Award Redemptions, such as 80,000 miles for business class to South America on LAN with multiple stopovers, or 100,000 miles for business class to Asia on Cathay Pacific with a stopover in Hong Kong in addition to the destination. I've made this suggestion not only because the number of miles required on partner airlines is often lower, but also because the fuel surcharges are much lower through these airlines than when traveling on British Airways.
What's changing, however, is that starting November 16 British Airways will be rebranding its Executive Club loyalty program and also introducing substantive changes.
Update: See British Airways Avios Best Deals for some of the top redemptions with the new Avios award chart. Unfortunately they haven't actually published the new award chart entirely, though the implications are that all awards will be priced based on the distance of the itinerary, with no distinction made based on whether travel is on British Airways or one of their partner airlines. Essentially this means that the award chart for members in the US will be severely devalued, since it was previously favorable to those in the US due to the competition's pricing. I suspect we'll see at least a 50% increase in price to what I previously considered to be the best redemptions.
With that in mind, redeeming miles for travel on British Airways using the companion certificate is once again much more lucrative. While you do pay the fuel surcharges, you'll only be paying half the number of miles, which will likely turn out to be a better deal, at least if you're booking business or first class seats It's most likely not worth getting or using the companion certificate for coach class travel.
With that in mind, here are some tips for maximizing the value of your British Airways miles for travel on British Airways:
Understand the New Distance Based Award Chart
As of now British Airways' award chart for travel on their own flights is region based. For example, a business class award from the US to Europe zone 1 costs 100,000 miles, while a business class award from the US to Europe zone 2 costs 120,000 miles. The thing is, for some countries, the zones really aren't that different. For example, Germany belongs to Europe zone 1, while Austria belongs to Europe zone 2, even though the countries border each other and you can drive between Munich and Salzburg in a couple of hours.
Their new award chart (only the award chart from the UK has been released so far), on the other hand, will be distance based, so it's advantageous to keep your actual travel distance as short as possible. Previously British Airways charged 150,000 miles for first class from the US to Europe zone 1, regardless of which part of the US you're originating in. So being the maximizer that I am, I would have flown out to Los Angeles or San Francisco to start my trip, so that I'd have more actual flying time in first class, as opposed to starting in New York, for example.
That's changing, however, now that the award chart will be distance based. While they haven't published the award chart, they have given a few examples of the new pricing. New York to London roundtrip in first class will now cost 120,000 miles (a cost reduction of 30,000 miles), while business class from New York to London will now cost 80,000 miles (a cost reduction of 20,000 miles). On the other hand, West Coast cities such as LAX and SFO to London will be 150,000 in first class and 100K in business class, plus taxes and fees.
So not only does this mean you should start as far East in the U.S. as possible, but also minimize the distance you fly within Europe if you're connecting. Yes, Athens and Istanbul sound great, though you'll likely be paying a big premium for it given how far they are from London. When redeeming British Airways miles I would now recommend taking connecting flights out of London that are to destinations as close as possible. Europe has so much diversity, even among bordering countries, that I doubt that should be an issue.
Given that the award chart will be distance based, chances are that it won't make sense to use British Airways miles for travel to Asia, South Africa or Australia on their own flights, since you'd have to connect through Europe and pay astronomical fuel surcharges, so even with the companion certificate you'll still be paying a killing. If you wanted to travel to Australia or Asia you're probably still best off traveling on a partner airline like Cathay Pacific or Qantas on a more direct flight, even without the companion certificate.
Understanding Stopovers

In theory British Airways allows unlimited stopovers on award tickets, meaning you can stop at any city you're connecting at for as long as you'd like within the ticket validity period. In practice if you're using the British Airways companion certificate you need to stick to British Airways flights, meaning the only practical place to have a stopover would be in London. So while you could have more stopovers if you flew various airlines, that would mean you couldn't use the companion certificate.
You can, however, use the companion certificate for an open jaw ticket, which would probably be the best way to maximize an award if you're trying to visit as many destinations as possible. This means you could have a stopover and an open jaw, which is flying into one city and out of another. For example, you could fly New York to London, have a stopover, then fly from London to Frankfurt, and then fly from Munich back to New York via London. This allows you visit an extra city while only having to arrange transport in one direction. Currently, using the Zone award chart, you'd have to open jaw out of the same zone for the return flight; however, since the new award chart won't have zones, I suspect there will be more options for open jaws outside of the traditional zones.
Minimizing Fuel Surcharges
Fuel surcharges are levied based on the duration of your segment. Ultimately the fuel surcharges vary based on market so it's very tough to break down specifically, though typically there's a long-haul fuel surcharge (9+ hours), medium-haul fuel surcharge (6+ hours), and then a short-haul fuel surcharge. So this isn't something you really have to micro-manage, though just understand that flying from Los Angeles to Cape Town via London both ways will translate into some serious fuel surcharges.
Minimizing the UK Departure Tax

Booking tickets through British Airways can be a double whammy of sorts. Not only do they impose fuel surcharges on award tickets, but their hub is in London, which has the highest airport/airline taxes of anywhere in the world. Specifically, the UK charges a departure tax which is tacked on to the cost of your ticket, which varies based on where you're flying to and what cabin you're in.
It's a departure tax, which means it's charged based on where you're flying from the UK, so where you arrive from is irrelevant. Furthermore, the tax is only charged if you're originating in the UK for more than 24 hours, meaning if you're just connecting in London you're not charged the tax. If, however, you have a stopover in the UK of more than 24 hours, you would be charged the tax for your outbound sector.
The taxes are as follows, and based on the distance between London and the capital city of the country you're flying to:
0-2,000 miles: £12 for economy or £24 for premium
2,000-4,000 miles: £60 for economy or £120 for premium
4,000-6,000 miles: £75 for economy or £150 for premium
6,000+ miles: £85 for economy or £170 for premium
So let's put this in terms of an example. If you're flying from New York to Vienna via London both ways in business class on British Airways without a stopover, the taxes/fees would be $754.42.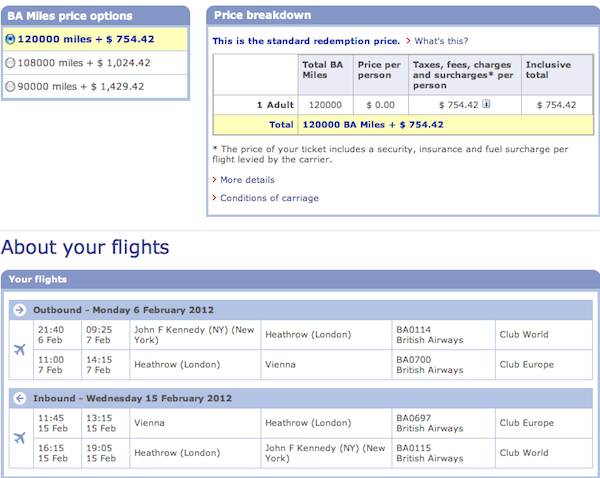 If you instead have the stopover in London on the way out, the taxes/fees would be $800.56, accounting for the shorthaul premium departure tax of £24 (since the stopover is before your flight from London to Vienna).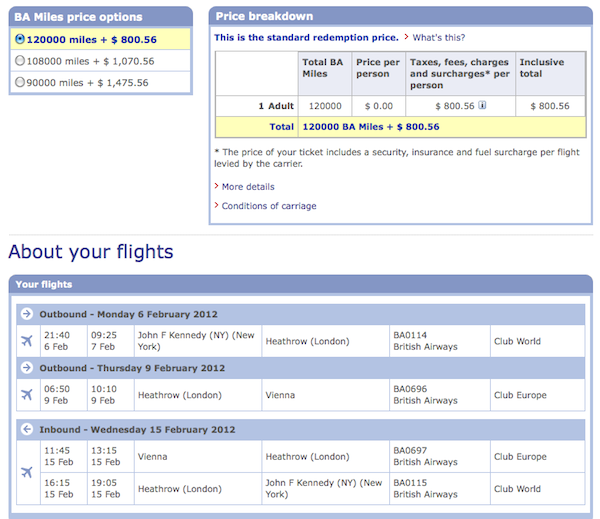 If you instead have the stopover in London on the way back, the taxes/fees would be $914.63, accounting for the longhaul premium departure tax of £120 (since the stopover is before your flight from London to New York).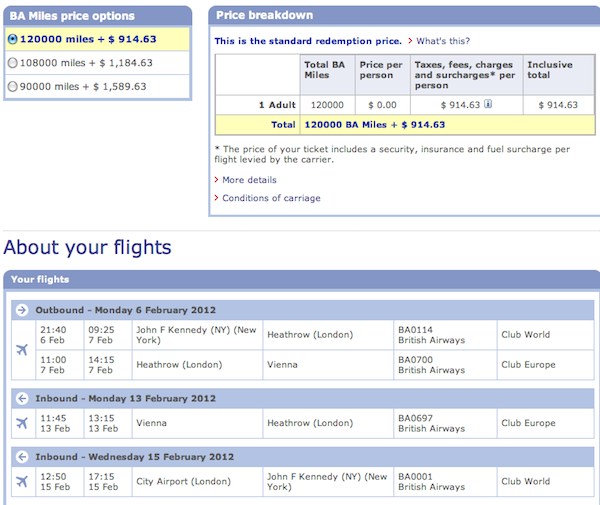 So what you should take away from the departure tax is twofold:
If you want to have a stopover in London on a British Airways award, ideally do so before your shorter segment. That means if you're flying from the US to Europe with a stopover in London, stop there on the way out and not the way back.
The tax is a departure tax, so if you use an open jaw to return out of somewhere other than London, you're avoiding it entirely. That means if you fly into London and return back to the US out of Germany, for example, you wouldn't be responsible for the UK departure tax.
Minimize the Cost of the British Airways Avios Points Used for Your Award
The other aspect we should mention is getting BA Miles cheaply. You may need additional BA Miles in your account to redeem for your award ticket, say because you're biting the bullet on taxes and redeeming for an expensive award ticket to Asia or South Africa, or because, as with Hilary, you've used up your BA Visa bonuses on a Cathay or LAN award before the Nov. 16 changes.
If this is the case, then be on the lookout for AMEX Membership Reward transfer bonuses. Earlier this year, there was a 50% bonus for transfers of AMEX Membership Rewards points to British Airways, so this is a good way to get your award tickets for less if you need more points. If you don't yet have the Chase Sapphire Preferred credit card, that's another way of picking up 50,000 Ultimate Rewards points that then transfer 1:1 to British Airways. If you have a travel partner who also applies, that's 100,000 British Airways Miles, er, Avios points for your Household Account.
So while the taxes and fees on British Airways tickets are high, I still think there are some great redemptions to be had. For example, 90,000 miles for business class from New York to London with a companion certificate means you're essentially paying 40,000 miles per passenger, plus maybe $800 in taxes. Compared to 100,000 miles per passenger plus $250 in taxes in another program, I'd say that's a great deal.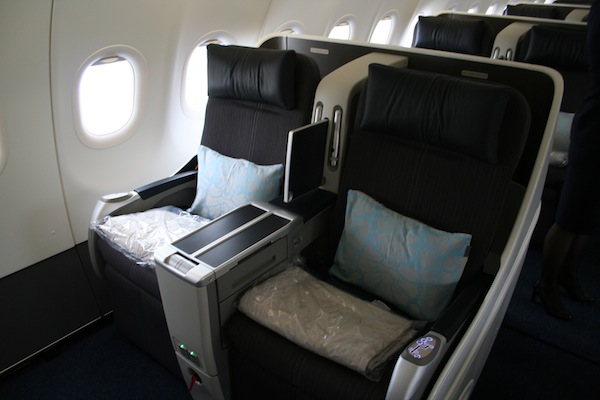 Here are a few more examples that compare the current chart to the new one, which will go into effect on November 16, 2011. As you can see, the long-haul flights from the UK to Asia and South Africa remain the same in terms of miles/taxes; we don't know yet what the U.S. chart will look like.
| | | |
| --- | --- | --- |
| Route | Old Award + Fees | New Award + Fees |
| NYC – London, Biz Class | 100K miles + $826.59 | 80K miles + $826.59 |
| NYC – London, First Class | 150K miles + $826.59 | 120K points + $826.59 |
| SF – London, Biz Class | 100K miles + $902.59 | 100K miles + $902.59 |
| SF – London, First Class | 150K miles + $902.59 | 150K miles + $902.59 |
| London– Maldives, Biz Class | 100K miles + $735.23 | 100K miles + $735.23 |
| London – Cape Town, Biz Class | 100K miles + $970.00 | 100K miles + $970.00 |
| London – Delhi, First Class | 150K miles + $694.19 | 150K miles + $694.19 |
Related Posts
British Airways New First Class 777 Review
British Airways Galleries Lounge New York JFK Review
British Airways Avios Best Deals
Need Award Booking Help? Our fee is as low as $75 per ticket if you book your hotel through us.
If you enjoyed this, join 100,000+ readers: please follow TravelSort on Twitter or  like us on Facebook to be alerted to new posts. 
Become a TravelSort Client and Book 5-Star Hotels with Virtuoso or Four Seasons Preferred Partner Amenities!