Hawaiian Airlines announced it will be flying daily between Honolulu and New York JFK starting June 4, 2012, on Airbus 330 aircraft. Flights from NYC to Honolulu will depart 10am Eastern and arrive at 3pm Pacific time, while flights from Honolulu to NYC will depart at 3:05pm Pacific time and arrive the next day at 6:55am Eastern.
It's great that Hawaiian is launching this flight, to bring some competition to the market, since the only nonstop flight out of NYC to Honolulu currently is Continental's flight from Newark. This was the flight I recently booked for my husband for our trip there next year, but availability is very tough; I had to book a return flight with a stopover in SFO (luckily we wanted to stop over there anyway) and a transcon return on United Premium Service with a lie-flat seat. See my post How to Book a Business Class Award Ticket to Hawaii. If you're interested in additional options for getting to Hawaii, see Ben's post Tips for Booking Award Flights to Hawaii.
Hawaiian Airlines is running a promotion for June 2012, although unfortunately the cheapest seats, which were $445 roundtrip, are all taken.
Frankly though, you really want to avoid being in an economy seat for an 11 hour flight. Even Hawaiian's first class seats aren't as good as Continental's, which offer much more recline, but there's at least more leg room and width, and if you need a nonstop between NYC-HNL there's bound to be a lot more availability for it than for Continental's EWR-HNL Business-First product.
While the food is never a deciding factor for me, it looks like it may be a bit better than on Continental–this passenger's recent flight had sea bass in black bean sauce, rack of lamb and shrimp:
Here's how to search for availability and book a Hawaiian Airlines flight using American AAdvantage Miles:
1. First, let's look at the American AAdvantage award chart. As you can see, an offpeak award to Hawaii would run you 17,500 each way, or 35,000 AAdvantage miles roundtrip, while a peak award (March 9-August 21 and December 16-January 11) would cost 45,000 AAdvantage miles. A first class seat costs 75,000 miles regardless of the time of year booked; as long as you can see availability on Hawaiian for miles, you should be able to book it through AA.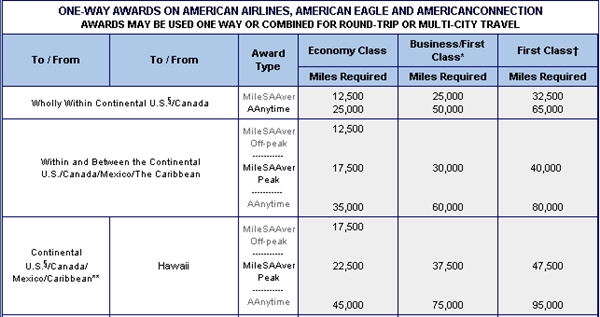 2. Now it's time to check availability on Hawaiian. Go to Hawaiian Airlines and either login using your HawaiianMiles member number, or sign up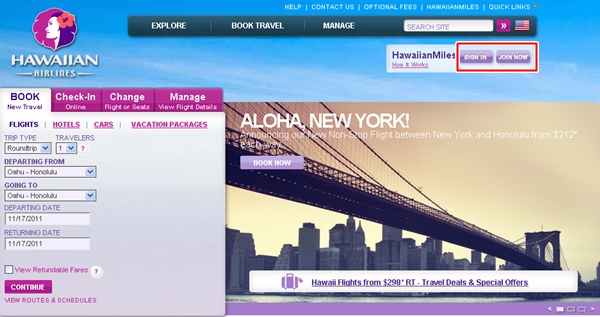 3. Go to "Book Travel" at the top of the site, and from the dropdown select "Find a Flight"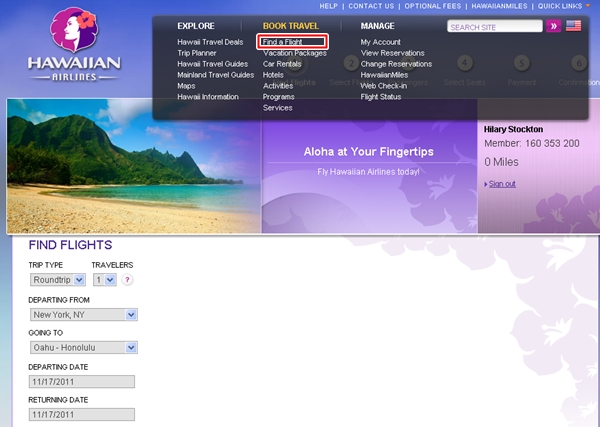 4. Fill in your desired departure and return dates (make sure your dates are after June 4, 2012, as that's when Hawaiian launches its New York service). Don't worry that it's not specifically an "award" search–you'll have the option to see required miles when you view the results
5. When the site returns the results, you'll see a "Miles" option to the right. Click there to view the miles required, instead of cost. If you want to book an economy award, look for days where it would cost 20,000 HawaiianMiles each way, as these are the Saver awards.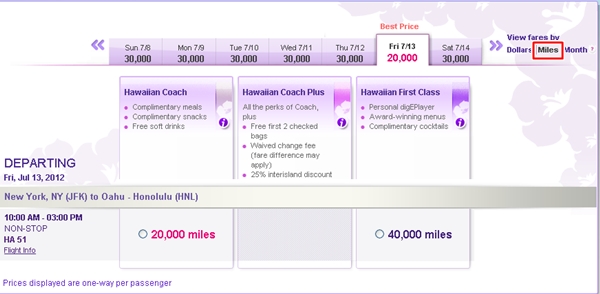 6. After finding availability, you'll need to call American Airlines at 800-882-8880 to book the award, since you can't book partner awards online. There is a $25 phone ticket fee, and only AAdvantage Executive Platinum members are exempt; see Airline Award Ticketing Fees and How to Avoid Them.
My own take is that I'm still glad I booked my husband on his current set of flights–much more comfortable outbound journey on Continental and return in Business HNL-SFO and lie-flat on United's Premium Service SFO-NYC. But this was only possible because I was booking just his flight this way, and my son and I are flying separately. If we were trying to all go on the same flight, then no question that Hawaiian will have greater availability for dates, and a better chance of grabbing at least for 2 seats up in first class, if not 3.
If you do decide to take advantage of this or another award to visit Hawaii, be sure to check out 10 Things You Shouldn't Miss in Honolulu, Hawaii and The Top 5-Star Honolulu Hotels.
Related posts:
Maximizing Awards Using American AAdvantage Miles
Use American AAdvantage Miles for Etihad First Class
Best American AAdvantage Miles Bonus Offers Available Now
How to Find Star Alliance Award Seats
How to Book a "Crazy" Award Routing
Need Award Booking Help? Our fee is as low as $75 per ticket if you book your hotel through us.
If you enjoyed this, join 100,000+ readers: please follow TravelSort on Twitter or like us on Facebook to be alerted to new posts.
Become a TravelSort Client and Book Your Hotel with Virtuoso or Four Seasons Preferred VIP Amenities!