Last week I posted about the value in purchasing US Airways miles for international premium cabin travel. Over the past week I've gotten several emails from people commenting what a great deal it is, but wondering how they can actually research award travel options on their own. Obviously you can call an airline directly and ask about availability, but rarely are they thorough or creative – instead they'll just read you what their computer gives them, and if that's nothing they won't put any effort into searching for more creative routings. That's why I figured I'd provide a few tips.
For the purposes of this post I'll stick to the Star Alliance (consisting of 27 airlines, including United, Lufthansa, US Airways, etc.), since they seem to be the most popular for award redemptions.
It always helps to be flexible, but once you've decided where you want to go, the first step is figuring out which airlines actually fly there. For major destinations, like London, Paris, etc., that's easy enough, since most airlines fly there. But for less popular destinations I'm not that familiar with I always check SkyScanner.com's destination page to see which airlines fly there. That gives me a good a good starting point. If I want further clarification I'll go to the airlines' websites and look at their route network to figure out from which cities they serve a certain destination.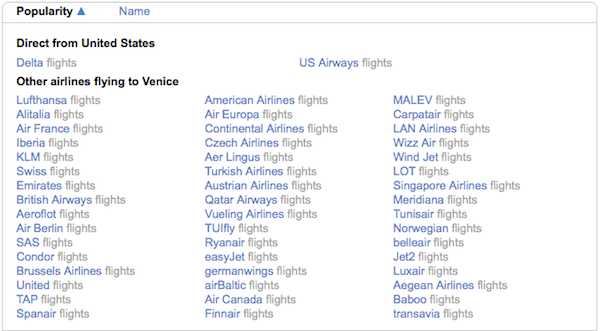 For searching Star Alliance award availability, there are generally three sites I use – continental.com, aeroplan.com, and ANA's award tool. Usually I search in that order, for reasons I'll explain below.
First I go to continental.com, click on "OnePass Frequent Flyer," then click on "Use Miles," and then click on "Start your reward flight search now." I find Continental's award search tool to be a great starting point, since they have a calendar view. This is good because it gives me a general idea of what availability is like. It's good to know right off the bat whether finding an award will require a lot of work or be relatively easy, and the Continental tool is great at telling me that.

Continental's award search is the easiest of the three to use. Once you've entered your origin and destination, look through the options they present. The website displays both saver and standard award space. The saver space shows up with a blue box, while the standard space shows up with a yellow box. You'll want to narrow your focus to saver space, since that's the space that all Star Alliance airlines should (theoretically) have access to. So as an example, say you want to travel one way from Los Angeles to Venice on June 2, 2012. Using the Continental search tool (and calendar) I see space on Lufthansa with a one-stop itinerary in business class.

If you see an option on the Continental tool, great, your search is done. Write down the flight numbers and you'll be ready to book using the technique I'll outline below.
But if you don't have luck, I suggest moving on from the Continental search page, and heading over to aeroplan.com. Aeroplan is Air Canada's frequent flyer program. They also have an online search tool, which I find slightly more cumbersome to use than Continental's, but it's also more thorough. To find it just go to aeroplan.com, click on "Use Miles," and on the dropdown click "Travel."
It has a calendar display as well, though it actually requires you to wait as it loads each individual date.
My main complaint with Aeroplan's search tool is that if you select first/business class, it will often return itineraries with one or two segments in first/business class, and the rest in coach. I'm usually fine with that, but it often returns the short flight in business class and the long flight in coach. For example, in searching for space from Los Angeles to Nice I found the below routing, which is in business class from Los Angeles to Toronto and Zurich to Nice, but in coach on the long transatlantic flight from Toronto to Zurich.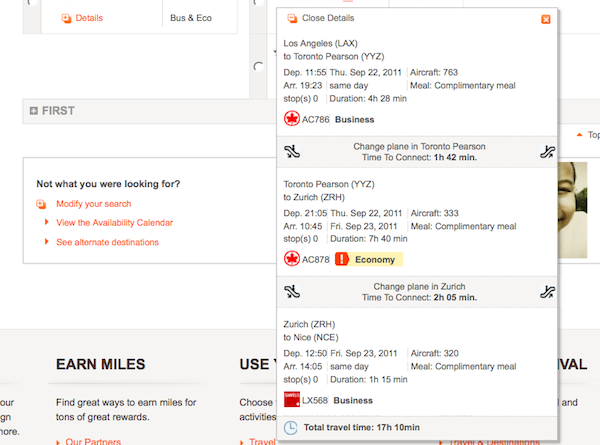 If the Aeroplan tool finds the results you're looking for, great, you're set to go.
But most of the time it's not that easy, unfortunately, unless you're booking way in advance.
If you have no success with the two search engines above, it's time to start using the ANA tool. This is All Nippon Airways' online search tool, which requires you to first be a member of their Mileage Club program. Once you're a member you can start using their tool to search for space. The tool can be accessed here.
While I typically just enter my origin and destination using the Continental or Aeroplan search tools, I search segment by segment using the ANA tool. This is because it's excellent at searching individual segments, but doesn't do a good job of searching for connections. But that's both a blessing and a curse, since it's more work but also allows me to search options that others might not consider.
For the purposes of this example, let's say we're trying to fly from Los Angeles to Venice, Italy on June 2 of 2012, similar to the example above with the Continental search tool. We found business class award space on the transatlantic flight, but let's say we want to fly first class.
After doing my research I know which Star Alliance airlines fly out of Los Angeles and which fly into Venice.
On an award ticket, generally speaking the transoceanic segment will be the one that's toughest to find award availability on. Therefore, since I'm searching segment by segment on the ANA tool, I'll first search for award space out of Los Angeles to a European gateway. The most practical options with nonstop service from Los Angeles to Europe on the Star Alliance would be to London, Zurich, Munich, or Frankfurt.
After searching all four routes I come to the realization that none have first class award space (though I see the same business class segment I found above on the Continental tool). Just so you can decipher the ANA tool, the orange box means a flight is available in that class, the "x" means that the selected cabin is not available, and a "-" means that the cabin doesn't exist on the plane (in other words, an aircraft with only coach and business class would display a "-" for first class, since the plane doesn't have a first class cabin).

The next step would be to search for award space on transatlantic segments that would get me a two-stop itinerary. In other words, itineraries where I could fly from Los Angeles to a North American gateway, from that North American gateway to a European gateway, and then from that European gateway to Venice. Possible North American gateways that come to mind are Chicago, Washington, San Francisco, Seattle, Denver, Charlotte, Philadelphia, Toronto, Calgary, Dallas, etc. Lufthansa tends to have the best availability (and among the best first class products), so let's search their flights to Frankfurt and Munich.
As I mentioned above, the toughest segment to find award space on will be the transatlantic one, so let's go through those cities in order. First searching Chicago to Frankfurt for that date, I actually see space on the nonstop Lufthansa flight in first class at 10:30PM. Score!

The next step would be to find award space from Los Angeles to Chicago. I go back to the search page and enter Los Angeles to Chicago. Sure enough the perfect flight is available, leaving me a 2.5-hour connection in Chicago before my flight to Frankfurt.

The last step is to find award space between Frankfurt and Venice on June 3. Sure enough, every flight that day has business and coach award availability (there's no first class within Europe). Given our arrival time in Frankfurt, we'll leave a 3-hour connection just in case there's a delay.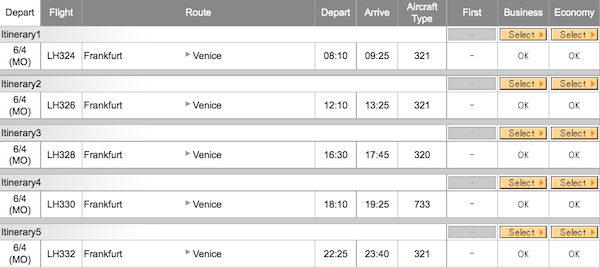 After I have all those flights just call the airline you prefer to book with to ticket the reservation. If you used the above method you're much savvier than the average traveler, so chances are the agent would be confused if you told them you found the availability on your own. Instead I suggest just telling the agent that you called earlier and the agent gave you those flights, and ask them if you can read them back the flight numbers you want. That should be the easiest way to do it, and within a few minutes you should be all set.
Related posts:
How to Use ANA to Search for Star Alliance Award Space
Best United Bonus Offers Available Now
Singapore Airlines Business Class Awards Bookable on United
How to Book a "Crazy" Award Routing
How to Find OneWorld Award Space
Need Award Booking Help? Our fee is as low as $75 per ticket if you book your hotel through us.
If you enjoyed this, join 200,000+ readers: please follow TravelSort on Twitter or like us on Facebook to be alerted to new posts.
Become a TravelSort Client and Book 5-Star Hotels with Virtuoso or Four Seasons Preferred Partner Amenities!