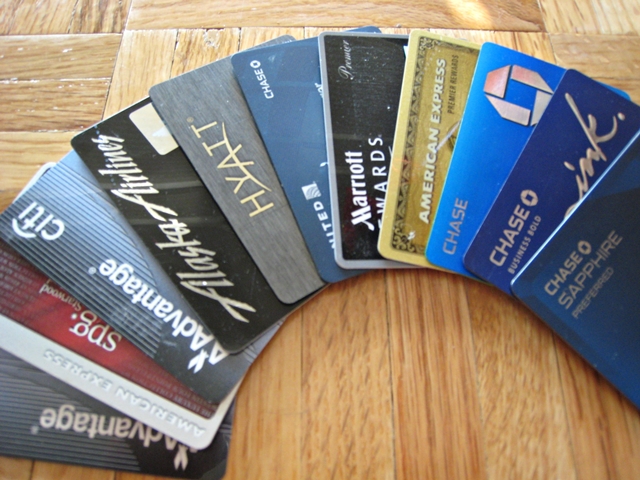 Should you keep or close credit cards after you receive the bonus? TravelSort reader Jason commented on my post Redeeming 800K Miles and Points: Why We Don't Save Our Miles "What do you do with the cards that you sign up for once you receive the bonus, in order for it not to hurt or effect your credit, not have to pay the yearly fee (if it's a first year free), and that you'll be able to sign up for the bonus once it comes back?"
This is a frequent question, and while travelers can easily differ on how they value a given rewards credit card based on their travel needs and preferences, it helps to have criteria for deciding what to do with a credit card. Here's how we evaluate our cards:
1. Credit Cards We Get Purely for the Signup Bonus
There are some signup bonuses that are just too good to pass up, such as the targeted 150K AMEX Business Platinum offer (which we took advantage of) or 100K Citi Prestige Card Bonus Offer (which we weren't targeted for but some readers have been). For us, neither of these cards are worth keeping beyond the first year, but that first year, thanks to the signup bonus, is definitely worth it.
2. Credit Cards We Keep for Category Bonuses
In this category I'd put the Ink Plus, which as I'll discuss more below, we find it worth keeping even with the annual fee for its 5X category bonuses. We also keep the Chase Freedom, a no annual fee card that is one of the few we got without caring about the bonus, but have kept both to help our average age of accounts and our credit score, and for the rotating 5X bonuses. We don't have the card yet, but I've heard some readers say they'll keep the Citi ThankYou Premier for its 3X travel bonus.
3. Credit Cards We Get for the Bonus and Keep for the Benefits, Not Spend-Related
This category is often used for hotel cards. For awhile I kept the Hyatt Visa for its annual free night in a Category 4 hotel, but I've recently cancelled the card, since there are so few Category 4 Hyatt hotels that fit with our travel plans and preferences. Similarly, I don't find the other hotel credit cards worth it for given our travel preferences for true luxury hotels, as the best luxury hotels such as Four Seasons, Aman Resorts, Peninsula Hotels and Mandarin Oriental, not to mention luxury boutique hotels, do not have a points rewards program or credit card. We'd much rather leverage all our spend into earning miles or points that transfer to frequent miles so as to be able to book Singapore Suites on the A380, JAL First Class, Emirates First Class on the A380, Qantas A380 First Class, etc.
Of course, the calculus is different for those who care less about where they stay, and just want to maximize free nights.
Don't Be Afraid of an Annual Fee if the Card is Worth It
Sometimes readers get so fixated on avoiding an annual fee at all costs that they cancel a card that would have been worth it to keep. For example, it's worth it to me to keep my Ink Plus card as my main business card, for simplicity in terms of managing recurring business expenses, including ones that earn 5X, such as my phone and internet bills. While I do sometimes add additional business card strategically, for a signup bonus or particular benefit, I don't want to have to keep changing my main business card.
Similarly, the 5X that the Ink Plus earns on office supply store spend gives us 5X on all Amazon spend and 5X on all Whole Foods spend. That value alone easily exceeds $500 per year for us, more than paying for the $95 annual fee.
How to Protect and Improve Your Credit Score
We wrote about how your FICO credit score is calculated in Understand How Your Credit Score Works to Maximize Credit Card Rewards, with payment history (whether you pay on-time or have any overdue amounts, bankruptcies, etc.) and amounts owed/credit utilization together comprising 65% of your credit score. Credit history is another 15%, so that's 80% of your credit score right there. So with your existing cards, it's important to:
Pay on-time and ensure there aren't any over-due accounts
Pay even before your bill is due, when you have large purchases that significantly increase your credit utilization. For example, if you have a major appliance purchase, pay that off immediately
Make use of your business cards for large purchases, since business cards do NOT count in terms of your credit score
Always keep and use a couple no fee cards forever, and don't close them. They'll help with your credit history, that is, your average age of accounts
Keep in mind that most banks have their own proprietary credit scoring calculation, which you aren't privy to. It uses FICO, but takes other factors into account. Nevertheless, since you can't know exactly what that algorithm is, the best you can do is make sure you know your actual FICO, and aren't using a FAKO score when tracking your creditworthiness. See
Credit Score: FICO or FAKO?
Don't Cancel Your Credit Card Right After Receiving the Bonus
I know there will be folks who disagree with me, for example those who managed to quickly churn a bunch of the Citi Executive AAdvantage cards back when there was a 100K bonus, quickly earning the bonus then canceling the card so as to avoid paying the annual fee. But I prefer not to risk getting black listed or shut down by an issuing bank, or risk having signup bonuses clawed back by canceling the card soon after earning the bonus.
Plus, speaking to the reader's question about minimizing the damage to your credit score, it's better to keep the card for close to the full year before canceling. True, the card can stay on your credit report for up to 10 years after canceling it, but by keeping it nearly the full year it will help with your average age of accounts and be less likely to raise flags with the issuer that you are simply churning cards.
Improve Your Chances of Receiving a Signup Bonus Again
Each issuers is a bit different when it comes to the rules for earning a credit card signup bonus again. Most Chase cards require that you a) Not be a current cardholder and b) not have received a signup bonus for the card within the past 2 years. Note that this is different from not having applied for the card within the past 2 years. I also do not recommend canceling a card and immediately applying for it again.
American Express signup bonuses have become once in a lifetime for personal AMEX cards, and for most AMEX business cards you're only eligible if you're not a current cardholder and have not had the card anytime within the past 12 months.
Barclays is one of the pickiest issuers, and will often deny applicants even with high credit scores if they notice you've applied for a number of new credit cards recently and/or haven't spent much on their cards after earning a bonus.
Bottom Line
We keep some of our cards and pay an annual fee on them if they earn a place in our wallet, due to their benefits exceeding the annual fee. For those that we've gotten just for the signup bonus, we still keep them until the first year anniversary before canceling, to help reduce the effect on our credit score. We also help our credit score by maintaining low credit utilization at any given time, with a combination of mostly using our business cards and paying off any large purchases right away, even before the statement closes. And in terms of earning the bonus again, just be sure to know the issuer's rules for the card you're applying for, so as to ensure you're eligible for the bonus again and not waste a hard credit pull.
Related Posts
Our 2015 Progress Towards 1 Million Frequent Flyer Miles and Points
How We Earned 1 Million Miles and Points This Year
30K Starwood Preferred Guest AMEX Bonus: Worth It?
Which Travel Credit Card to Maximize Miles Earned for American Airlines Flights?
Top 10 Best Ways to Use AMEX Membership Rewards Points
Need Award Booking Help? Our fee is as low as $75 per ticket if you book your hotel through us.
If you enjoyed this, join 200,000+ readers: please follow TravelSort on Twitter or like us on Facebook to be alerted to new posts.
Become a TravelSort Client and Book 5-Star Hotels with Virtuoso or Four Seasons Preferred Partner Amenities!