Let's face it, airlines in general aren't known for great customer service. As a matter of fact, along with the refunds department, the customer relations department is often the first to be outsourced. Nonetheless, airlines and hotels can be among the most generous when it comes to compensating customers for wrongdoings… if you know how to complain.
Here are a few tips to ensure your complaints are taken seriously (and you get properly compensated):
Know What You're Trying to Accomplish by Complaining
Not all complaints are created equal. There are some situations in which you complain solely to be compensated for a wrongdoing, even if it's not a recurring problem the airline or hotel has. For example, it's reasonable to complain about a flight that's delayed by a day due to a mechanical problem, and it's also reasonable to complain about a dirty room, downgraded room, etc. Then there are complaints more serious in nature, where your goal isn't just to (reasonably) get compensation, but instead to point out a serious problem that would remain if not addressed immediately. For example, an exceptionally rude flight attendant on an airline or front desk clerk at a hotel.
Hopefully knowing what your problem is will help you figure out what course of action to take with your complaint. If your complaint falls in the first category outlined above, I suggest emailing the company through the customer relations link on their website. If you're not happy with the response, follow up until you are. If your complaint is written within the guidelines suggested below, I can almost guarantee you'll be satisfied… eventually.
Then there are those complaints meant not just for compensation, but also to address a serious problem within the company. If the complaint is about a hotel, I suggest calling up the hotel and asking for the General Manager's contact information, be it phone number or email address. If you speak to the General Manager and aren't satisfied with the response, I suggest going through the general customer relations contact form on the hotel chain's website. Believe it or not, corporate customer relations will often be more generous than the hotel itself.
On the airline front, on the other hand, if it's a serious issue I suggest sending a letter to their world headquarters. Make it short and sweet. If the issue revolves around service by a flight attendant, ask to speak to an onboard supervisor at the airline at the domicile the flight attendant is based. If the issue revolves around service by a gate agent, ask to speak to the station manager (which is more practical at large stations than smaller stations). For all other issues, letters sent to world headquarters typically go to the "executive customer relations team," so you should be in good hands.
Stick to the Core Issue
When writing a complaint letter, strictly write about the major problem you take issue with. Anything else will only distract from your message and often be used by the airline or hotel to try and get out of the issue. For example, years ago I wrote a letter to a major airline's customer relations department about an awful flight attendant I had, and as a side note mentioned that the situation was made worse by the three hour delay, meaning I had to spend even more time with the flight attendant. At the time, their response simply addressed the fact that the delay was caused to weather, which is outside of the airline's control, so while they apologized for the delay, there was nothing they could do about it. Lesson learned, don't let any distractions get in the way of your core message!
Be Polite
When it comes to customer relations departments, you have to keep in mind that these people respond to complaint letters all day. The customer relations folks aren't your enemies, so don't treat them like they are. Remove the person you're writing to from the problem. In other words, don't say "and then you lost my bag." Make the airline the subject, and not the person you happen to be corresponding with.
Be Persistent
While it's important to be polite, don't be a pushover. Some airlines have a pretty frustrating set-up when it comes to their online customer relations forms. They'll respond to your request, but won't allow you to respond to their email, meaning the only way to get in touch with them is to go through the whole email form again. While it can be a bit of work, by all means go back through the form and let them know you weren't happy with their response if that's the case. As a matter of fact, if their response barely responds to the core of your problem, don't be afraid to be direct about it. Tell the person you're speaking with that they're not responding to the root of your problem, and that your interaction with them does nothing to build goodwill or fix a bad situation.
Make Your Demands Clear
Now, this is advice some might disagree with, and it really comes down to the company you're dealing with. With the exception of companies that over-generously compensate when there are problems, make your "demands" clear. Keep in mind, at least on the airline front, airlines almost never issue "compensation." They issue what they call "gestures of goodwill." So if you don't know what you want, feel free just to explain that a "gesture of goodwill" would be appropriate.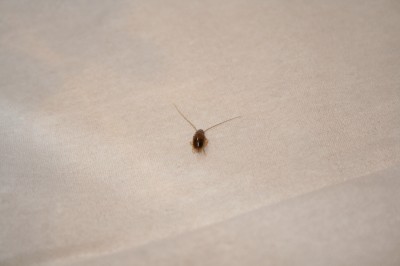 Deal With Hotel Issues During Your Stay
Oftentimes it's tough to deal with airline issues "live," since there's no one in a position of authority on a plane that can undo the circumstances, and let's face it, often the people on the plane are the root of the problem. Hotels, however, are a different story. The entire management structure is at the hotel, maybe not at the time that works best for you, but they're there. If you have any sort of an issue at a hotel, address it immediately. This gives the hotel the opportunity to not only fix what they did wrong, but also make up for it.
When I have an issue at a hotel I always immediately ask for the duty manager, or if it's a very serious problem, ask to meet with the General Manager at a time that's convenient for him/her. If you're looking for compensation in the form of a refund, it's probably only going to happen if the problem is addressed before you check-out, and if the hotel doesn't have the room you booked and tries to put you in a lower category room, contest this before you even spend the night since spending the night often constitutes acceptance of the change. The same goes if you're "walked" to a different hotel. If the hotel isn't of comparable quality (and even if it is), make sure that you've been "made whole" before you accept the move.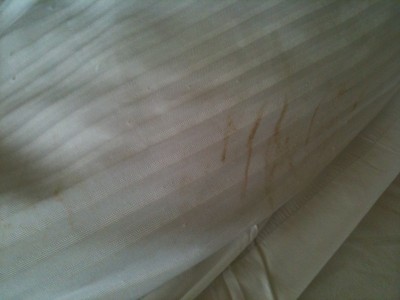 As a Diamond member at Hyatt, on more than one occassion I haven't received my preferred bed type. The nice thing is that Hyatt guarantees their Diamond members their preferred bed type, with a 5,000 point guarantee. So each time I don't get my preferred bed type, I get compensated 5,000 points automatically. That tends to ease the pain of sleeping in a double bed just a bit!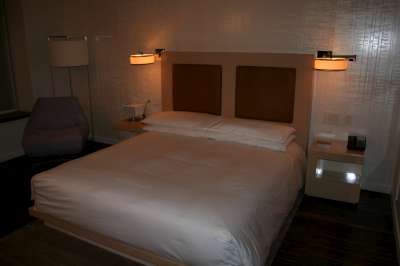 Use Twitter
Dare I say it, Twitter has become one of the most useful tools out there when it comes to giving companies feedback. Complain on Twitter by addressing the company directly, and you'll often have your concerns addressed very quickly. Twitter is a great resource for providing companies with feedback, both positive and negative. Ultimately it helps to have a lot of followers and be an active "tweeter," but when you "@" a company, it will show up in their feed for everyone to see, hence the value of "tweeting" regardless of how many followers you have. So if you're an influential Twitter user, you might just be best off pursuing Twitter before any of the other regular channels. For example, I once received a phone call from the general manager of the hotel I was staying at less than 30 minutes after "tweeting" about an issue I had at the hotel. I've had similar experiences with airlines.
If You're Creative, Go Viral!
This is most definitely a long shot, but if you're creative, there's no better way to have your complaint heard than through viral media. There are examples such as "United Breaks Guitars," the famous "Complaint Letter from 29E," or the "Virgin Atlantic Food Complaint."

When to get the Department of Transportation (DOT) Involved
Department of Transportation complaints are taken most seriously, though in fairness to the airlines, I suggest trying to deal directly with them instead of with the DOT first. Complaints that go to the DOT count against the airlines in their stats and are published, and I'm all for giving the airline the opportunity to correct things before trying to "punish" them. If you get nowhere with the airlines, and your issue is related to lost baggage, safety related issues, etc., by all means contact the DOT and get them involved.
Ask What the Person Would Do in Your Situation
Here's a tip I've found pretty useful over the years that isn't exclusive to the travel industry. While it doesn't work via email, I've found it to be very useful when talking to an agent, be it on the phone or in person. Ask them what they would do in your situation. It might sound simple, but it has worked wonders for me. Whether you're complaining about a missed connection, a schedule change, a bag the airline lost, or a number of other things, it works. A lot of times front line employees have lost the ability to empathize, and I really can't blame them, based on how many times they hear sob stories. Calmly explain your situation and pop that question, and the agent might just put themselves in your shoes.
Those are a few of my top tips! Does anyone have different tips, or any experience with the ones above? Here's to hoping for a well compensated 2011 (though ideally all your travel will be smooth and there won't be that many issues warranting compensation)!
Where to Address Your Airline Complaints to
Airline

Headquarters Address and Phone

Twitter handle

American Airlines

4333 Amon Carter Blvd
Fort Worth, TX 76155
United States
Phone: 817-963-1234
Fax: 817-967-9641

@americanair

Continental Airlines

1600 Smith
Houston, TX 77002
United States
Phone: 713-324-2950
Fax: 713-520-6329

@continental

Delta Airlines

1030 Delta Boulevard
Atlanta, Georgia 30320-6001
United States
Phone: 404-715-2600
Fax: 404-715-1400

@delta

United Airlines

77 West Wacker Drive
Chicago, IL 60601
United States
Phone: 312-997-8000
Fax: 847-700-4081

@unitedairlines

US Airways

111 West Rio Salado Parkway
Tempe, AZ 85281
United States
Phone: 480-693-0800
Fax: 602-997-9875

@usairways
Related Posts
Airline Passenger Bill of Rights – What Are Flyers' Rights for Delays, Cancellations and Reroutings?
How to Complain to Airlines and Get Compensated
Which Travel Rewards Credit Card to Redeem on Any Airline?
Best and Worst U.S. Airlines: Late Flights, Cancellations, Lost Luggage
Tips to Avoid and Deal with Lost Luggage
Need Award Booking Help? Our fee is as low as $75 per ticket if you book your hotel through us.
If you enjoyed this, join 200,000+ readers: please follow TravelSort on Twitter or like us on Facebook to be alerted to new posts.
Become a TravelSort Client and Book 5-Star Hotels with Virtuoso or Four Seasons Preferred Partner Amenities!