For many of us the art of perfecting an award ticket goes beyond flying a great airline to a great destination in first or business class. It can be all about flying a great airline to multiple great destinations in first or business class on a single ticket. It's amazing that sometimes you can actually visit destinations on almost opposite sides of the world on the same award ticket.
It's the reason that in many cases you can visit South America and South Africa on the same award, Europe and Asia on the same award, and Asia and Australia on the same award… if you book through the right airline.
To keep it simple we'll cover the basics of routing rules among the three major alliances on award tickets, as it relates to US frequent flyer programs.
OneWorld
As much as I love American, they're the least generous when it comes to routing rules, and actually have some of the most archaic policies. For example, you have to travel from the US to India via Europe, when San Francisco to Hong Kong to Delhi is actually a shorter travel distance than San Francisco to London to Delhi.
But the thing that really ruins "crazy" routings as it concerns Americans is that they don't actually allow stopovers on their "all partner" award tickets. So even if you could have a crazy routing, what would be the point, since you can't actually stop to visit?
The only award chart with them through which you can make stopovers is their OneWorld award chart, which is priced based on the number of miles flown. Therefore you can make the routing as crazy as you want, but you're paying for every mile which no doubt takes the fun out of it.
SkyTeam
While Delta does allow stopovers on award tickets, they also have fairly restrictive routing rules. The best you'll do as far as stopovers on a "crazy" routing goes is stopping in Europe enroute to India, the Middle East, Mauritius, or the Seychelles. Not very exciting, but at least it allows you to visit two continents on a single trip.
Star Alliance
And now we come to the holy grail of award routing rules, the Star Alliance. First it makes sense to understand how the Star Alliance carriers determine the legality of a routing. For Continental, United, and to a lesser extent US Airways (I say that because I'm convinced they throw darts at a board to determine if a routing is legal), the maximum permitted mileage for a city pair (commonly referred to as "MPM") is what determines if a routing is legal or not. They don't care where you route through, what cities you connect in, etc., as long as you stay within the maximum permitted mileage.
So let's start by talking about how you would find the maximum permitted mileage. To keep it simple let's say I wanted to fly from San Francisco to Tokyo on an award ticket, but I wanted to fly "the long way."
If you have an Expert Flyer subscription log in and click on "Fare Information" on the left panel. If you don't have an Expert Flyer subscription you can check the MPM either through KVS (which is another paid subscription service) or by calling the airline and asking.

On the next page I would type "SFO" in the "Departing Airport" field and "NRT" in the "Arriving Airport" field.
For departure date just choose some date long into the future (I randomly chose April 7, 2012).
Then you'll see a box which reads "Airlines." Basically the purpose of this tool is that it pulls up fares published by the airlines along with the rules associated with them. This is where you have to apply a bit of logic. Different airlines publish different maximum permitted mileage amounts based on the route they fly (specifically whether they fly via the Atlantic or the Pacific). For example, from San Francisco to Tokyo, All Nippon Airways would have a lower maximum permitted mileage because they would route you straight over the Pacific, since they fly those routes.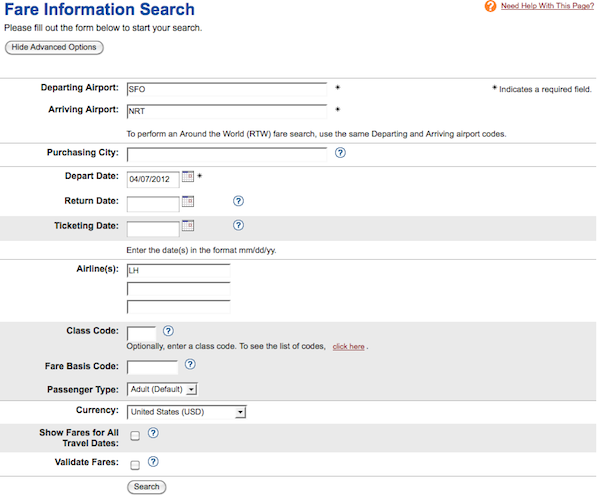 But I'm most interested in the Atlantic maximum permitted mileage, so I would want to see if Lufthansa published a fare. Therefore I type "LH" into the first box, and click "Search."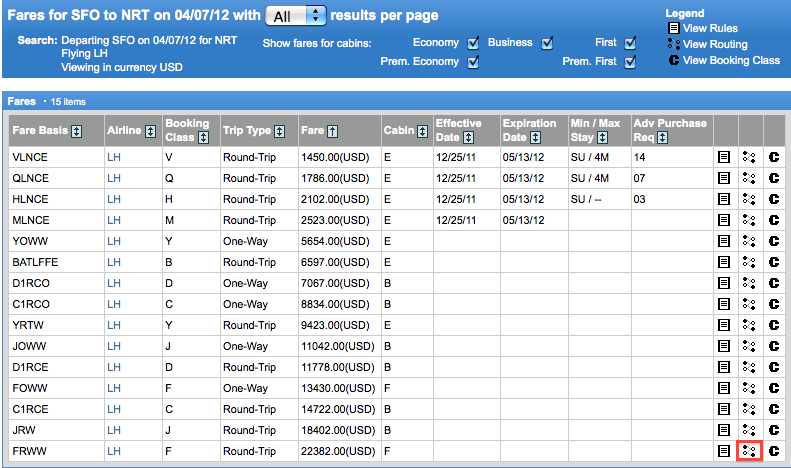 On the next page scroll down to whatever the most expensive fare is and click on the center button on the right of the page, which shows a series of dots.
There you'll see the maximum permitted mileage, which for the city pair is 14,882 miles. Here's the kicker, United lets you exceed the maximum permitted mileage by 25% (used to be 15%), meaning you can fly a total of 18,602 miles in each direction and have it still be "legal."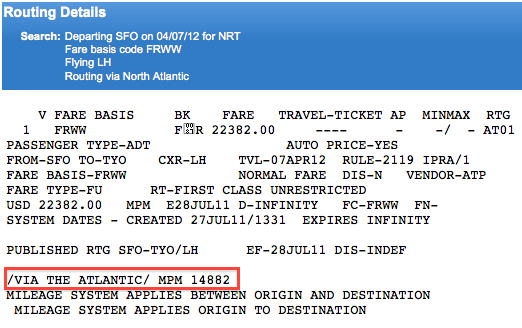 To put that into perspective, San Francisco to Frankfurt to Tokyo is 11,534 miles. That means you have over 7068 additional miles you can fly in each direction. That basically means you could stop in North Africa, the Middle East, anywhere in Asia, etc. Heck, you could even fly San Francisco to Auckland to Tokyo and have miles to spare. So with the exception of Southern Africa, that routing lets you visit almost any place in the world in addition to Tokyo. It doesn't matter in which direction the stopover is geographically, as long as it's within the maximum permitted mileage.
As an example of a different type of award, the maximum permitted mileage for Washington to Johannesburg is 9,753 miles. With United you can fly up to 25% more, which means you could fly 12,191 miles. Washington to Sao Paulo to Johannesburg, for example, is only 9,367 miles, meaning you have nearly 2,824 miles to spare.
If you wanted to go from New York to Sydney, for example, the maximum permitted mileage is 11,947 miles, meaning that through United you could fly up to 14,933 miles in each direction. New York to Seoul to Sydney is only 12,070 miles, so that leaves you an additional 2863 miles you can fly.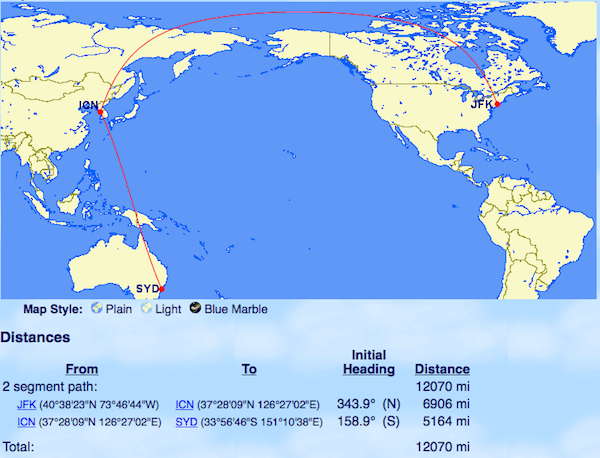 And since Continental, United, and US Airways all allow stopovers, this means that in practice you can visit two continents with just about any award ticket. Also see my prior post, Maximizing the Value of Your Award Ticket with Stopovers and Open Jaws and Using Your Miles for Round the World Trip Awards
It's worth keeping in mind that these are the rules, though at times you'll get some pushback from an agent, because the rules are just "too good to be true" at times. So it might take a few calls to get an agent willing to book an award that "maxes" out the maximum permitted mileage, though it is allowed.
And this is another reason I find United miles to be the most valuable mileage currency out there. See the Best United Miles Bonus Offers Available Now
It's worth noting that sometimes you can even go beyond the already generous routings above. While Continental has systems that auto-price award tickets, United's and US Airways' systems require agents to manually validate routings. I've heard of people booking awards from New York to Buenos Aires via Frankfurt (some agents think Buenos Aires is in Spain), and people fly from San Francisco to Frankfurt via Tokyo. Typically the fewer segments you have on your routing, the less likely an agent is to question you.
| | | |
| --- | --- | --- |
| Airline | Exceed MPM | Sample Legal "Crazy" Routing |
| United / Continental | Up to 25% | JFK-GRU-JNB-CPT-LHR-JFK |
| US Airways | Up to MPM | ORD-ZRH-LHR-IST-HKG-BKK-ZRH-JFK |
| Aeroplan | Up to 5% | SFO-MUC-ZRH-BKK-HKG-ICN-FRA-SFO |
Related Posts
Use United Free One Ways to Maximize Your Award
Maximizing the Value of Your Award Ticket with Stopovers and Open Jaws
Tips for Booking Award Tips to Hawaii
How to Find Star Alliance Award Seats
American Free One Ways and Maximizing Awards Using AAdvantage Miles