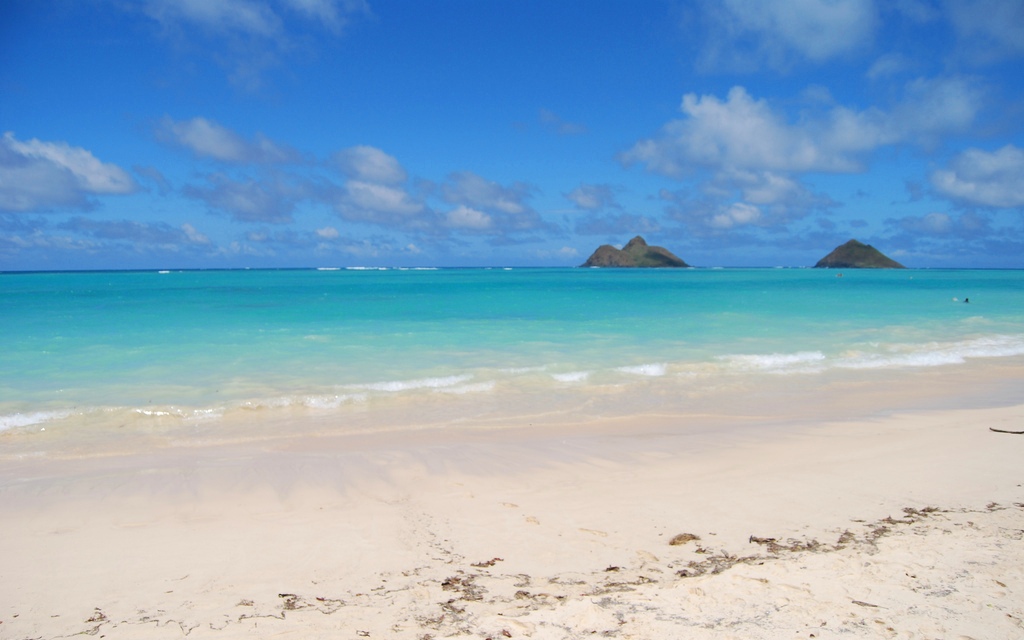 As many of you know, I'm from Hawaii, and still have family there, so I have a vested interest in figuring out how to get award tickets to Hawaii, especially business class flights. Ben covered some of the best options in Tips for Booking Award Flights to Hawaii, and I thought I'd follow that up with my own recent experience booking a business class award there. Plus, perhaps some of you are thinking of Hawaii for a winter getaway–if so, check out 10 Things You Shouldn't Miss in Honolulu, Hawaii and The Top 5-Star Honolulu Hotels.
As Ben noted, there's also a real shortage of anything remotely resembling long haul international business, let alone first class, to Hawaii. This makes sense from the airlines' perspective–with the exception of some conventions, it's not as if Hawaii is a major business destination, and most leisure travelers are price sensitive. That rationality though is cold comfort for my husband, who needs a true business class with at least significant recline to get his 6'5 frame comfortable. With that in mind, I took advantage of the US Airways 100% bonus (see Is Buying US Airways Miles With a 100% Bonus a Good Deal?) and purchased 40K miles to get a total of 80K miles, enough for a 70K Business-First Class roundtrip award to Hawaii.
Here's what I pieced together:
I first started my search at Continental.com, as Ben recommended in How to Find Star Alliance Award Space. From the home page, select "Use Miles" from the dropdown: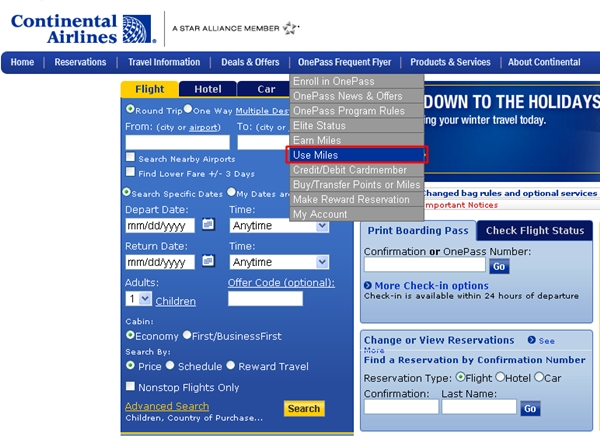 Next, select "Start your reward flight search from the link under the picture in the upper left: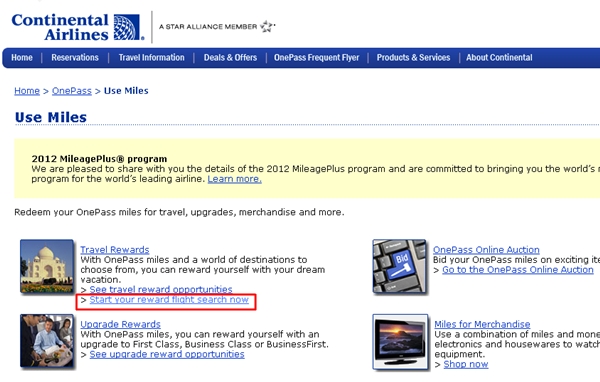 If you haven't already, you may at this point want to enter your Continental OnePass frequent flyer number. It says you may see improved search results, though I haven't noticed any difference logging in vs. not on my searches.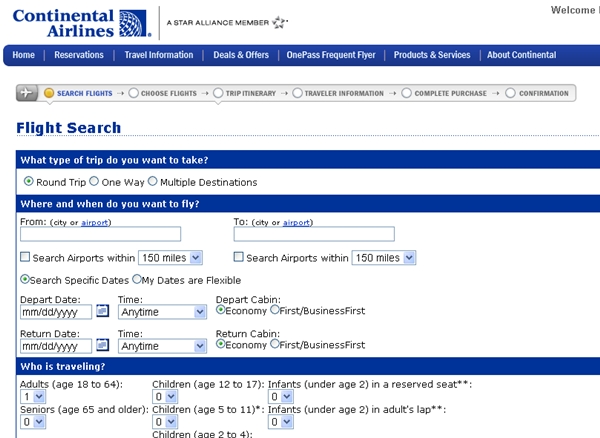 For my search, I was trying for the nonstop Newark-Honolulu flight on Continental. While the Business-First cabin does not have lie flat seats, they do have significant recline, much better than any normal domestic First Class, and they were comfortable the couple times I've flown in them. Food wasn't memorable, but my (and my husband's) first priority is always a comfortable seat. You can always bring your own food, but you're stuck with the seat.
I plugged in EWR, HNL, ticked Nonstop, and elected to only display Continental flights, to focus in on the EWR-HNL Continental nonstop flight award options. While I didn't record screenshots from my actual dates, here's what I found doing this search today–for the lowest priced SaverPass options, the only dates are in September 2012! If you want this flight, you're going to often have to book soon after they upload award space, or get lucky as I did when they release some more space a few months out:
Now, booking so far out, in this case there are several days about 1 week later that would work as a return flight, again nonstop HNL-EWR. All you need to look for are the blue and green days on the calendar, which indicate that a SaverPass BusinessFirst award is available. In this case, you could return on September 18 or 21 if you're were looking to stay about 1 week:
Let's say though that there are no SaverPass awards for your desired return date. This is what happened to me, especially since I wasn't booking 1 year out and there were very few SaverPass BusinessFirst award dates, and none where I could put together outbound and return awards for a roughly 1 week stay. So instead, I decided to start searching for First Class award availability on United's Premium Service from San Francisco to New York. We used to live in the San Francisco Bay Area and wanted to visit some friends there anyway either en route or on the way back from Hawaii, so this would work out perfectly. Again, I do have a screenshot of our actual flight search, but going with the September 2012 example, here's a First Class SaverPass award on United's Premium Service that I found for September 19: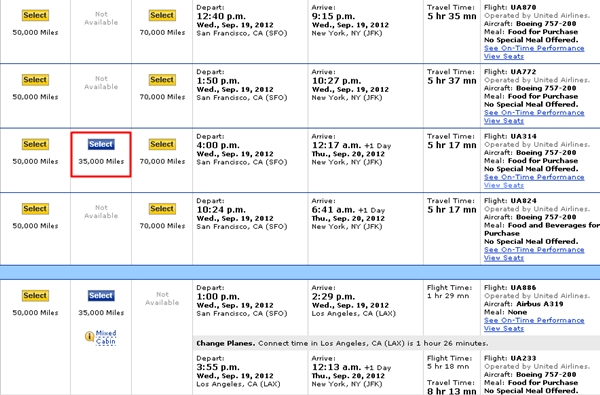 Note that there's only one SaverPass award on this particular day–these can be pretty tough to nail down for a specific day as well, but at least it does provide another comfortable option on the way back from Hawaii, if you're willing to stopover in either LA or San Francisco.
I then did a quick search for HNL-SFO, to finish up the itinerary (easy, since that's just a standard business class seat, so plenty of availability) and called US Airways to ticket. The agent initially messed up the mileage required, but then sheepishly corrected himself, so it was pretty painless. As noted in Comparing Airline Award Ticketing Fees and How to Avoid Them, I was able to get the $30 phone ticketing fee waived (since Star Alliance awards can't be booked online) but still had to pay the Dividend Miles Processing Fee.
I really should have started my search for Hawaii award flights earlier–there's such high demand for award tickets, especially premium cabin ones, that the business/first class award availability basically determined when we're going to Hawaii to see family. I haven't even booked my or the munchkin's ticket yet, but since we're using cheap Virgin Atlantic vouchers for the transcon and cheap coach tickets from SFO-HNL I don't think it will be an issue coordinating them around my husband's award flight, as the trip is still some months off.
Related Posts
Four Seasons Preferred Partner Benefits
Best Offers: Four Seasons Maui, Four Seasons Hualalai, Four Seasons Lanai Manele Bay, Lodge at Koele
Honeymoon in Hawaii: Which Island and Which Hotels?
Four Seasons Maui and Hualalai Preferred Partner: When to Book for the Best Deal
Need Award Booking Help? Our fee is as low as $75 per ticket if you book your hotel through us.
If you enjoyed this, join 90,000+ readers: please follow TravelSort on Twitter or  like us on Facebook to be alerted to new posts. 
Become a TravelSort Client and Book Your Hotel with Virtuoso or Four Seasons Preferred VIP Amenities! 
Photo: Matt Sims