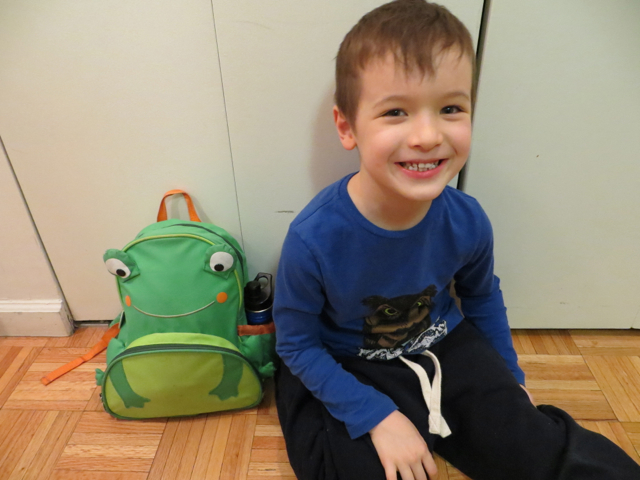 How to avoid checked baggage fees is a recurring theme, but ideally, one should just avoid checking luggage, period. While understandably sometimes you will need to check a bag, such as wehn traveling with bulky equipment for work, moving countries or traveling with a baby (yes, I can remember all the stuff we had to bring when the munchkin was really little) it IS possible to only take carry-ons even when traveling as a family. And even when your kid insists on taking his largest water gun (check out the photo in our
Conrad Koh Samui Review
).
How to Avoid Checking Luggage
1. Make Sure Your Carry-On's Maximum Dimensions Are Under the Limit
Double check that your carry-on is under the maximum dimensions allowed by your airline. United has been cracking down recently on oversize carry-ons (
United carry-on maximum dimensions
are 9 inches x 14 inches x 22 inches, *including* handles and wheels).
2. Fly International First Class or Business Class Using Award Tickets
In addition to the obvious comfort of flying international first class or business class, an added perk is typically a more generous carry-on baggage allotment. For example,
Singapore Suites
and
Singapore Business Class
allow two carry-ons, while you're only allowed one in Economy.
Plus, if you're flying international first class, you can usually count on receiving an amenity kit, so you can bring the bare minimum of essential toiletries in a ziplock bag.
3. Priority Boarding
Whether you're a top-tier elite or have priority boarding via a credit card, such as the United Club Card or the
100K Citi Executive AAdvantage card
, priority boarding can make a difference when traveling in economy since you'll be able to board before general boarding (although usually after top-tier elites). This makes it more likely you'll be able to stow your carry-on, and that the overhead bin space won't already be filled with someone else's luggage, who boarded ahead of you.
4. Pack Only One Pair of Shoes
Shoes are one of the bulkiest items to pack, so plan to pack just one pair, and wear the second (and ideally bulkiest) pair. The only exception for me is when I know I'll also need a pair of slippers or tevas, but these take up next to no space.
5. Choose Lightweight Clothing That Packs Small
Forego bulky and heavy clothes in favor of lightweight clothes that pack small. For cold weather, bring your down coat with you instead of packing it; generally a jacket does not count towards your carry-on allowance. For warm climates, of course, your clothing can and should be lightweight anyway: cotton and sun-protective polyester garments that don't wrinkle and take up very little space.
It's no doubt more challenging as a guy when having to bring formal wear, since there's more to pack, but women have it easy–a silk gown can take up next to no space.
6 Reasons to Never Check Baggage
1. Avoid Checked Baggage Fees
For some, avoiding checked baggage fees is the number one reason not to check bags. I wouldn't check bags anyway, for the reasons listed below, but there's no question that it's nice to save money if you would otherwise pay to check one or more bags.
2. The Airline Will Never Lose Your Baggage (or Damage It or Steal from It)
If you don't check luggage, it also immediately eliminates the possibility of the airline losing your baggage, it getting damaged by the often brutal way it's handled getting into and off the plane, or of some of your items being stolen by less than upstanding baggage handlers or even TSA employees.
Sure, several credit cards will reimburse you for lost or delayed luggage, but it's better to prevent it from happening in the first place.
3. Never Wait for Baggage at Your Destination
I don't know about you, but I detest having to wait around the baggage carousel when getting to my destination. All I want to do is get out of the airport and get to my final destination. If you only have carry-on bags, you can get going immediately once you clear passport control and customs.
4. No Worries About Airline Baggage Transfer or Baggage Interlining Policies
One of the problems you run into when booking separate tickets, for example because one ticket is an award ticket but you need a separate paid ticket to get to your departure city or from your award ticket destination to your final destination, is that of checked baggage being transferred from one flight to another. In general, don't expect low cost carriers to interline with major carriers. But even major carriers sometimes won't interline luggage if you have separate tickets. Sure, it helps having a printed itinerary for both tickets and an accommodating check-in agent, but you can't always count on luggage being transferred correctly, especially if there's a tight connection.
The solution? Don't check anything. You won't run the risk of having to go claim your luggage and recheck it, and thereby run the risk of missing your onward flight.
5. No Standing in Line at the Airport to Check In Baggage
For most airlines you can check-in online and print your boarding pass well before you get to the airport. But if you're checking bags, you may still have a lengthy line to wait in, especially if you don't have priority check-in or aren't flying business or first class.
And if you're about to miss the minimum check-in time as the friend of this unfortunate reader wrote in a comment to my post
Airline Passenger Bill of Rights: What Are Passengers' Rights?
: "
I brought someone to the airport this morning to catch an Alaskan airline flight (10:30am departure) Neither of us realized they had changed their check-in time to 40 minutes before the scheduled departure time. He got up to the check in desk at 9:54… and was told he couldn't get on the plane. They finally said he could get on the plane, and UPS his baggage, or take a flight tomorrow. Neither option worked for him…"
6. Easier to Take Public Transportation Instead of a Taxi
If you have a lot of checked luggage, most likely your only option will be a taxi to and from the airport. Personally, if there are efficient rail or subway public transit services, I prefer them, to avoid possible road traffic. By traveling lightly, with only carry-ons, it makes it much easier to take advantage of public transportation options.
What's your take? If you avoid checking luggage, do you have different reasons and strategies?
Related Posts