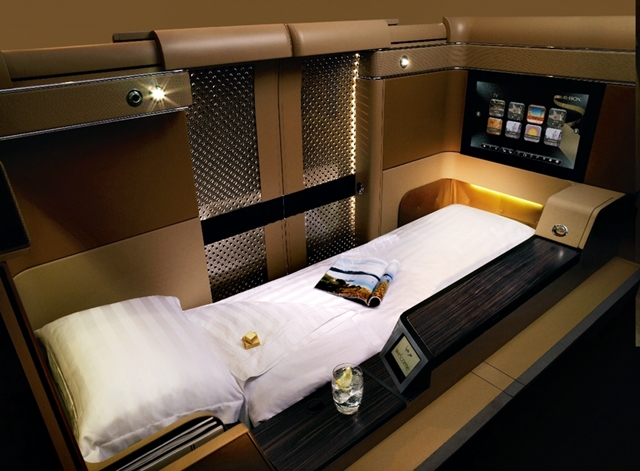 What is an American AAdvantage mile worth? This is the second in our What is a Mile Worth series; for the introduction and valuation of a United MileagePlus mile, see How Much Is A Mile Worth? Value of United Airlines Miles.
As we wrote in our intro post, there is no one single valuation when it comes to what a mile or point is worth, unless you're talking about a specific award ticket and only looking at the nominal value, which is what the actual retail price is less award fees, and divide that by the miles required to book the award + the miles you would have earned on a paid ticket.
The reason why what a mile is worth can vary so much is because of these factors:
Personal Value of the Trip: If you earn $1 Million a year, you're likely to be willing to pay much more for a first class ticket than if you make $100,000 a year. Or, if this trip is your honeymoon, again, you're likely to be willing to pay much more vs. a more impulsive value-oriented trip.
Trip Itinerary: Most long haul international award travel will give you much more value than domestic trips will. That's also why so many Americans don't see the value of collecting frequent flyer miles–most of their trips are within the U.S., or are package deals to Mexico or the Caribbean.
Class of Travel: Just as with trip itinerary, value varies enormously depending on whether you're redeeming for economy, business class or first class. The greatest value will generally come from international first class.
Airline: Most folks will agree that flying Cathay Pacific first class is a lot nicer than flying American first class, so that also figures into the valuation.
Given these factors, to figure out how much an American AAdvantage mile is worth to you, I'd pick 2-3 trips that you hope to actually book using your American AAdvantage miles and base your valuation on that. Here are my examples, which will lead to my own personal valuation of American AAdvantage miles, though this may or may not be yours.
Example 1: Cathay Pacific First Class and Business Class NYC to Bali via Hong Kong
My family and I flew Cathay Pacific first class and business class to Bali via Hong Kong this past summer, and we may well do another trip to Asia on Cathay Pacific in the coming years, so this is a good proxy for us. It's easier for us to take a major trip in late summer, so that's when I'd check the revenue fares for. Note that only the NYC-Hong Kong portion is first class; Hong Kong to Bali is 2-class service (business class and economy) although traveling on a first class award, you may just be lucky enough to be seated in one of the first class seats, with business class service. See my
Cathay Pacific First Class Bali to Hong Kong Review
.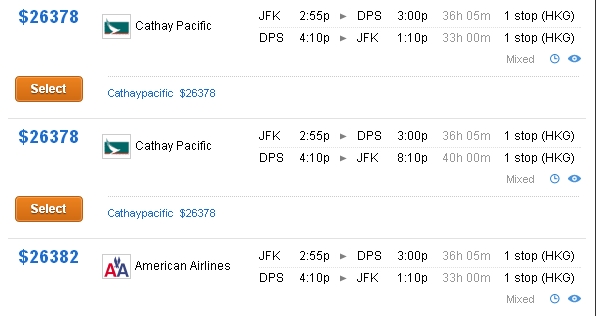 As you can see, the nominal value is very high: revenue ticket prices for first class on Cathay (and even American) are over $26,000. Even after accounting for a few hundred dollars in award fees and the miles you would have earned crediting a Cathay first class revenue ticket to American (~30,600 miles, based on 1.5x due to first class cabin bonus) you'd still have a nominal value of 15.7 cents per American AAdvantage mile.
Now, my family, and most others, would never pay over $26,000 per person to fly first class. But for a special trip, we would pay about $3500 for such a ticket. That leads me to a subjective value of 1.9 cents per American AAdvantage mile in this example.
Example 2: Etihad First Class and Business Class NYC to the Maldives via Abu Dhabi
This is a trip we plan to take, since we love snorkeling and diving. Etihad is a not in oneworld but is an American AAdvantage partner; see Use American Airlines miles for Etihad First Class.


Here, the nominal value of about 8 cents per American AAdvantage mile is about half that of the Cathay Pacific example, since the NYC-Abu Dhabi first class flight, while just a couple hours less than NYC-Hong Kong, is a lot cheaper, at less than $15,000. Note that Abu Dhabi to Male, Maldives is only 2-class, business class and economy.
Given the similar amount of flight time to the Bali trip, we'd also pay about $3500 for first class to Abu Dhabi and business class to the Maldives, so my subjective value is 1.6 cents per American AAdvantage mile for us in this example.
Earning American AAdvantage Miles
If you have available a fair amount of money that is otherwise just earning low rates of interest, put that in a BankDirect checking account to earn a good chunk of American AAdvantage miles every month. Or if you want it upfront and don't mind not withdrawing it for a year or two, take out a BankDirect CD. Feel free to request a referral from me at concierge [at] travelsort.com, and we'll each earn an extra 1000 AAdvantage miles.
Another option is to open a Fidelity brokerage account, for up to 50,000 AA miles if you deposit $100,000. Keep in mind that if you or your spouse works at a financial institution (anything affiliated with FINRA or a securities exchange) you're not eligible for the Fidelity offer. I recommend taking advantage of BankDirect instead.
If you don't have money that can put at BankDirect or Fidelity, then focus on Citi AAdvantage credit cards. You can apply for two personal simultaneously to earn 90,000 AA miles, then later apply for the CitiBusiness AAdvantage card for another 50,000 AA miles. See current application links on either Best Travel Credit Cards or Earn 1 Million Miles and Points a Year Without Flying.
Don't forget to apply for other miles and points credit cards at the same time. Why? Because if you apply for several cards together (as close in time as possible) issuers won't see that you've had a lot of recent inquiries and are more likely to approve you, assuming of course a good credit score. And diversity of miles and points is important too, both to give you flexibility when constructing your award trips and to hedge against devaluations in any one program.
How Much American AAdvantage Miles Are Worth to Me
If I average out the values of the two above examples, that gives me 1.75 cents per American AAdvantage mile. That said, I'd also want to take into account how American AAdvantage miles in these types of trips are easier for my family to use when planning ahead and wanting to secure a couple of first class awards and a business class award all on the same flight. It's harder, for example, with Lufthansa since Lufthansa first class can only be booked up to 15 days in advance with United miles.
Plus, as we wrote in Maximizing the Value of Your Award Ticket with Stopovers and Open Jaws, you can get a free one way on American, albeit only out of one of American's hub cities (Dallas Fort Worth, Miami, Chicago, New York JFK, Los Angeles LAX). You can also use American's oneworld award chart to construct some pretty creative itineraries, although traveling with a young kid, we won't be taking advantage of that until he's older.
On the negative side, you can't have international stopovers on American partner awards, and American's routing rules limit how much you can leverage middle east carriers such as Etihad (and Qatar, which is joining oneworld) since getting to Europe or Asia would require a separate award.
Nonetheless, the convenience of advance award availability on such stellar partners pushes my valuation slightly above the higher end of the range of the above examples: my valuation is 2 cents per American AAdvantage mile.
Again, that doesn't mean I'd buy an American AAdvantage mile at 2 cents each, because via BankDirect I can earn AAdvantage Miles for Half a Cent per Mile. But you'd need to pay me 2 cents per American AAdvantage mile for me to sell them, and more than that if I was just about to redeem them for a family trip.
How much is an American AAdvantage mile worth to you?
Disclosure: I have a BankDirect Mileage Checking Account, but I have no other connection to BankDirect and have not been compensated to write this post.