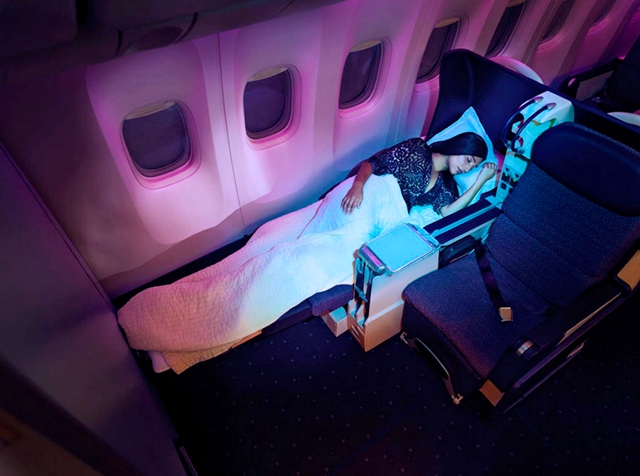 What is a Delta Skymile worth? This is the third in our What is a Mile Worth series. For the prior posts, please see How Much Is A Mile Worth? Value of United Airlines Miles and How Much is a Mile Worth? Value of American AAdvantage Miles.
As readers of this blog know, I'm not a fan of Delta Skymiles and don't have any of them. But of course everyone's situation is different, and a number of the clients who contact me for Award Bookings do have a good number of Skymiles they want to use for an award booking.
It's helpful to figure out the value of your miles and points for yourself rather than relying on someone else's calculation, because you're likely to have different travel preferences and assign a different value to a particular award ticket compared to someone else (possibly even compared to your spouse or partner, but that's for another post). I should mention that the value you'd assign to a ticket is not what you would actually have to pay (since most of these business and first class tickets retail for more than most of us would be willing to pay) but rather what you would be willing to pay in cold hard cash if a ticket was available for that price and no miles and points options existed for that route.
So, while I'll use my calculation of what a Delta Skymile is worth to me as an example, you should arrive at your own value based on the 2-3 trips you'd actually book with your Delta Skymiles.
Example 1: China Southern Business Class LA to Bangkok via Guangzhou
There's no question I'd prefer other ways to get to Asia, such as Singapore Suites via Singapore, or Cathay Pacific First Class via Hong Kong. But if a boatload of Delta Skymiles fell into my lap, this route is one I'd strongly consider. We'd probably visit friends of ours in the LA area, then go to Bangkok or elsewhere in Asia flying China Southern's new flat bed seats on the LA (LAX) to Guangzhou (CAN) flight, which I highlighted in Top Tips for Using Delta Skymiles for Asia Award Tickets.
The nominal value of a business class ticket on China Southern from LA to Bangkok via Guangzhou for some random November dates I selected is $4434. After accounting for a few hundred dollars in award fees and 120,000 Skymiles for the award ticket booked with Delta Skymiles, you're looking at a nominal value of 3.4 cents per Delta Skymile. Not horrible, but not good either, given that's just nominal value.
My family and I would value such a ticket at $2000. Note that this is considerably less than the $3500 we would pay for first class from NYC to Bali via Hong Kong in Cathay Pacific First Class, both because Cathay First Class is a much nicer experience and the flight time itself is longer and leaves from our home city of NYC. After taking into account the fees and 120,000 Skymiles for the award ticket, that gives me my subjective value of 1.4 cents per Delta Skymile in this example.
Example 2: Virgin Australia Business Class LA to Sydney
Someday I know we'll want to visit Australia and New Zealand, and using Delta miles to fly Virgin Australia is a good bet, if you can avoid peak holiday dates. We highlighted this route in Tips for Booking Award Tickets to Australia and New Zealand, and it remains one of the best value uses for Delta Skymiles.
The nominal value of a business class ticket on Virgin Australia for some January 2014 dates I selected is $6149. After accounting for fees and the 150,000 Skymiles required, that yields a nominal value of 4 cents per Delta Skymile.
My family and I would pay $2200 for such a ticket. While it's a bit shorter in terms of flight length than the LA to Bangkok flight on China Southern, I'd expect the Virgin Australia food and service to be a bit better than China Southern, even though the 6 foot 2 inch flat bed seat itself looks a bit cramped, frankly, for my 6'5 husband. After taking into account the fees and 150,000 Skymiles for the award ticket, that gives me my subjective value of 1.2 cents per Delta Skymile in this example.
Earning Delta Skymiles
If you have $100,000 to fnd a nonretirement brokerage account you can earn 50,000 Delta Skymiles with a Fidelity brokerage account. There is no requirement to buy securities with it, but you do have to keep the account open for at least 6 months, and you aren't eligible to do this if you or your spouse are affiliated with FINRA (e.g. work for a bank or securities exchange) or work for Fidelity or its affiliates.
There used to be a Delta card offer with a 70,000 Skymiles bonus, but that offer has expired and the current public offer is only 30,000 Skymiles after $500 in spend. That said, if you go to the Card Match tool (see our post 50,000 AMEX Premier Rewards Gold Card Signup Bonus Offer for link and tips), there's an offer for 45,000 Skymiles: 25,000 after first purchase and another 20,000 Skymiles after $5000 in spend. That's pretty high spend for only another 20,000 Skymiles, but could be worth it for those that have high spend anyway.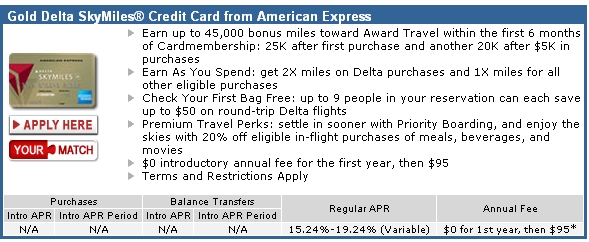 You could also try this link where you enter your Delta Skymiles number to view your offer. I was only offered the same 30,000 Skymiles public offer, but you may be lucky enough to get a 40,000 Skymiles bonus or other better offer.
How Much a Delta Skymile is Worth to Me
If I average out the values of the two above examples, that gives me 1.3 cents per Delta Skymile. The examples I used can have pretty decent award availability when planning ahead, but it's also not nearly as aspirational or comfortable to fly business class as it is first class, and that lack of being able to fly business class or redeem for one ways, not to mention find low level domestic award availability, brings my overall valuation down to 1.0 cent per Skymile.
Again, that's not what I would pay to buy them, because you can acquire them more cheaply with credit card bonuses, but what I would sell them at unless I was working on redeeming them for an award.
How much is a Delta Skymile worth to you?
Related Posts:
How Much Is A Mile Worth? Value of United Airlines Miles