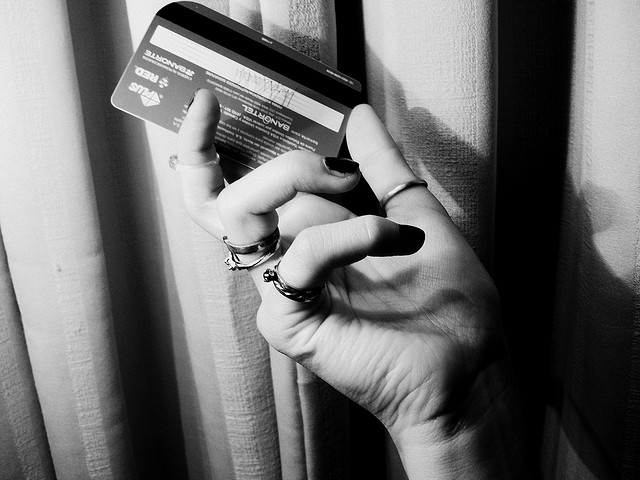 A TravelSort reader writes "Is being an authorized user always beneficial? Does it generate a hard credit pull? Or, if utilization is high on that card, will it negatively impact my score as an authorized user? And how about if I add an authorized user, how does that affect my credit score?"
This question comes up a lot. On the one hand, many spouses add each other as an authorized user for convenience purposes if they have different cards, so they can help each other meet minimum spend for the best travel credit cards' signup bonuses, or so they can benefit from the annual AMEX Small Business Saturday promotion.
But on the other hand, it's good to know what the potential impact to one's credit score is for the person adding an authorized user and for the authorized user.
No Hard Credit Pull
First, If your spouse or partner adds you as an authorized user to his or her credit card, you'll typically see the credit line in your credit report but it does NOT generate a hard credit pull.
Legitimate Authorized Users Are Impacted Positively and Negatively by the Account They're Added To
If you're a legitimate authorized user (spouse or partner added you, not done via a credit repair service), you'll benefit if the spouse or partner adding you as an authorized user has a strong credit score, pays the card off in full each cycle and has low utilization on the card. Note that to ensure you're getting the benefit of this, you should have a credit card issued in your name for use on your spouse's or partner's account. Ideally the issuer should also have your social security number–while not necessary, it helps ensure that your credit information is recorded accurately.
But if your spouse or partner has a poor credit score, falls behind in payments or has high utilization on that card, you'll be negatively affected as an authorized user.
FICO 08 Claims to Exclude Illegitimate Authorized Users
Note that many credit repair services seek to "piggyback" users with poor credit scores on the account of someone with a great credit score to artificially improve and repair a credit score. This worked pretty well until September 2007, when FICO accounced they would no longer factor authorized users into the FICO credit score calculation.
But this provoked an enormous backlash from legitimate authorized users–spouses, domestic partners, and parents helping their kids establish good credit–which prompted FICO to reverse itself in July 2008 and continue to count authorized users as part of the new FICO 08 model. FICO claims the new forumula excludes illegitimate authorized users that were using credit repair services. Keep in mind that most banks don't disclose to what extent they use FICO 08, and many have their own proprietary scoring methodologies. Also note that most credit monitoring services give you FAKO scores, not FICO, which can make it very hard to determine the exact impact if you apply for a major loan from a given issuer.
But Authorized Users are Not Responsible for Payment; Only Joint Users Are
Authorized users are exactly that: authorized to charge to the primary cardholder's account. But, authorized users are not responsible for payment; only the primary cardholder is. So if your spouse is the primary cardholder and you're an authorized user and you separate, even if your spouse doesn't or can't pay the bill, you are not responsible for the bill.
That said, you'll probably want to pay it off and get yourself removed as an authorized user from all your spouse's account as quickly as possible, in order to protect your own credit score, due to what we noted above–authorized user scores *are* impacted by the primary cardholder's score, good and bad. But legally, you are not obligated to pay the bill, and you can dispute it with the issuer, who will probably come after you in spite of your not being legally responsible for the bill.
Joint cardholders, on the other hand, are jointly responsible, so if your spouse and your are joint users and separate, even if one of you can't pay the bill, the other will be responsible.
This is why I would *not* recommend adding your boyfriend or girlfriend (or even partner or child if s/he can't be trusted to be financially responsible) as an authorized user since you never know if the relationship may sour and result in that person racking up charges that you alone are responsible for.
To sum up, here are some pros and cons of adding an authorized user:
Pros of Adding an Authorized User to Your Credit Card
Help from spouse/partner in meeting minimum spend for credit card sign-up bonuses
Additional $25 credit per authorized AMEX card user for AMEX Small Business Saturday
Use your good credit score to help spouse, partner or child improve his/her credit score
Cons of Adding an Authorized User to Your Credit Card
If relationship goes sour, authorized user could rack up charges on your card that you alone are responsible for, increasing your utilization and damaging your credit score
If you fall behind on payments or your credit score declines, that impacts your authorized user(s)
Excessive numbers of authorized users can trigger an AMEX financial review
Have any experiences or tips to share about adding or being an authorized user on a credit card?
Related Posts
AMEX Small Business Saturday Strategy and FAQ
Understand Your Credit Score to Maximize Credit Card Rewards
How Many Hard Credit Pulls is Too Many?
Credit Card and Miles and Points Strategy for the Reluctant Spouse or Travel Partner
Are Frequent Flyer Miles Worth It? How to Convince Your Spouse
Need Award Booking Help? Our fee is as low as $75 per ticket if you book your hotel through us.
If you enjoyed this, join 90,000+ readers: please follow TravelSort on Twitter or like us on Facebook to be alerted to new posts.
Become a TravelSort Client and Book Your Hotel with Virtuoso or Four Seasons Preferred VIP Amenities!
Photo credit: Wimena Kane