This hotel review of The Kayana in Seminyak, Bali is part of a trip report including Cathay Pacific Business Class and First Class to Hong Kong and Bali, plus reviews of luxury hotels and food in Hong Kong and Bali. Prior posts include:
Review of British Airways Galleries Lounge at JFK Airport
Cathay Pacific Business Class Review: 777-300ER NYC to Hong Kong
Cathay Pacific First Class NYC-Hong Kong
Tim Ho Wan Review: Hong Kong's Best Dim Sum and Cheapest Michelin Star?
Mandarin Oriental Hong Kong Review
Cathay Pacific Business Class Review 747-400: Hong Kong to Bali
Ayana Resort and Spa Review-Club Level
Four Seasons Bali at Jimbaran Bay Review
Originally we planned to stay two nights at The Kayana, sister hotel to The Samaya, but that got cut to one night after we were able to stay one of those nights as guests of the Four Seasons Bali at Jimbaran Bay. And it's probably a good thing it was just one night.
We had a fair amount of traffic during our drive from Jimbaran to Seminyak, where The Kayana is located, and was told it was due to Ramadan. The majority of Bali is of course Hindu, but there is a Muslim minority, and they travel home during Ramadan. Although I hadn't previously been in Seminyak, it's a busy resort area, with a number of boutiques, cafes and businesses catering to more upscale visitors than, say, Kuta or Nusa Dua.
We eventually arrived at The Kayana and I carried a sleepy munchkin into the open air reception area.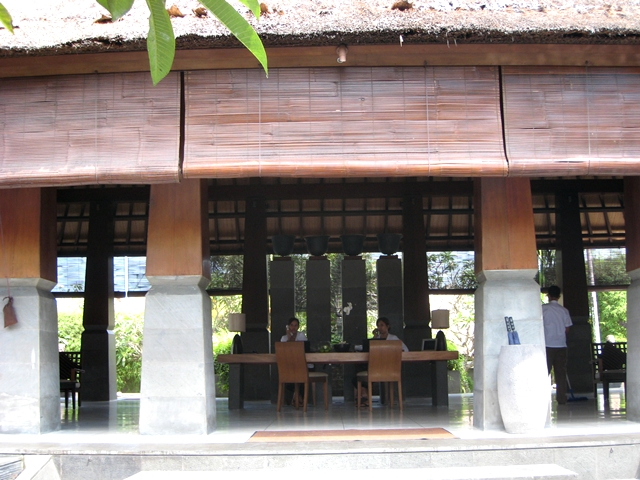 Even though we arrived a little past 3pm, our Pool Villa rather disappointingly wasn't ready, so after filling out the paperwork, we were brought to one of the regular Deluxe Villas near reception to relax while they finished getting our villa ready. Even the Deluxe Villas have a plunge pool, which I hadn't expected.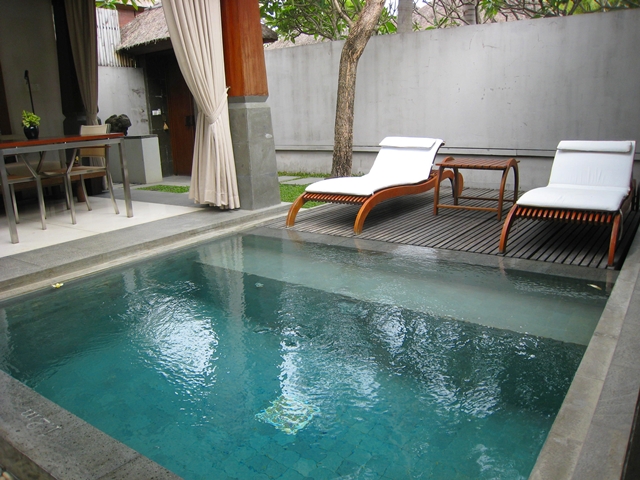 We also were served complimentary afternoon tea–this is included in the rate and available to all guests daily, but frankly it was nothing to write home about: just a choice of juice, coffee or tea, and some mini steamed buns that were nothing special. Instead, we enjoyed our tea and juices with some of the banana fritters we made at a cooking class at the Four Seasons: yum!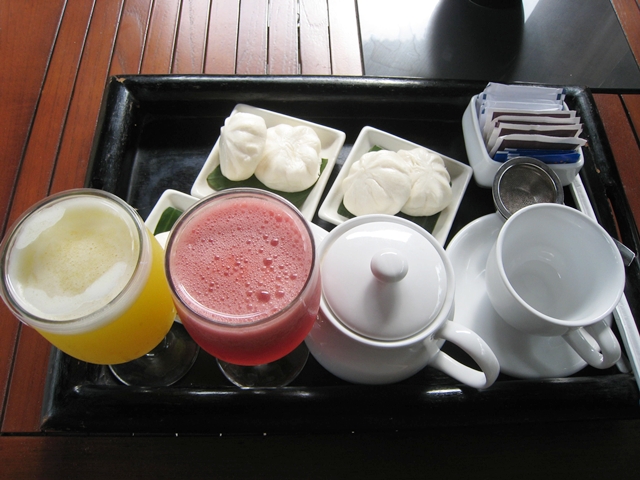 In about 1 hour our Pool Villa was ready, so an associate drove us in a golf cart practically all the way to the end of a rather picturesque tree-lined path: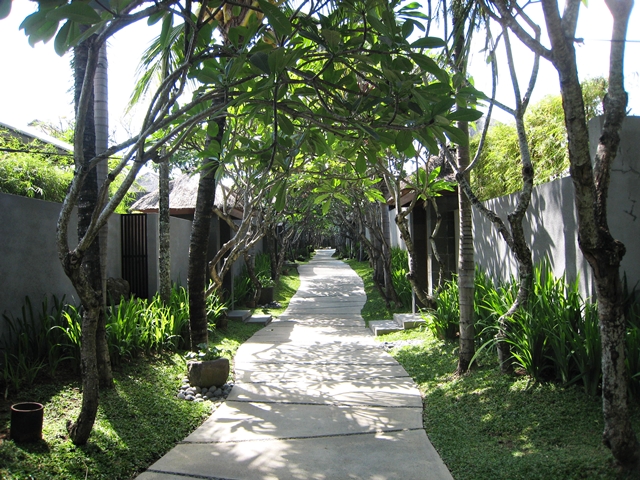 The outdoor pool of our Pool Villa was a good size, larger than I had expected: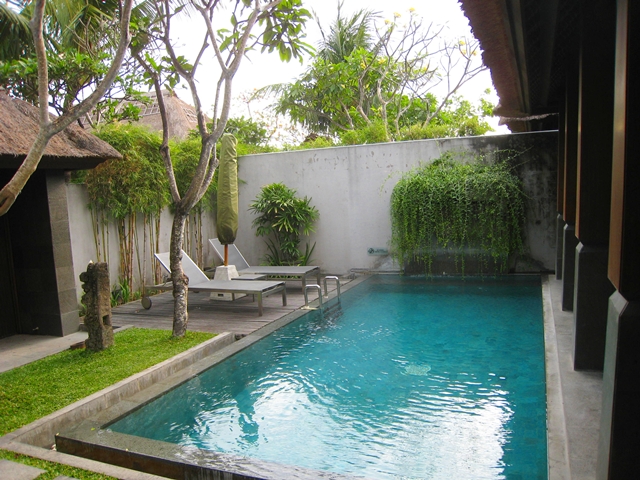 There were two lounge chairs at one end, and close to the Pool Villa entrance, an outdoor living and dining area: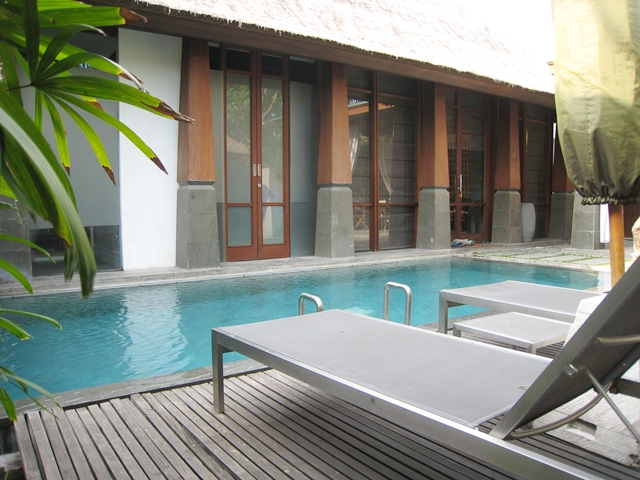 The villa itself was open plan, with a King size bed in the center, and a love seat that we ended up using as the munchkin's bed, moving it next to the king bed so we could put the mosquito netting over it. It was the dry season, but we still did see some mosquitos here and didn't want to take any chances. The love seat made a comfortable child bed, but if we'd had more padding (the floor was stone, not wood) and pillows we could alternatively have used our portable tent and camping mattress.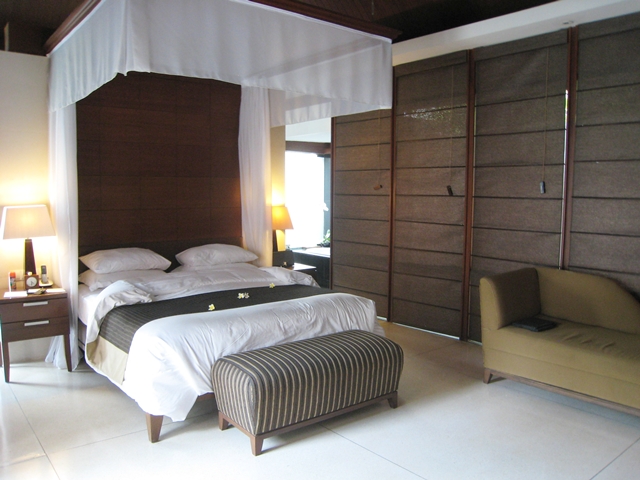 Behind the bed was the bathroom, with dual vanities, and to one side, a large soaking bath with bath foam, shampoo, etc:
The only doors led to the toilet on the right, and on the left, a large rainfall shower (my 6'5 husband loved that this and most all the rainfall showers we encountered had a very high mounted showerhead that accommodated him with no awkward bending).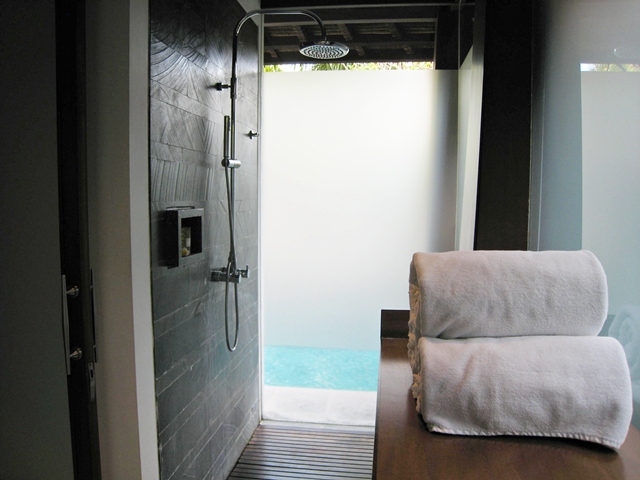 Bath amenities were the "Royal Collection" but I opted to use my own L'Occitane toiletries.
The closet contained two light cotton robes and slippers, as well as a couple umbrellas (which would be very handy in the rainy season) and a quite stylish beach bag, which I used.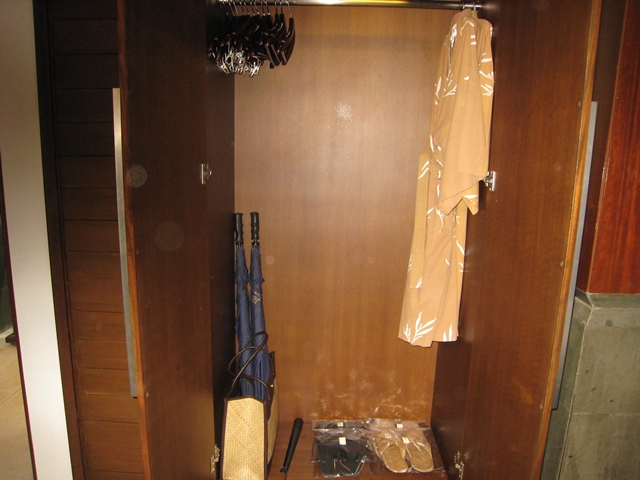 The villa itself and especially the private pool were great–my son loved splashing about in the pool, shooting us with his water pistol, etc. What wasn't so great is that only in the evening, once we got back from dinner, did I realize just how noisy our Villa 828 was. It was akin to being in the middle of a busy road. I was pretty upset, since I'd heard noise could be an issue in some of the villas, due to the W next door and the access road, so I'd emailed on two occasions to stress that we needed a quiet villa, and the associate had agreed to put us in one. Well, obviously that wasn't the case. I called and complained (clearly I wasn't the first, as I found another poor online review that also explicitly referenced 828) and after some back and forth and escalation, the hotel agreed to not charge me for the night. I wouldn't have pressed them so much on it if I hadn't explicitly gotten them to agree via my prior emails that I'd be put in a quiet villa, but having made that commitment to me, I wasn't about to put up with a really poor night's sleep for nothing.
Breakfast the next day was quite good, especially the pineapple pancakes: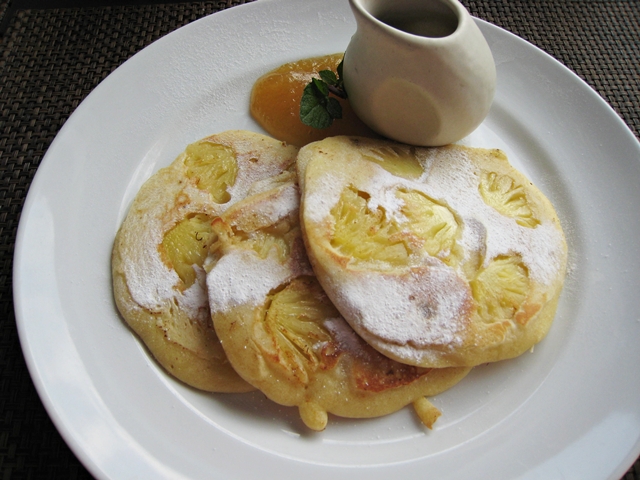 And surprisingly, also the smoked salmon and bagel that my son wanted: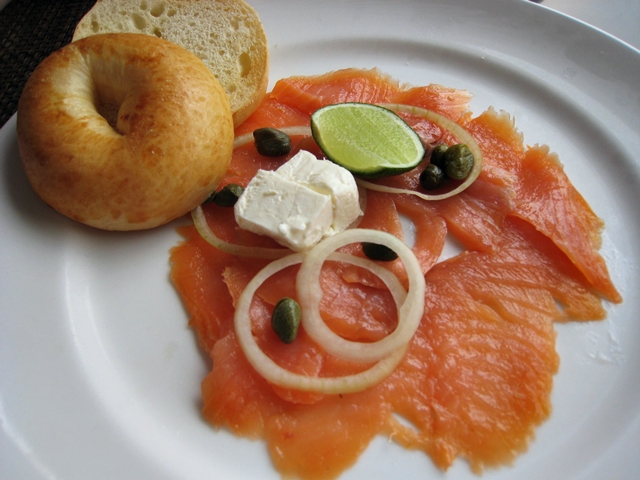 Fresh pineapple and papaya with honey yogurt were artfully presented, and the cappuccino was also one of the best I had in Bali: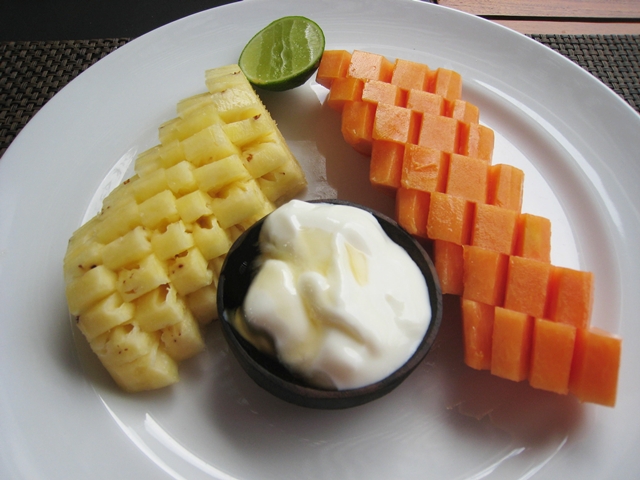 The verdict: The Kayana villas themselves are lovely and spacious, the Pool Villas have large pools, and service in general is good. But if you're a light sleeper, I can't recommend this hotel–not unless you can get the hotel to guarantee that you'll have one of the odd-number villas, and certainly not 828, the one I had, or the even numbered villas close to it–it was just way too noisy at night. I'm also not a huge fan of Seminyak given how busy and touristy it is, but that's a matter of personal preference, and certainly Seminyak is popular with many. Do be aware that The Kayana, unlike The Samaya, is not directly on the beach, and that all beaches in Seminyak tend to be for sunbathing only and not swimming, as the surf is too rough.
Still want to book The Kayana? Contact us for preferred TravelSort member rates.
Related Posts