This review of Batu Karang Resort on Nusa Lembongan near Bali is part of a trip report including Cathay Pacific Business Class and First Class to Hong Kong and Bali, plus reviews of luxury hotels and food in Hong Kong and Bali. Prior posts include:
Review of British Airways Galleries Lounge at JFK Airport
Cathay Pacific Business Class Review: 777-300ER NYC to Hong Kong
Cathay Pacific First Class NYC-Hong Kong
Tim Ho Wan Review: Hong Kong's Best Dim Sum and Cheapest Michelin Star?
Mandarin Oriental Hong Kong Review
Cathay Pacific Business Class Review 747-400: Hong Kong to Bali
Ayana Resort and Spa Review-Club Level
Four Seasons Bali at Jimbaran Bay Review
Hotel Review: The Kayana in Seminyak, Bali
Restaurant Review: Metis in Seminyak, Bali
We spent four nights at Batu Karang on Nusa Lembongan, a small island near Bali. Our motivation for going there was primarily snorkeling and to discover a more laid-back, less touristy area than the other places we were staying on Bali. Since we had booked for four nights, our speedboat transfer on Rocky Fast Cruises to Nusa Lembongan was included in our rate, including a transfer from The Kayana to Sanur, where the speedboat leaves from, and transfer from Sanur to our next hotel after our return.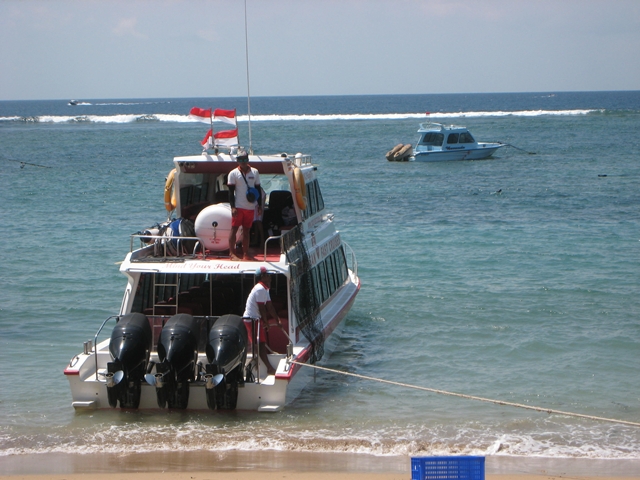 The ride from Seminyak to Sanur took awhile, although of course if we had remained in Jimbaran at The Four Seasons Bali at Jimbaran Bayb (which we should have, in retrospect!) it would have been quite a bit shorter. We finally did get to Sanur, were given vouchers for our return trip along with chilled bottles of water, and waited while men loaded our luggage on the top of the boat. Then all of us put our slippers into a crate and waded into the water to the speedboat–good thing I was wearing shorts! The ride on the speedboat was pretty bumpy, but it was only 30 minutes. Here's a view of the Bali coastline from the speedboat: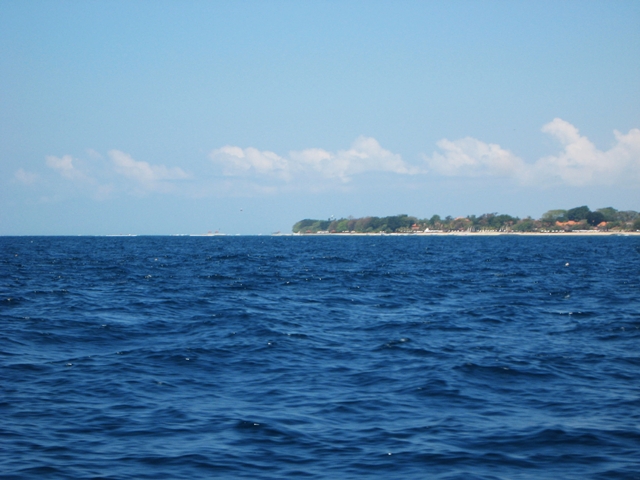 Once at Nusa Lembongan, it was just a short walk to Batu Karang Resort. The first thing to meet our eyes was the lovely lower pool: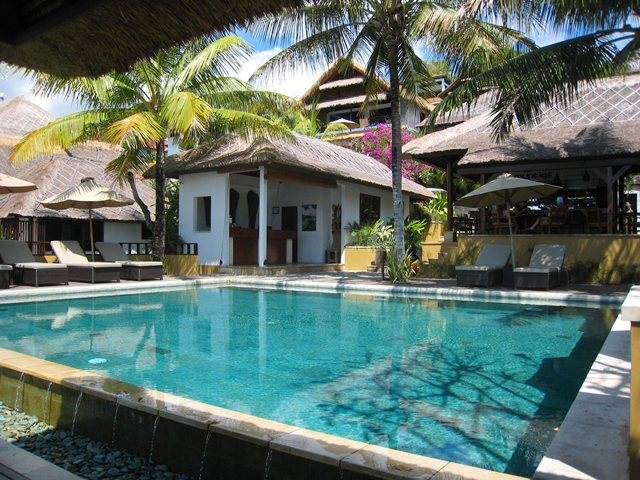 We were offered a welcome drink and cool towel poolside.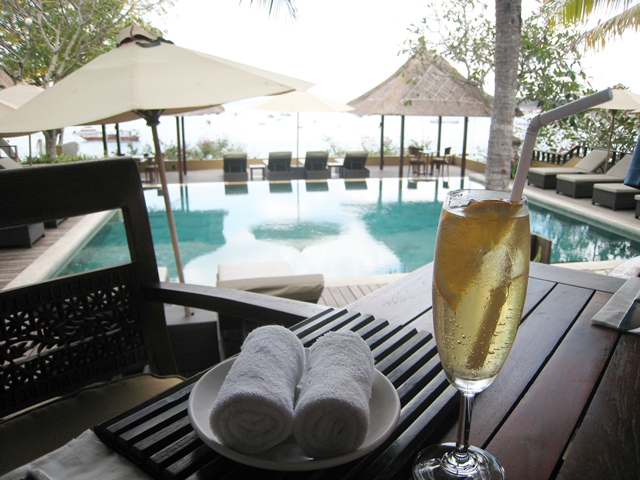 We were famished, so ended up having some lunch as well. The munchkin of course wanted pizza, which was surprisingly good: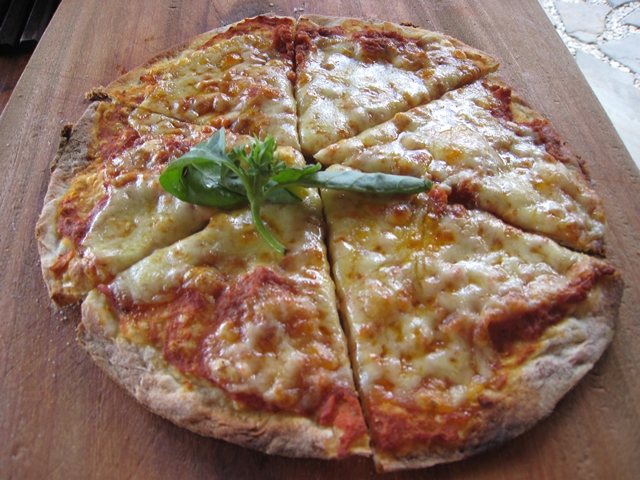 I was very happy meanwhile with Mie Goreng–very satisfying stir fried noodles with chicken and veggies, topped with a fried egg and served with chicken satay and pickles: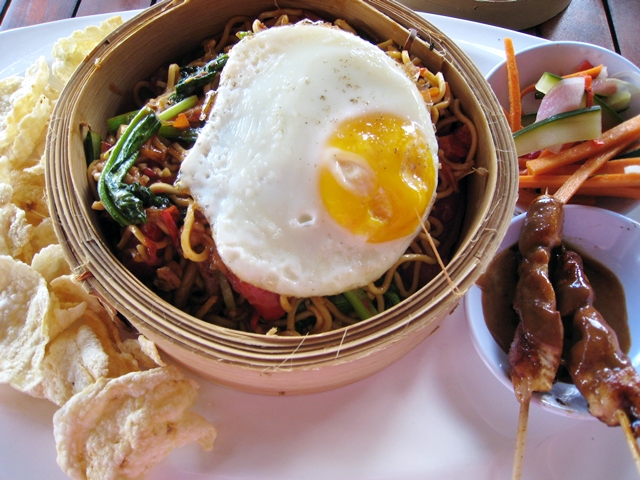 We then made our way to our villa. Since the resort is built on a steep hill, there are a couple of golf carts to take you up and down the hill, which is handy if you're tired or with young kids. We were in Villa 3, so not a huge climb in any case. It's designed in traditional Balines style, with a soaring thatched roof, and open plan, with a King bed in the center: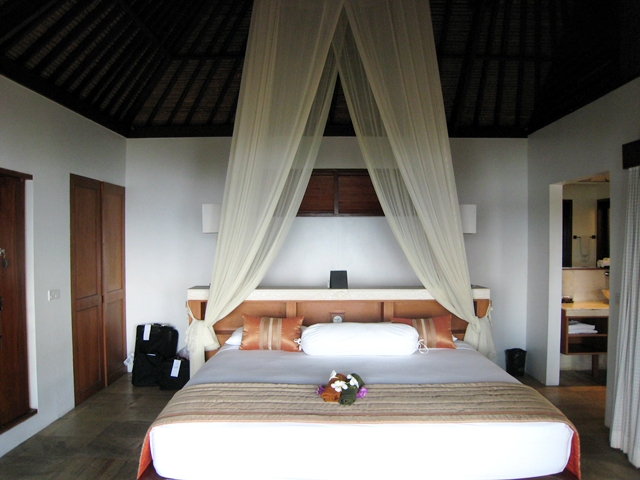 There was a little alcove love seat off to the side that the munchkin liked to curl up in: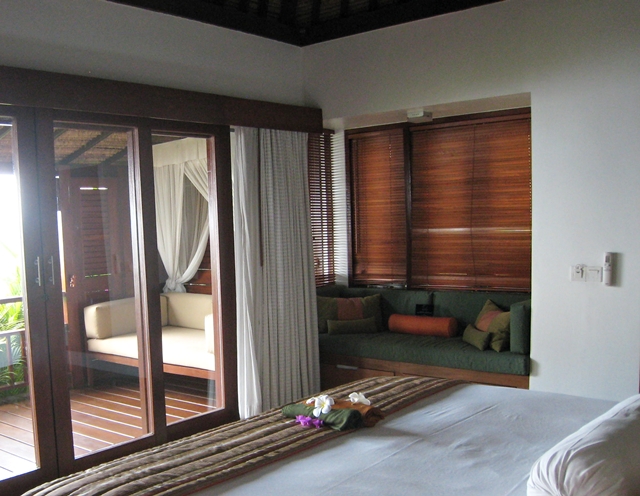 b
And sliding glass doors open to the balcony, where there's a day bed, small table and chairs: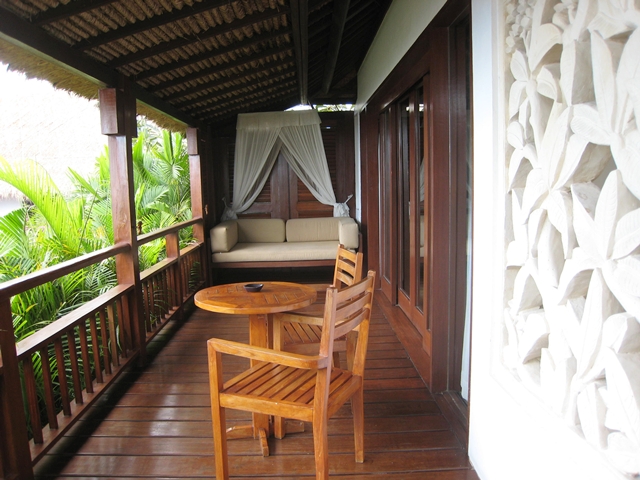 Although partially obscured by the villas in front of us, we still had a nice ocean view: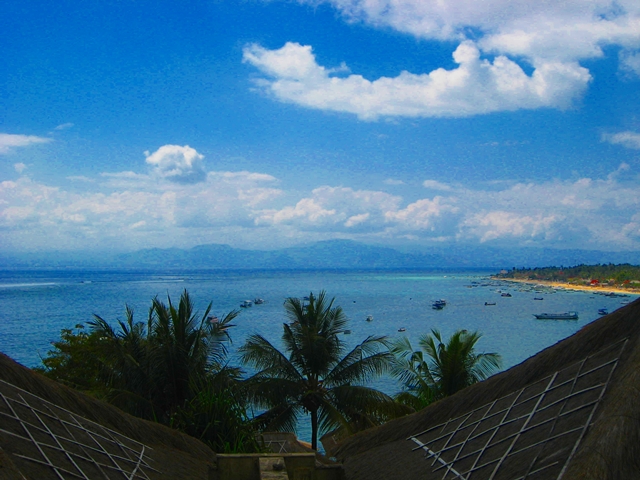 The toilet and sink are inside (just one sink, not two vanities as we'd had at The Kayana and Four Seasons):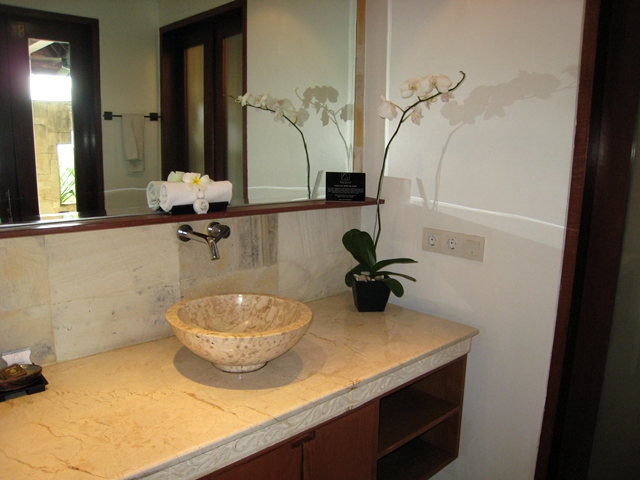 Outside is an outdoor shower (tall showerhead, so no complaints from my 6'5″ husband) and large stone soaking tub–the munchkin loved taking baths in it: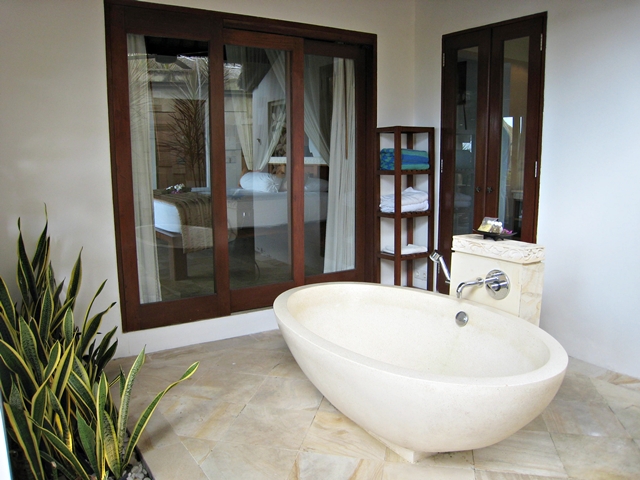 Bath amenities included sandalwood soap, which is powerfully aromatic (and probably not for everyone), bath salts, and hotel branded shampoo, conditioner, etc. I opted instead to use our Acqua di Parma bath amenities from the Mandarin Oriental Hong Kong.
Two complimentary bottles of water were provided daily, with more available at nominal cost. There was also a coffee and tea maker: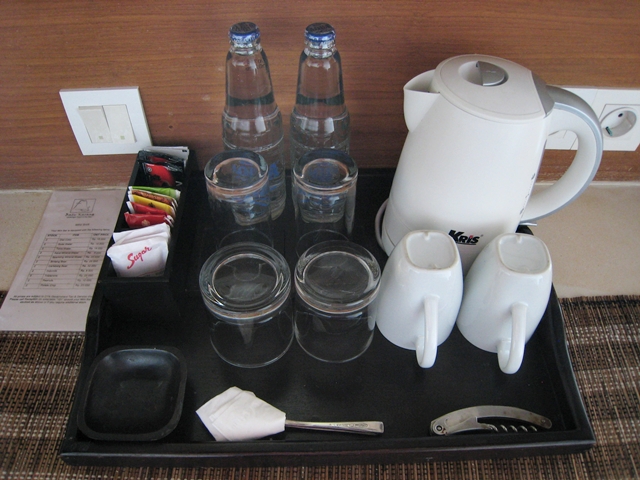 Although we didn't get around to trying them out until Day 3, there's also a couple other pools. There were sometimes couples sitting around the one with the swimup bar, but there was never anyone else in the lap pool at the times we went: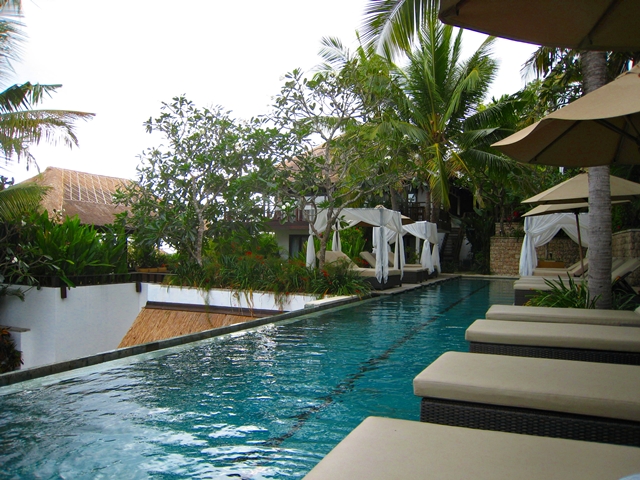 There's also Lulur Spa, which my husband and I both got to try, thanks to two complimentary 1 hour massage treatments included in our package. The therapist was excellent, and I definitely recommend the aromatherapy massage. Pre-massage you're asked about what areas you'd like the therapist to focus on for the treatment and even your tea preference. Post-massage, you enjoy your tea with some fruit and cookies. It's a simple spa, so don't expect anything like the elaborate hydrotherapy at The Ayana, but still a very tranquil and enjoyable experience.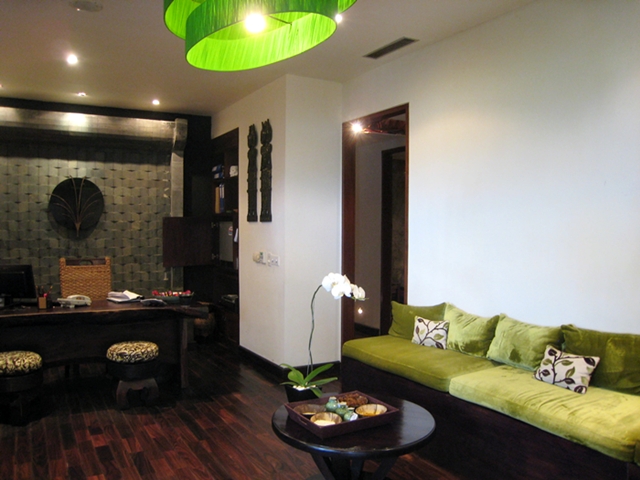 Breakfast is included in the Batu Karang rates, and while not as good as The Kayana, it was fine. Do make sure you specifically ask for fresh squeezed juice, otherwise they tend to give you canned juice.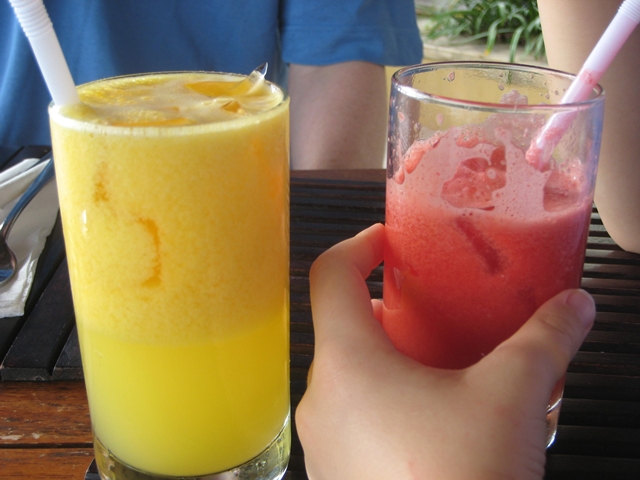 Egg dishes were rather hit and miss and small, so you might want to go with the pancakes, which came with yogurt, fruit, and maple syrup if requested.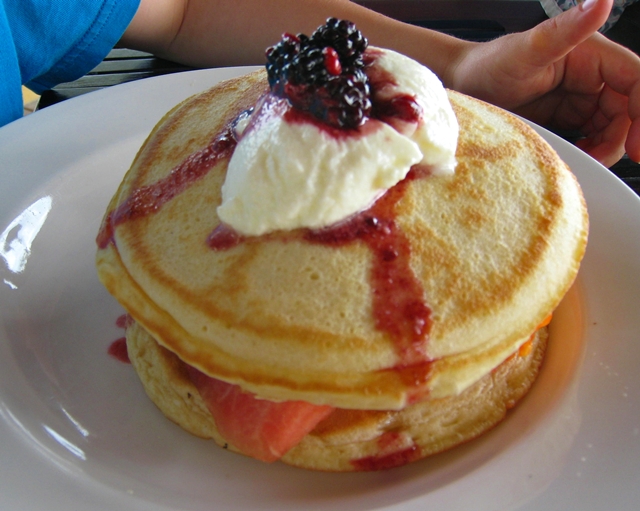 I did like the cappuccino, which came sprinkled with cocoa and with a star shaped cookie: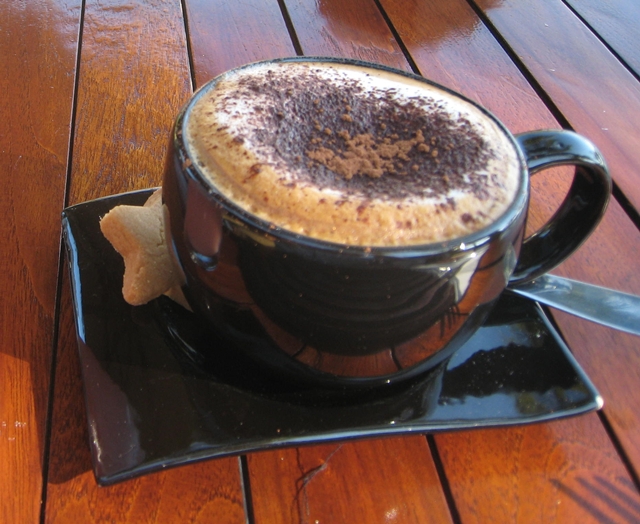 The verdict: Batu Karang was exactly what I thought it would be–probably the nicest resort on Nusa Lembongan, with beautiful ocean views, friendly service, and lovely traditional Balinese-style indoor-outdoor villas that were very comfortable. Of course, the resort was not quite as luxurious as any of the places we stayed on Bali (but it was also at a lower price point). Our best tips actually came from another guest, so that would be my main complaint–the front desk is not necessarily your best resource, although they can certainly make arrangements that you request.
Related Posts