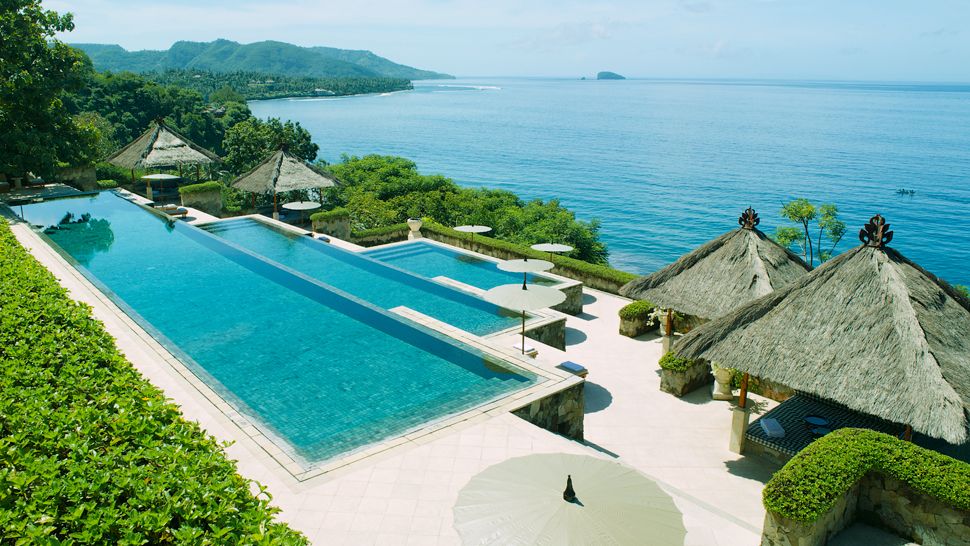 A reader writes: "Have you ever considered using Airbnb for a vacation rental instead of a hotel when traveling with your family? Curious why you seem to prefer hotels."
Well, TravelSort Hotels specializes in luxury hotels with VIP amenities such as upgrades, complimentary breakfast, resort credits and VIP treatment, so I'm clearly biased, but it's also born out of the way my family prefers to travel. Obviously everyone's different and some families will prefer vacation rentals, especially if they have very large families and need the space. But here are my top 10 reasons why I prefer a luxury hotel over Airbnb or another vacation rental:
1. Better Value
Yes–for my family at least, a hotel offers better value than a vacation rental. That's because we stay in two kinds of hotels:
Hotel Award Stays on Points or as a Credit Card Benefit
We'll be staying 4 nights later this year at a luxurious Park Hyatt for $150 (2 annual fees of $75 each). There are several other Top Hotel Credit Cards for Signup Bonuses, Perks and Spend, which no vacation rental deal can outdo in terms of luxury travel value for money.
Basically, if you're U.S. based, have great credit and are willing to sign up for some new credit cards, you'll have cheaper stays with much less out of pocket spend at hotels, including upscale hotels, than vacation rentals. Now, you may still decide to choose a vacation rental for other reasons, but it's important to understand that the comparison point is not the retail cost of the hotel, but rather the cheapest way to stay there, which in many cases is the annual fee on a credit card.
5-Star Luxury Hotels Unavailable with Points
The other hotels we stay at are 5-star hotels that are unavailable with miles and points, such as the Four Seasons, Mandarin Oriental, Aman Resorts, and boutique properties. While these hotels often have spectacular suites and extensive resort facilities that can't be matched by vacation rentals, the greatest differentiator, as I discussed in What Drives Customer Loyalty in the Travel Industry, is highly personalized customer service, from the first warm welcome, cool towel and welcome drink to special treats for your children, thoughtful poolside service, concierge help with hard to get restaurant reservations and even VIP service at the airport. For true relaxation while on vacation, it just doesn't get better than this. So while pricey, these hotels to us offer better value given the level service provided than any vacation rental would.
2. Better Customer Service
There's no question that the best vacation rental owners seek to provide great customer service. But the problem, even with the higher end vacation properties, is sorting out the great from the abysmal.
With true luxury hotels, particularly Four Seasons, Mandarin Oriental and Aman Resorts, it's much less a roll of the dice and there's much greater consistency. These hotels live and die by excellent customer service and if there's a service lapse or misunderstanding, they'll be anxious to resolve it and win back your trust.
3. More Comfortable Bed
Note that here, I'm again speaking of luxury hotels, not mid-tier or budget hotels. I can't get quality sleep on a really firm mattress, which is often what you'll find in budget hotels and vacation rentals. I have yet to be disappointed by a Four Seasons, Mandarin Oriental, Aman or Sofitel bed.
4. Blackout Drapery
Everyone gets better quality sleep in a completely dark room, but typically only hotels have true blackout drapery. This is especially important if you have kids, because trust me, your best chance of getting them to sleep a little later and to sleep in yourself is if the room is completely dark.
5. No Hassle to Get the Keys
I actually did use Airbnb while in San Francisco and stayed at the apartment of one of the co-founders. I waited outside at the appointed time for half an hour, trying to reach him by phone (he didn't answer) and was nearly late to my meeting because of this. Never again. Any quality hotel has a 24 hour reception and while there may be a slight line, you won't have to worry about someone not showing up on time with the key.
6. Ability to Move Rooms if Needed
What if there's a problem with the room you booked? In almost all cases, the hotel will be able to move you to another room, and may even upgrade you in the process, as happened with us at Komaneka at Bisma, where we were lucky enough to be given an upgrade to a Pool Villa.
At a vacation rental, on the other hand, if something goes wrong, the owner will hopefully try to fix it, but you typically won't be able to just move to another rental without forfeiting the amount you paid and the hassle of looking for something else last minute.
7. Resort Amenities
Some luxury vacation rentals come with a pool, but what about a choice of different pool areas, lounges and bars, fitness center, spa, several on-site restaurants, cooking lessons, cultural performances and more? No vacation rental will offer all of these, unless it's something like a timeshare in a resort. Plus, if you have kids, it's often fun for them to meet other kids at the kids club. And if it's the Four Seasons, the Kids for All Seasons is complimentary.
8. Twice Daily Housekeeping
It's not that we're so messy, but there's something wonderful about coming back to your room and finding it as fresh as it was when you checked in, with the bed made better than you ever could, bathroom immaculate, perhaps some renewed bath amenities. It's one of those little touches that says "vacation," at least to us.
9. No Service Fee If You Cancel a Refundable Reservation
If you book a refundable hotel reservation, you get the full amount back (whether cash or hotel points) if you cancel prior to the cancellation deadline. Not so with Airbnb, and I assume other similar agencies, where there's a service fee that you never get back. No thanks!
10. No Cooking = A Real Vacation for Mom As Well
I know that for many families it's a big draw to have a kitchen, washer and dryer etc. in a vacation rental, but as a mother, I definitely *don't* want to be cooking and doing loads of laundry on vacation. I do that on a day to day basis, so a proper vacation includes a break from these chores. Otherwise it's just a change of scenery, not a vacation.
How about you? Do you prefer hotels or vacation rentals when you travel?
Related Posts
Family Vacation: Hotel or Vacation Rental?
Top Hotel Credit Cards for Signup Bonuses, Perks and Spend
Is Mid-Tier Hotel Elite Status Worth It?
How Much Are Hotel Points Worth?
How to Complain to Airlines and Hotels – And Get Compensated
Need Award Booking Help? Our fee is as low as $75 per ticket if you book your hotel through us.
If you enjoyed this, join 90,000+ readers: please follow TravelSort on Twitter or like us on Facebook to be alerted to new posts.
Become a TravelSort Client and Book Your Hotel with Virtuoso or Four Seasons Preferred VIP Amenities!