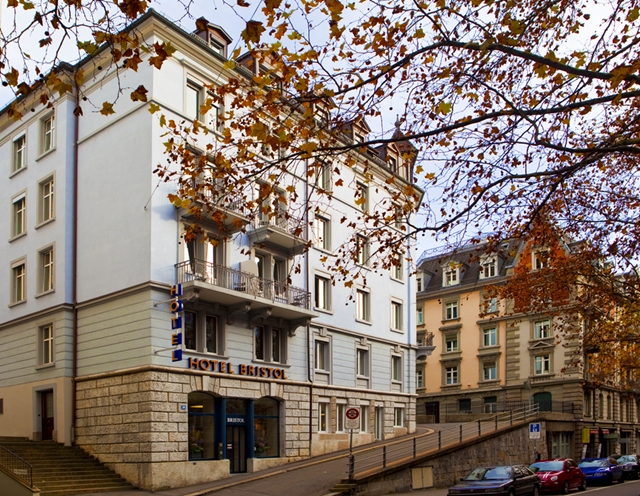 This Hotel Bristol Zurich review is part of a series of posts from a short Zurich trip. Other posts include:
Swiss Airlines Business Class Review: Bangkok-Zurich
Swiss Arrivals Lounge in Zurich Airport: Photos and Review
Park Hyatt Zurich Parkhuus Restaurant Review
After already leaving for Asia, I decided to change my Zurich plan to stay in Zurich proper, rather than heading to Interlaken, and I needed a hotel. Since there wasn't award availability at the Park Hyatt Zurich and I wanted to spend most of my time walking around Zurich anyway, it made sense to find a budget place to stay since I'd basically only sleep there. Particularly since it was just me and I wasn't traveling with my family, I just had a few requirements: clean, convenient to Zurich's city center, and around $200 (keep in mind Zurich is one of the most expensive cities in the world, currently ranked at #6 after Tokyo, Luanda, Osaka, Moscow and Geneva according to a Mercer cost of living survey).
I found Hotel Bristol, which fortunately still had availability and offered a TravelSort rate of just $180, including complimentary breakfast. At that rate for Zurich, I wasn't expecting much, but in any case it was walking distance to the Zurich Central Train Station, perfect for my needs.
After initially walking the wrong way on the hotel's street, I finally made it to the hotel–if I'd gone the most direct way, it was literally a 5 minute walk from the train station. The cherry receptionist checked me in, giving me a room on the second floor, told me where breakfast would be served, and pointed out the key drop. As at many smaller European hotels, there's a physical key that's a bit heavy to carry around, so you just leave it at reception whenever you go out.
I walked up to my room, which was small but clean and neat. Zurich was quite warm when I was there, so I was glad there was at least a fan in the room, although no air conditioning.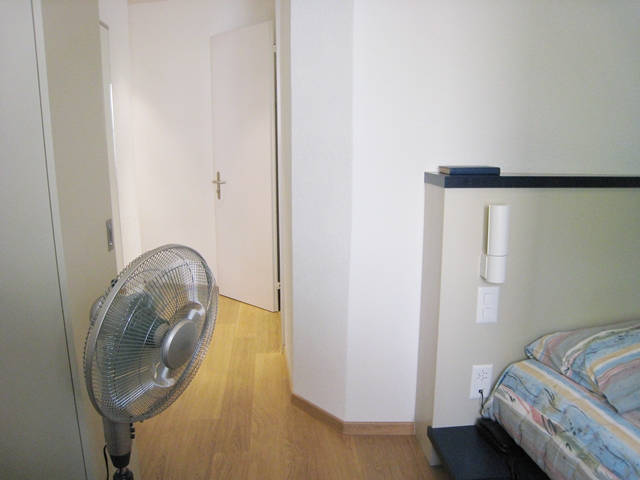 I'd booked a single room, so as expected there was just one single twin bed that I slept fine on, although the hotel does have "Grand Lit" rooms with a double bed, as well as rooms with 2, 3 or 4 twin size beds. No queen or king size bed rooms, however, which I know can be a dealbreaker for many couples. There was a wall-mounted flat screen TV.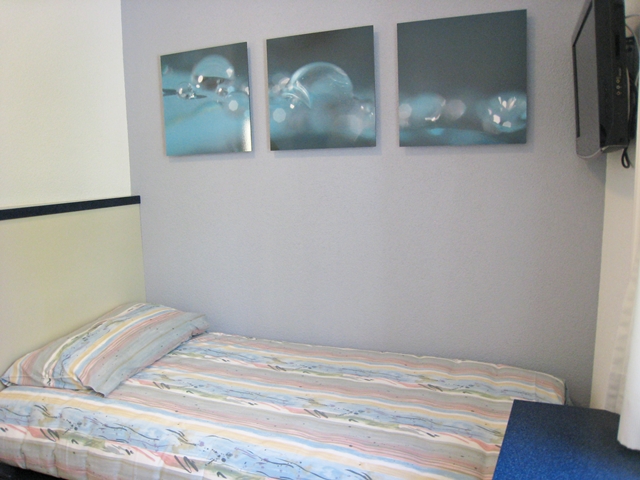 The bathroom was basic but immaculately clean, with a bathtub-shower combo, sink, toilet and heated towel rack (love this in winter).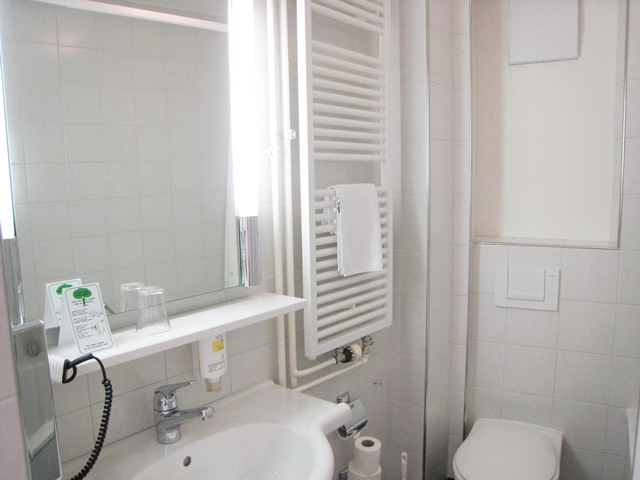 I wasn't expecting any kind of view, but was glad that the window opened to let in fresh air. While the street in front of the hotel didn't seem terribly noisy, I was still glad to have a room on the back side of the hotel, as it was completely quiet and I got a great night's sleep. There was a desk by the window that I would have used for working, but the hotel's free WiFi involved using a cell phone to receive the code, and since I didn't feel like paying roaming charges for that, I opted to wait until I was at the airport lounge for free WiFi.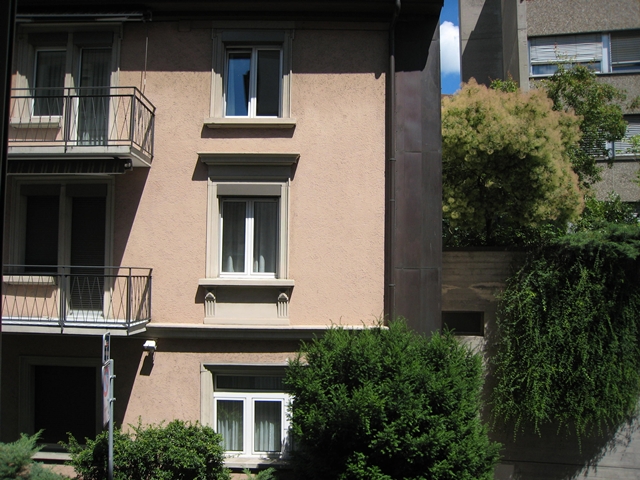 Breakfast the next morning was in a nondescript but perfectly adequate room: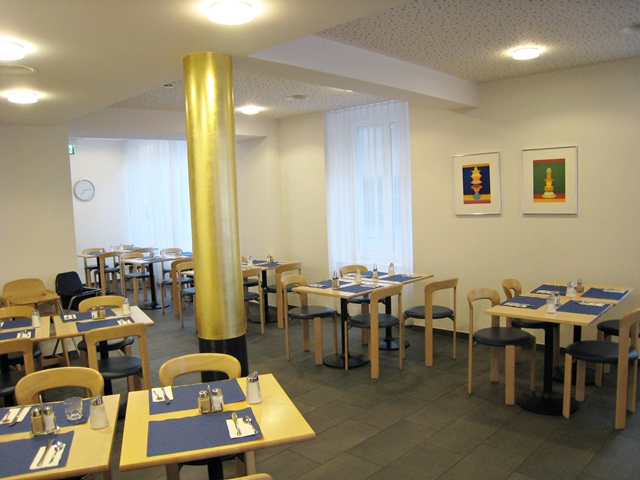 The buffet included all the usual suspects: croissants and rolls, jams, cereals, yogurt, cold meats and cheeses, hard boiled eggs, coffee and tea. I had some yogurt with some of my own Dorset cereal that I'd brought with me, and used the hot water and my Nespresso powder to make a great cup of espresso, but that's only because I'm a bit of a breakfast snob. Everything looked perfectly fine if not gourmet, and you could easily fuel yourself with the breakfast spread for an energetic morning exploring Zurich.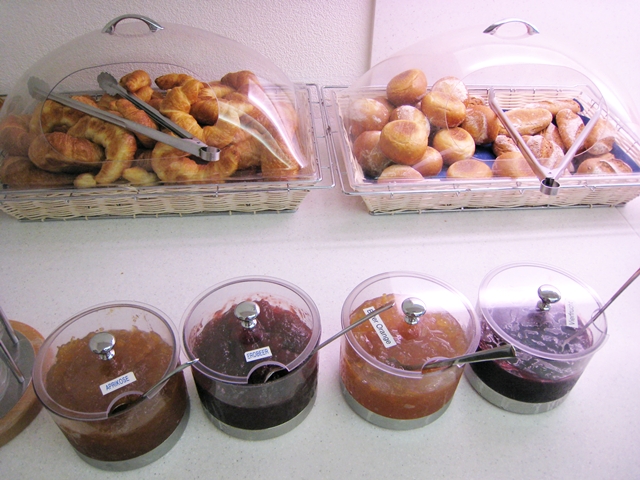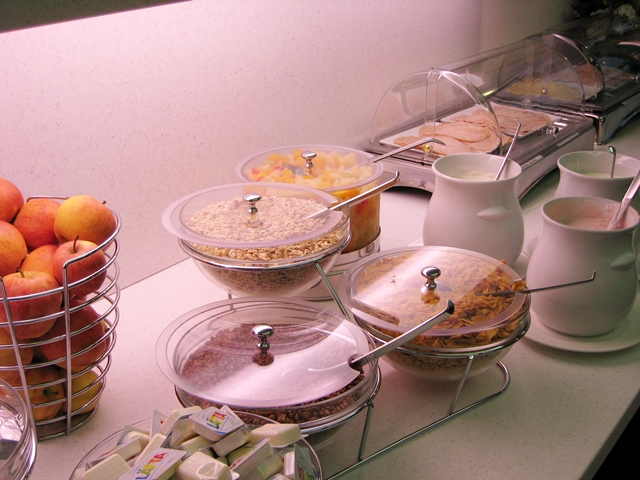 The Verdict: For Zurich, I think this hotel is an incredible deal if you're looking for a no frills budget choice that's clean and convenient to everything. The main gripe I had was with a WiFi system that required you to use a cell phone to receive the code, since not all travelers will have a working cell phone in Zurich. And while the hotel can certainly arrange an airport shuttle for you, if you're traveling light it's an easy 5 min. walk to the train station, which connects directly to Zurich Airport.
Contact us to book the Hotel Bristol, Zurich at TravelSort Member Rates.
Related posts
Swiss Arrivals Lounge in Zurich Airport: Photos and Review
Park Hyatt Zurich Parkhuus Restaurant Review
Swiss Airlines Business Class Review
Does Swiss First Class Award Availability Exist?
How to Find Star Alliance Award Seats
Check out and apply for the Best Travel Credit Cards.
If you enjoyed this, please follow TravelSort on Twitter or like us on Facebook to be alerted to new posts.
Become a Member to find your perfect luxury or boutique hotel at up to 50% off: TravelSort Hotels