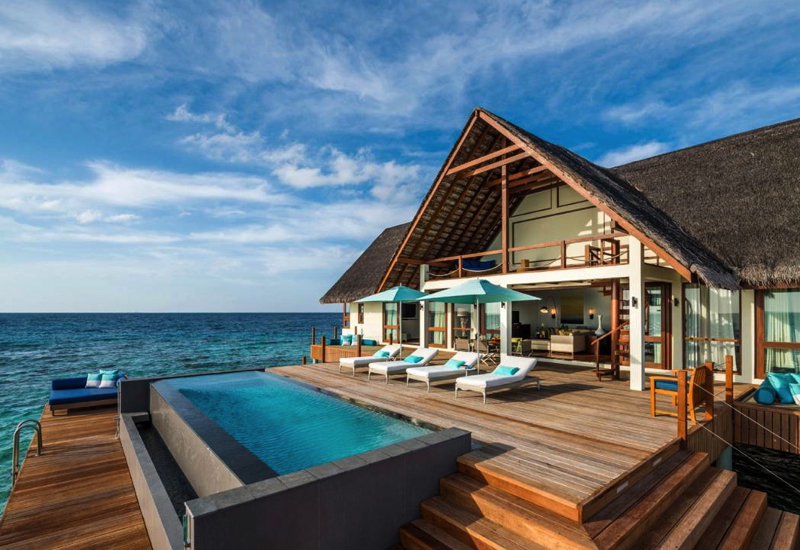 For a honeymoon, is Maldives or Bora Bora a better experience? A TravelSort Client writes "I've seen you were recently in Bora Bora and that you've also been to the Maldives. Which is a better honeymoon experience, and why? My fiancee and I are trying to decide between Bora Bora and the Maldives for our honeymoon, and are having a tough time figuring out which to visit."
Great question, and a tough choice. That's like asking should you visit Paris or Florence, or should you visit Hong Kong or Tokyo, or visit Australia or New Zealand–the answer is YES (as in both)!
And even if you have to choose one just now, for a honeymoon trip, you could always make a pact with your partner to visit the other one for a future anniversary trip. With that said, here are my personal views on how they compare, which will hopefully help this client and readers who may also be deciding between the Maldives and Bora Bora. Whichever one you decide on, I recommend becoming a TravelSort Client so you can reserve with Virtuoso or Four Seasons Preferred Partner benefits, and also get expert guidance on dining and activities for the best possible honeymoon stay.
Getting There in First Class or Business Class: Maldives
This is one of the more objective comparisons, since there aren't currently any first class products flying to Tahiti (Air Tahiti Nui used to have First Class but did away with it some years back and now only offers Economy Class and Business Class).
In the case of the Maldives, Male (MLE) benefits by being extremely well connected:
Cathay Pacific Business Class via Hong Kong
Emirates A380 First Class and Business Class via Dubai
Etihad Business Class via Abu Dhabi
Qatar Business Class via Doha
Singapore Business Class via Singapore
Turkish Airlines Business Class via Istanbul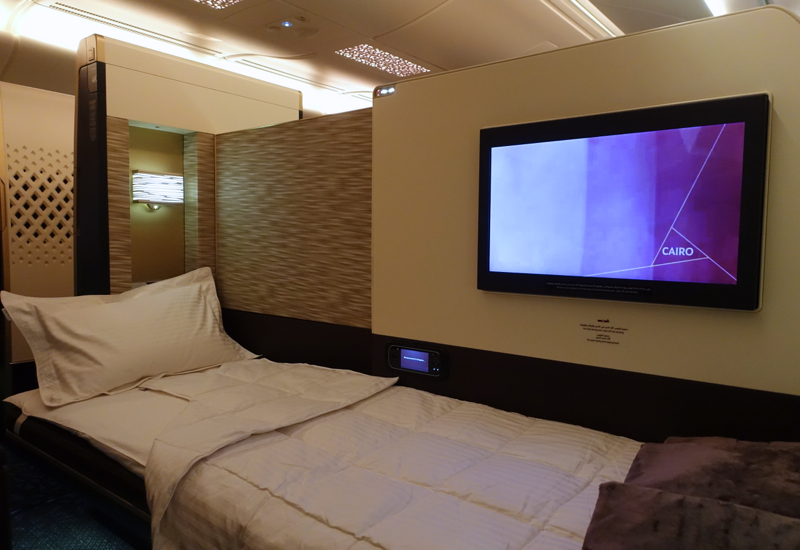 There are other carriers as well, but the above, and particularly Etihad A380 First Apartment NYC to Abu Dhabi (or LHR-AUH or SYD-AUH) then Abu Dhabi to Male in Business Class is a great combination.
Meanwhile, choices into Papeete (PPT) from which you have a 1 hour flight to Bora Bora (BOB) are more limited, since some of the below services operate as infrequently as once a week or are from places you're unlikely to be originating in, such as Santiago and Easter Island. Also keep in mind that there is currently no flat bed business class to Tahiti / Bora Bora.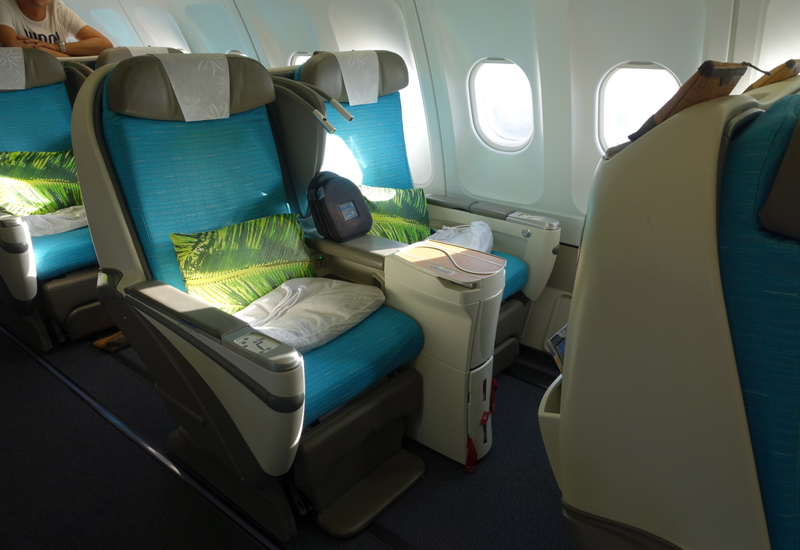 Time to Get There from U.S.: Bora Bora
While there's no flat bed business class product flying to Bora Bora, it is worth noting that flying from the U.S. it takes less time to get to Bora Bora. And if you're in the Western U.S. or better yet Los Angeles, it takes just over 8 hours to fly to Papeete, with another hour long flight to Bora Bora.
The Maldives, in contrast, will be a 13 to over 16 hour flight from the U.S. to Dubai, Doha or Abu Dhabi (depending on whether you're flying from the East Coast or West Coast), with the potential of an overnight layover, and then another 4 hours 30 minutes to Male. And of course many of the resorts in the Maldives are an additional seaplane flight, or at least a speedboat transfer from Male.
So if you have limited vacation days you can take off for your honeymoon or don't want to be on flights for about 20 hours, you may want to decide on Bora Bora and save the Maldives for another trip when you have more time to spend getting there and back.
Transfer to the Resort: Four Seasons Bora Bora
While transfer times in the Maldives vary depending on the resort you're going to, many of the ones my clients choose are a seaplane away. And unfortunately, unless you're headed to Cheval Blanc Randheli, which has outfitted its own seaplane to have fewer seats and a more luxurious setup for guests, the seaplanes going to the resorts are anything but luxurious.
That's the unvarnished truth: they're extremely noisy (that's why you'll likely be given ear plugs), hot with no air conditioning (hence the cool towel you're sometimes given) and don't run on a fixed schedule, so you may find yourself waiting around in Male awhile (wishing you were already at your resort) or on the return, having to take a seaplane far earlier than you would wish, making you kill time in Male Airport. To top it all off, prices are high–often around $450-500 or more per person roundtrip. You can thank the private equity firm Blackstone for that, but I digress. For more, see our Trans Maldivian Airways Seaplane Review.
In contrast, I loved that we were welcomed on arrival at Bora Bora by a friendly Four Seasons Bora Bora representative who greeted us with a flower lei, and very soon, after our luggage brought over, we and fellow guests were on a luxury yacht for the short 15-20 minute boat ride to the resort. We were offered cool towels and chilled Evian water, and already enjoying the magnificent views of the lagoon, without the noise or discomfort of the Maldivian seaplanes.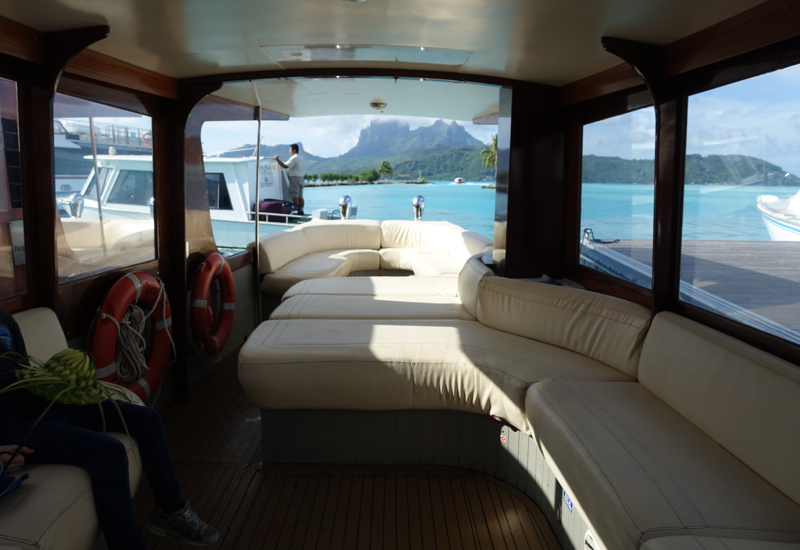 Resort Choices: Maldives
It's actually unfair to compare the Maldives, a country, with Bora Bora, which is but one place in all of French Polynesia, so no surprise–there are many more resort choices in this unfair comparison of Maldives and Bora Bora. The ones I'd most highly recommend are Four Seasons Maldives at Landaa Giraavaru (best combination of fantastic service, beautiful beach, great overwater villas and beach bungalows, and special experiences for both couples and families); Soneva Fushi (for barefoot luxury and indulgent extras such as a complimentary ice cream room, chocolate room and cheese room); Park Hyatt Maldives for an excellent house reef; and Cheval Blanc Randheli for an all out splurge.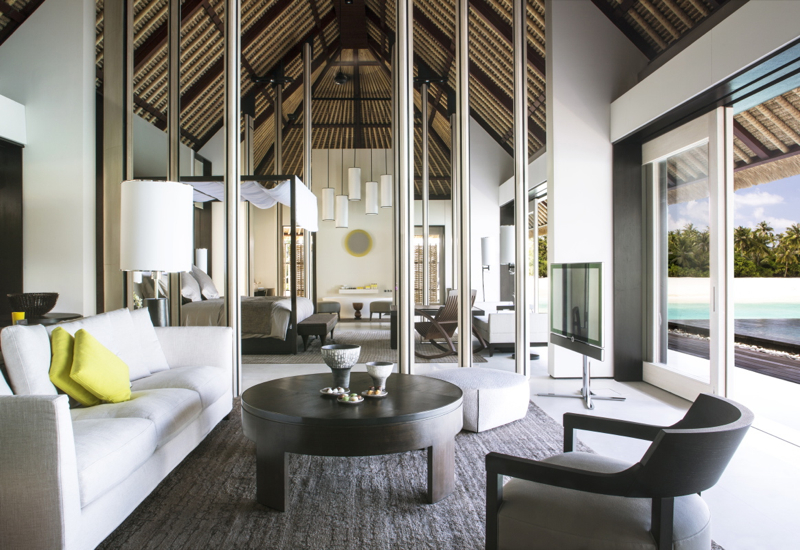 In Bora Bora, I most recommend the Four Seasons Bora Bora, as it offers the best service of all the Bora Bora luxury resorts, as well as beautiful water bungalows (some with private plunge pools) and complimentary access to the spa pool, sauna, relaxation room and changing rooms, which is handy if you arrive early before your bungalow is ready, or depart late, after checking out of your bungalow. The St. Regis Bora Bora and InterContinental Bora Bora Thalasso are other options, but for such a landmark event such as a honeymoon, I recommend staying at the Four Seasons Bora Bora.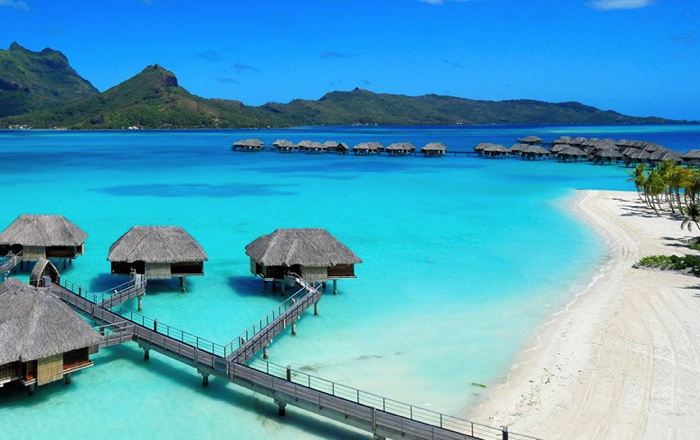 Views: Bora Bora
Certainly you enjoy great ocean views from almost any water villa in the Maldives or Bora Bora, but there's something special about the liqht turquoise color of Bora Bora's lagoon, and the majestic view of Mount Otemanu. So in the "Views" department, Bora Bora wins, in my opinion.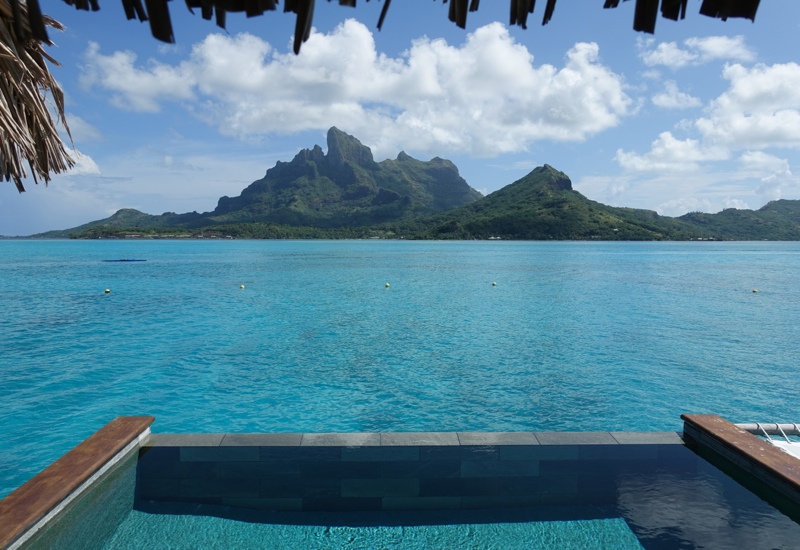 Don't forget to capture some of the beautiful colors in Bora Bora–rather than just taking selfies or asking another guest or resort staffer to take a photo of the two of you, have some professional photos taken with Bora Bora Dream Pictures. Here's one we had taken for our anniversary trip: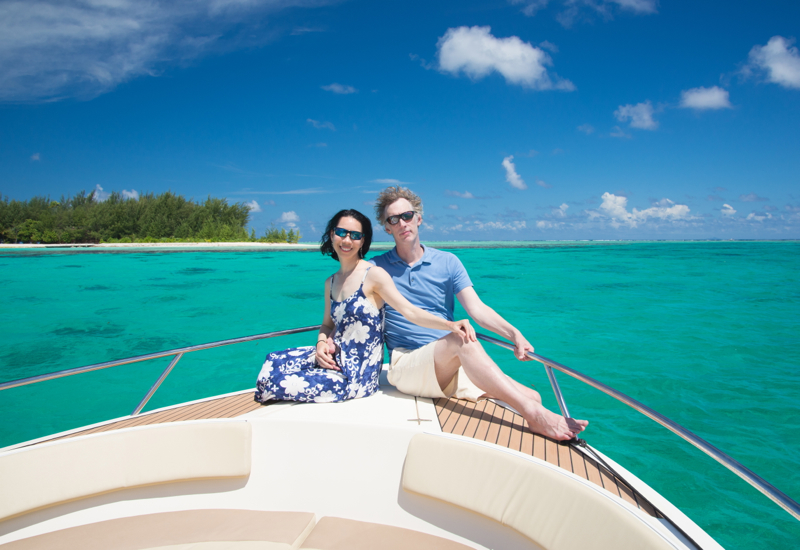 Overwater Villa Quality and Amenities: Varies by Resort
There are so many different resorts and even categories of over water villas that it really does vary by resort. You will find more choices of very large overwater villas in the Maldives, just as there are more choices overall of resorts, so if you're seeking as spacious and well equipped a villa as possible, you're more likely to find it (at a cost, of course) in the Maldives. But for a honeymooning couple, it could really go either way.
If you want modern, then you'll probably want to select Cheval Blanc Randheli or similar in the Maldives. For a more traditional thatched roof water villa, there are many excellent choices in the Maldives, and also great options in Bora Bora, with my top choice being one of the Mountain View Overwater Bungalow Suites with private plunge pool at the Four Seasons Bora Bora.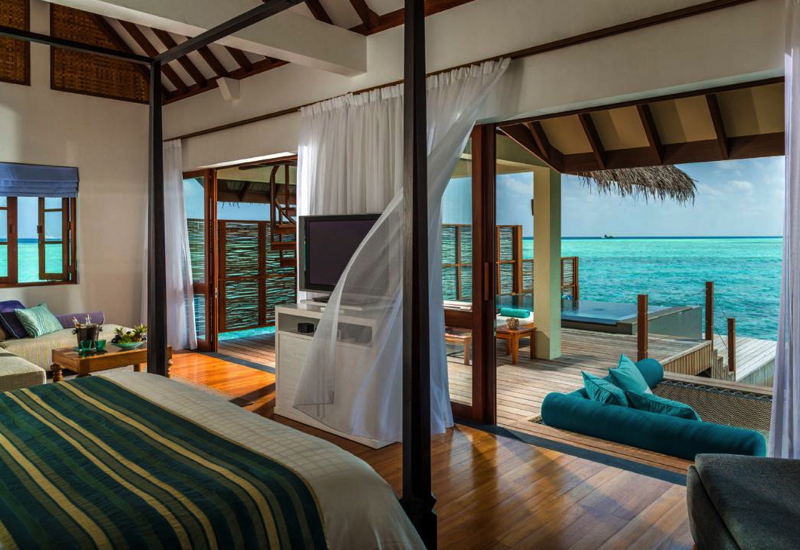 Beach Quality: Varies by Resort
Neither the Maldives nor Bora Bora will give you the absolute whitest, most powdery sand–for that, go to Amanpulo. But I will say the sand at Four Seasons Maldives at Landaa Giraavaru was the finest of he 5 Maldives resorts I've been to so far, and the sand at Four Seasons Bora Bora was finer than at InterContinental Thalasso, where water shoes were necessary to protect your feet in many places from the coral and rocks.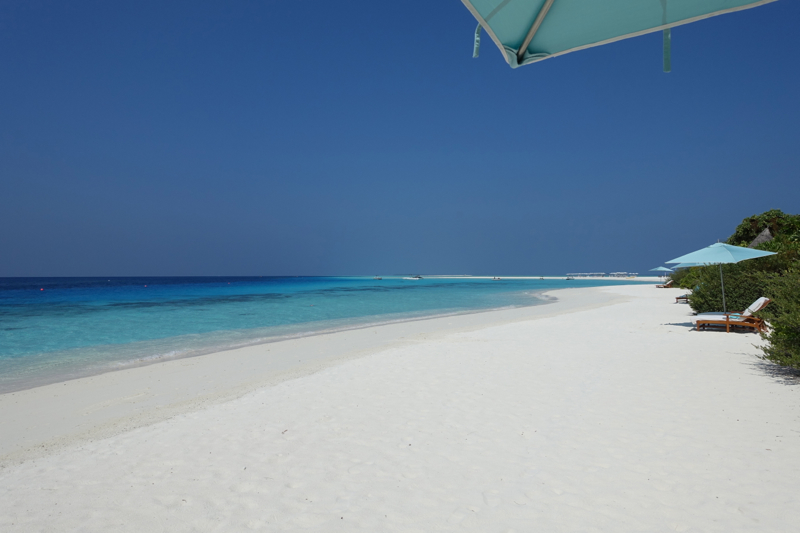 Dining Quality: Varies by Resort, But Generally the Maldives
As you'd expect, it's expensive to import food to both resorts in the Maldives and to Bora Bora. But with more flight connections into Male, there does tend to be a greater variety of imported ingredients and thus more variety as well as higher quality of dishes in the Maldives, than in Bora Bora. In both places I enjoyed excellent tuna and shrimp dishes. With the heat, we ate few meat dishes in both places, but there was greater variety on the menu in the Maldives. I also noticed far more fresh fruit and fruit juice options for breakfast in the Maldives.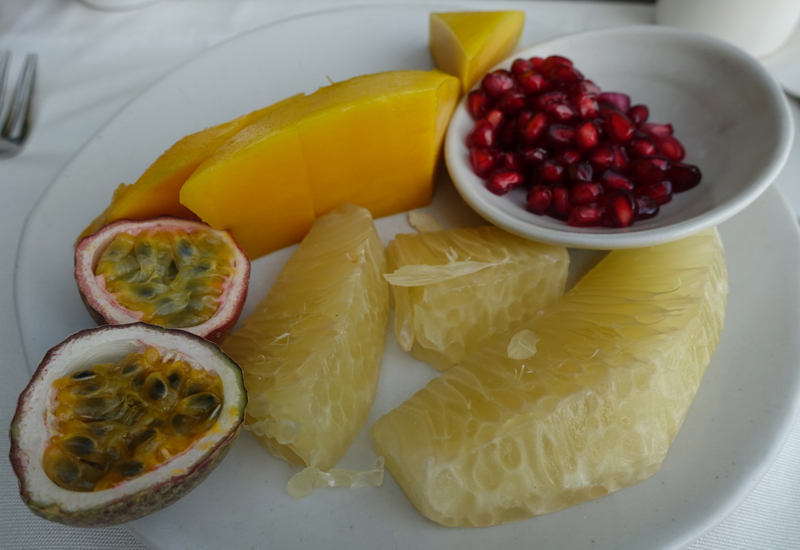 All that said, the very best pastries, hot chocolate and desserts I sampled were at Four Seasons Bora Bora, perhaps due to the French influence. These were better than any of the pastries and desserts I tried at the 5 resorts in the Maldives.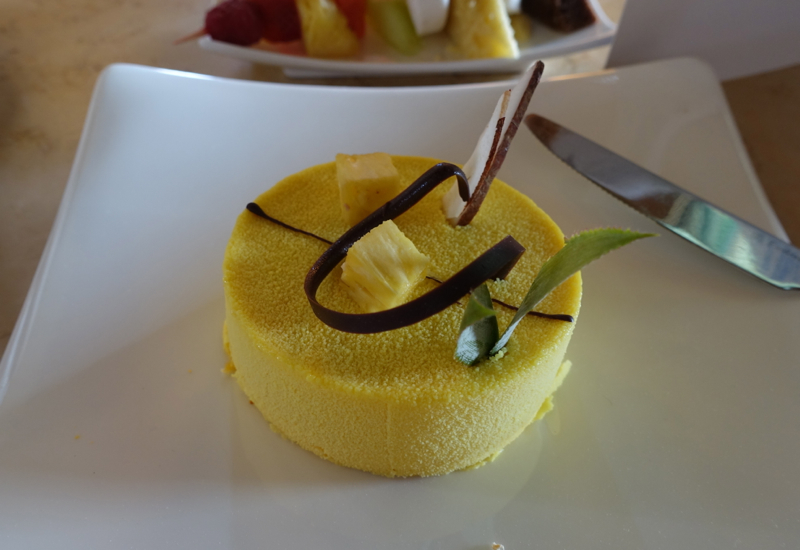 Snorkeling and Diving: More Variety in Maldives, Less Expensive in Bora Bora
For snorkelers and divers, both the Maldives and Bora Bora are wonderful destinations, with the chance to see many varieties of fish, manta rays, sharks and dolphins. We did see more kinds of fishes in the Maldives, however, and more fish (and sometimes baby sharks) right near shore in the Maldives, not to mention the cool bioluminscent plankton at night. That said, my husband saw a barracuda, which he'd always wanted to see, right under our water bungalow at Four Seasons Bora Bora, and he saw dolphins on his Pure Snorkeling snorkeling trip in Bora Bora (which we didn't see in the Maldives) so a lot of it is just luck of the draw.
I will note that after the very expensive scuba diving prices at many resorts in the Maldives, Bora Bora seemed a bit more reasonable, at $160 for a two tank boat nitrox dive with all equipment, and with a much better dive guide than I had at the Park Hyatt Maldives, plus my husband was able to come along for free to do some snorkeling. It was over $200 for a two tank boat dive including equipment rental and taxes at the Park Hyatt Maldives.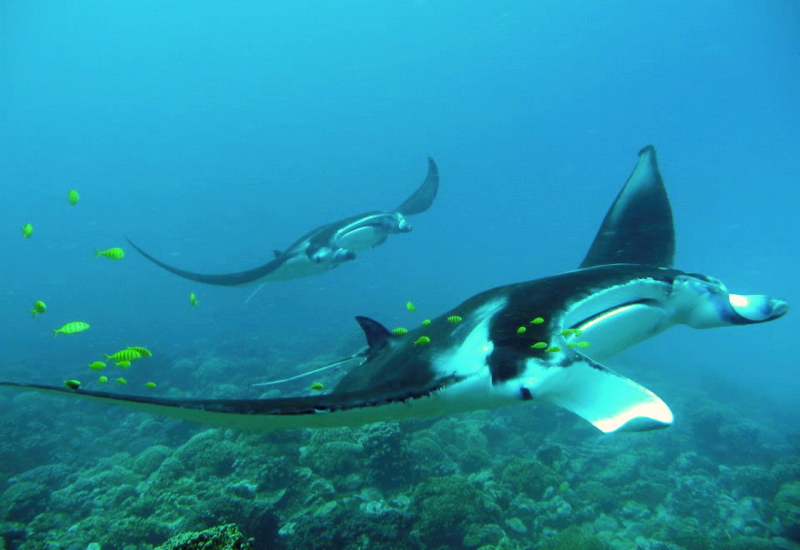 Culture and Things to Do: Bora Bora
Let's be realistic–neither the Maldives nor Bora Bora are likely to be very cultural experiences; they are more about the gorgeous views, amazing underwater life, romantic dining experiences, and relaxation. But something to note is that each Maldivian resort is located on its own atoll, completely apart from any of the islands local Maldivians actually live on. While sometimes there is a local island tour where you can see and mingle with locals, most visitors never do this excursion even where offered. Couple this with the fact that often about half of the staff working at the Maldivian resorts are not local Maldivians, and you're unlikely to get much sense of Maldivian culture at all, beyond perhaps learning that a traditional Maldivian boat is called a dhoni.
In Bora Bora, most of your time is also likely to be spent at the resort or on excursions around the lagoon, but it is more possible to visit the main island and dine there, or do a 4×4 tour around the island. And even at the resort itself, you're more likely to have at least a taste of local culture, admittedly with a tourist veneer, such as via a Polynesian dance show, a demonstration of how to open a coconut, or how to prepare poisson cru.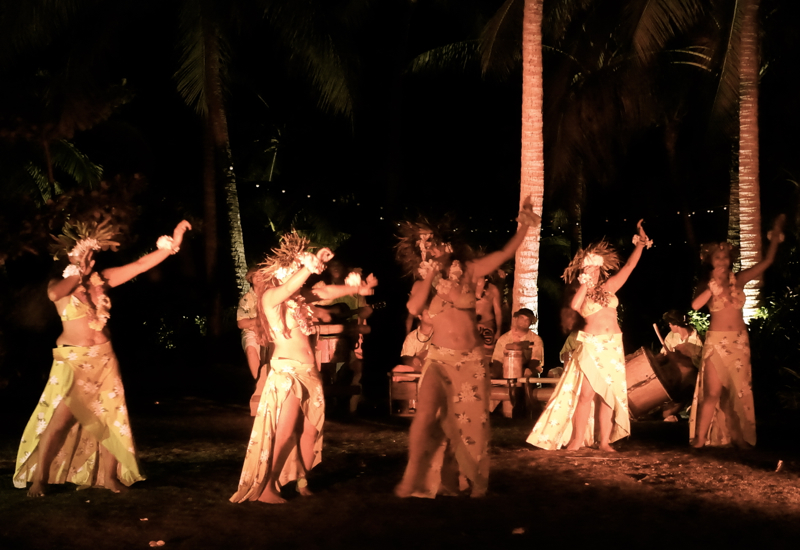 Have you been to Bora Bora or the Maldives for your honeymoon?
Related Posts
Four Seasons Resort Bora Bora Review
Four Seasons Maldives at Landaa Giraavaru Review
Park Hyatt Maldives Hadahaa Review
Need Award Booking Help? Our fee is as low as $75 per ticket if you book your hotel through us.
If you enjoyed this, join 200,000+ readers: please follow TravelSort on Twitter or like us on Facebook to be alerted to new posts.
Become a TravelSort Client and Book Your Maldives or Bora Bora Honeymoon with Preferred Partner Perks!