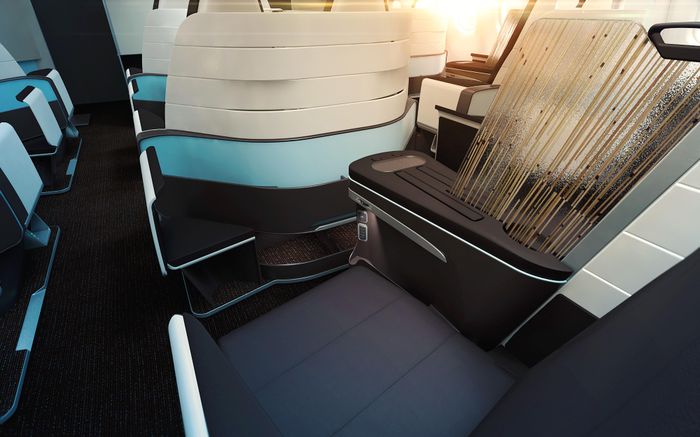 Hawaiian Airlines will install new flat bed seats in first class on its A330 aircraft, with the first aircraft with the new first class lie flat seats launching in Q2 2016, and the remaining 22 A330s slated to be retrofitted with the new seats by the end of 2017. Here are the details and specs of the new seats:
This is great news for anyone who books paid Hawaiian Airlines First Class, since Hawaiian's current recliner product seriously lags the flat bed seats Delta flies from Atlanta to Honolulu,
United's Business Class to/from Hawaii
flight between NYC EWR and Honolulu.
Any Other Changes to Hawaiian Airlines' New A330s?
The new A330s will carry 278 passengers (18 in Business/First, 68 in Economy Plus "Extra Comfort" and 192 in Economy) vs. Hawaiian's current A330s, which seat 294 (18 in Business/First, 40 in Economy Plus and 236 in Economy).
Why Has It Taken This Long for Hawaiian to Install Flat Bed Seats to Hawaii?
One of the questions I'm often asked is why there aren't more routes with flat bed business class / domestic first class to Hawaii. After all, from the East Coast it's a nearly 11 hour nonstop flight. That's similar to flying from Los Angeles to Tokyo, which you can fly in Singapore Suites, in a suite with closing doors and a bed made up with a memory foam mattress and Givenchy linens.
The answer is simple: economics. Hawaii is primarily a leisure destination, so similar to other such destinations (think Air Tahiti Nui to Tahiti and flights to the Caribbean) there really aren't any stellar business and first class products that fly there. The lack of flyers willing to pay for business or domestic first class means that there's not the money to invest in more comfortable seats. So Hawaiian Air has so far been able to be a laggard with its domestic first class product, given that there are so few of its routes where a competitor is flying something substantially better to and from Hawaii.
That said, even markets such as Tahiti will eventually see flat bed service, via Air France's new Business Class, which will likely be flying to Tahiti at least some of the time in 2018, and Air Tahiti Nui introducing a new Business Class when it takes delivery of its 787-9 Dreamliners, which will likely have flat beds (though no confirmation as of yet). And Asian carriers may eventually retire the old angled flat seats they currently fly to Hawaii, deploying their more modern flat bed seats on at least some of these routes, so the time is right for Hawaiian to acknowledge the competition, at least on its international routes to Hawaii.
Will I Be Able to Fly Hawaiian Airlines New First Class with Flat Bed Seats Using Miles and Points?
Unfortunately for those seeking to book flights from the mainland U.S. to Hawaii with frequent flyer miles and points, as of September 1, 2015, you can no longer use AAdvantage miles to redeem for awards between the continental U.S. and Hawaii. You still can use AAdvantage miles to book Hawaiian Airlines flights between Hawaii and international destinations, however, so Hawaii or foreign-based flyers may well be able to book award flights in the new first class with AAdvantage miles, depending on what Hawaiian releases to partners.
You can also use Hawaiian miles, though it wouldn't surprise me to see award availability highly restricted or possibly a greater number of miles required for it, when the new product first comes out.
Which International Destinations Does Hawaiian Airlines Fly To, That Are Likely to Get the New First Class?
Hawaiian Airlines has noted that international destinations are likely to be served first by the new First Class flat bed seats. These are the international cities that Hawaiian currently flies A330 aircraft to:
Auckland
Beijing
Brisbane
Osaka
Papeete
Seoul
Sydney
Tokyo
Do you plan to fly Hawaiian Airlines in the new first class flat bed seats after they're introduced?
Related Posts