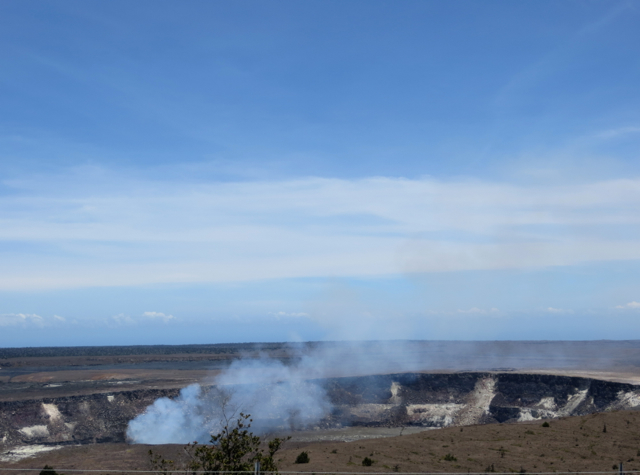 This Hawaii Volcanoes National Park review is from a recent trip to the Big Island of Hawaii and Maui, with other stays at Four Seasons Resort Hawaii at Hualalai, Andaz Maui at Wailea and Four Seasons Maui at Wailea.
For prior posts in this trip report, please see:
Alaska Airlines First Class Review
Alaska Airlines Board Room Seattle Lounge Review
Alaska Airlines First Class to Hawaii
Hyatt Place Waikiki Beach Review
Andaz Maui at Wailea Suite Review
Ka'ana Kitchen Review and Andaz Maui at Wailea Dining
Mama's Fish House Review in Paia, Maui
Four Seasons Resort Maui at Wailea Review
Breakfast at DUO at Four Seasons Maui at Wailea
Hawaii Volcano Treehouse Review
Hawaii Volcanoes National Park Map, Entrance Fee and Opening Hours
The Hawaii Volcanoes National Park is actually open 24 hours a day all year round, including all holidays. The Kilauea Visitor Center is open daily, 7:45m – 5pm, and the Jaggar Museum is open daily 8:30am-7:30pm.
The park entrance fees are:
$10 per vehicle, valid for 7 days (applies to single, private, non-commercial vehicles only)
$5 per individual, valid for 7 days (applies when you enter by foot, by bicycle or by motorcycle)
Here's a map of the park, showing the Visitor Center, Jaggar Museum, Steam Vents, Thurston Lava Tube, Crater Rim Road, Chain of Craters Road, etc.: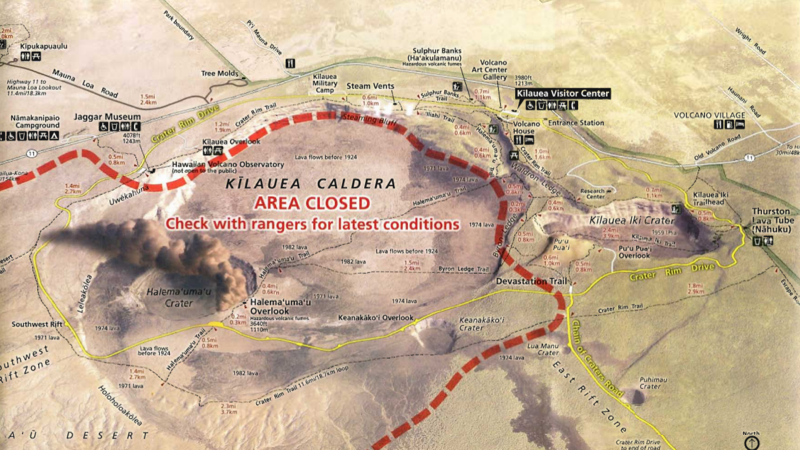 Hawaii Volcanoes National Park Visitor Center and Ranger Led "Exploring the Summit" Walk
We started our visit at the Visitor Center. There's a topographical map of the Big Island of Hawaii outside, to give you a better sense of how the island was formed by volcanoes: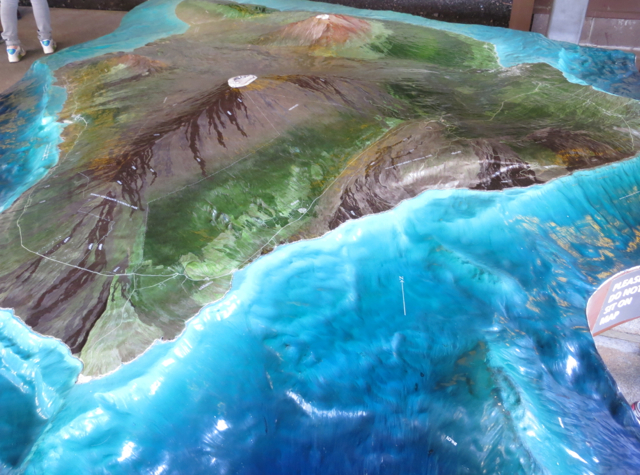 Inside are various interactive exhibits, as well as a theater depicting how a volcano forms, and footage of Kilauea erupting (which of course the munchkin loved):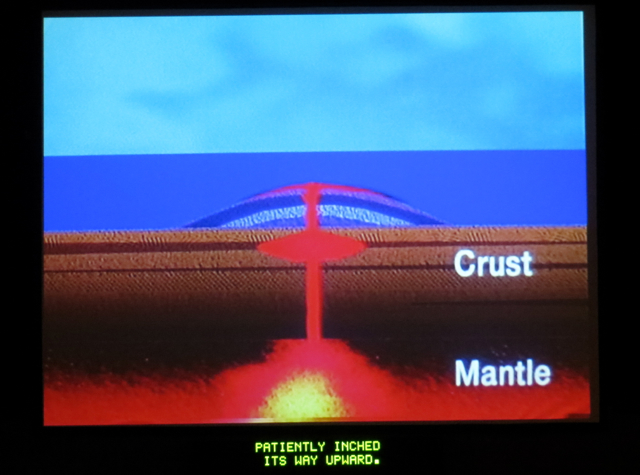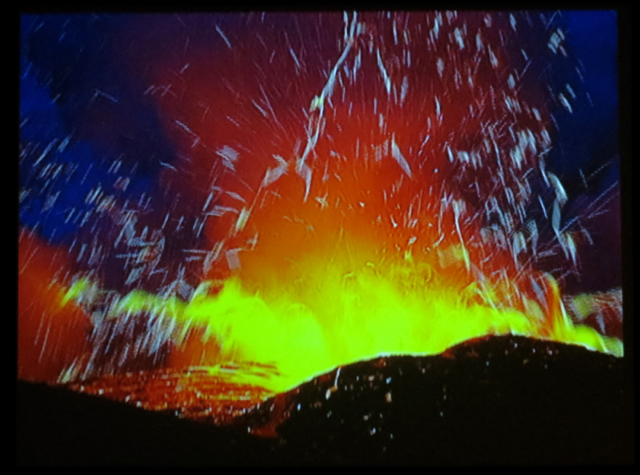 There's a Ranger led "Exploring the Summit" walk at 10:30am and again at 1:30pm, so we joined the 10:30am walk. Our ranger was a native kama'aina, who grew up not far from the Volcanoes National Park.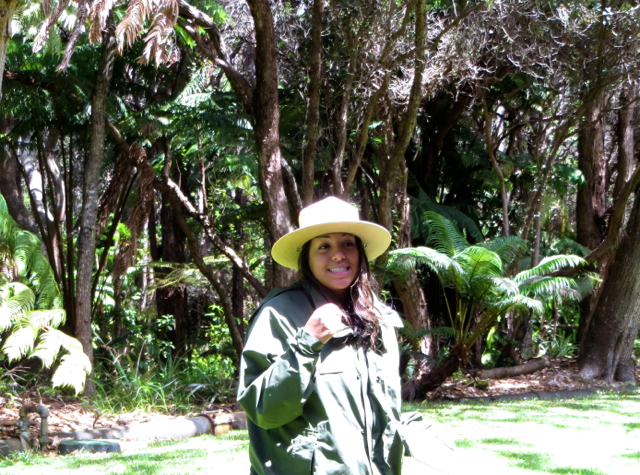 On our way to the summit, she showed us both endemic plants (90% of Hawaiian rain forest plants and animals are found nowhere else in the world) and invasive species, such as kahili ginger. Originally brought to Hawaii from India as a pretty garden flower, kahili ginger has unfortunately has spread into Hawaiian forests, including those in the volcano area, taking over and ultimately killing native species of plants and the animals that coexist with them.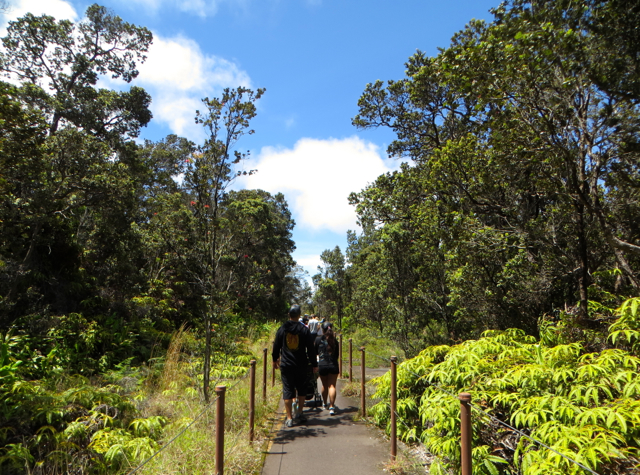 She also related one of the ancient Hawaiian myths surrounding the Ohia tree and Lehua flower. As the legend goes, Pele, the goddess of the volcano, was in love with Ohia, a handsome warrior. She declared her love to him, and asked him to be hers, but he already was in love with a beautiful maiden, Lehua. Pele became enraged, and transformed him into a gnarled tree, the Ohia. Lehua waited in vain for Ohia to return to her, not knowing of his transformation. The other Hawaiian gods at last took pity on her, and turned her into the Lehua blossom on the Ohia tree, reuniting the lovers. This is also why a Hawaiian superstition is that, if you pick a lehua blossom, it will rain later that day–tears because you have separated the lovers.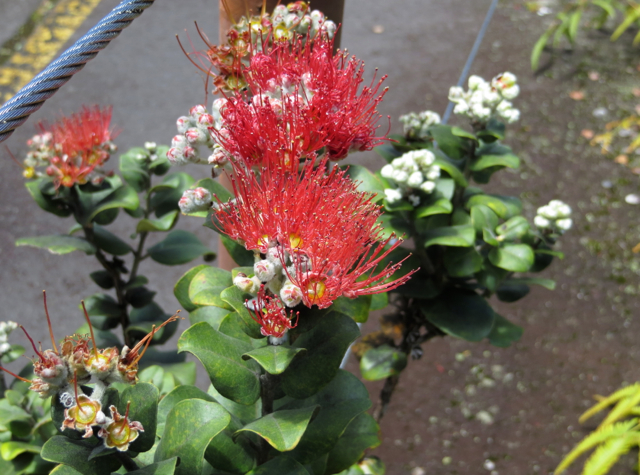 The walk to the overlook is actually paved, so even families using a stroller were able to go on the walk. At the overlook, we enjoyed the view of Kilauea crater and the steam: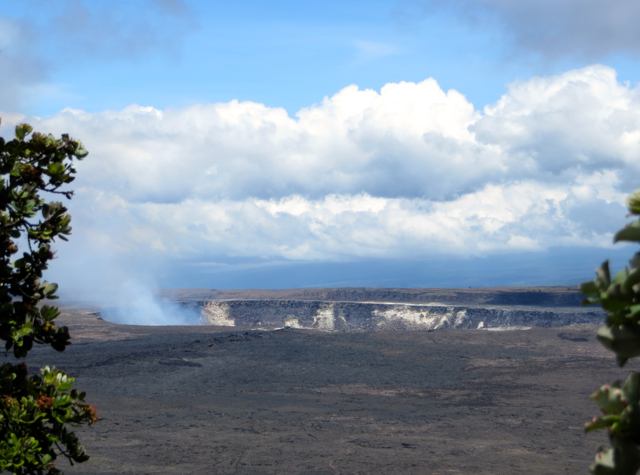 Thurston Lava Tube
I remembered walking through the eerie Thurston Lava Tube as a child, so I wanted to give the munchkin a chance to see it. The lava tube was formed when the top of the rushing lava hardened into a crust, with the hotter molten lava continuing to travel through, forming the tube.
It's a short winding walk down a few stairs from the parking lot, surrounded by plenty of ferns: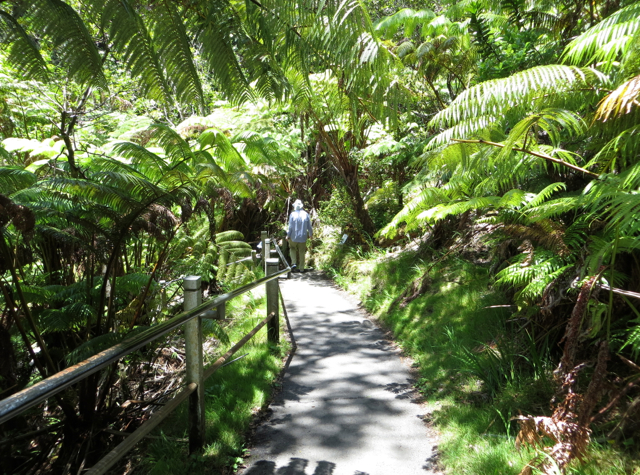 The Thurston Lava Tube seemed to be much more lit up than I remembered it as a child (I could have sworn we had to use flashlights) but the munchkin still enjoyed exploring it. Just try not to step in the puddles if you don't want to get your feet soaked!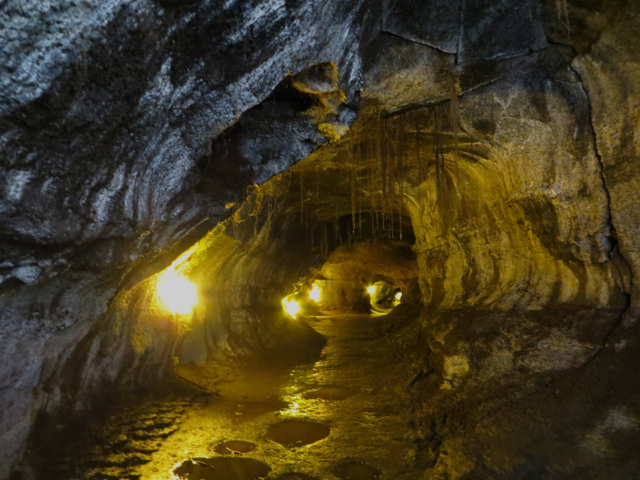 Jaggar Museum and Steam Vents
The Jaggar Museum is at the end of the Crater Rim Road–you basically can't go any farther by vehicle, and this is also the best place to come at night to see the glowing lava, even though during the day you'll just see steam from Kilauea Caldera.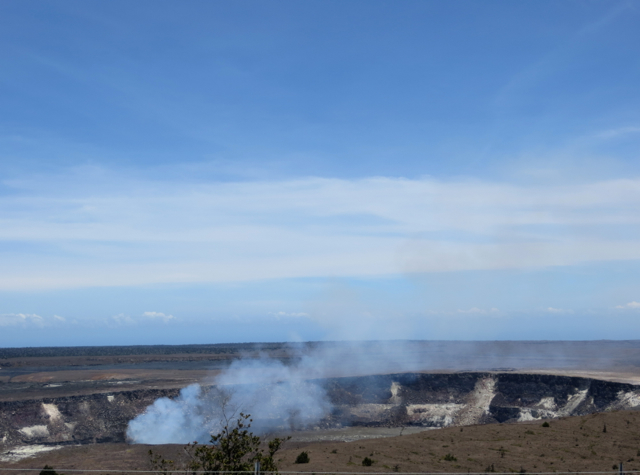 Outside the Jaggar Museum, one of the rangers was explaining the different types of lava, for example a'a (which is rough and craggy) and pahoehoe lava, which typically has a smooth, ropy surface.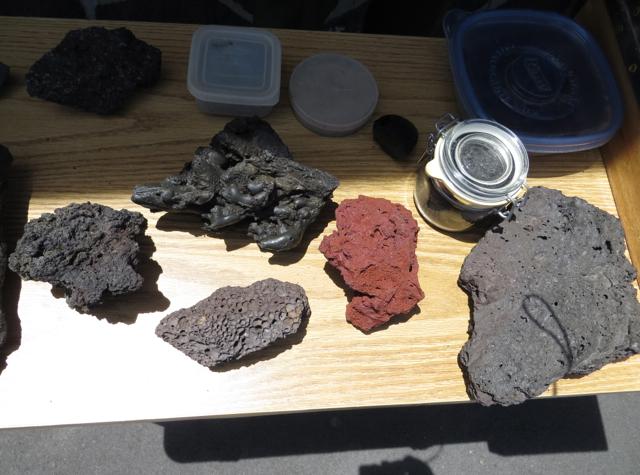 I was especially intrigued by something called "Pele's Hair," which are volcanic glass threads formed when lava is thrown into the air and spun by the wind into strands that appear hair-like:
Inside the Jaggar Museum, there were descriptions and photos of past Kilauea eruptions, as well as more about Pele, the Hawaiian Goddess of the Volcano. Here's a depiction of her, from artist Herb Kane: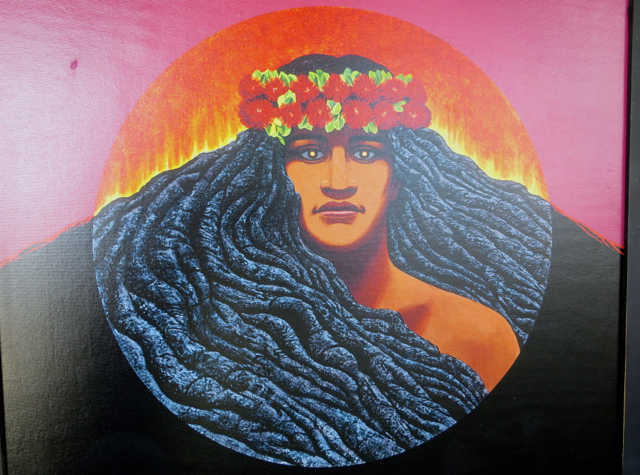 Far and away the munchkin's favorite activity was the demo seismograph, where he was happy to "make" his own earthquakes by jumping in front of the machine, and see the resulting peaks in the output.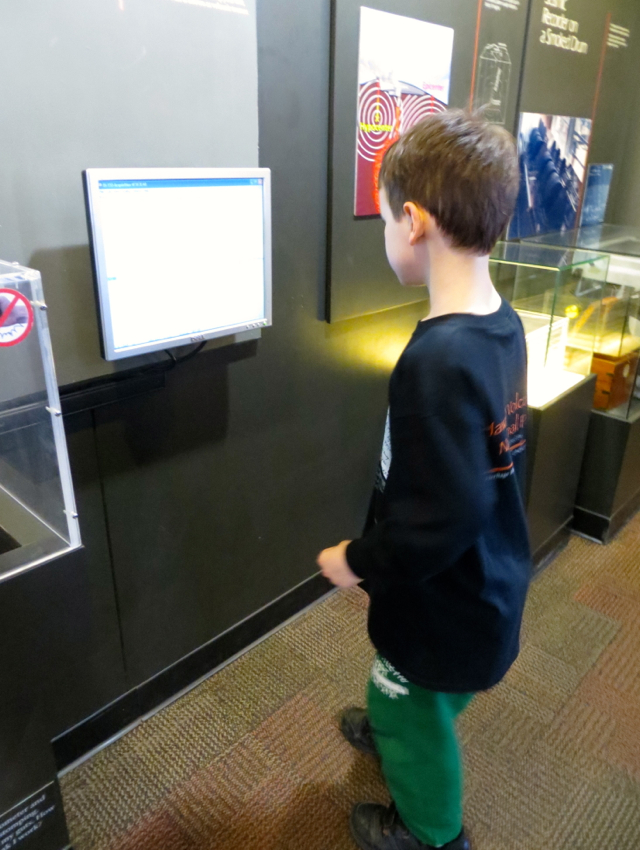 On our way back along Crater Rim Road, we stopped at the Steam Vents, but didn't stay too long given the smell of sulfur! The National Park warns that the fumes are hazardous to your health, and this is also why certain hikes in the National Park are not recommended for pregnant women, children or those with respiratory ailments.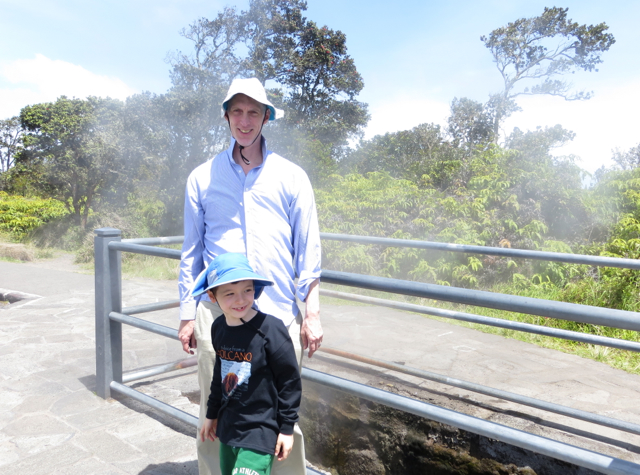 The Verdict: The Hawaii Volcanoes National Park is quite special: it's the only U.S. National Park where you can view an active volcano. While currently you won't see any dramatic lava eruptions from the various lookout points, you will see steam rising from the crater, and if you're there at night, you can see the glow from the lava. For families with young children, I recommend allowing 3-4 hours and ideally staying nearby that night, so that you don't have the long roundtrip drive from Kona all on one day.
Related Posts
Hawaii Volcano Treehouse Review
Honeymoon in Hawaii: Which Island and Which Hotels?
Top 20 Luxury Honeymoon Destinations
My Top Family Vacation Destinations
Need Award Booking Help? Our fee is as low as $75 per ticket if you book your hotel or cruise through us.
If you enjoyed this, join 150,000+ readers: please follow TravelSort on Twitter or like us on Facebook to be alerted to new posts.
Become a TravelSort Client and Book 5-Star Hotels with Virtuoso or Four Seasons Preferred Partner Amenities!