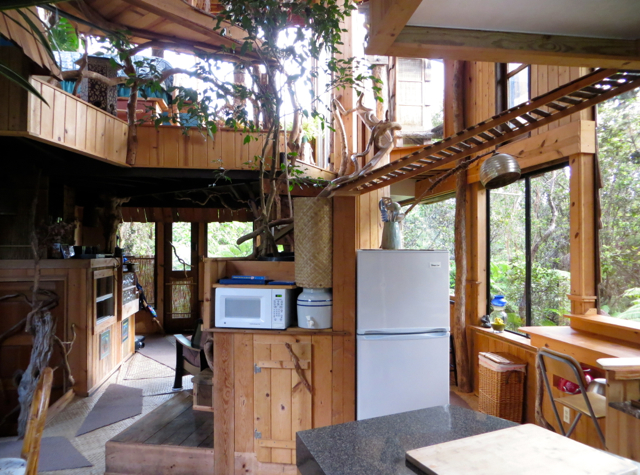 Ever wanted to stay in a treehouse? This Hawaii Volcano Treehouse Review is for you! It's from a recent trip to the Big Island of Hawaii and Maui, with other stays at Four Seasons Resort Hawaii at Hualalai, Andaz Maui at Wailea and Four Seasons Maui at Wailea.
For prior posts in this trip report, please see:
Alaska Airlines First Class Review
Alaska Airlines Board Room Seattle Lounge Review
Alaska Airlines First Class to Hawaii
Hyatt Place Waikiki Beach Review
Andaz Maui at Wailea Suite Review
Ka'ana Kitchen Review and Andaz Maui at Wailea Dining
Mama's Fish House Review in Paia, Maui
Four Seasons Resort Maui at Wailea Review
Breakfast at DUO at Four Seasons Maui at Wailea
How did we come to stay in this Hawaii Volcano Treehouse? Well, the munchkin for about a year now has fantasized about building his own treehouse. Not exactly an easy wish to fulfill, in NYC, unless perhaps you put one up illicitly somewhere in Central Park.
The next best thing was staying in a treehouse, so as soon as I knew we'd be headed to the Big Island of Hawaii, and specifically, visiting the Volcanoes National Park there, I started looking for a treehouse to stay in. Sure enough, I was able to find a couple treehouses rented by their creator and owner, Skye Peterson, so despite some misgivings (the Web site states children must be 8 years old, and the munchkin is only 6) I reached out, got the ok to book it even though the munchkin was under the usual minimum age, and reserved it for a couple nights.
Hawaii Volcano Treehouse Location and Check-In
We took a Hawaiian Air flight from Maui's Kahului Airport (OGG) to Hilo (ITO), since that's the closest airport to the volcano area. It's about a 40 minute drive to the treehouse, although one wrinkle was that, from Skye's directions, I thought that the supermarket he recommended picking up groceries and supplies at was close to the treehouse, whereas in fact it's in Hilo (specifically, the KTA Super Store is at 50 East Puainako Street, about 6 minutes from Hilo Airport).
It also wasn't easy (at least for us) to find the turnoff to the road leading to the treehouse. Be sure to note the mile markers, since that's the easiest way to navigate the Big Island. For the treehouse, you're looking to turn onto Ali'i Kane Street, after mile marker 23. When booking, Skye will give you the rest of the directions, but be prepared for unpaved, private roads for the last little part of the drive.
At last we arrived, and Skye showed us around the treehouse that he had built himself, over several years. Here's the overgrown path leading to the treehouse: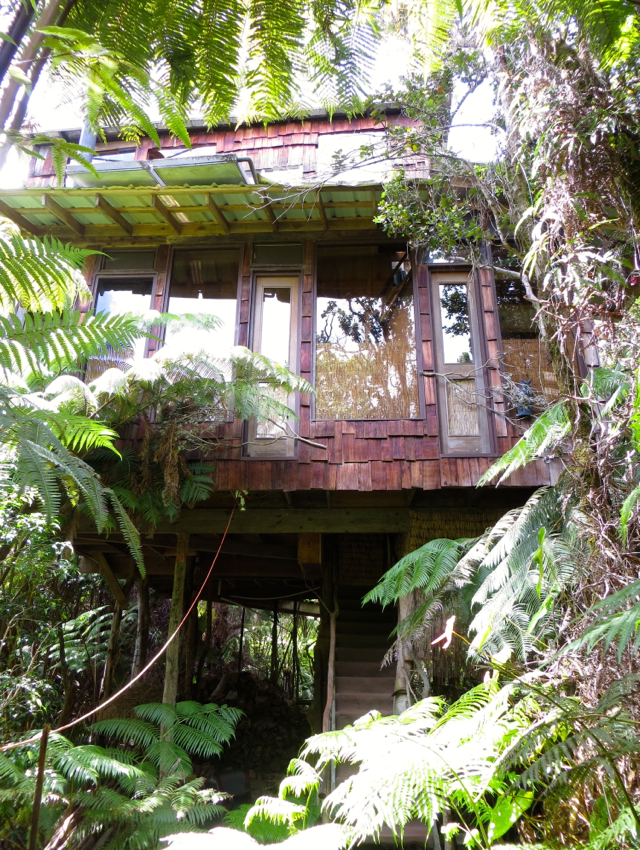 Hawaii Volcano Treehouse
Tree branches are integrated in much of the design, including the front door: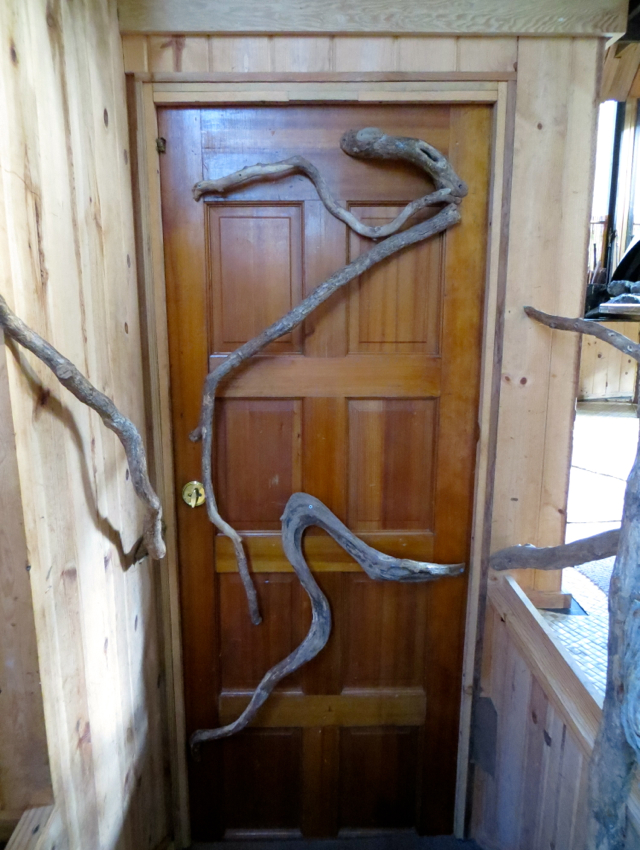 The door opens to the small dining area and kitchen: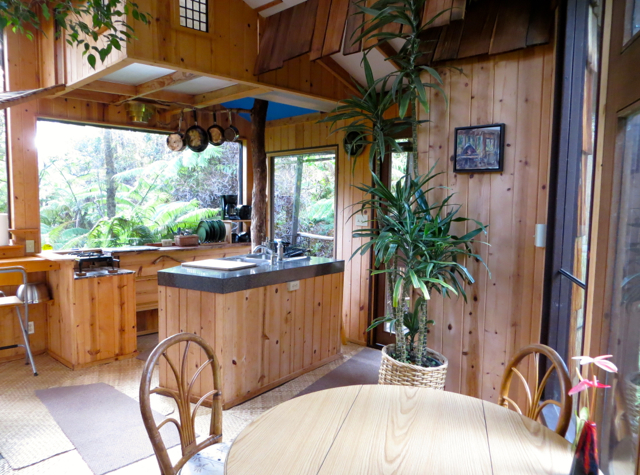 The kitchen has a mid-size refrigerator and freezer, microwave, sink, and gas range. The only thing I didn't like was having to light the range with a lighter, since there's no automatic pilot starter–so my husband got that job 🙂 There's also a coffee maker, but no oven, so forget baking or grilling anything. Skye supplies bottled water for drinking, since the tap water (which is collected rainwater) has a bit of chlorine in it to prevent bacteria growth.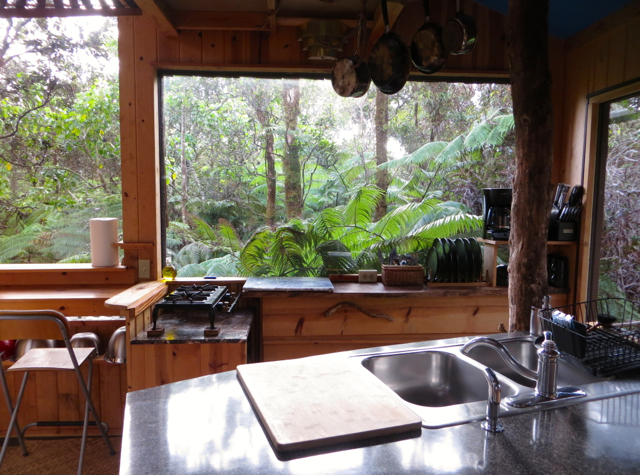 The living room has a couch, CD/DVD player (no TV though, which was fine by us), a table with chairs, and a fireplace. Yes, a fireplace–on this side of the island, it can and does get chilly in the evenings, and it also frequently rains (that's why none of the major resorts are built on the Hilo side of the island–there are only smaller hotels, Bed & Breakfasts and rentals).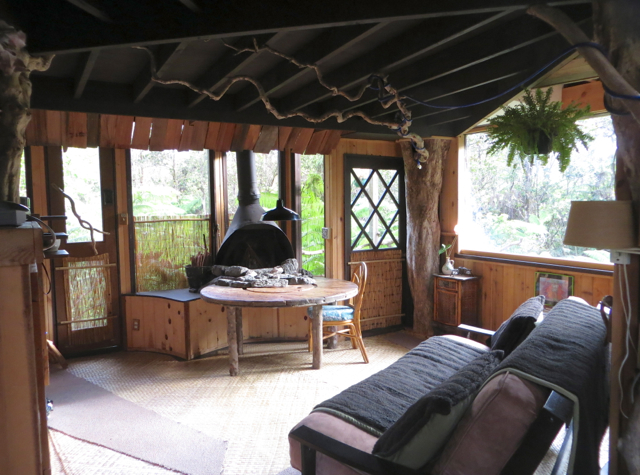 The main queen size bed is on a raised platform, so the ropes, in addition to being decorative, can be grabbed onto for support. Since there's so much light (great during the day) that may wake you up earlier than you'd like, I recommend bringing your favorite sleep mask with you, say from Singapore Suites or Lufthansa First Class.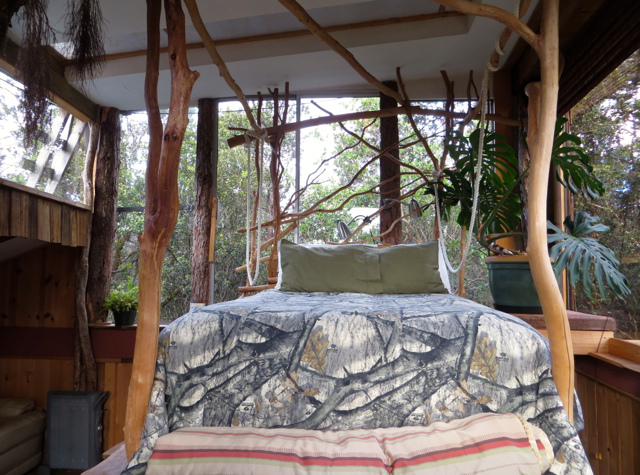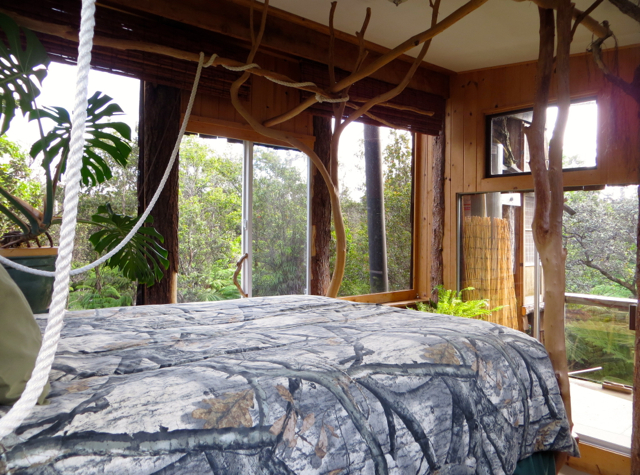 There's also space underneath the main queen size bed for someone to sleep, if they're not claustrophobic, and yet another bed tucked away that served as the munchkin's bed. He loves cozy sleeping spaces and building forts, and it was also quite dark there, so it was perfect for him.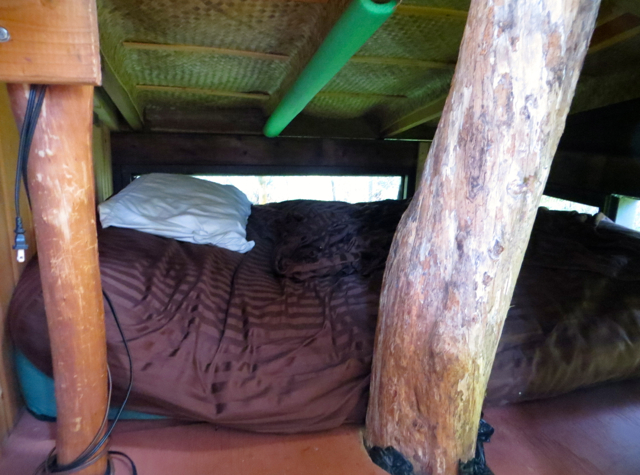 There's a good mini-aerial view of the treehouse from the 2nd floor: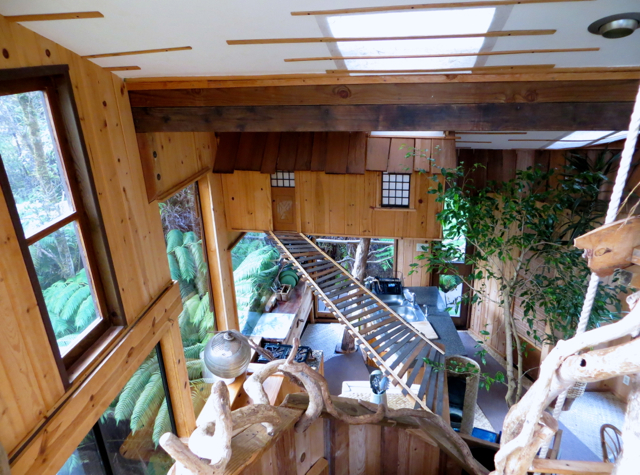 Even the toilet is a room with a view, thanks to it being a corner with windows: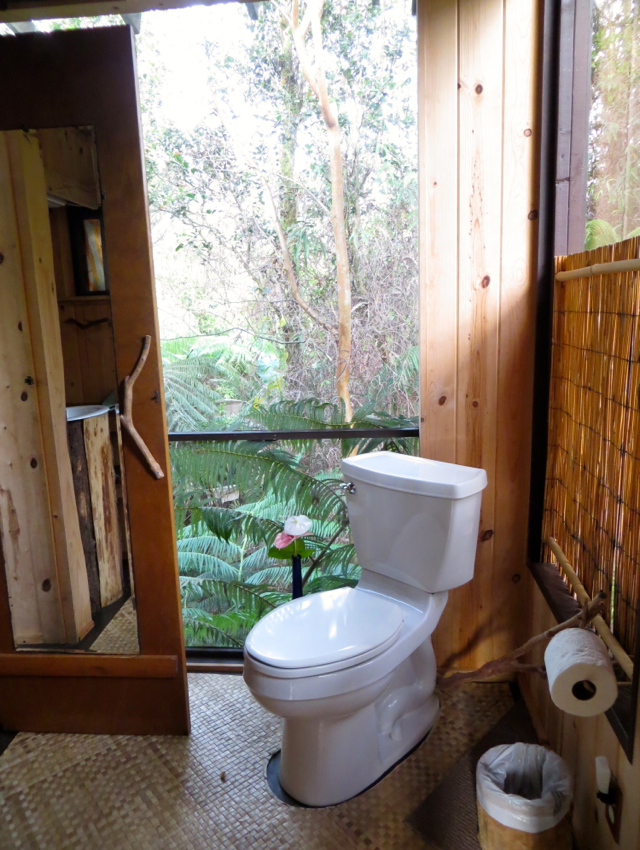 The shower area is rather dark and musty (things don't dry very quickly here, due to the humidity) but it was fine for a couple nights, even though the munchkin definitely prefers a bath.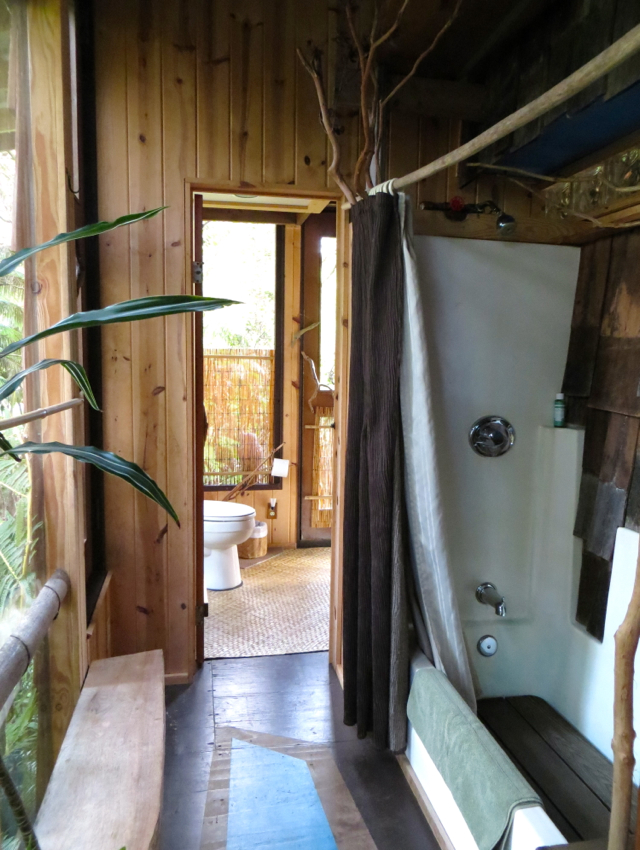 Hawaii Volcano Treehouse Skywalk and Deck
The treehouse's skywalk and deck is a real highlight, at least on a nice day. You walk out the back door, next to the kitchen, and are surrounded on both sides by forest and prehistoric looking ferns.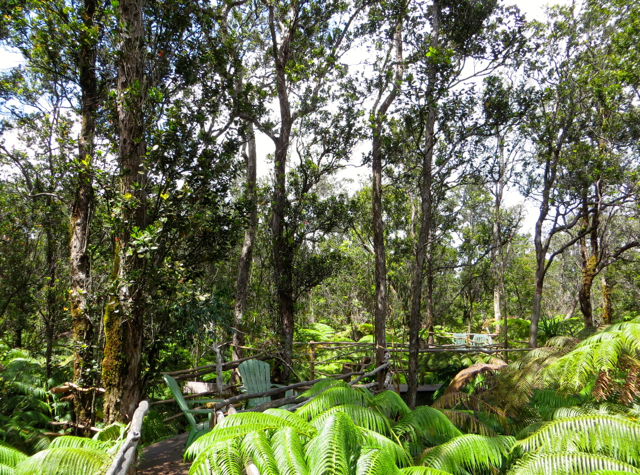 There are a couple of chairs at the midpoint of the skywalk, or continue on to reach the end, with a little deck. Here's a brief video I took, to give you a sense of it:
The Verdict: This was definitely a unique experience, and the munchkin in particular loved it. My husband and I appreciated being in the middle of nature, and especially the outdoor skywalk. We did have a couple of issues that wouldn't make me keen to return, however: namely that there is no WiFi, so it was impossible for me to get most of my work done while there; and also the treehouse was quite dusty, possibly with some animal hair as well, since my husband was quite allergic and had to take Benadryl to manage his symptoms.
But for those with no allergies and in no need of WiFi, the treehouse is an adventurous option while visiting the Volcanoes National Park. Oh, and don't forget to get groceries on your way out of Hilo 🙂
Related Posts
Honeymoon in Hawaii: Which Island and Which Hotels?
Top 20 Luxury Honeymoon Destinations
The Best Luxury Hotels in Hawaii
My Top Family Vacation Destinations
Disclosure: We paid for our own stay at the Hawaii Volcano Treehouse.
Need Award Booking Help? Our fee is as low as $75 per ticket if you book your hotel or cruise through us.
If you enjoyed this, join 150,000+ readers: please follow TravelSort on Twitter or like us on Facebook to be alerted to new posts.
Become a TravelSort Client and Book 5-Star Hotels with Virtuoso or Four Seasons Preferred Partner Amenities!