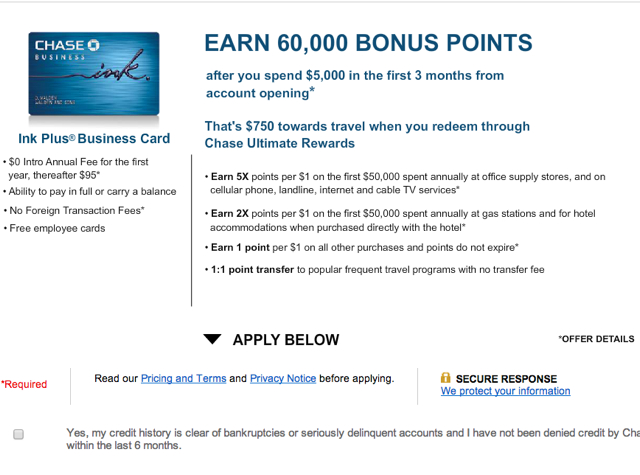 Are the Chase Ink Bold and Ink Plus cards getting harder to get? A TravelSort reader writes:
"I recently applied for the 60K Ink Plus bonus offer and it was like the Spanish Inquisition. I have an Ink Bold that I applied for almost a year ago and I remember answering a few questions about my business, which is really more of a hobby selling things online via Amazon, but it was nothing like this.
I wasn't only asked about revenues and profits by year for the past 3 years, I was also pointedly asked why I had applied for 2 other Chase cards within the past 6 months, and about the various CVS purchases I've made with my Ink Bold, saying that he knows all about manufactured spend. Mind you, I also put significant other spend on the Ink Bold, for example my Internet, phone bill, office supply purchases via the Ultimate Rewards Mall, the occasional hotel stay. Needless to say I wasn't approved. I have a credit score in the high 700s and have never been late with a payment. Is it just me or has Chase gotten much stricter?"
It's not just this reader–judging from other emails from readers and the various Flyertalk threads, it has gotten much harder to get approved for an Ink Bold or Ink Plus. Here are just a few of the experiences mentioned on Flyertalk:
"[The Chase reconsideration rep] slowly went through each CVS charge…continued down the line and interrogated her about what she purchased on each and every date she charged at CVS…also asked why she charged $2000 days (3/31) 'before CVS stopped allowing the purchase of reloadable cards with credit cards' and if she was 'paying back her chase credit card with these'" —jasOn, Flyertalk
"My friend had a similar experience. He asked her why she was charging so much? what she was buying? if she was buying cash equivalents? was she paying her credit card bills with their money earned from buying things at office supply stores? He was very nice at first, but then became very accusatory after putting her on hold to review her account." —smitty06, Flyertalk
"Applied for Ink Plus because of the 60k bonus offer, and was denied…Got a guy who started asking me about why I was applying to so many cards, then looked up my credit history. Started questioning why I was spending at CVS, I told him I was buying cards for colleagues. Then he started giving me a hard time about how Chase had this new great bonus and a lot of people who were spending at CVS were calling him about the card today." —ethnotraveler, Flyertalk
Still Worth Applying for the 60K Ink Bold or Ink Plus Bonus Offers?
Note that tomorrow, June 1 is the last day to apply for the Ink Bold or Ink Plus with the 60K bonus; usually the bonus is 50K. Even with Chase becoming much stricter with its approvals, I think it's worth applying IF
1) You're prepared to call Chase Business Reconsideration and aren't fazed by potential interrogation (see Call These Reconsideration Phone Numbers); and
2) It's not the end of the world if you don't get approved and can afford a hard credit pull
60,000 Ultimate Rewards points is a nice bonus, particularly if you have high value uses planned for the Ultimate Rewards points. For example, a Singapore Suites or Singapore First Class award, since Singapore KrisFlyer is Now a Chase Ultimate Rewards Transfer Partner
How to Improve Your Chances of Being Approved
While none of the below will guarantee an approval, these tips can help improve your chances:
Have a Legitimate Profitable Business: It used to be far easier than it is now to be approved for "hobby" businesses such as selling on Amazon, eBay or Etsy or doing the occasional consulting gig. This could still work if you have substantial revenue from the business, but small and nascent businesses are having a harder time.
Have Your Numbers Ready: Be organized for your reconsideration call by having your revenue and profit numbers ready for the years your business has been in existence. If this is a new or planned business, have credible projections.
Don't Have Many Recent Credit Applications: If you've recently applied for a number of other credit cards (for example 6 in the past 6 months or so), I wouldn't even bother applying for the Ink Bold or Ink Plus–you will likely be declined.
Politely End Any Call with Jason: Several Flyertalkers have reported dismal interactions with a Chase CSR named Jason. Avoid, by apologizing that you have someone at the door or similar–anything to get off the line and make a polite exit.
HUCA (Hang Up, Call Again): Even if you haven't been unlucky enough to be speaking to Jason, if the Chase CSR is grilling you, and especially on matters of manufactured spend, gift cards and the like, find a way to early on to hang up and call again. You may well get a less adversarial CSR who will work with you to help get approved.
Related Posts
60K Ink Bold and 60K Ink Plus Bonus Offers
Singapore KrisFlyer is Now a Chase Ultimate Rewards Transfer Partner
Best Ways to Use Chase Ultimate Rewards Points
Need Award Booking Help? Our fee is as low as $75 per ticket if you book your hotel through us.
If you enjoyed this, join 200,000+ readers: please follow TravelSort on Twitter or like us on Facebook to be alerted to new posts.
Become a TravelSort Client and Book Your Hotel with Virtuoso or Four Seasons Preferred VIP Amenities!
Disclaimer: Note that some cards in this post offer credit to me if you're approved using my links. The opinions, analyses, and evaluations are mine. This content is not provided or commissioned by Chase, Barclays, American Express, Citibank, US Bank, Bank of America, or any other company. They have not reviewed, approved or endorsed any of my articles.